After 10 years at Aldgate House, our London headquarters is embarking on its next chapter—moving to a new creative hub at Thomas More Square (TMS). This journey began with the move of our 220 employees into a temporary space at TMS until our permanent, Gensler-designed building, within the same development, is ready in 2018.
The opportunity to contribute to Wapping's revitalisation was a major factor in our choice of locations. The area presents a blend of history, culture and commerce, and its business and residential populations have been growing rapidly for the past few years. Considering the firm's presence in the East End of London for many years, it was a natural choice for the next phase of our evolution. Being at the heart of an emerging London neighbourhood, on the doorstep of the city and within easy reach of the East End's emerging business and lifestyle quarters, gives us an unparalleled opportunity to re-imagine the next-generation working environment.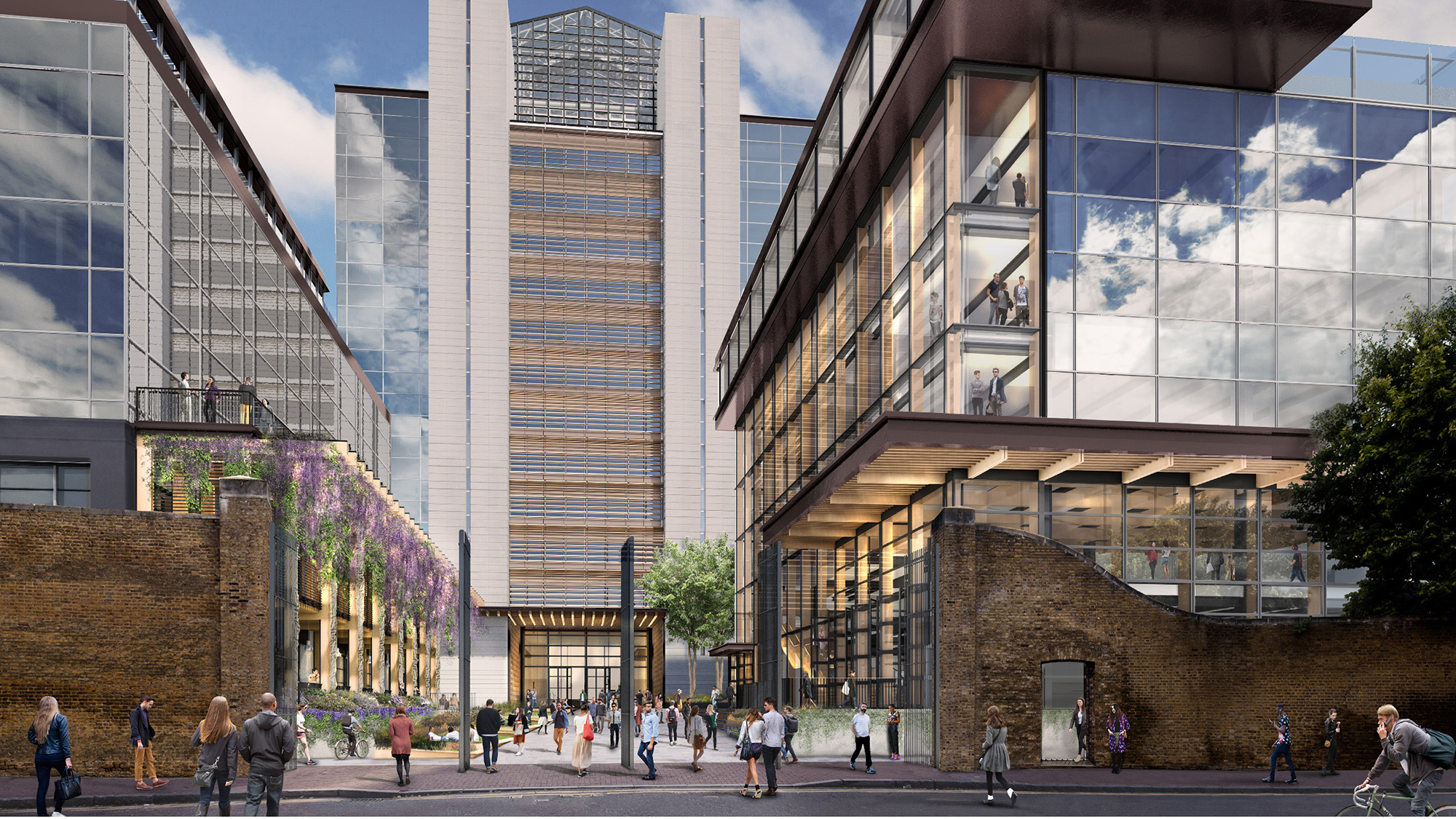 Temporary Space
Our temporary space, known affectionately as "Basecamp" is a rare and exciting opportunity to move on site until our permanent office is ready in 2018. Our employees can get used to our new location and capitalise on the opportunity to prototype, test and better understand how we work—and, most importantly, how we want to work in future. The temporary space is a stepping stone; a constantly evolving space that allows us to try something completely different.
Set over three floors across Building Two and Building Five within the estate, our space will be truly flexible, allowing employees to reconfigure the area to respond to their immediate or desired needs. Designed by our globally renowned workplace studio, the space sets out to create a bespoke and welcoming workspace that evokes the spirit of Gensler and that is tailored to the specific needs of our highly creative workforce.
The space includes a maker facility and an events space, presenting a real opportunity to invite people into our office and engage with not only partners in our industry, but the local community through a series of internal and external activities, from co-working, seminars, exhibitions and product showcases to seasonal staff parties.
Basecamp is not what many would expect from a Gensler office; it's not a final design but a prototype space where we can experiment and see what works.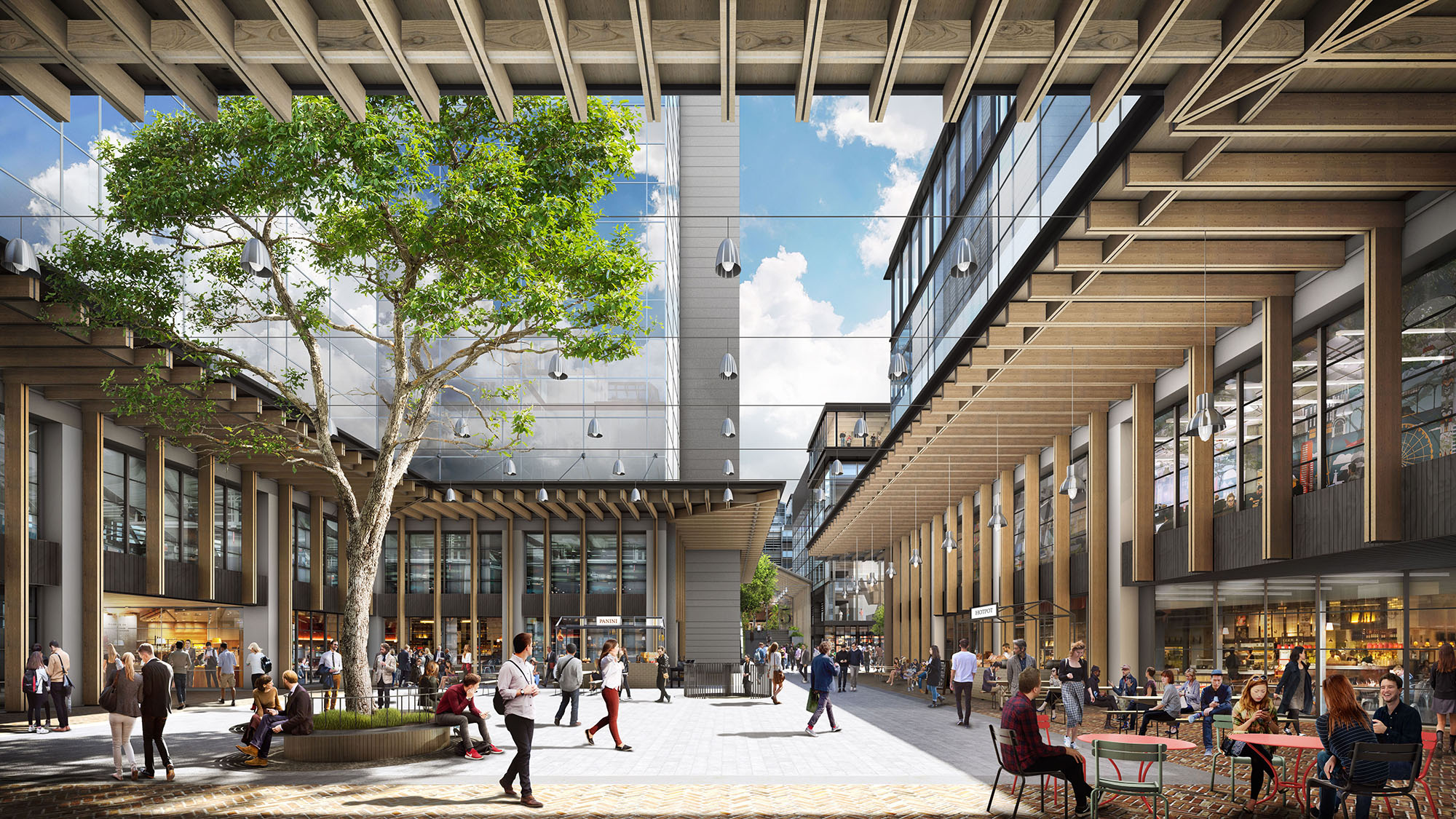 Permanent Space
Our permanent home in Building Six provides us with an unparalleled opportunity to re-imagine and redesign an entire building. The space will provide a diverse range of interconnected work settings to fully enable our teams to create together to deliver industry-leading design for our clients every day.
Our architectural and interior design teams are working together to create a space that draws inspiration from the London Docks to enhance the existing environment.
Building Six is the only stand-alone structure on the estate and is a key component of the urban grain. This building aims to create and encourage a dynamic mix of activities and aims to display social interaction, commercial activity and open opportunity to bring the renewed exterior environment into the ground level of the building, connecting it to the public realm.
Thomas More Square
Thomas More Square is a 560,000-square-foot development, previously home to News UK. Resolution Property will transform the estate into a new inspiring, creative, urban super-campus aimed at businesses operating in media, technology, finance and innovation.
New Office Details
Effective 30 May 2017, our address will be:
Gensler, Thomas More Square, London, E1W 1YW.
Our main and direct-dial telephone numbers and email addresses will remain the same.