How can we reimagine the post-pandemic downtown?
As an update to our previous Gensler City Pulse surveys, we surveyed residents of 15 cities around the world to understand urban residents' evolving relationships with their downtowns and business districts as the COVID-19 pandemic continues to unfold.
Our data reflects a variety of perspectives, including residents, students, business owners, employees, and visitors. Our respondents make clear the imperative for business districts to evolve in order to remain relevant, resilient, and successful. While those surveyed largely feel positively about their downtowns, respondents say they expect to go downtown less post-pandemic, possibly propelled by expectations that they may not have to commute downtown for work as often in the future.
As businesses around the world navigate the decentralization of work and the rise of the hybrid workforce, business districts will have to adapt to keep urban residents engaged. This briefing takes a closer look at what features urban residents value in business districts, where they feel their business districts are successful, and what improvements they'd like to see in their downtowns moving forward.
This data is collected from an anonymous, panel-based online survey of 7,500 urbanites in 15 cities, conducted from September 7 to October 15, 2021.
Learn more about our methods.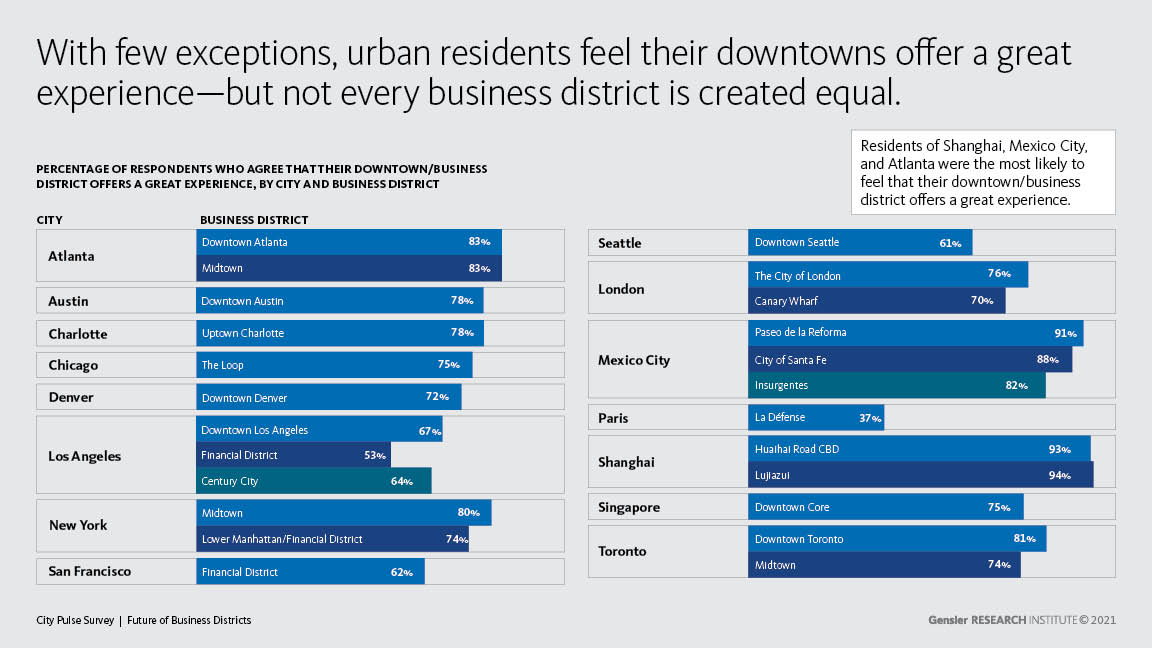 Satisfaction with business districts varies by region, generation, and user persona.
Survey respondents across 15 cities were asked questions related to specific downtowns and business districts. Our latest City Pulse Survey found that Paris, Seattle, and San Francisco have the lowest percentage of respondents who agree that their business districts provide a great experience, while Shanghai and Mexico City have the highest percentage. Additionally, people who can work remotely are more likely to feel positively about their business district's experience (77%) than people who cannot (67%).
Our survey data also captured generational differences among urban residents — Boomers (67%) are the least likely to believe their business district offers a great experience, while Millennials (79%) are the most likely to agree. When it comes to user persona, business owners (90%) and residents (87%) believe most strongly that their business districts offer a great experience. However, just 68% of visitors feel positively about their business district's experience.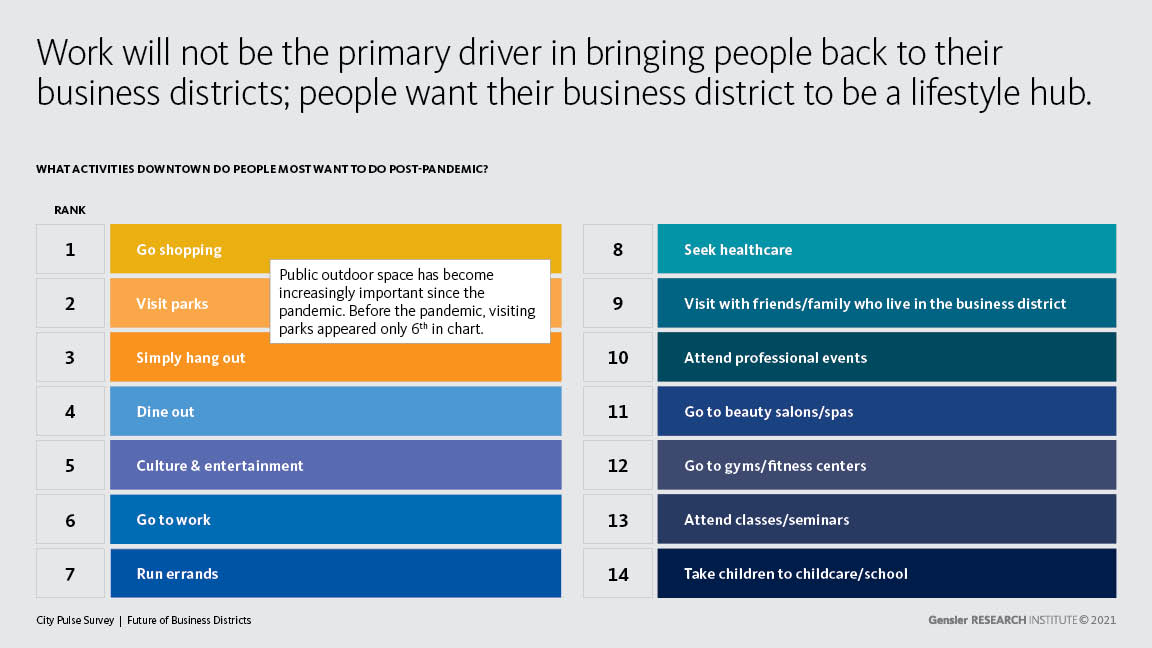 To re-enliven our post-pandemic downtowns and business districts, cities need to create experiences that aren't just for office workers.
After the pandemic, people anticipate going back to their business districts for a variety of reasons. However, visiting their employer and/or networking are not among the top activities urban residents plan to do. Survey respondents ranked activities like shopping, visiting parks, hanging out, dining, and viewing cultural and entertainment attractions as higher drivers to return to business districts than going to work or attending professional events.
We also found that access to public outdoor space has become increasingly important — before the pandemic, visiting parks was only the sixth-ranked activity among urban residents. These findings indicate that business districts are most successful as destinations to eat out, enjoy performances, and just explore.
INTERACTIVE GRAPHIC
Restaurants, outdoor parks, and public transit options are the top three features residents want in a downtown or business district.
PERCENTAGE OF RESPONDENTS WHO AGREE THAT THE FOLLOWING FEATURES ARE MOST IMPORTANT TO HAVE IN A GREAT BUSINESS DISTRICT, BY 15-CITY AVERAGE
Options for dining, outdoor leisure, and transportation continue to be important draws for city dwellers.
We asked city dwellers to identify the most important features of a great business district. The top three results were consistent across all generations and the 15-city aggregate average: people value restaurants, outdoor space, and public transit options in their downtowns. Shopping, theaters, and cultural venues, such as museums, ranked higher than access to workplaces and office buildings. However, we found some variation in priorities by city type. For example, people in rising cities (Atlanta, Austin, Charlotte, and Denver) value entertainment and cultural venues over shopping and public transit.
City Pulse Survey Fall 2021 Methodology
This anonymous, panel-based survey of 7,500 urbanites was conducted online from September 7 to October 15, 2021. Respondents were required to be residents within the city proper boundaries of New York City, San Francisco, Chicago, Los Angeles, Seattle, Atlanta, Austin, Charlotte, Denver, Greater London, Paris, Singapore, Shanghai, Mexico City, and Toronto. Survey respondents from Los Angeles were required to be residents of the county. Respondents were asked about their experiences, opinions, and preferences regarding their city's specific downtown/business district. Participants were demographically diverse by gender, age, income, and education level.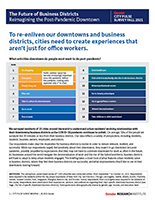 CITY PULSE SURVEY FALL 2021
GENSLER RESEARCH INSTITUTE
DOWNLOAD AS PDF
Download the full Gensler City Pulse Survey Fall 2021 Report to explore how cities can deliver business districts that attract urban residents. Our data provides key insights into the physical and policy improvements that urban residents want to see in their poost-pandemic downtowns.