Severe weather is intensifying, impacting communities at a global scale. How should design respond?
Formerly unprecedented climate events have become our new reality. In 2023 alone, a series of dangerous weather events have disrupted lives, halted economies, and taken over the daily news cycle. July 2023 was the hottest month on record. August 2023 saw the highest-ever average sea surface temperature. The time has come for climate action – a concerted response to the effects of climate change that prepares us for a more resilient tomorrow.
Gensler's latest Global Climate Action Survey expands on the work of the 2022 U.S. Climate Action Survey to explore how international survey respondents feel about the effects of severe weather and the climate crisis. This survey provides a unique snapshot of contemporary global attitudes on climate change and extreme weather across eight nations – Canada, the United States, Mexico, the United Kingdom, France, Germany, Singapore, and Australia.
Our research revealed that climate change is the second greatest issue of concern for the public, ranking above even jobs and the economy. This paradigm shift offers incredible opportunities for us to design for resilience while knowing that we are working in the interests of the public.
This data is collected from an anonymous, panel-based online survey of over 9,700 respondents across eight countries: Canada, the United States, Mexico, the United Kingdom, France, Germany, Singapore, and Australia. The data was collected in February and March of 2023.
Learn more about our methods.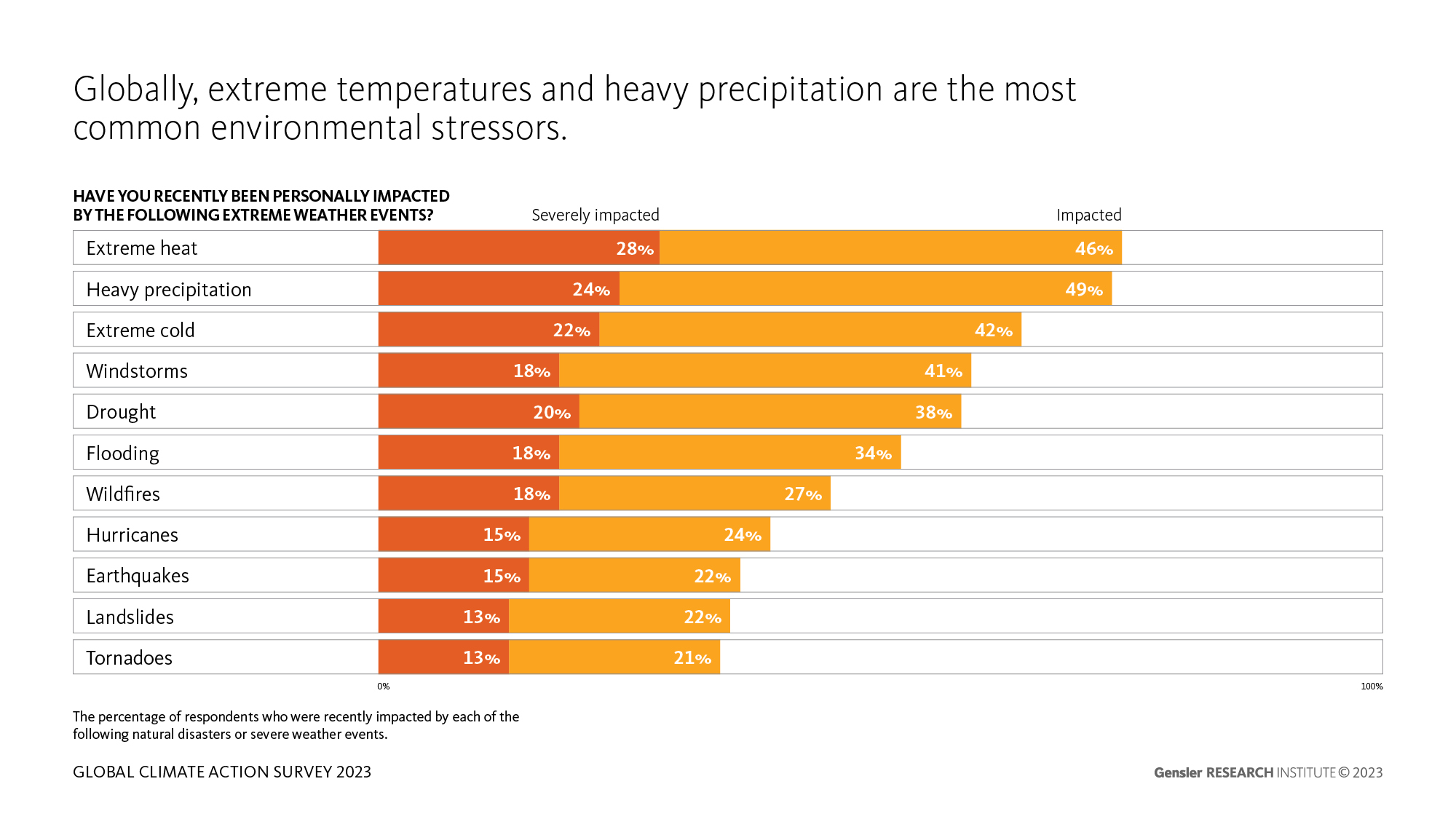 Severe weather is a global experience.
90% of our survey respondents were recently impacted by severe weather. The average respondent was recently impacted by over five severe weather events. Extreme temperatures, heavy precipitation, droughts, storms, flooding, and wildfires have always been an inescapable part of nature. Today, however, the climate crisis is accelerating, and previously isolated events are occurring with greater frequency and intensity at a global scale. Most respondents were hit by at least one of the four most common severe weather events: extreme heat, heavy precipitation, extreme cold, and drought. Abnormalities in temperature and rainfall are becoming a new normal.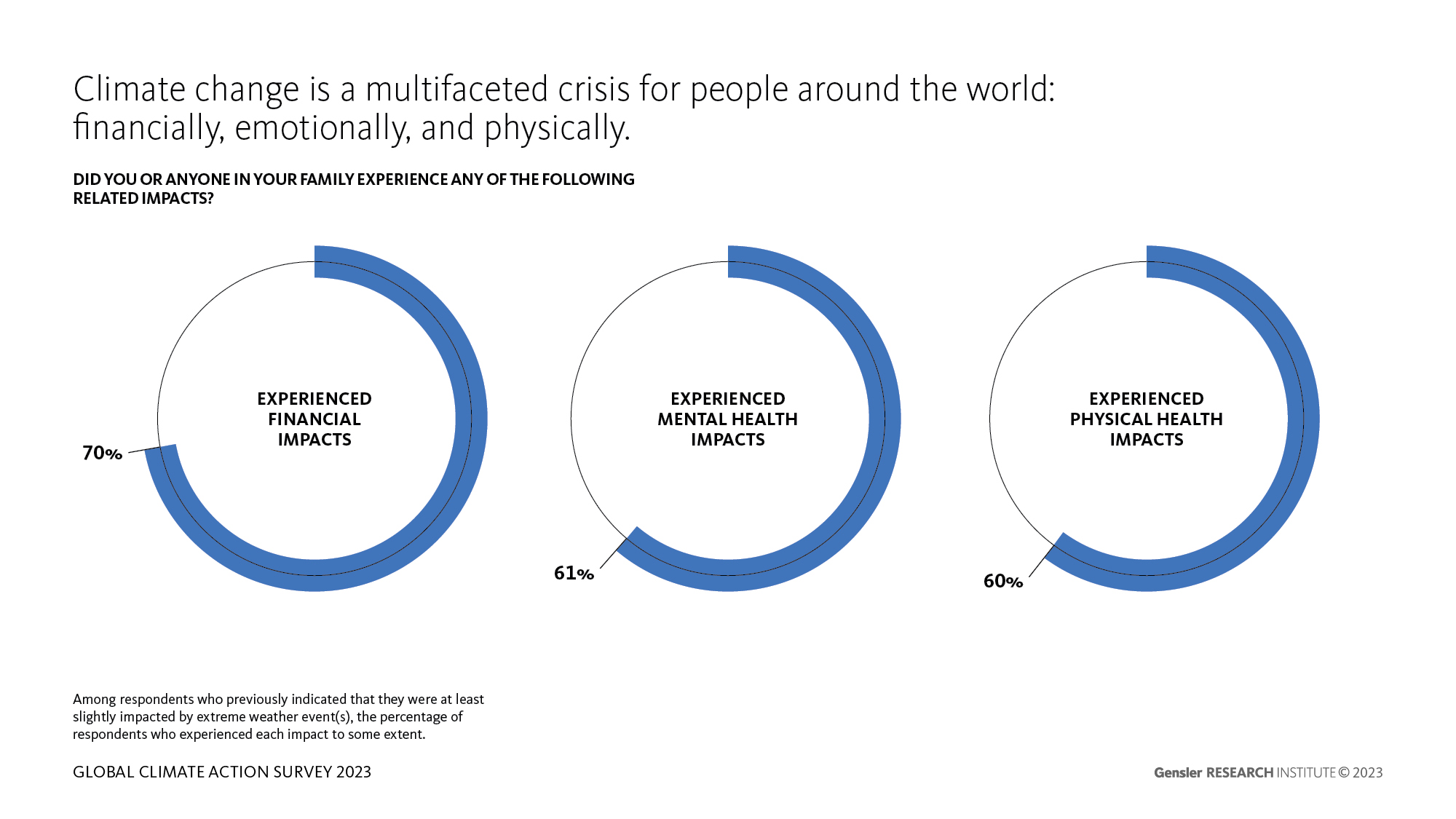 The climate crisis is a well-being crisis.
As severe weather spreads across the world, climate change is rapidly becoming a public health emergency. 77% of people recently impacted by severe weather events felt negative impacts to either their mental or physical health. These impacts are felt inequitably, with financial, mental, and physical health effects felt strongest in younger respondents. Effective climate action strategies must address risks to public health, financial security, and generational inequity from severe weather events.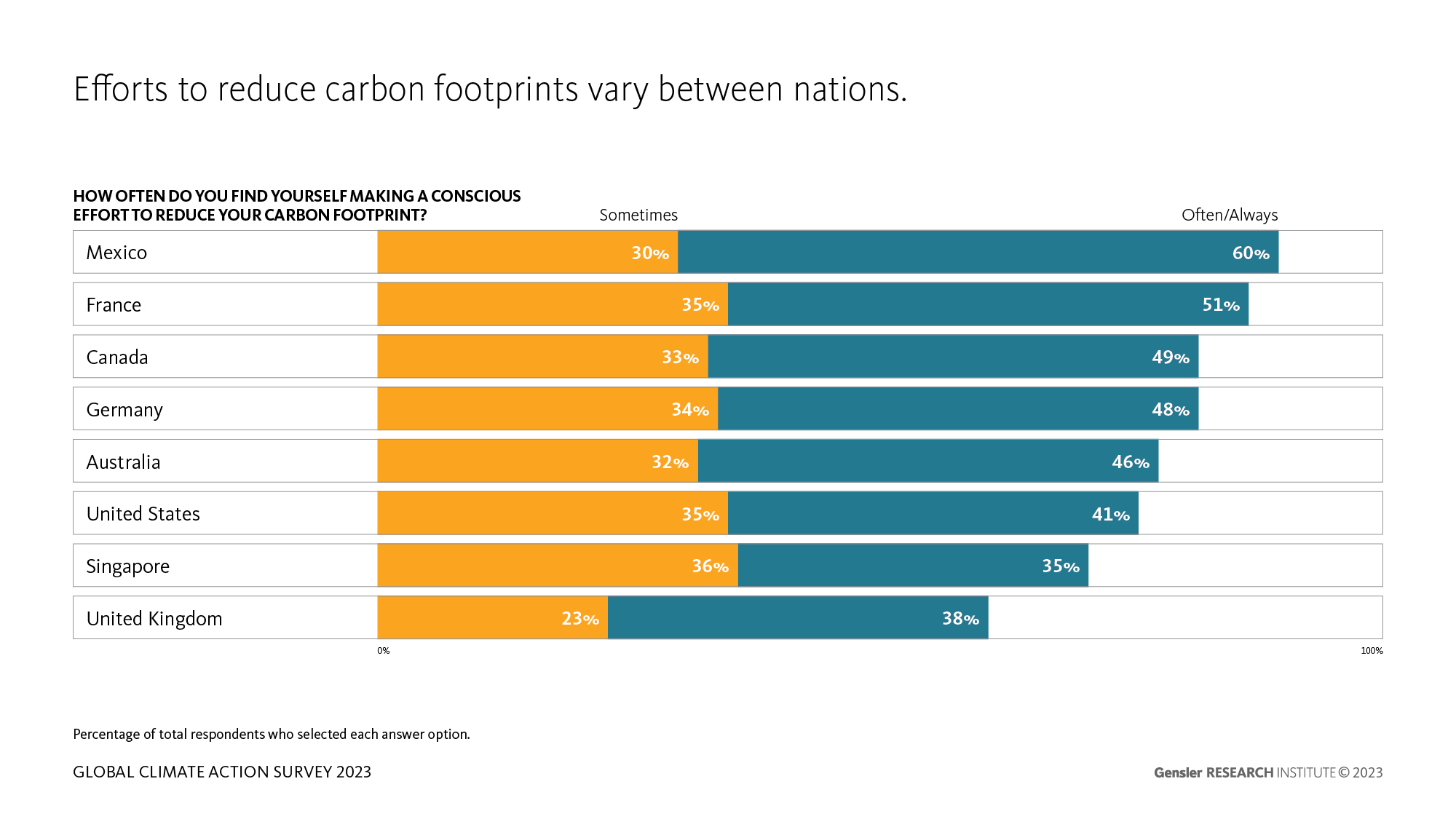 People are already acting to combat climate change.
Over three-quarters of our respondents say they take intentional steps to reduce their carbon footprints. Most people are consciously reducing their energy use, consumption, and waste. Critically, however, there are still significant barriers to individual action. 43% of respondents indicated that the "cost of making change" has prevented them from leading more resilient lives. An additional 26% say they lack the knowledge of how to make sustainable lifestyle changes. We can build a more resilient world of the future by leveraging the power of sustainable and equitable design to break down these barriers and encourage further action across our global communities.
Global Climate Action Survey 2023 Methodology
The Gensler Research Institute deployed an anonymous panel-based survey to over 9,700 respondents in eight countries between February 3, 2023, and March 13, 2023. Respondents were adults (18+) required to live in one of the eight countries, including Canada, the U.S., Mexico, the UK, France, Germany, Singapore, and Australia, at the time of data collection. Survey respondents were recruited using a third-party panel provider and aggregator with whom we worked with to ensure balanced distribution across personal characteristics such as age (18+), gender, household income, and home region/province. All survey respondents answered questions about a range of climate-related issues, including experiences with natural disasters and severe weather events, personal impacts of climate change, and community readiness to respond. The survey could be taken in English (U.S./UK), French (Canada, France), Spanish (Mexico), and German (Germany).
Download the full Global Climate Action Survey 2023 to explore how severe weather events are impacting communities and shaping global opinion. Our data provides key insights into where design interventions can be made to protect communities and encourage sustainable living.