What makes a great living experience?
Through our report, the Gensler Research Institute sought to better understand what elements drive positive living experiences for residents. We also hoped to identify what factors residents would likely prefer and prioritize in the future — particularly among those in multifamily housing. To investigate these questions, we surveyed over 13,000 residents across nine diverse markets: Atlanta, Austin, Chicago, Dallas, London, New York, San Francisco, Seattle, and Singapore. Our results point to a need for fresh perspectives on residential design and development, and to challenge norms and raise the bar for the residential experience.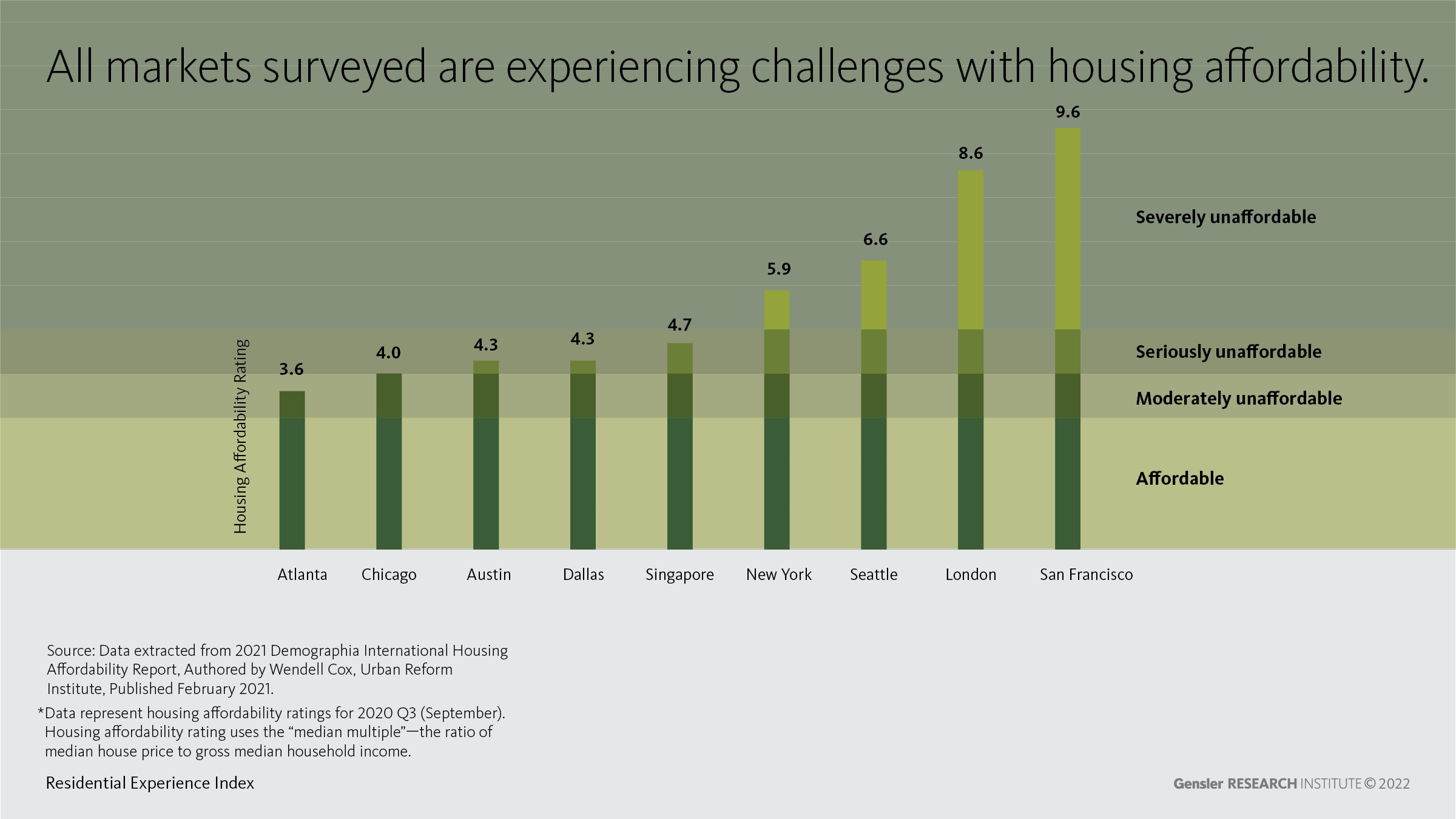 Affordability is a problem we need to address.
The residential experience is often downstream of market-level trends. Problems of housing affordability permeate all markets — but the momentum of rent growth and current rent levels differ and may influence how residents experience neighborhood change. In the U.S., multifamily rents in San Francisco are nearly double what they are in Austin, Texas — but Austin is experiencing some of the highest year-over-year rent growth measured. New factors, such as a dramatic rise in working from home during the pandemic and the expected widespread shift toward hybrid models thereafter, are also influencing how people think about and decide where to live.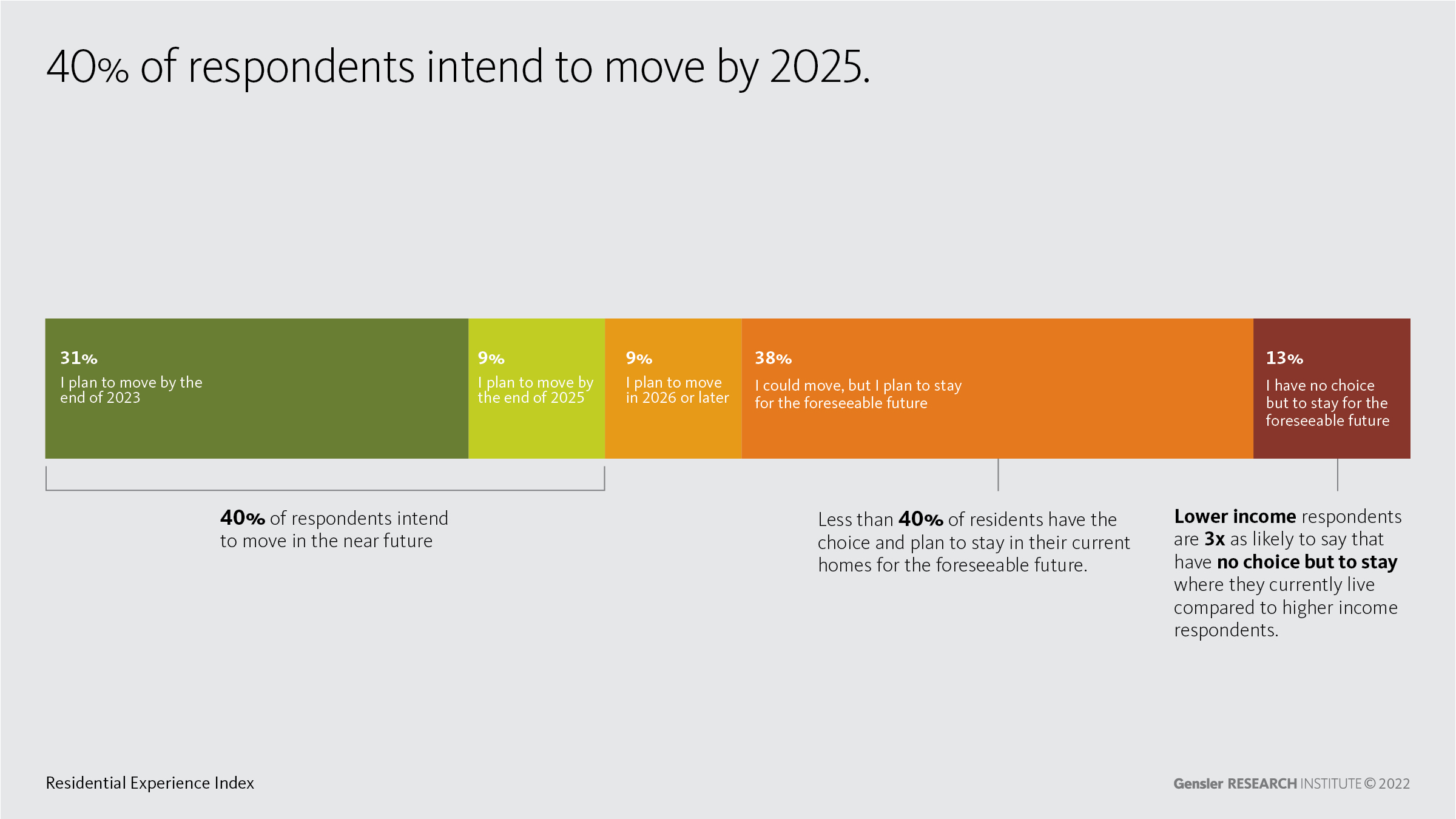 Many residents intend to move in upcoming years because their homes do not support their needs.
Affordability is a problem facing most residents. But residents also move more frequently than they'd like because they have evolving needs for their home. From units that support young children to those with accessibility needs, many units are not inclusive to certain tenants. This is a challenge for residential developers and the design community, pursuing solutions that fit the needs of diverse groups of people.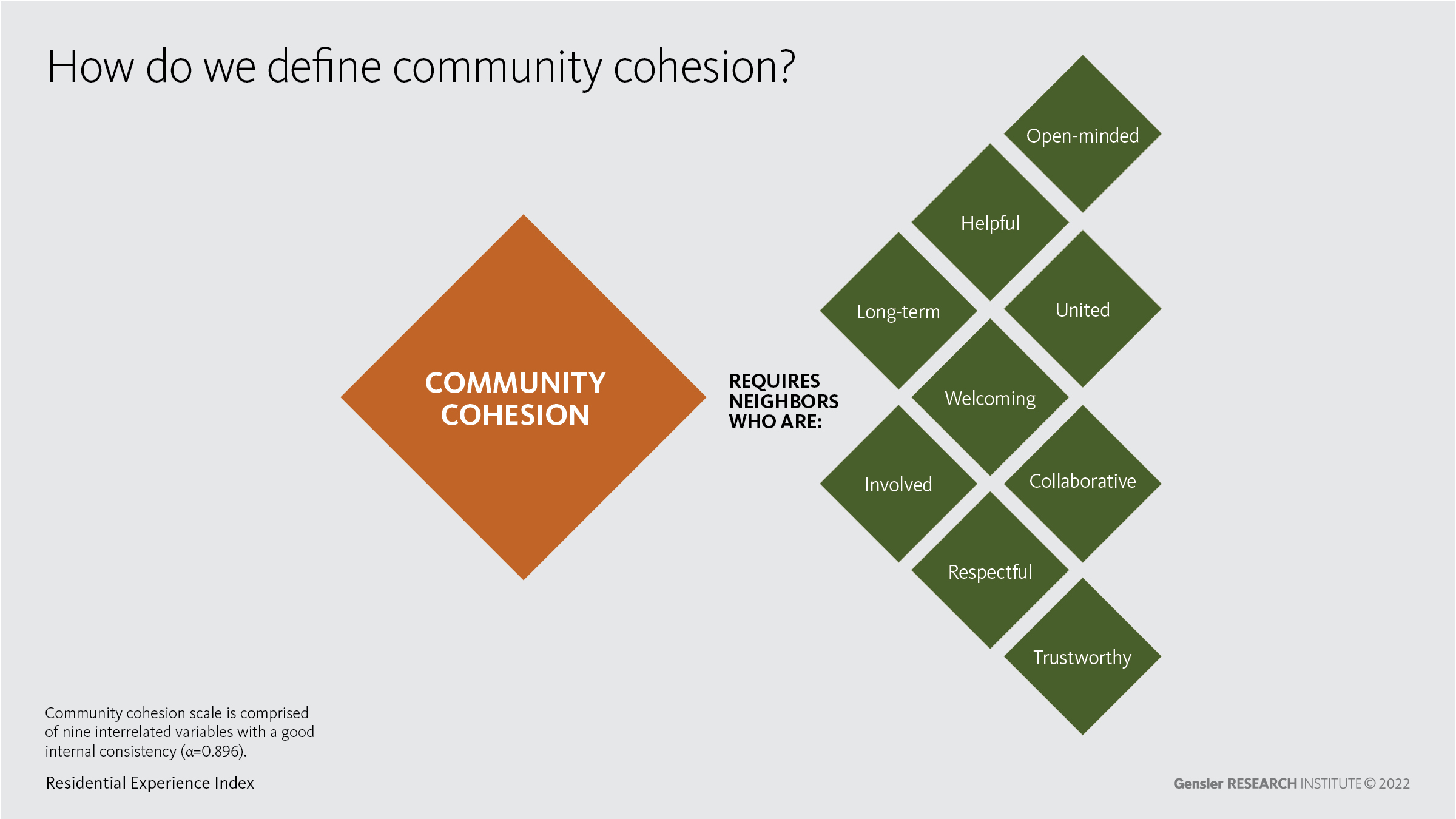 The built environment plays a key role in community cohesion.
Community can be constructed at the building and neighborhood levels and is impacted by the social relationships that transcend these scales. Community is contingent on interpersonal relationships between community members. Its core elements are trust, respect, and shared purpose among neighbors. Although the variables that foster community cohesion depend on the relationships between people, the built environment plays a key role in its development. We must help build community in residential environments where it is desired and lacking, and help maintain and strengthen a sense of community in environments where it already exists.
Residential Experience Index 2022 Methodology
We deployed an anonymous, panel-based survey in two waves: January 20 to February 26, 2021 (n=8,990), and July 8 to 29, 2021 (n=4,559). Survey respondents in both waves were required to live within specific zip codes within the metropolitan areas of New York City, San Francisco, Atlanta, Austin, Dallas, Seattle, Chicago, London, and Singapore. Respondents were demographically diverse across gender, age, race/ethnicity, income, employment, and education levels, and were residents of both multifamily and single-family homes.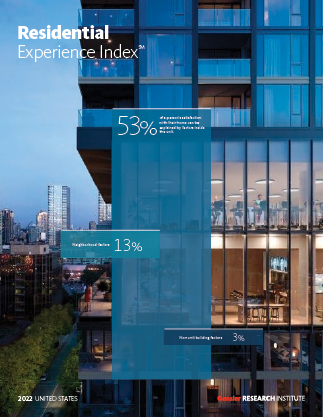 RESIDENTIAL EXPERIENCE INDEX 2022
GENSLER RESEARCH INSTITUTE
DOWNLOAD AS PDF
Download the full Residential Experience Index Report to explore residents' evolving expectations for where they live. Our data shows opportunities for stakeholders to employ research-based solutions in their approach to the future of residential buildings.