After two years of reduced attendance and pandemic-related restrictions, how can we design for a new era of live sports?
Live sports have reached a hinge point. Major sports organizations have weathered nearly two years of reduced attendance and widescale adaptations to how they operate events. To better understand how to drive fan engagement, we surveyed over 1,500 people across the U.S. in November 2021 about their recent experiences at live sports events, as well as their expectations and preferences for future ones.

Just 40% of the people we surveyed attended a sporting event since March 2020, and only 6 out of 10 respondents have a concrete plan to attend an event by the end of 2022. While we anticipate these dips in venue attendance are temporary, it's more important than ever to understand what people value in a live sports experience — and how venues can adapt and deliver. The Gensler Sports Experience Survey 2022 explores how can sports venues impact fans and keep them coming back. Our survey revealed that stadiums and arenas need to deliver in three key areas: experience, value, and safety.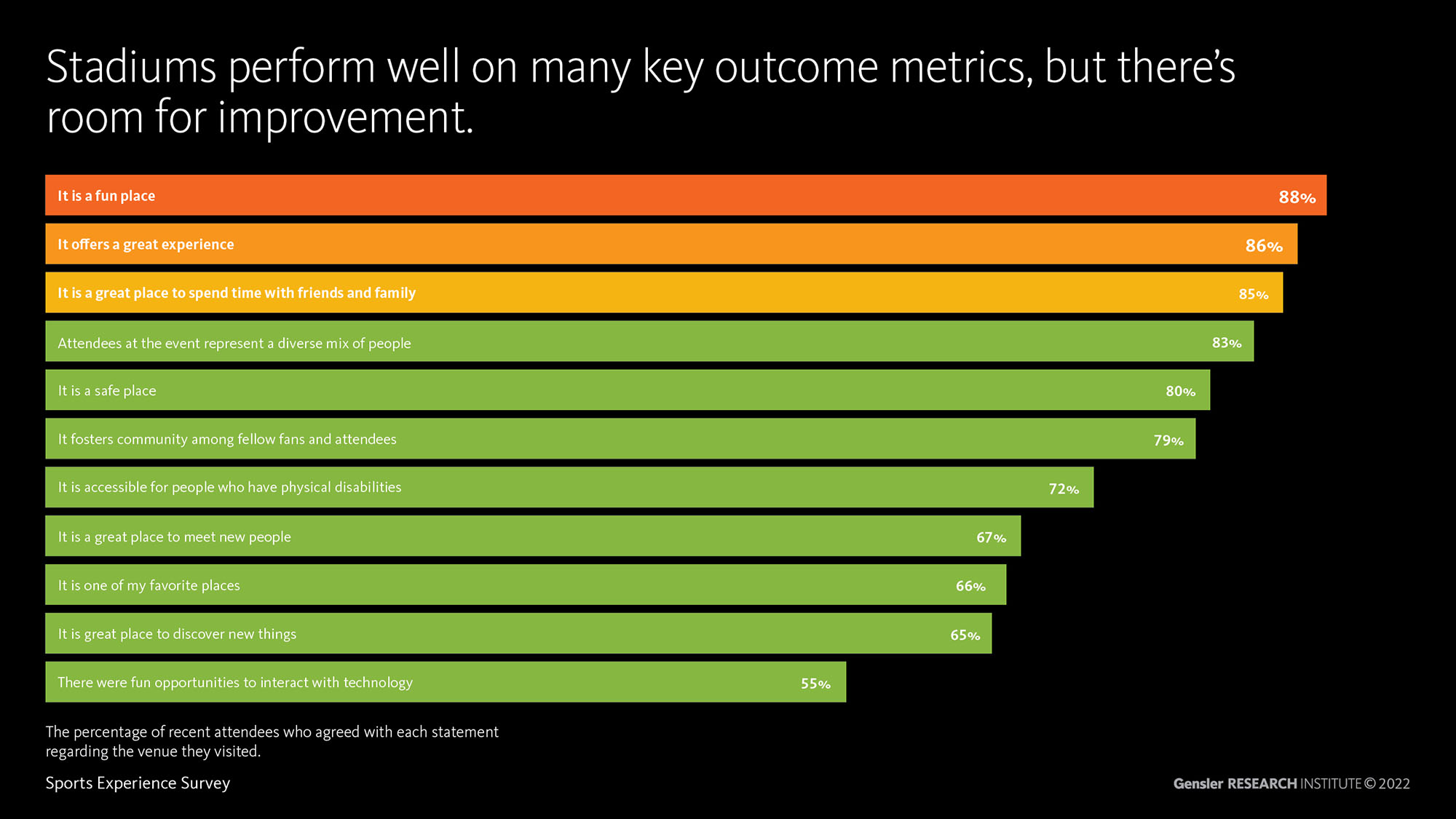 Younger respondents, avid fans, and season ticket holders are most likely to feel positive about many stadium outcome metrics.
Our surveyed respondents visited over 250 unique sports venues. Through their responses, we identified several key outcome metrics that offer a nuanced look at how attendees feel about stadiums and arenas — spanning from the access to fun and social opportunities they provide to the safety, diversity, and inclusivity of their spaces.

Our Sports Experience Survey found that, on the whole, attendees felt positive about the venues they'd visited recently. This is particularly true among younger respondents, avid fans, and season ticket holders, who were more likely to agree with many of the survey statements. However, there are key opportunities to improve — overall, respondents showed the least amount of agreement with statements regarding technology interaction and the ability to discover new things, indicating that many venues are failing to provide unique, immersive game day experiences.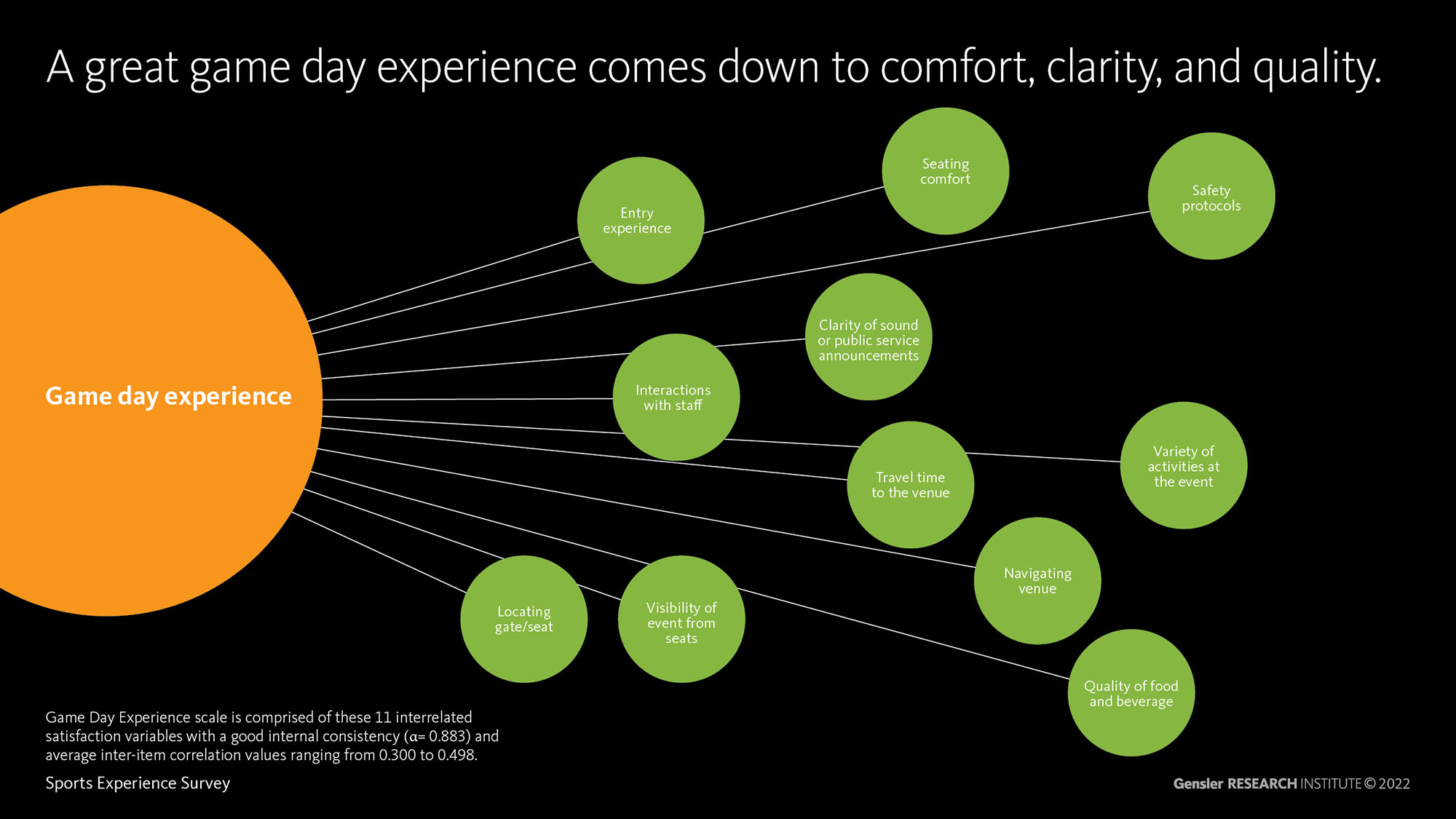 When venues fail to deliver on 11 key components of the game day experience, fan perceptions of the overall stadium or arena decline.
We identified 11 components of game day experience that strongly correlate with positive impressions of stadiums and arenas. When examining gaps in satisfaction between respondents who had the most and least positive game day experiences, we found that some of the largest disparities existed in perceptions of a venue's safety and accessibility. And while the majority of those who had a poor game day experience still felt that the venue was a fun place to spend time with family and friends, less than half agreed that the stadium was one of their favorite places. This indicates an urgent need for venues to engage in stronger placemaking for all attendees, without compromising on the measures and protocols that make them feel secure and inclusive.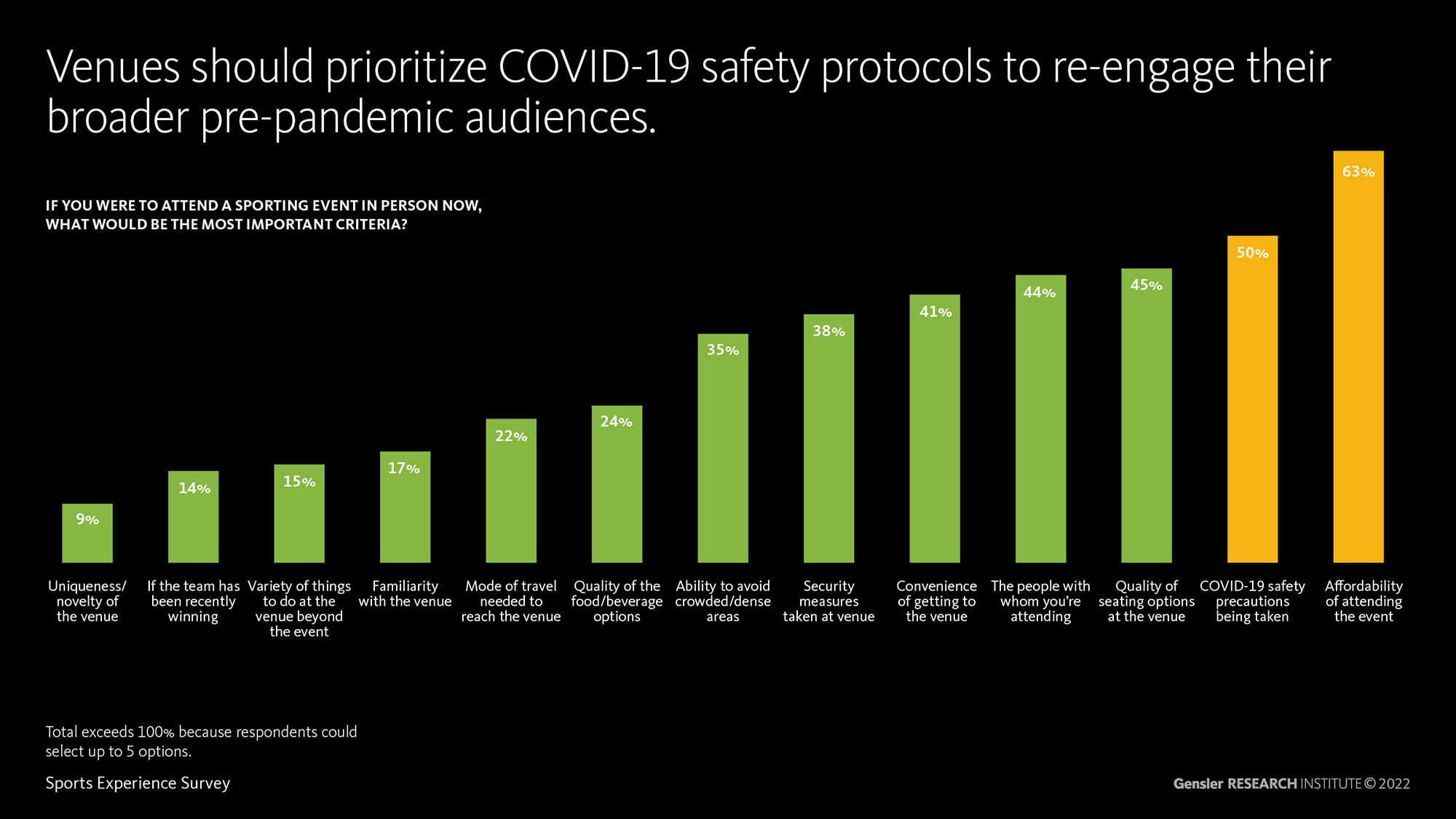 Venues need to prioritize COVID-19 safety protocols to re-engage their pre-pandemic audiences.
According to findings from our latest Sports Experience Survey, respondents who have returned to sports venues since April 2021 are most likely to be young, male, and avid fans. Sports venues need to reengage key parts of their former audience that are perhaps uncertain and/or unmotivated about attending live events amid the unfolding pandemic.

Safety is a huge concern for survey respondents. When asked about the most important criteria in attending an in-person sporting event, they ranked COVID-19 safety protocols in the top two highest ranking factors. That ranking remained consistent among respondents across different generations and spanning casual and average fans as. well as those who either weren't sure about returning or said they definitely wouldn't return to an in-person sporting event before the end of 2022.
Sports Experience Survey Methodology
We deployed an anonymous, panel-based survey to 1,540 U.S.-based respondents on November 10, 2021. Survey respondents were recruited by Kantar (a third-party research firm), and are demographically diverse across gender, age, race/ethnicity, income, employment, and U.S. region.
Those who had attended a live sporting event since March 2020 at the time of the survey (n=611) were asked a series of questions about the details of that event, as well as their opinions and perceptions of their experience. Respondents visited more than 250 unique sports venues, but not necessarily ones designed by Gensler. Respondents attended a wide variety of sporting events: indoor and outdoor, sports types, and both college- and professional-level. Recent attendees were well distributed across ticket price ranges and represented both season ticket holders and single-game purchasers.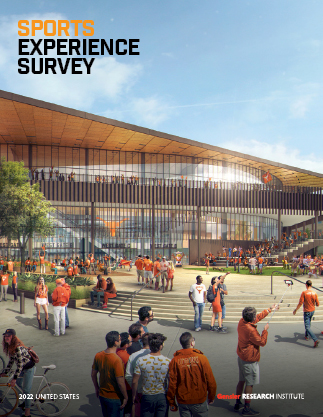 SPORTS EXPERIENCE SURVEY
GENSLER RESEARCH INSTITUTE
DOWNLOAD AS PDF