3 Ways to Rethink the Outpatient Healthcare Experience
September 21, 2021 | By Nicholas Watkins, Ph.D. and Kyle Sellers
The consumer health landscape is rapidly changing, and a variety of outpatient care options are fast becoming an integral part of today's health system. Consumers were already seeking outpatient care in myriad places — from pharmacies to rehabilitation centers, urgent care centers, and emergency departments — and the pandemic has only accelerated this trend. This drives higher quality outcomes for consumers, but it also means the fragmentation of services offered by healthcare providers. That's why now, more than ever, we have an opportunity to rethink the outpatient care experience.
To inform the future of outpatient healthcare and the design of these spaces, we launched a 3,500-respondent nationally representative survey, the new Gensler U.S. Outpatient Experience Index (EXI), in order to listen and learn from the experiences of people who had a recent visit to an outpatient setting.
Our work builds on the growing body of design research that measures the impacts of designed environments on health, well-being, and health equity, or health differences based on social, economic, or environmental circumstances. In healthcare design research, existing studies find strong statistical relationships between design and patient outcomes, including satisfaction, mortality, and health equity. As a case in point, one study found that patients in intensive care units have 42% lower mortality rates because of good layout and interior design.
We can't understate the magnitude and potential impact of what we're studying — there were over 880 million outpatient visits last year. Those visits include consults and routine care, but they also include procedures and surgeries that once required an overnight stay.
Here are three ways in which we're taking a different approach to outpatient healthcare environments:
1. Addressing fragmentation to improve continuity of care
Our research corroborates the reality that today's outpatient care is heavily fragmented. An ongoing shift in the healthcare industry dignifies people as consumers with choice and reason, rather than patients who are passive recipients of care. But as people may have more choices than ever, the ideal of continuity of care has not yet been realized; consumers lack a holistic account of their needs, piecing together different services across various locations.
A statistically meaningful portion of the outpatient consumers we surveyed reported that they made changes to their healthcare provider over the past year — and respondents are more likely to say they will change a provider if they experienced negative health impacts due to COVID-19. As referenced below, consumers receive outpatient services in numerous places, and our research grapples with figuring out the optimal balance and combinations of services for receiving comprehensive outpatient care.
On average, an outpatient visited two other services outside of the facility they last visited. These additional visits to other locations balance their healthcare needs. The most popular sites were: pharmacy, laboratory services, primary care, and outpatient imaging. Strategic and master planning efforts can use results by region and demographic to inform real estate and design decisions as systems grow their network of satellite facilities and strategic partnerships.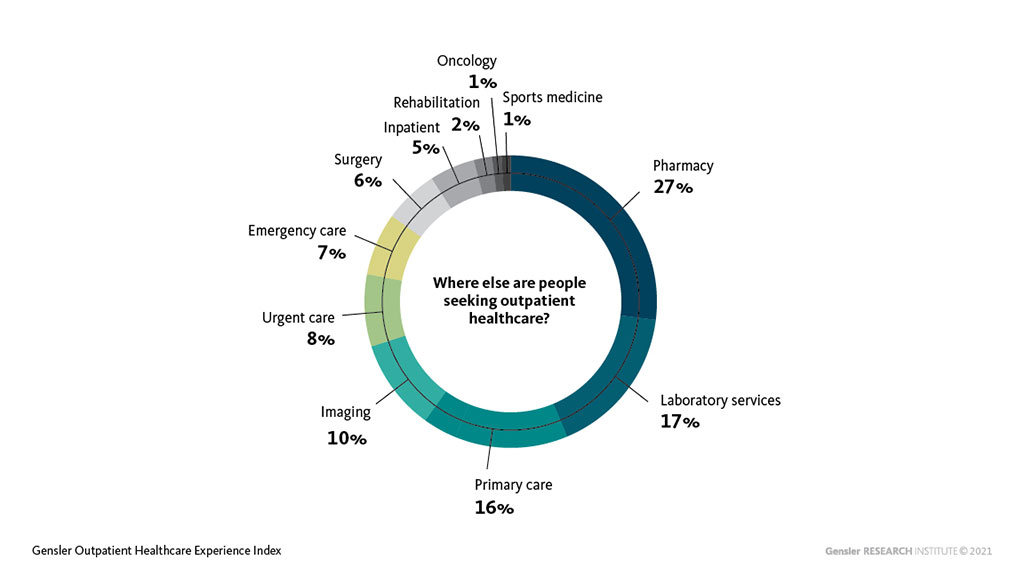 2. Pairing traditional measurements with sophisticated analytical methods
For this research, we also upped our analytical game. Only understanding data and consumers through demographic categories doesn't tell us what we want to know about health outcomes. So we leveraged a sophisticated method to figure out how subgroups of people may differ by outcomes like loyalty, health engagement, trust, and positive feelings toward facility design. Our statistical analysis identified often overlooked and smaller cohorts of outpatient consumers that can translate into greater market share for our clients.
Each group of outpatients has a mix of characteristics and experiences that impact meaningful outcomes and determine what matters to them when deciding where to receive care. Ultimately, studying consumers' experiences with healthcare design is growing, but we're now pairing traditional ways of measuring patient outcomes with more sophisticated analytical methods.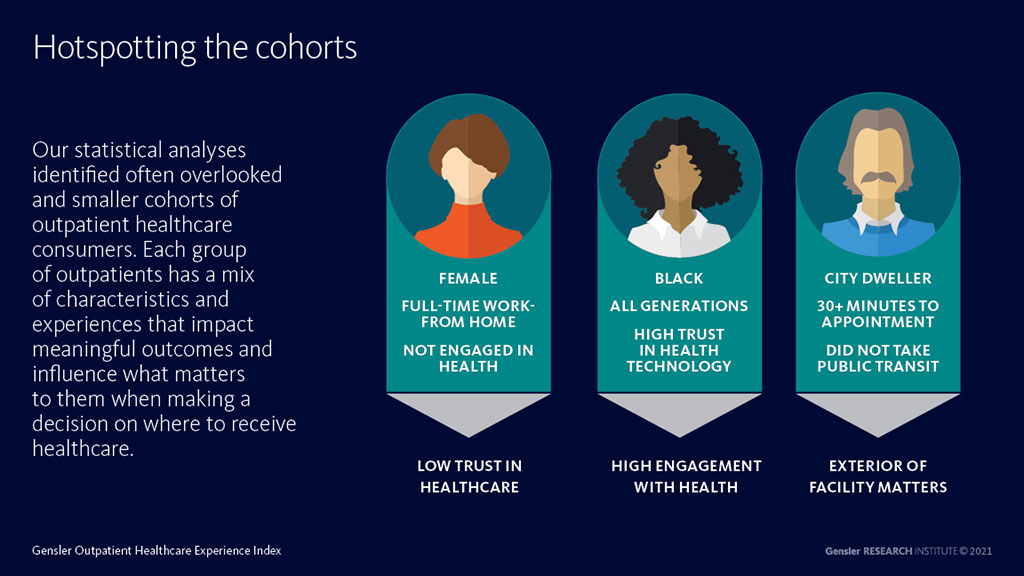 As you can see, we had a lot to figure out before we even began to grapple with how design fits into healthcare's big picture. But once we did this work, we found that a mix of interactions, services, and design variables can explain a sizeable amount of desired outcomes such as health engagement, loyalty, and resilience. Specific elements of interactions, services, and design should warrant a good deal of attention. For example, when pairing positive feelings throughout the consumer journey and the quality of interaction with the physician with design elements such as the impression of the exam room and facility exterior, we can explain 70% of the variance in outpatient loyalty. Put another way, the Outpatient EXI's measures of interaction, services, and design explain most of the business case for our clients (or, on the flip side, where our clients could be losing out).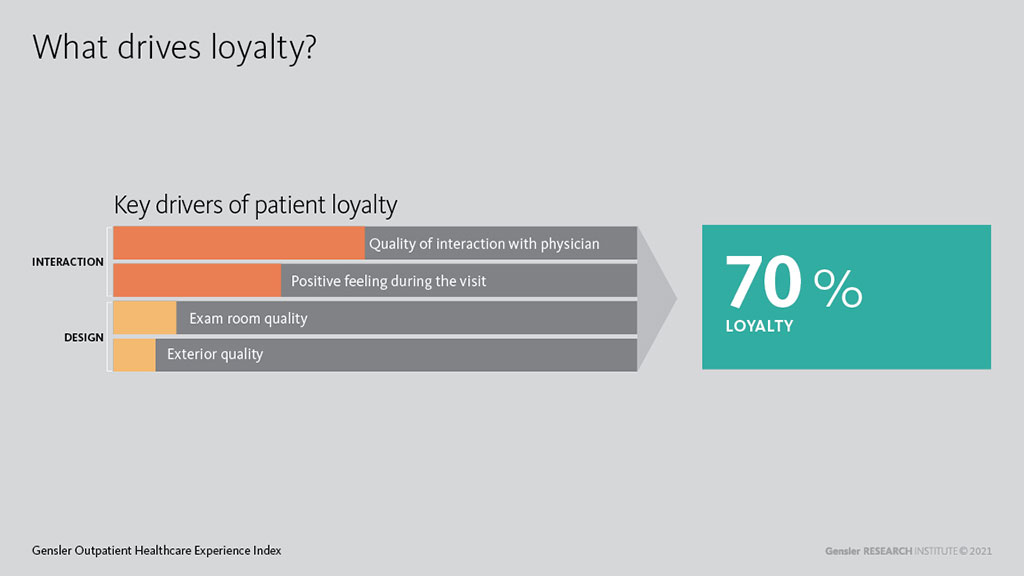 3. Establishing an outpatient experience framework
Once we laid out the various touchpoints along the consumer journey, we tested a framework for thinking about the outpatient experience. Our research established actions that lead to better outcomes, creating an overall better experience for the healthcare consumer. This framework reflects Gensler's unique positioning within the healthcare design market as no competitor has done such an extensive and rigorous study. In addition, though there are measures of patient satisfaction such as CMS's CAHPS series and Press Ganey's surveys, there has been no tool on the market that focuses on design and its relationship to patient experience and outcomes. That has changed.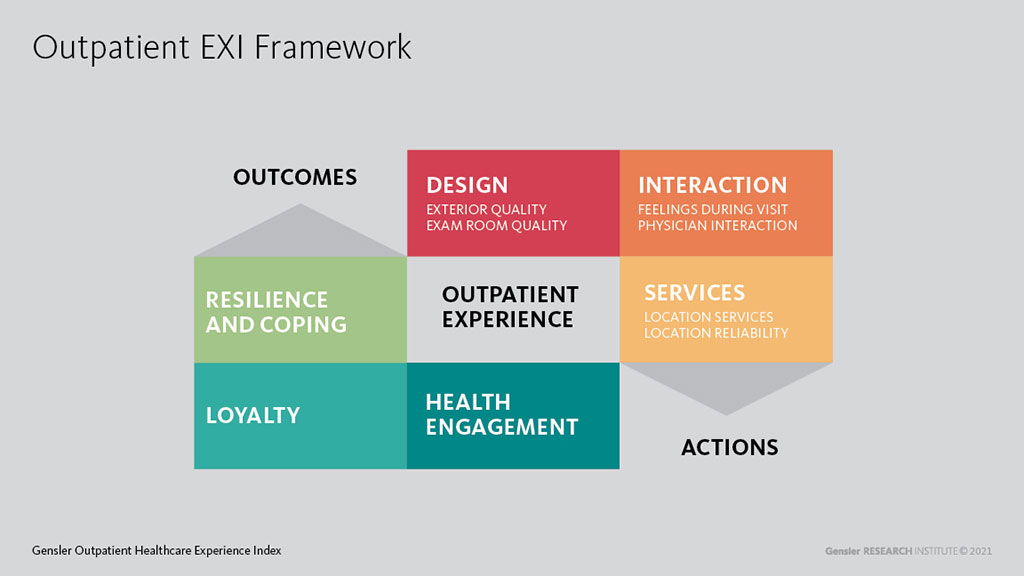 As we begin to see not only what consumers want from their outpatient experience, but how they view experiences with outpatient settings and virtual care as part of a broader continuity of care, we'll be on our way to facilitating healthier communities.
The full Gensler U.S. Outpatient Experience Index report will be released the week of September 27th, 2021. Click here to explore more insights and get notified with the latest updates.
For media inquiries, email .