WEBINAR:
HEALTHCARE
DESIGN STRATEGIES FOR A POST-COVID WORLD
The recent launch of Gensler's latest Design Forecast underscores the importance of reconnection and human-centered experiences in a post-COVID world. The pandemic has forever altered how we design our healthcare environments, transforming health systems at an unprecedented rate.
We know that virtual healthcare is here to stay. What other impacts to physical space should we consider to keep our healthcare systems agile and efficient, while also being prepared for the next great challenge? Holistic thinking is essential to keep pace with evolving technologies, consumer demands, and social inequality. By putting patients and providers first, an integrated approach to healthcare can accelerate innovation and enhance the human experience.
In this webinar, Gensler's Global Healthcare Leader James Crispino and Healthcare Resilience Leader Liz Resenic discuss the trends and design strategies that leading healthcare providers and operators are employing to continuously improve the level of care they provide. A panel discussion follows, led by Mixed Use & Retail Centers Leader J.F. Finn, Digital Experience Design Leader Hans Neubert, and regional Hospitality Leader Siobhan Barry.
Download Gensler's Design Forecast 2021 to discover more trends and strategies for transforming healthcare environments for a reimagined future.
Explore Design Strategies for a Post‑COVID World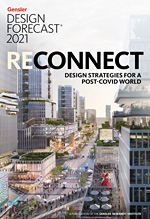 GENSLER RESEARCH INSTITUTE
DESIGN STRATEGIES FOR A POST-COVID WORLD
Download Gensler Design Forecast 2021 (PDF)