REPOSITIONING & LANDLORD SERVICES
Flexibility, adaptability, and well-being are driving the next chapter of building repositioning. Viewed through this lens, repositioned real estate is increasingly being understood as a reimagined experience that will serve an inclusive role in the surrounding community. A building's performance on health measures will be a key differentiator.
THE ARCHITECTURE AND PUBLIC HEALTH CONNECTION
"We've designed buildings for 100-year floods. Now we have to learn to design for the 100-year flu."
—Kevin Van Den Wymelenberg, Director of the Institute for Health in the Built Environment
ACCESS TO FRESH AIR AND HVAC UPGRADES WILL ATTRACT TENANTS
The pandemic put a renewed focus on health and well-being, so
buildings that have connections with the outdoors
, environmental control, mixed-use environments, Indoor Air Quality (IAQ) monitoring, and anti-pathogen HVAC upgrades will appear more attractive to tenants. Never has access to fresh air been more important; fully mechanical ventilated buildings may become a thing of the past. As the pandemic increases support for third-party health certifications and reveals the need for an independent building cleanliness rating system, owners may choose to get ahead of upcoming requirements.
TREND 02
POLYCENTRIC WORK
BUILDINGS MUST ADAPT TO POLYCENTRIC WORKING
The notion of the single headquarters office may become a thing of the past as tenants take a hard look at things like commute times during the pandemic. What could emerge is the concept of "homing from work," in which people spend longer hours around the office on fewer days per week, and exercise a far more meaningful combination of work and play. Approaches like this
maximize comfort and convenience
within and around the workplace and can help minimize the commuting burden by depressurizing rush hour. In anticipation of the changes, developers are creating highly flexible buildings that can work for many different industry types and can adapt to changes in shared spaces versus tenant-only spaces.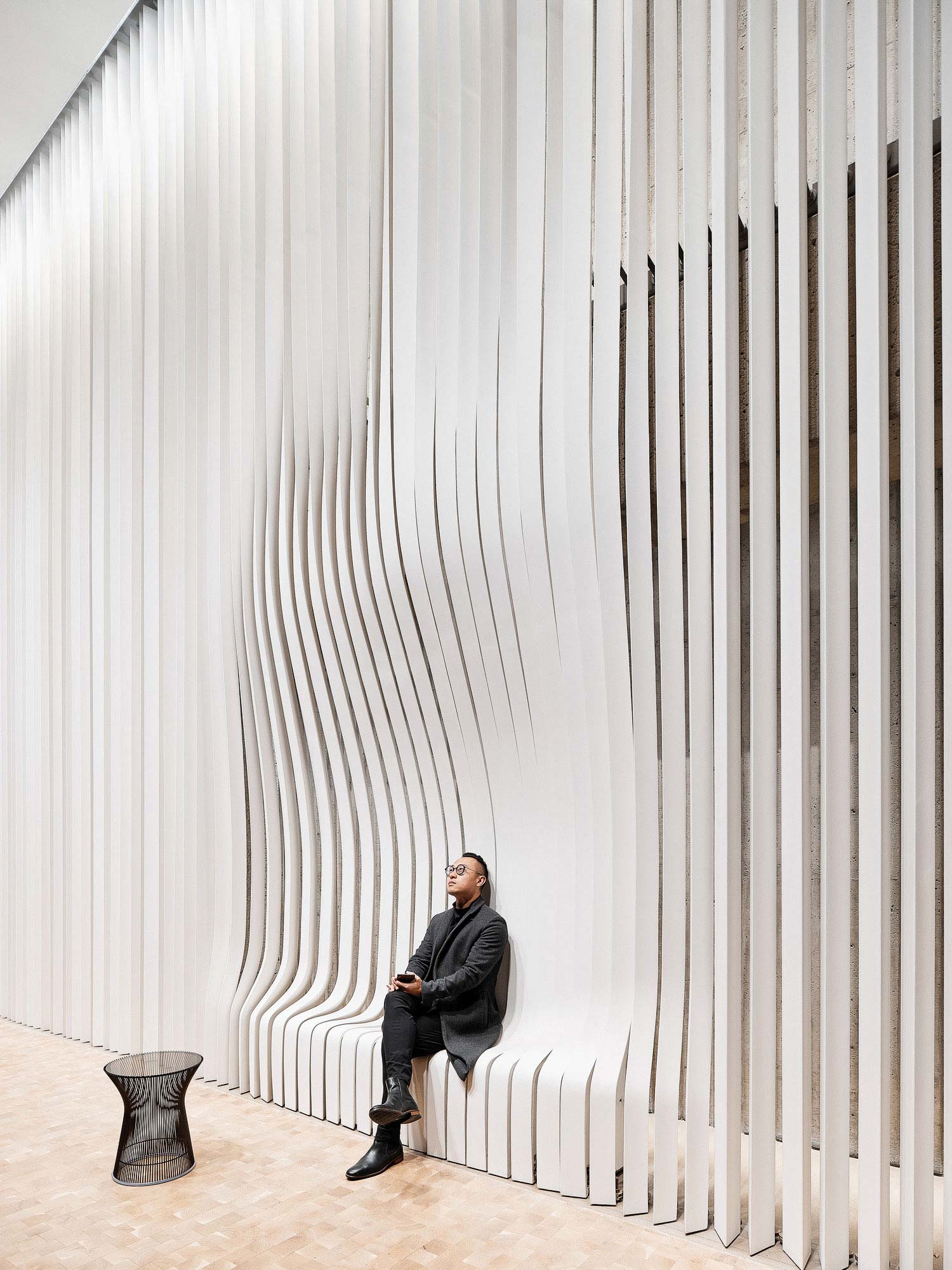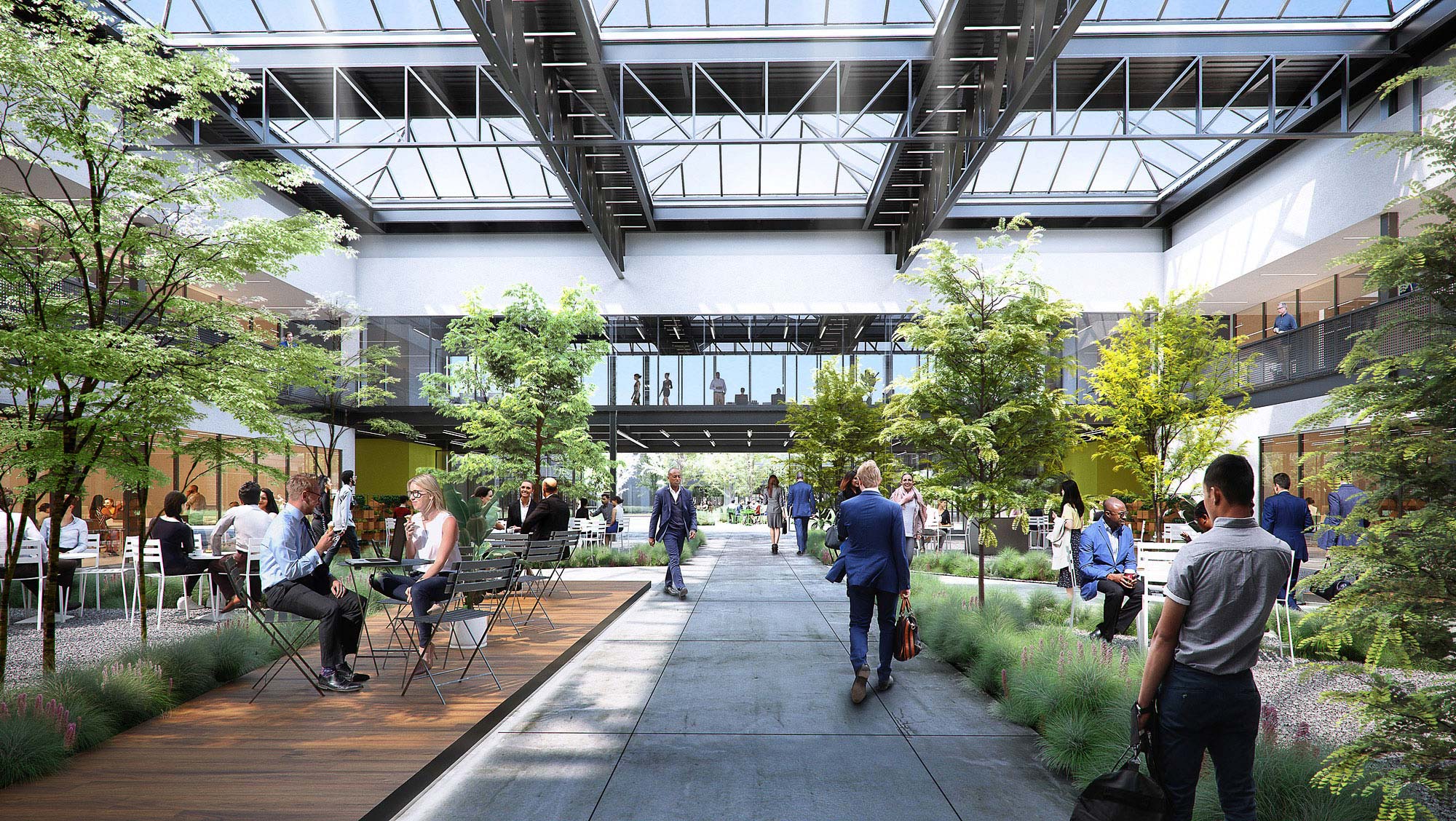 TREND 03
HOSPITALITY AND WELLNESS
HOSPITALITY-ORIENTED OFFICES WILL BE IN HIGH DEMAND POST-COVID
What will make someone go into the office in a post-pandemic world? Offices that are hospitality- and wellness-oriented and buildings that are able to
engage on the street level with their communities
will be key differentiators. As office environments become less about individual desks and more about creating shared experiences, the buildings with more and better stair connections will win out.
OLDER OFFICE BUILDINGS ARE RIPE FOR IMPROVEMENT
One cohort of office buildings, those built between 1946 and 1979, is still operating with a higher EUI [energy use intensity] than other generations. Constituting nearly a third of the nation's office stock, this cohort is fertile ground for further improvement.
—American Institute of Architects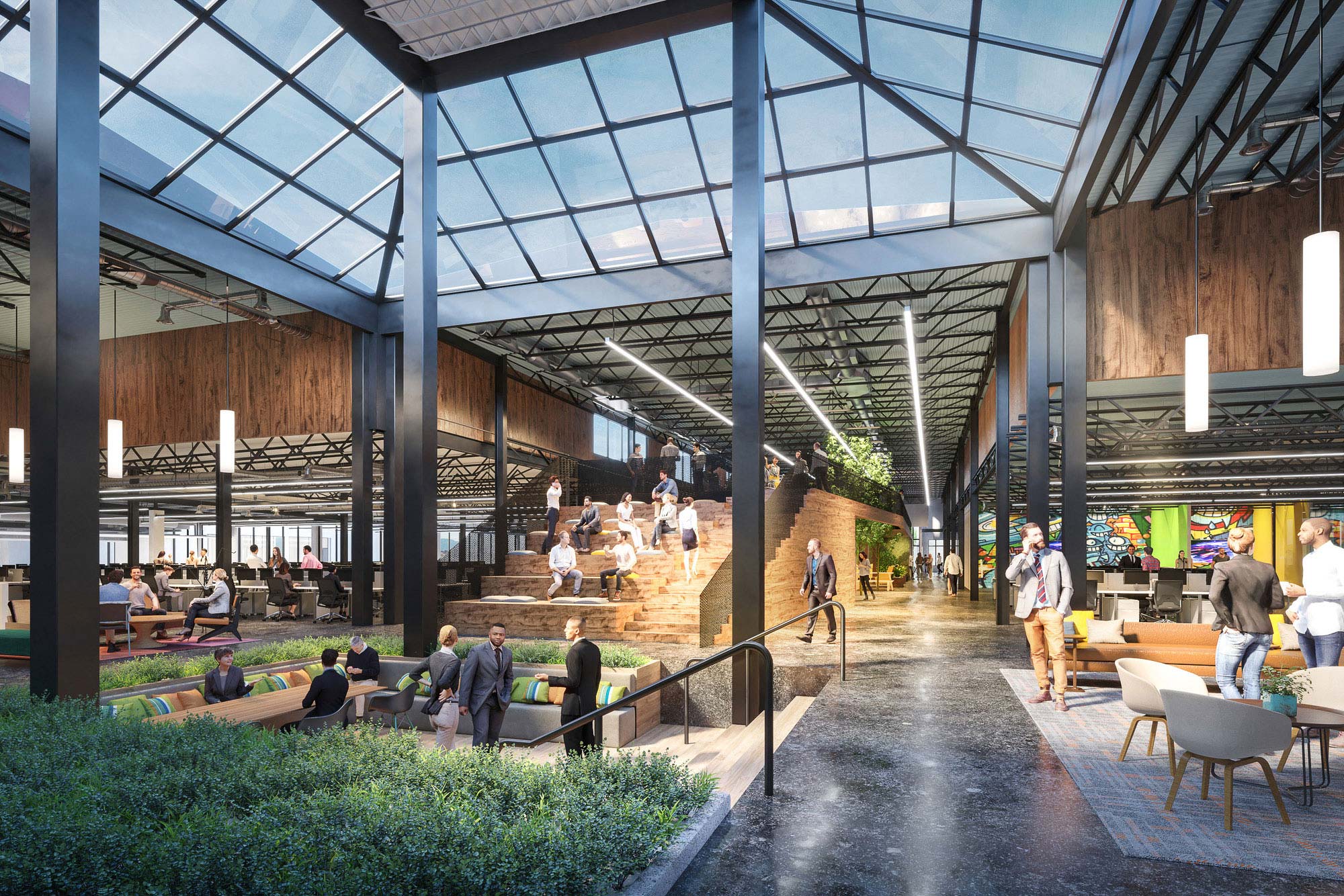 ADAPTIVE REUSE CAN MITIGATE EMISSIONS AND COSTS
"Adaptive reuse stands as a method to cut back enormously on both the emissions and the construction and demolition waste — not to mention the associated costs — that come with building something new."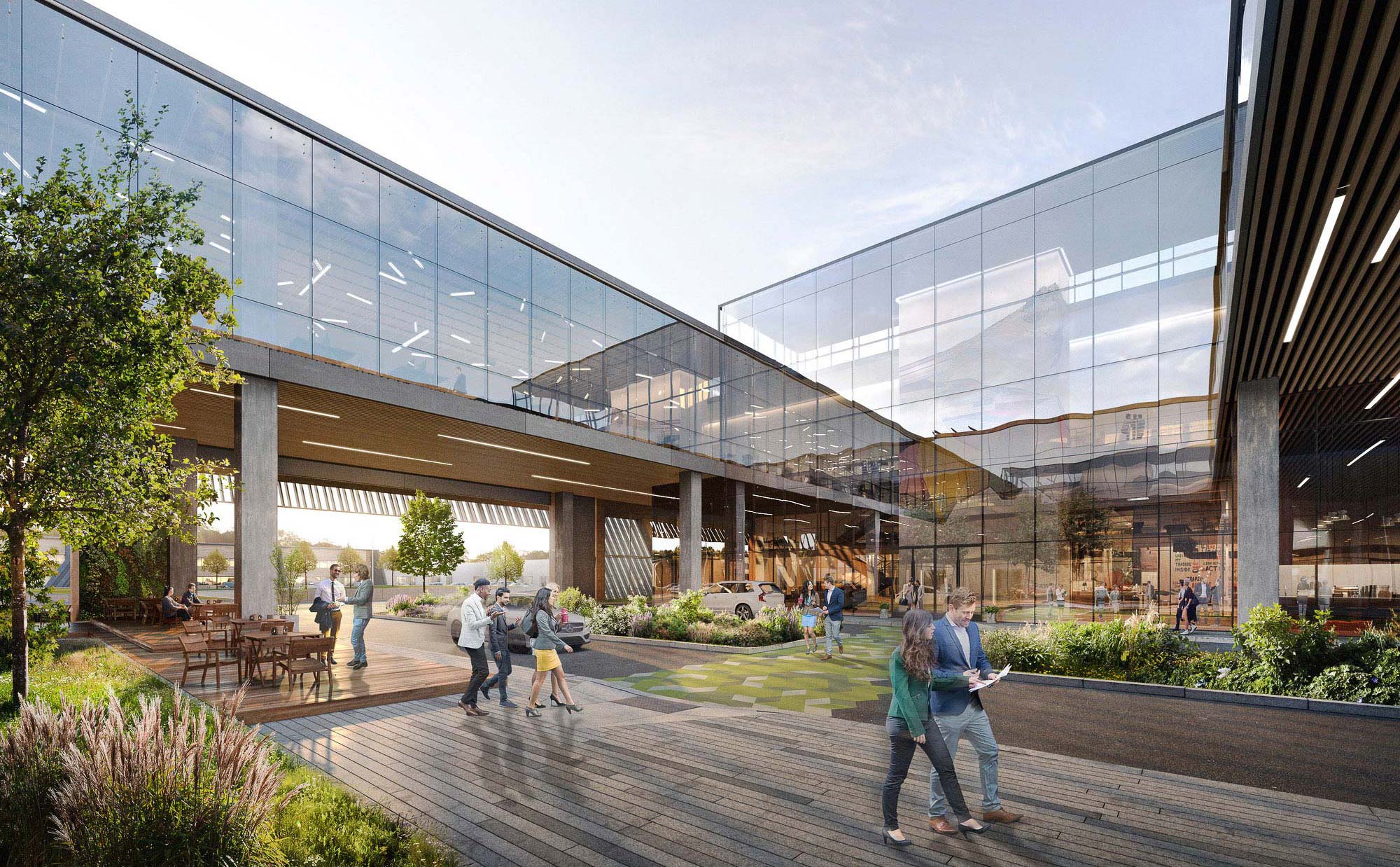 WAYS DEVELOPERS CAN REPOSITION OFFICE BUILDINGS FOR THE FUTURE
Existing office building stock represents a massive opportunity to reimagine our communities without maximizing our footprint. Rather than allowing buildings to remain insular and self-contained, office building developers can transform tower blocks into integrated, socially responsible buildings that contribute to the surrounding community. Here are five ways to make that happen:
INTEGRATE THE GROUND FLOOR INTO THE COMMUNITY
Building owners will need to expand their definition of "ROI" and become invested neighbors, working together with governing agencies to make the buildings in their communities active, self-supporting, and inviting. The streetscape will evolve into building lobbies with front porches, all offering something unique to support a community that is invested in its success.
EMBRACE GREENERY
Fresh air, water, sun, and shade are always desirable, and by converting hard surface plazas into designated pocket parks or city gardens, we can bridge the gap between the office and nature, work, and play.
MAKE SPACE FOR THE NEW MOBILITY
The acceleration of micro-mobility, delivery services, and electric vehicles has created the need to offset traditional parking with bike and scooter depots, shower or locker room facilities, and charging infrastructure.
CREATE OPPORTUNITIES FOR USERS TO PERSONALIZE THEIR JOURNEYS
Personal devices are beginning to replace building ID, security card, and elevator access systems. Tenants will expect their devices to be integrated into the environment and enable them to reserve amenities, conference space, micro-mobility valets, and other services.
SEEK OUT A DIVERSE SET OF NEW OFFERINGS
Landlords will need to find different financial models that support tenants' needs, such as shorter-term leases, support spaces, and new programming. On-site or easily accessible nearby conveniences like medical clinics, grocery shopping, ghost kitchens, production spaces, and embedded technology will be valuable offerings.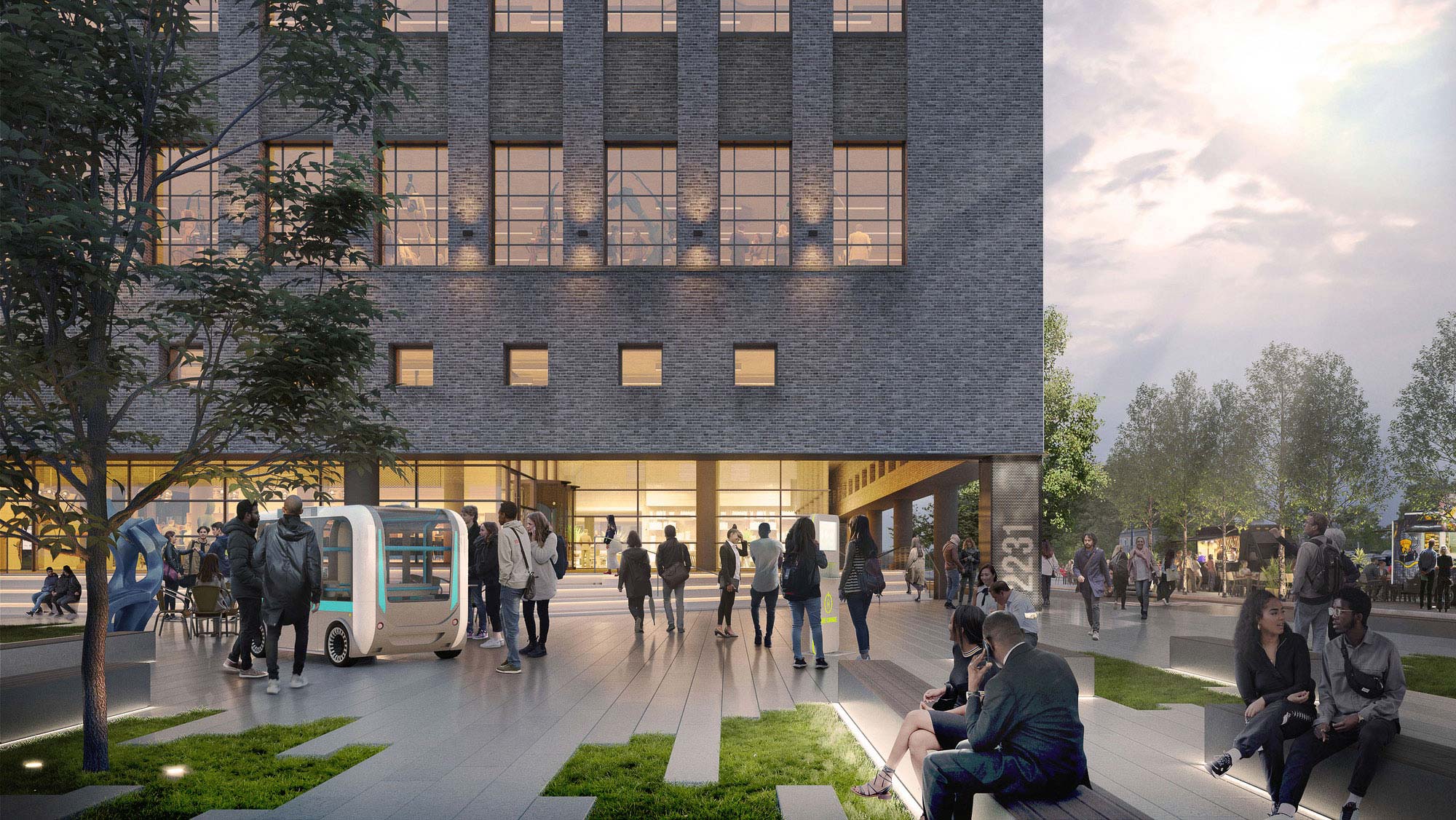 Through the revitalization of the old Book Depository, Gensler will support Ford's efforts to reimagine its Michigan Central Station development to create a new mobility innovation district in Corktown, one of Detroit's oldest neighborhoods. The Book Depository, one of the first buildings to open in the reimagined development, will become the industrial center of the district, with maker spaces, labs, and mobility studios. The building is emblematic of today's evolving workplace — it's a blended, collaborative environment, where the lines between traditional desking and adjacencies are increasingly blurred. The multi-tenant, three-story building will bring together innovators, entrepreneurs, emerging technology companies, designers, technologists, and Ford employees to develop, test, and launch new mobility solutions in a creative, fluid space designed to flex for future needs.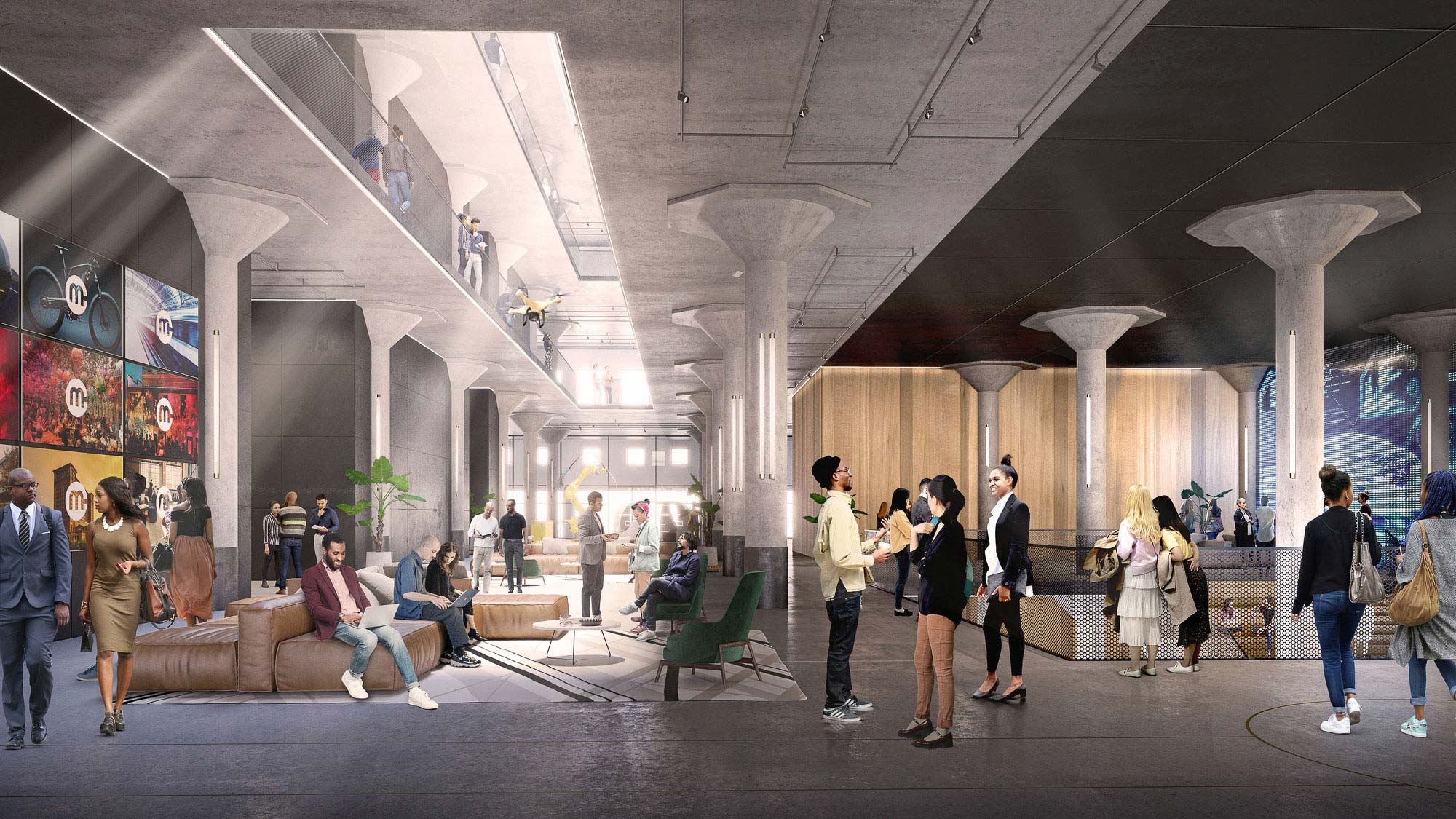 Explore Design Strategies for a Post‑COVID World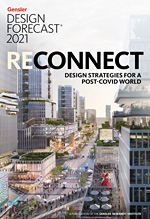 GENSLER RESEARCH INSTITUTE
DESIGN STRATEGIES FOR A POST-COVID WORLD
Download Gensler Design Forecast 2021 (PDF)