CONSULTING &
REAL ESTATE SERVICES
As companies address complex challenges, they can find a path forward by fusing research, strategy, and design thinking. This strategy can also build trust and increase competitive advantage. Everyone from employees to clients are paying closer attention to how companies operate, and they want to align with values that work for them.
DIGITAL SOLUTIONS HAVE DEMOCRATIZED ACCESS TO EXPERIENCES AND CONVENIENCES FOR INDIVIDUALS AND COMPANIES.
—McKinsey Blog, "Reimagining the Real Estate Industry for the Next Normal"
TREND 01
NEW TECHNOLOGIES
USE TECHNOLOGY TO DEFINE NEW REAL ESTATE STRATEGIES
Reservation systems, sensors, smart building systems, touchless solutions: Companies are adapting to a vast
array of new technologies
that have major implications for workplace norms and cultures. Employees of different generations and backgrounds will have varying comfort levels with such changes, and it will be up to employers to facilitate universal adoption. Beyond the personal psychological adjustments, new technology will drive
how companies craft real estate strategies
. As industries such as healthcare and banking become further immersed in technology, employees will expect the same from workplaces in other sectors — and employers will expect benefits to follow.
TREND 02
HYBRID WORK CULTURE
HYBRID WORK REQUIRES NEW CULTURE STRATEGY
Companies are reevaluating every business process to support
both remote and in-person work
. This will lead to a need for organizational
design and culture strategy services
. Whether companies return to the office in full or in part, the amenities conversation will focus on creating a shared sense of purpose via physical space. For companies that choose to stay remote, the future will demand novel strategies on a mass scale to help workers stay engaged. This will entail policy changes, as will many employers' decisions to pursue new equity and inclusion goals. Getting an organization to operate in lockstep could be this decade's most underrated challenge.
TREND 03
RESILIENCE AND FLEXIBILITY
HEALTH AND ECONOMIC DISRUPTIONS ARE BECOMING MORE UNPREDICTABLE
We now understand the range of disruptions to be wider than once thought; widescale public health concerns and economic uncertainty will be a part of our reality for years to come. Companies must cast a wide net in determining their preparedness. The full secondary impacts of the economic crisis are unknown, including the impact of a "K" shape recovery, so industry leaders are more interested than ever in resilience and flexibility in their operations and real estate. Economic impacts vary greatly between individuals, cities, and countries, so companies need to stay nimble as they adapt to the many "new normals" in which they operate.
TO LEAD WITH TRUST IS RARE — AND A MASSIVE OPPORTUNITY
"When there is more trust in the workplace, employees are 23% more likely to offer more ideas and solutions."
—SHRM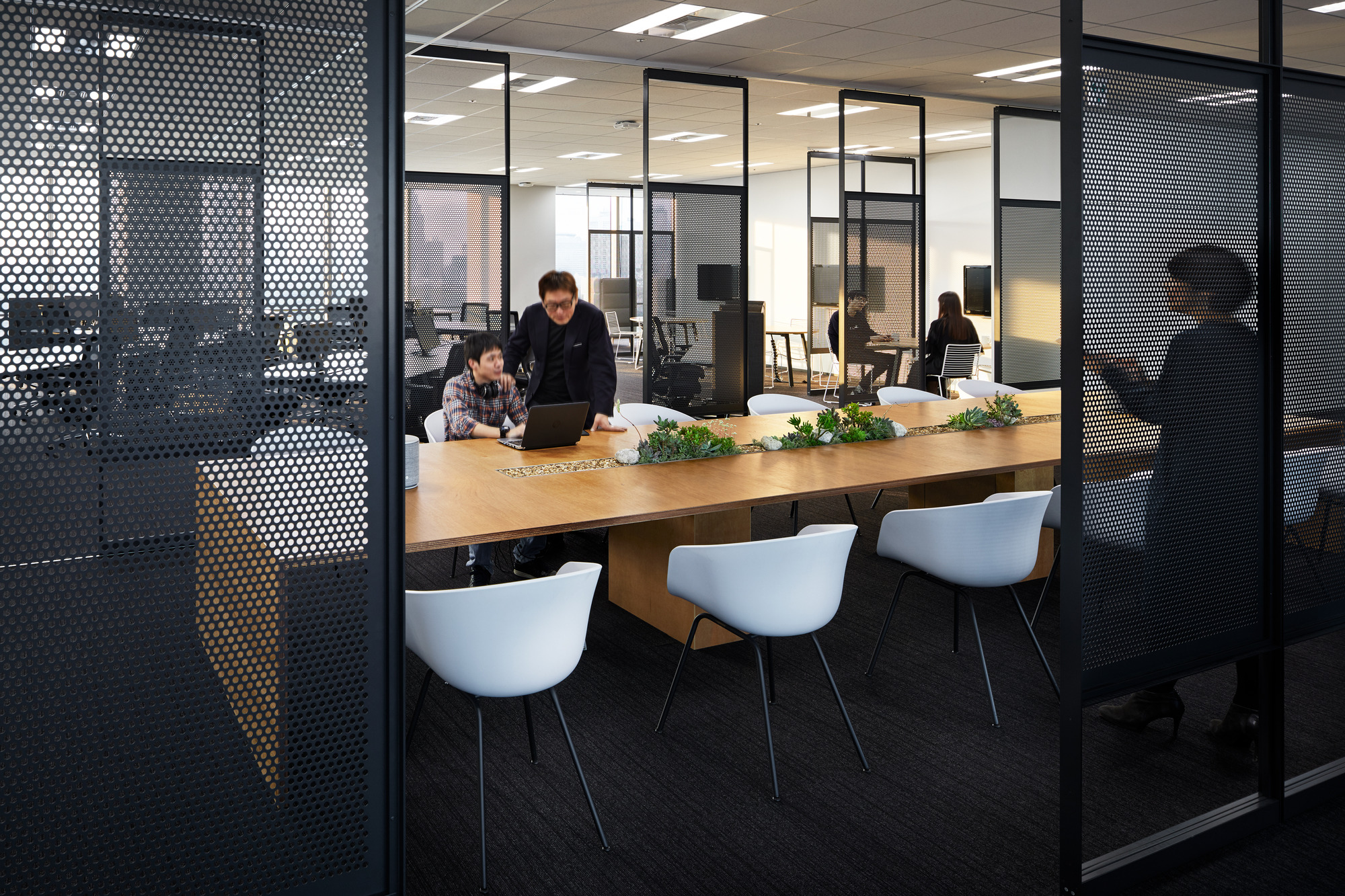 EMPLOYERS AND EMPLOYEES ALIKE WANT PURPOSE-DRIVEN WORKPLACES
"Employees want to keep the coffee lounge and they want to know whether the farmers were paid fairly. They expect a safe, clean, sustainable building. They want to be around colleagues socially and they want to work when and where they're most productive. For those providing workplace amenities, there is an opportunity to completely rethink your employee or tenant value proposition around change, choices, and control."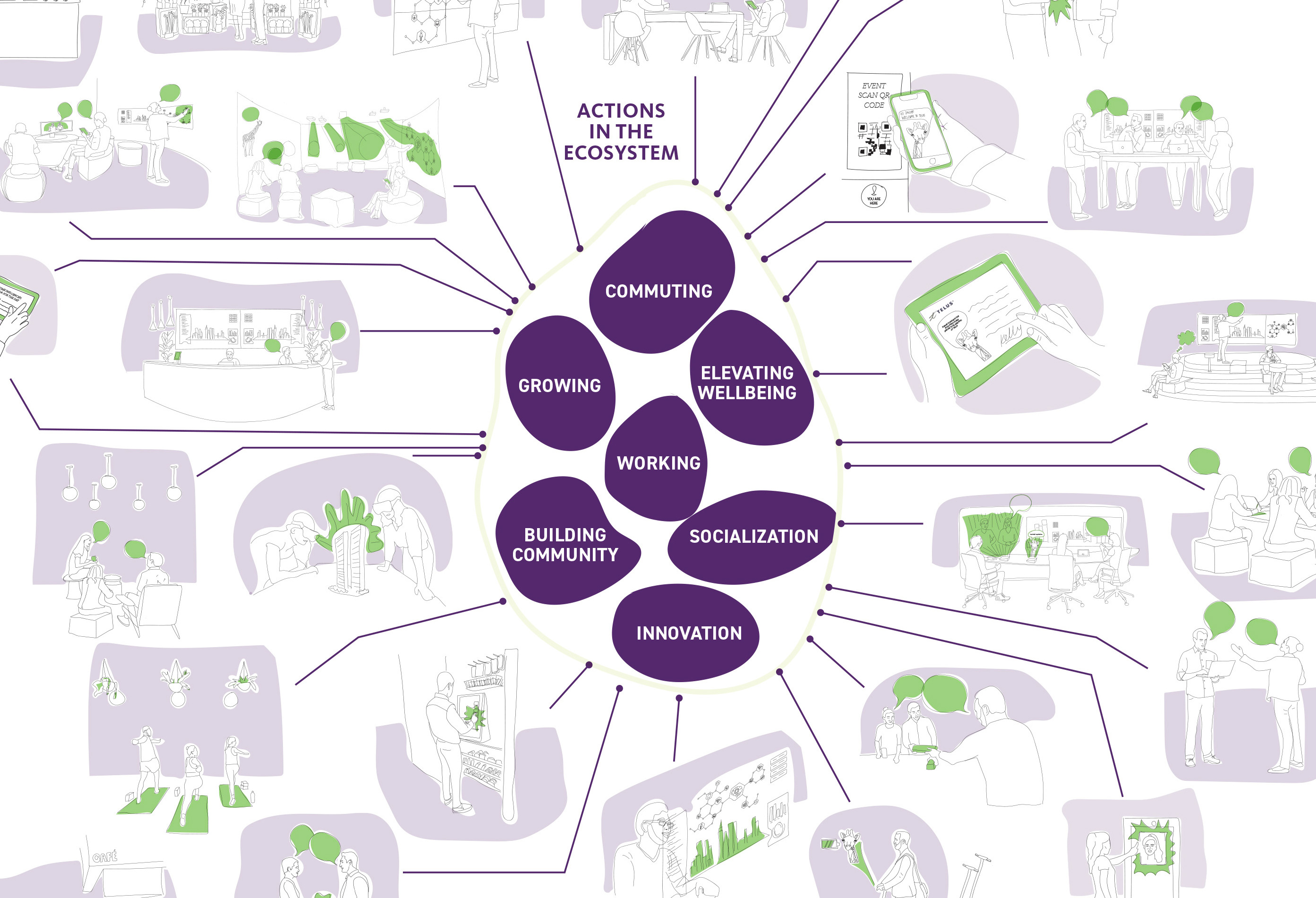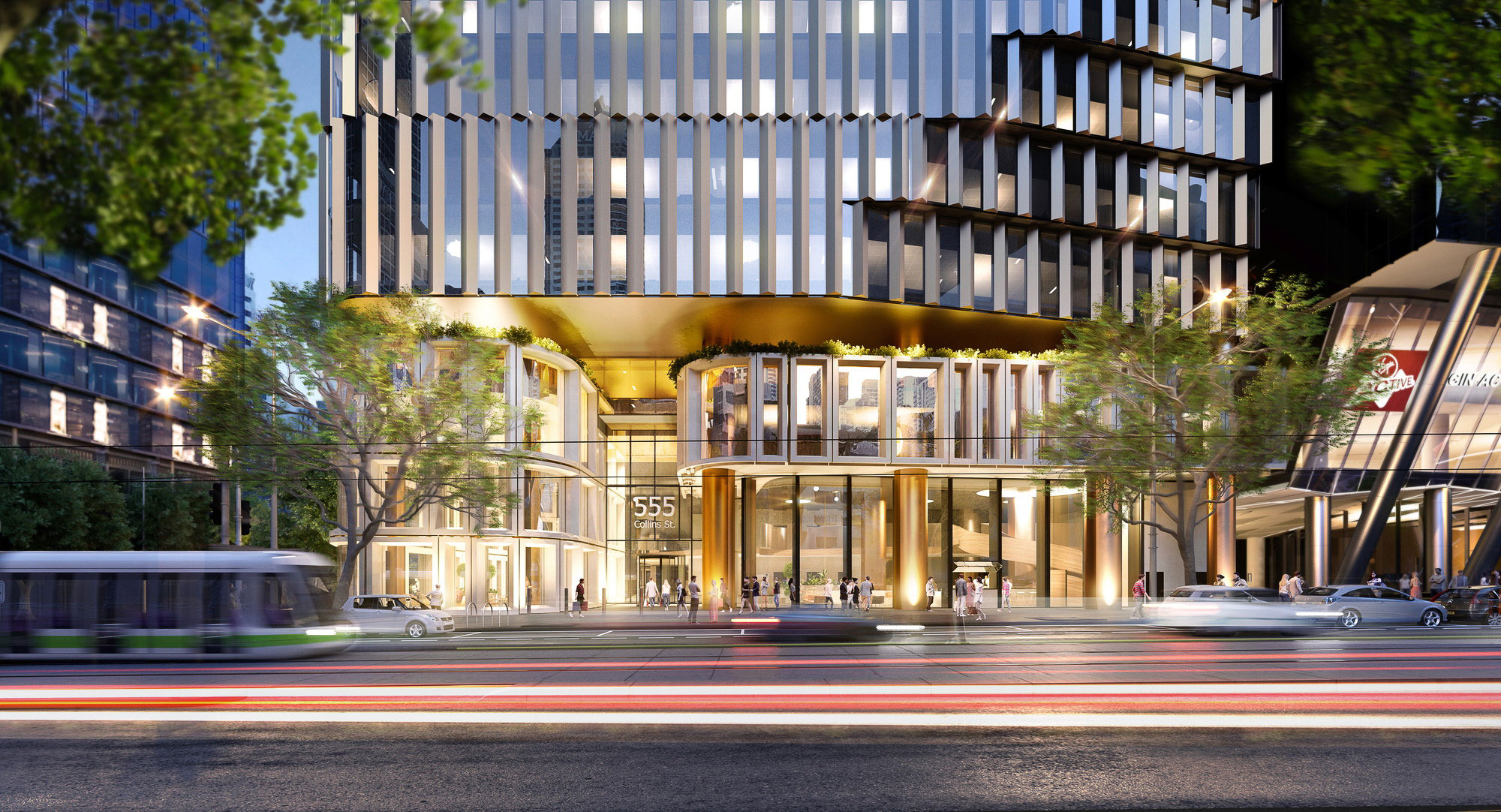 USE SPATIAL ANALYTICS TO ASSESS RISKS OF VIRAL TRANSMISSION
A well-designed healthy workplace has always boosted wellness and productivity, but now there's demand to design systems that can limit viral transmission risk. This might include understanding flows and integrating smart materials that notify when things have been touched but not cleaned, automation and voice activation tools, and advanced air purification systems.
LEVERAGE VIRTUAL WORKING HABITS AND TECHNOLOGIES TO REMAKE THE OFFICE
The shift to remote work presents an opportunity to collect data on emerging collaboration patterns and translate these behaviors to physical spaces. Insights into new habits, software, and workstyles can help us take a closer look at everything from real estate assets and IT to human resources and policies.
WIRE THE BUILT ENVIRONMENT TO UNDERSTAND BEHAVIORAL PATTERNS
A workspace is no longer just real estate. It's critical for developers, building owners, and employers to set up workplaces to be environments that offer the opportunity to learn about behavior to create positive outcomes, including a healthier workplace.
DESIGN FOR EXPERIMENTATION IN WORKPLACE FLOOR PLANS
The next frontier in workplace design will be intelligent placemaking — the design of smart systems that allow us to learn more about a space and how people use it. Companies should set aside a percentage of square footage to test and learn. At Gensler's New York office, we've dedicated an entire floor to act as a living lab where our team tests sensor technologies to ensure the data we're collecting is reliable. This is how we can de-risk a million square feet.
Explore Design Strategies for a Post‑COVID World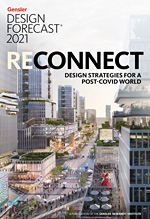 GENSLER RESEARCH INSTITUTE
DESIGN STRATEGIES FOR A POST-COVID WORLD
Download Gensler Design Forecast 2021 (PDF)