Digital Transformation of Healthcare Design
March 17, 2021 | By Scot Latimer, Richard Tyson
In the past, when you wanted to know about your health, you would consult your physician. Today, you're just as likely to consult your watch or make an appointment to video chat with your doctor. Technology for health and healthcare is being woven into the fabric of our daily lives. Personal health monitoring tools, telemedicine, and new in-clinic technologies like AI diagnostics are reinventing the relationship between patients, providers, and the built environment — and changing how the places that support our health need to be designed. Health is now solidly "digital first" and it will be essential that we design with digital in mind.
Over the next 20 years, we will see a revolution in planning and space design to support digital engagement in clinical settings, in the digitally connected home, and in more connected communities.
Designing for the digital consult
Digital-first healthcare changes how doctors and patients interact. Doctors need specialty workspaces designed for consultation with remote patients, as well as the ability to switch between remote and in-person care. Clinical spaces will need to be flexible to support new technologies such as virtual reality, and doctor-patient consultation will be digitally enhanced with more immersive and intelligent in-room technology supporting more advanced diagnosis, richer patient conversations, and real-time diagnostics.
Additionally, as personal devices become an integral part of self-managed and preventative care, they will also be an integral part of the doctor-patient relationship, both in-clinic and remotely. The challenge and opportunity go far beyond what we are today calling telemedicine to encompass a suite of tools that will make tomorrow's consult more effective for patients and more efficient for providers.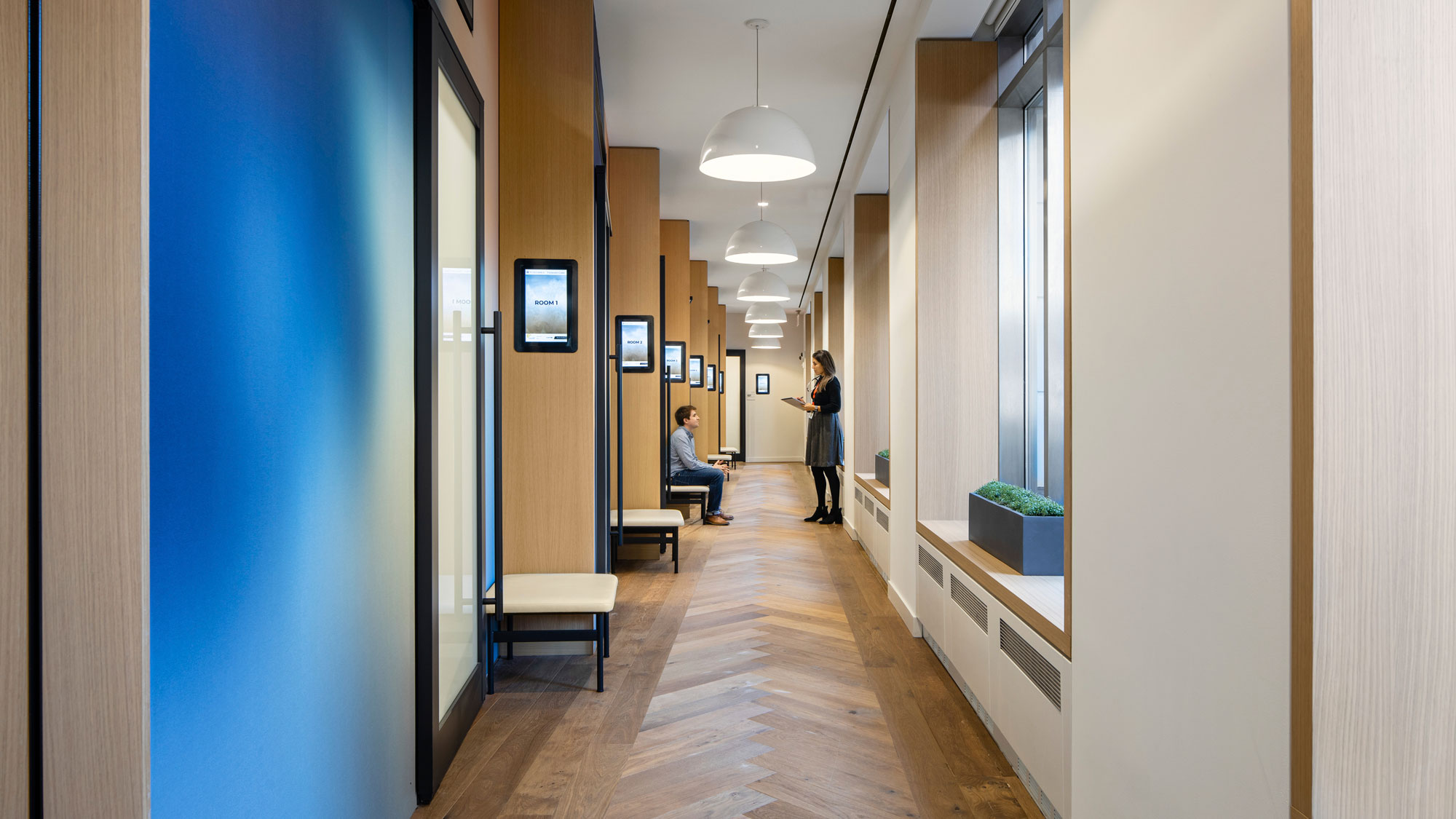 Making space in the intelligent clinic
Digital-first hospitals and clinics will learn from retail and hospitality to create more seamless, personalized digital patient experiences — both remotely and in person. The new standards for experience will be more like the Four Seasons than a best-in-class hospital. Arrival and check-in will become frictionless, personalized, or automated. Digital coordination of doctors, nurses, and staff will make clinical environments more efficient and effective, but will also change how clinicians organize their time on-site.
The mass-customization of healthcare is coming, and a host of start-ups are leading the way. In a more intelligent clinic, hospital and clinic staff will need new kinds of spaces designed to support new digitally-powered workflows, which will allow medical professionals to customize treatment and shed the need for "one-size-fits-all" healthcare.
Next generation analytics for design
In a digital-first hospital, physicians don't need permanent desks and patient rooms can be constantly reconfigured. Designing for this level of flexibility requires better insight into how digital interaction will affect space, patient journeys, workflows, and experience. Better modeling and analysis for space planning, programming, and design will be essential to deliver better experience. Moreover, the presence of more technology, real-time tracking, and digital engagement will usher in a new world of data-analytics to understand experience and performance of healthcare facilities.
Principles for Designing Digital-First Healthcare
As Gensler integrates digital into our healthcare design process, we have identified four fundamental principles to ensure better outcomes for clients and their communities.
1. Anchor design in the physical-digital journey.
Designing great healthcare experiences means understanding the overall health journey and digital interactions people have throughout their lives, as well as in the clinic. With digital and mobile technologies, people can engage with their health anywhere — whether they're running, commuting, working at home, or traveling. Understanding how the workflow of clinicians and the patient journey coincide online and onsite will be critical to anchor our designs of healthcare spaces.
2. Design space, services, and digital engagement together.
Great experiences are defined by how they blend place, service, and digital engagement. This is just as true of healthcare. By using experience analytics, we can better understand the patient journey, as well as what people want and expect from their space or interactions. Gensler is integrating advanced spatial analytics to support programming, design evaluation, and quantified journey-mapping to improve the effectiveness of future clinics and hospitals, and to establish new ways to evaluate healthcare facilities today.
3. Make data and analytics part of the design process.
Applying data to support design decisions, model opportunities, and measure design performance is now essential. Advances in technology are not just transforming the clinical experience of healthcare — these advancements are giving us much richer data and much more powerful tools for applying analytics.
At Gensler, we are integrating spatial analytics to better optimize layouts and workflows to meet programming goals. And we are using sensor data and analytics to model site performance and behavior, diagnosing opportunities for design or operational improvement. These advances are making it possible to work more quickly, support better decisions, and align experience and operations to create uniquely valuable healthcare experiences.
4. Differentiate with physical + digital experience.
Experience is what people remember and come to expect about you; a good experience is expressed through the stories that people share about what it's like to engage with your places and services. Focusing on the human journey with integrated design and advanced analytics has more advantages that just better design and performance — it also supports unique opportunities to differentiate from the competition, build brand equity, and develop powerful approaches to real estate strategy.
New digital platforms and health technologies are becoming an integral part of future-ready healthcare. Emerging digital solutions that are blended with physical spaces can help make care more personalized, responsive, and effective. By designing with digital in mind, we have an unprecedented opportunity to reconsider care delivery through the lens of human experience.
For media inquiries, email .