WEBINAR:
DIGITAL EXPERIENCES
DESIGN STRATEGIES FOR A POST-COVID WORLD
Gensler's latest Design Forecast examines how the pandemic catalyzed the convergence of digital and physical spaces to create more seamless and sophisticated experiences. Now that the digital transformation of the built environment has accelerated, how will our hybrid future play out? We see new opportunities for hybrid work, touchless and data-informed environments, and immersive experiences that give people a reason to reconnect and reengage.
In this webinar, Gensler's Global Digital Experience Design Leader Hans Neubert discusses the evolution of the built environment and its relationship with technology and digital experience in an increasingly connected world.
A panel discussion follows, led by regional Hospitality Leader Siobhan Barry, Health Sector Leader Scot Latimer, and Intelligent Places Leader Richard Tyson.
Download Gensler's Design Forecast 2021 to discover more digital experience design trends and strategies for creating transformative experiences for a reimagined future.
Explore Design Strategies for a Post‑COVID World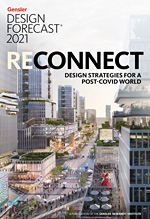 GENSLER RESEARCH INSTITUTE
DESIGN STRATEGIES FOR A POST-COVID WORLD
Download Gensler Design Forecast 2021 (PDF)