Meet the New 9-to-5: An Enhanced Approach to Hybrid Work
August 11, 2021 | By Brian Stromquist
This was originally published on March 5, 2021. It has been updated to reflect the ongoing concerns about the coronavirus, and the challenges and opportunities our clients face.
The traditional 9-to-5 workday has typically been defined by the well-worn routines of clocking in, taking breaks, clocking out, and then heading home. But the pandemic has upended this paradigm entirely, blurring the traditional boundaries between work and life and fundamentally distorting our perceptions of time and place. So now, as we look ahead, reexamine policies, and plot our returns to the workplace, there's an urgent need to craft new routines that not only reinstate work/life boundaries, but also address the new behaviors that we've honed in our respective remote work experiences.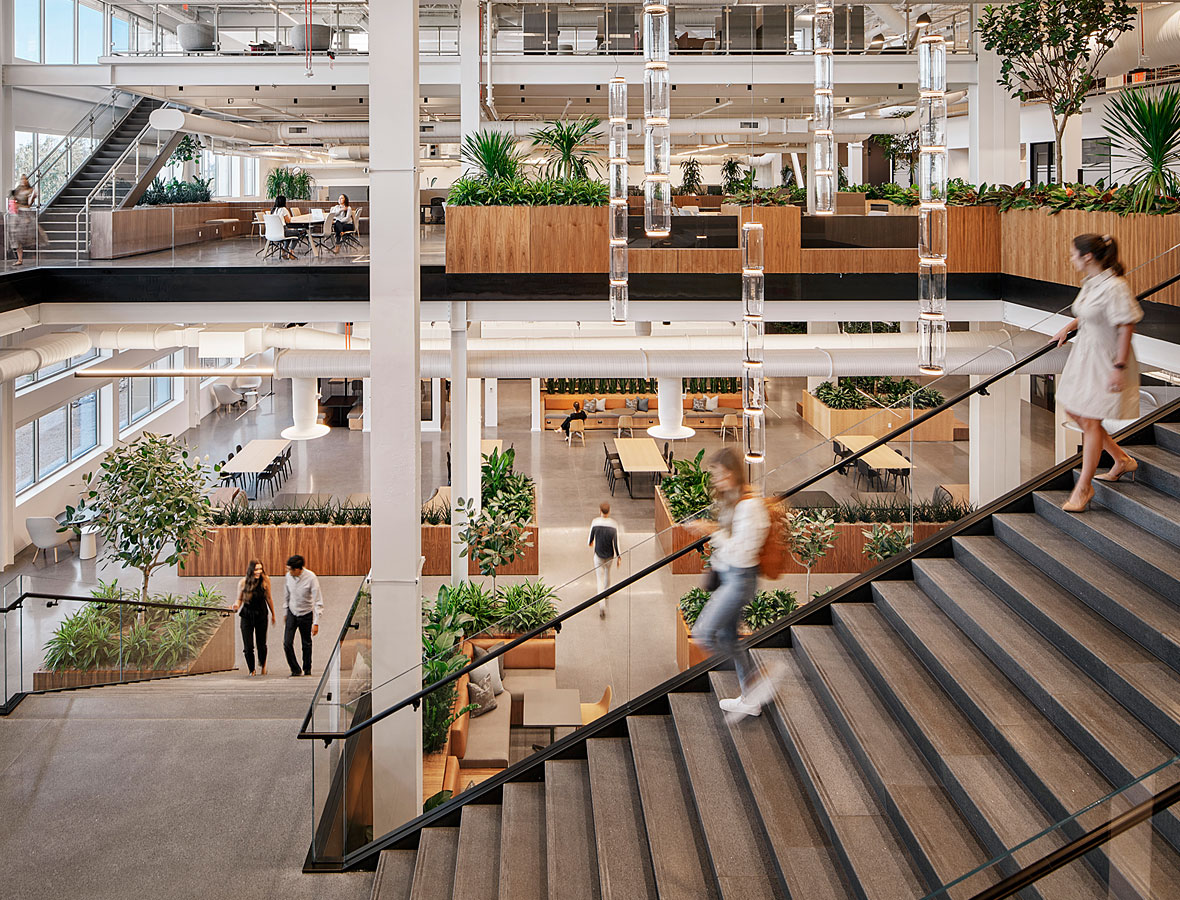 Workplace Performance Index
Interested in learning how your workplace is supporting workers and driving your business outcomes? Discover more with our WPIx.
Meanwhile our cities, once the locus of 9-to-5 culture, are suffering an existential crisis of their own, one intrinsically linked to the removal of place from our current WFH reality. In my home city of San Francisco, this is most prominently witnessed in the temporary vacancy of Salesforce Tower and its adjacent developments housing many of the city's most prestigious tenants. This has also profoundly impacted the cottage industries that sprung up around these developments, putting many people who don't have the option of working from home out of a job.
In the current conversation about hybrid work, in which we enthusiastically embrace ideas of "remote first" and "work from anywhere," is there space for an option that breathes life back into our cities? An option that de-blurs the delineation between our work and private lives by reassigning distinct places to each of them?
The New 9-to-5
Enter the new 9-to-5, a hybrid work approach that's predicated on the idea that the city — or other comparable built environments — might provide a structure that not only supports our ability to work in a hybrid manner, but enhances it. When we engage cities, and when we work in cities, there's an inherent "routine-ness" to it — a comforting pattern of time, place, and space for how we commute, where we enter a building, or how long it takes us to each lunch, for example.
However, comfort isn't always compatible with progress, so we'll need to push ourselves to find new behaviors that better service our future ways of working. Periodic reevaluations of our routines are key to our productivity and self-betterment, so we should use this opportunity to investigate routine behaviors that set us up for success.
Where the original 9-to-5 was defined by routines of a typical 8-hour workday, the new 9-to-5 encourages us to establish new behaviors through the lenses of place, health, and self-actualization.
I. Place
Of the new space types to emerge from this past year's future of work studies, the "mid-door space," an indoor-outdoor place for collaboration and socialization, presents one of the more optimistic visions of the what the future workplace might look like. Mid-door spaces address post-pandemic considerations of access to fresh air and natural light, and they afford an even greater variety of work settings than what's available in an enclosed workplace.
They're also a fertile testing ground for forming and finessing new hybrid work behaviors. Mid-door spaces take the activities of the interior workplace — the team meetings, the coffee breaks with colleagues, the quiet moments — and provide a structured environment for these things to happen outside of the enclosed footprint of the workplace. They encourage a renewed understanding of architectural place by presenting a multiplicity of places that exist inside and outside of buildings. They force a delineation between "this is where I do X" and "this is where I do Y."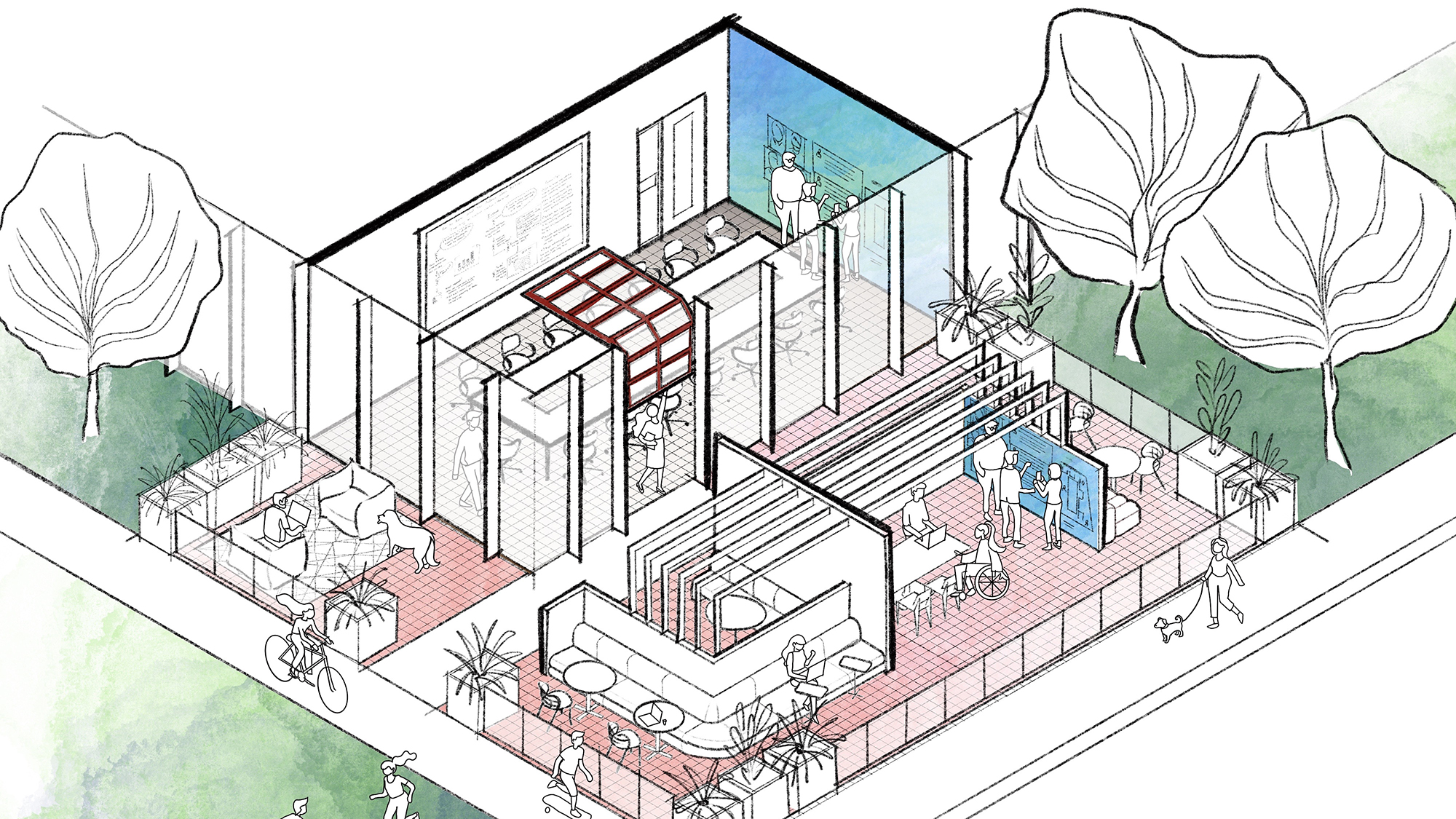 This makes for a more interesting workplace experience when we're in the office, and, more importantly, it's a mindset we can carry with us as we continue to explore what it means to "work from anywhere." These delineations of place are at the heart of the new 9-to-5, allowing us to work more productively in one place — regardless of where that place might be — by establishing other places that we associate with other activities.
II. Health
New 9-to-5 behaviors can benefit our health as well. As we approach the one year milestone of our work-from-home experiment, studies show that our behaviors are becoming increasingly less healthy and our collective boredom is often taking a toll on our mental health.
The experience of working in offices — and working in cities — can have significant health benefits as well. Ironically, even the act of commuting to work, considered by many to be a grind, has its health benefits; it requires workers to move multimodally from their home to the office — and back again.
When we return to the office, new 9-to-5 routines will encourage employees to seek out opportunities for health and exercise beyond the physical footprint of the office. The behaviors established by space types such as the mid-door space can be scaled up to the entire city, inspiring workers to seek out urban green spaces that both promote movement and reactivate the businesses and communities that sprung up around them in the first place. By creating this link between personal wellness and civic responsibility, we can reevaluate our relationship to the community in all the non-workplace environments where we'll work, too.
III. Self-Actualization
The final piece of the new 9-to-5 is the re-evaluation of workplace amenities as places for self-actualization, and the process by which these amenities can service workers regardless of where they're working. According to Gensler's most recent Workplace Survey, many of the reasons for returning to the office include the ability to focus and access to technology, signaling that remote work environments are suboptimal in their ability to deliver these experiences. For many, the burden of balancing childcare with work accounts largely for this disparity.
In previous conversations about the role of amenities, we've looked at ways in which street-level amenities can build connections between the workplace and the community. The new 9-to-5 takes these amenities to the next level; this approach reimagines amenities as places to help workers be happier and more productive by programming them to address what's required to successfully work in a hybrid manner. For working parents, this might include enhanced on-site childcare — spaces and resources that support remote learning for all age types. And all workers would benefit from amenities that support their ability to be productive when they're working outside the office, whether it's groceries, technology, mental health resources, or services in support of inclusive work experiences.
In many cases, these are amenities that already exist; there just needs to be a hyper focus on how they are programmed to support hybrid work. Additionally, companies might look into whether these amenities can be made available to the community beyond the immediate workforce, keeping in mind that many people in our communities aren't able to work remotely, but should still have access to resources that support self-actualization.
New 9-to-5 routines will revitalize our cities
The physical workplace — and the cities in which many of these workplaces are located — will be instrumental in the development of new 9-to-5 routines. Our workplaces and cities will act as incubators for the forming and finessing of these behaviors, and they'll be amplified by corporate policies that allow them to scale to a full spectrum of hybrid work environments. These new routines will breathe life back into our cities, allow us to achieve balance both inside and outside the office, and support our bright new future of hybrid work.
For media inquiries, email .