Fusing Architecture and Technology to Reenter a New World
June 08, 2020 | By Jordan Goldstein and David Kramer
As everyone around the world starts to emerge from lock-down, we are all wondering what it's going to be like to reengage with the spaces and places in our communities that we've been avoiding for months. What new world are we entering into?
Pre-pandemic, there was a common set of expectations of how you move around the built environment, how you walk down sidewalks, how you enter stores and restaurants, how you travel, and how you come and go from your work. Now, everything has changed.
We have to define new norms and patterns. The deep-seated behaviors we had before COVID-19 will need to change, as will the interaction models we've had with the people and environments around us. This is a challenge that designers are particularly well-suited for. It's up to us to invent new spatial typologies and imagine the new products and services that support these environments—all with the goal of elevating the human experience.
The one thing most of us will be looking for when we re-engage with our communities is an underlying trust in the environment that we're emerging into. There's been much written about the need for screening checkpoints at the entries of buildings. For many, these checkpoints represent barriers to entry where one is confronted with a myriad mix of temporary tech equipment, signage and queuing lines. It doesn't have to be this way.
Whether residential or commercial, these entry experiences can be looked at through a far more optimistic lens — one that seamlessly fuses architecture and technology together to create environments that inspire confidence and create a welcoming first impression. In this approach, we can actually create spatial experiences that are higher in quality and value than they were before.
Let's explore how we get there.
Springboard off the PropTech Revolution
The timing of this pandemic has dramatically accelerated the revolution that was already underway in the "PropTech" industry, which is already driven by the proliferation of IOT devices, the capabilities of smartphones, and the ubiquity of high-bandwidth connectivity.
However, the technologies have been around for some time, but the crucial factor driving change in this moment is user expectations and demand. And that demand curve has accelerated in the past few months in previously unimaginable ways.
As a human centered design firm, we take our cues from human behavior and consumer expectations. We pair that up with our knowledge of design solutions to build environments to meet those needs. And now, in today's world, the importance of integrating digital and physical solutions is essential to fully deliver on the desired experiences.
Historically, technology was integrated into the buildings in a piecemeal way, with each component living independently from the other. The touchless entry doors don't talk to the security systems, which don't talk to the digital signage, which don't talk to the payment transaction systems and so on. As we look ahead to a more seamless and integrated system, that will change. Just as we design building interiors to integrate into a building into a neighborhood into the city, state, country and world, so too does each technology solution need to be designed to function effectively within the broader ecosystem of devices.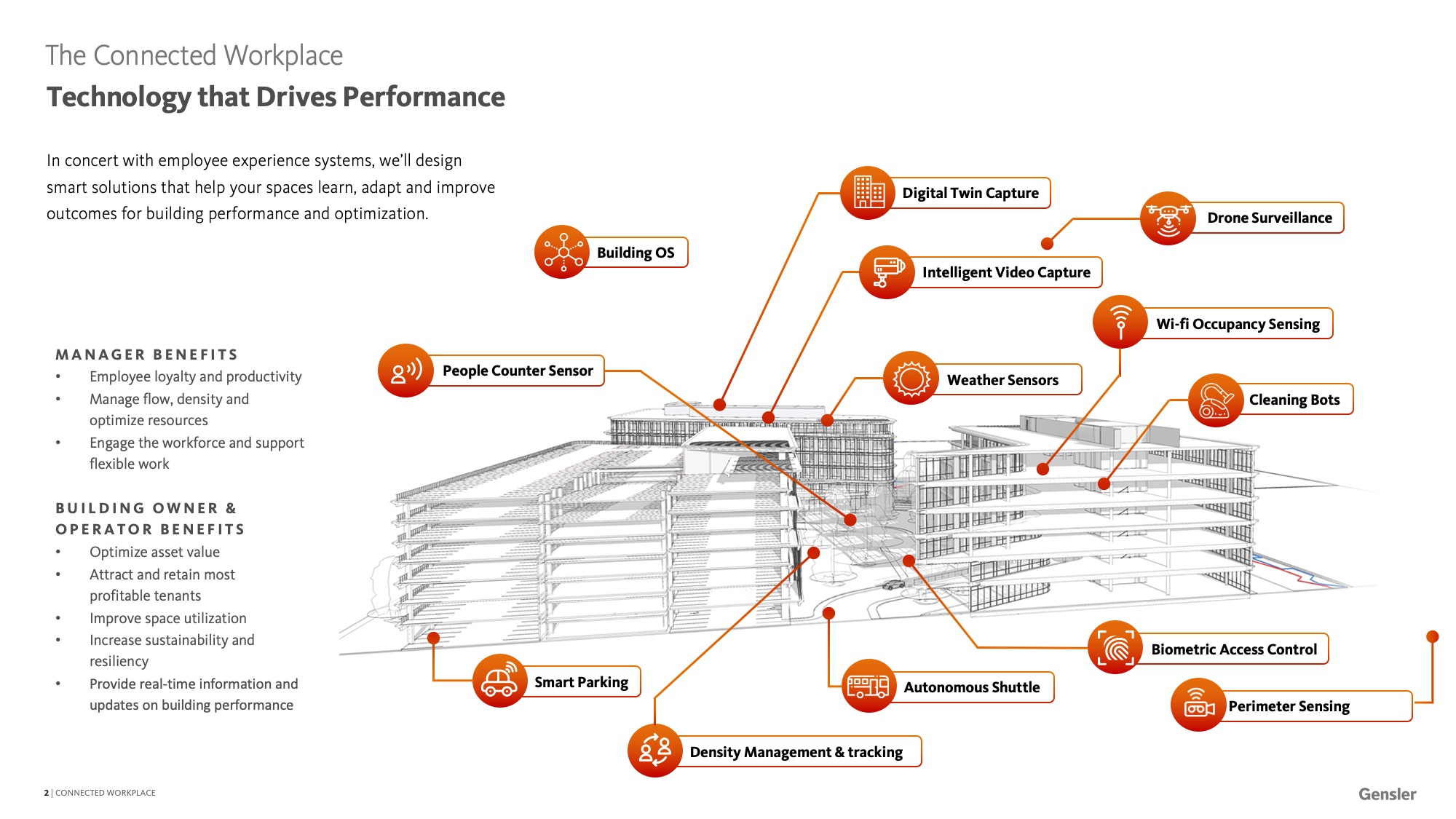 Creating Seamless Physical-Digital Systems
The prerequisite for doing this is twofold: First, you need a comprehensive human-centered design strategy addressing the physical, digital, brand, and service design components of a user journey; and second, you need a foundational technology platform that can offer plug and play functionality for whatever digital solution each unique journey might need.
As an example, let's look at a baseline set of modern conveniences for an entry experience that would all be built on a foundational software platform.
Imagine entering an office building lobby. An automated arrival procedure verifies your identity through touchless registration such as facial recognition or your personal device. If you're a visitor, a virtual concierge greets you, either through kiosks or your personal device. Dynamic and personalized digital wayfinding guides users to the most efficient pathways at a safe distance from others, including touchless elevator systems. This is all managed through a single, centralized fully integrated software system with an open framework to allow owners and operators to pick and choose which features are most important for them.
Post-pandemic, it's clear that the workplace will no longer be a single physical place, but a collection of connected physical and digital spaces that will serve as a trusted network for business continuity, social engagement, and continued professional growth.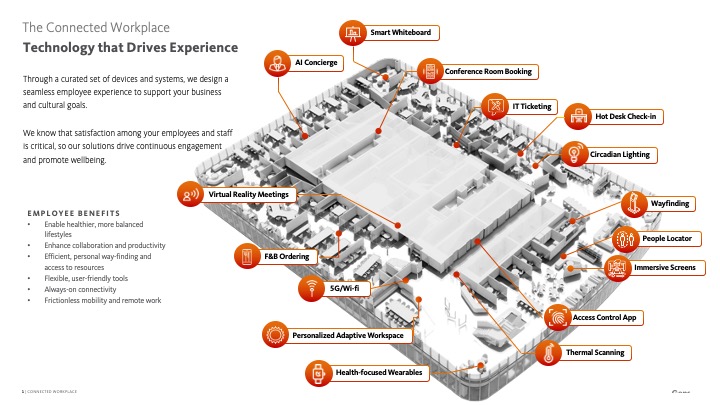 What a New Physical-Digital Workplace might look like
This pandemic has taught us that business continuity is not reliant upon the physical office: people can be productive, get their work done and have services provided to them from home. However, Gensler's U.S. Work From Home Survey 2020 has shown us that people crave being together to interact with colleagues, solve problems together, and collaborative ways that are enhanced by physical proximity. Serendipitous moments in the office lead to learning, mentoring and coaching opportunities. For many, that will mean a return to the office on either a permanent or periodic basis.
That return brings with it many questions. For instance, how will people working from home interact seamlessly with those that have already returned to the workplace? A conference room with a speaker phone and a flat screen on the wall isn't going to cut it. The pre-pandemic conference room favors those in the room and often renders those participating remotely as observers. These rooms can be designed to create equality among participants, regardless of physical or virtual presence. Within the workplace, technology like mixed reality can be a bridge between on-site and remote teams during meetings and work sessions.
Virtual assistants can simplify tasks, offer personalized guidance, and help employees optimize their workday and provide insights into workplace environmental factors, such as air quality, temperature, and cleanliness.
Another concern is workplace interfaces that rely on touch technology and may present health risks. To limit the use of shared interfaces, personal devices will become increasingly central to employee interactions with each other and the building itself. These devices and their operating systems already include much of what's needed to support biometric screening, voice activated applications, contactless transaction and other alternatives to touch. Combined with building sensors and location-based information, personal devices are a central component in the creation of a frictionless experience.
Visitors to the workplace will be validated and self-checked-in, with colleagues notified even before arrival, elevators programmed for each employee, wayfinding to help them find their hot desk or colleague, and doors that open automatically.
In general, personal devices and the mobile apps installed on them will enable continuity of experience across different workplace environments, including the home office, and meet the expectations of younger generations of the workforce.
How this Applies to Hospitality
In a hospitality environment, imagine a repeat business customer, one who is a frequent visitor to the hotel. Digital check in occurs prior to arrival. Room selection happens the same way you select airline seats, and the room assignment shows up on the phone when arriving at the hotel. The guest proceeds through a security scan, straight up to room. Throughout this arrival journey, there's been no need to touch an elevator button, pull out a room key, touch a door handle or flip a light switch.
How this Applies to Building Owners and Operators
For building owners and operators, a seamlessly connected architecture and digital experience can have long-term rewards and immediate short-term benefits to occupants. Digital displays, whether in public view or back-of-house, can provide real time data and information on building health and wellness factors. Fully sensed but anonymous environments can allow real time tracking of user circulation and density, driving intelligent wayfinding recommendations, seating configurations and optimized building systems (HVAC, lighting, etc.). This can be taken a step further with AI driven recommendations for staffing and automated maintenance operations based on historical usage patterns, which can reduce costs.
These solutions drive long term value regardless of the pandemic, but clearly provide additional benefits in the near term as we deal with virus containment strategies. Comprehensive planning and assessment services can build a roadmap to this future, adapted to short term needs but guided by a long-term vision that ensures that initial investments are well spent.
After so many weeks confined to our homes, the reentry into the built environment should be a welcoming, uplifting experience—one that allows us to safely forge connections with those that we've been separated from. These connections arise at the intersection of people, place, and technology. It will feel like a new world for so many of us. The physical entry experiences into this new world will benefit from seamlessly blending technology with architecture that inspires confidences and hope for a better, healthier future for us all.
For media inquiries, email .