Are Law Firms Ready to Work Remotely?
By Jennifer Ellis-Rosa
This article first appeared in NJALA's April newsletter
Most law firms in New Jersey have been slow to adopt modern office trends. I'm not talking about slick, glossy interiors that look like they belong in a magazine. I'm referring to spaces that have outdated planning metrics and are not adaptable as technology continually evolves. The fact is most of these firms lease more space than they need!
Less is More
The legal industry and most other industries are reshaping their workplaces. The most innovative of the bunch are taking less space and collaborating more. Traditional Partner office that can easily fit a small car in them are going away! Those "me" spaces are so much better appropriated for "we" spaces. Spaces in which you can see each other, and, 'gasp', even talk to each other! The younger talent is looking for the more dynamic and flexible workspaces.
More progressive law firms have already adopted a single size office with glass fronts for all partners and associates. This universal office averages in sizes between 120 square feet (10' W x12' D) and 150 square feet (10' wide x 15' deep). While the footprint has been reduced, the function has not.
Efficient furniture can still provide ample storage and meeting areas. Paper will continue to decrease from the landscape of the lawyer's office. Scanning and digitizing of most paperwork has created drastic reductions of storage. Tablets with touch screen technology allow for easy document review. Moving forward, this technology will continue to improve allowing for more content to be viewed and manipulated, continuing to decrease the need for paper.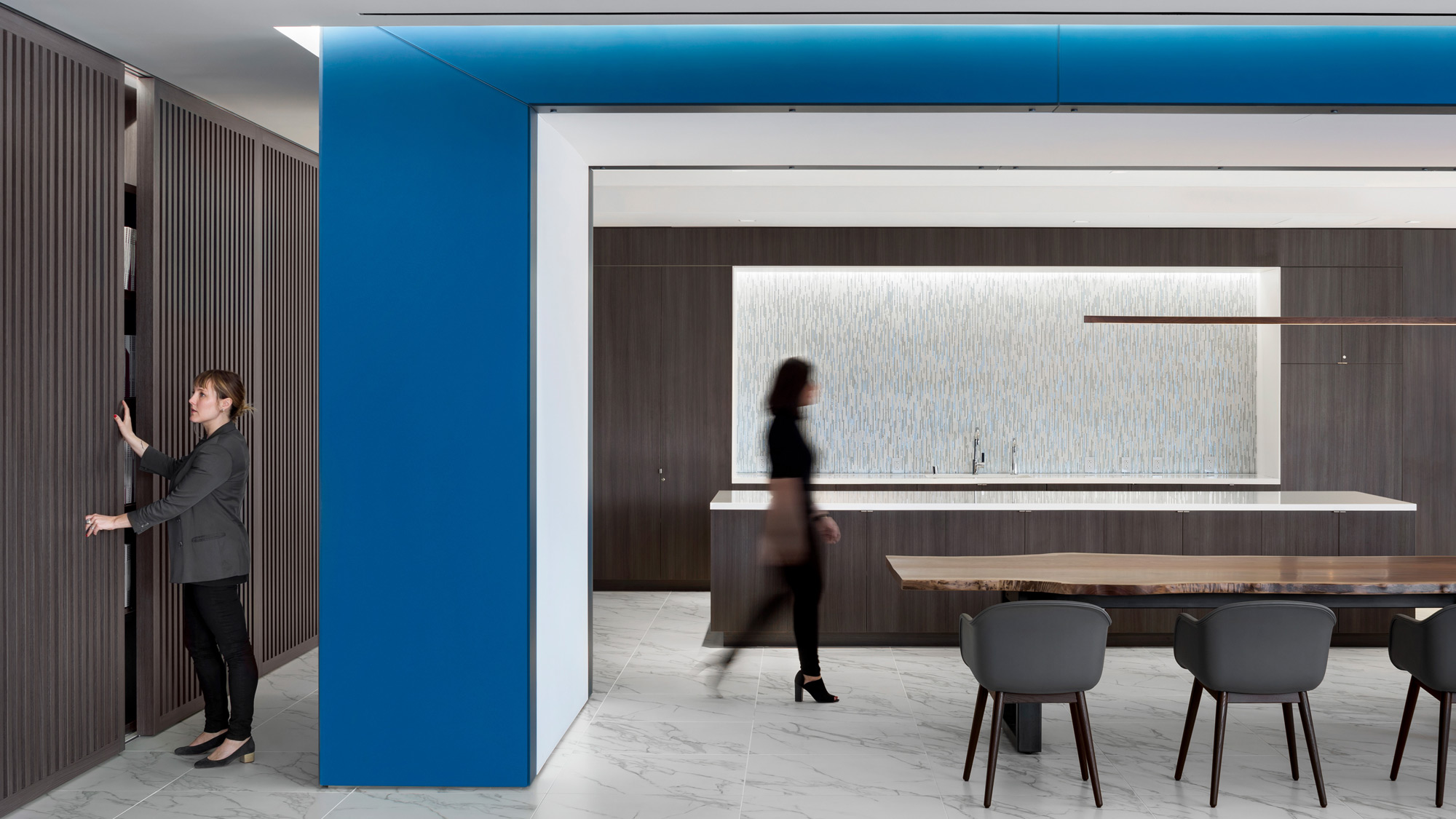 The square footage previously taken up by the offices can now be used for more collaborative and communal spaces. Although private offices are very effective for quiet concentrated focus work, too much time in the office may inhibit creativity and innovation. Having the choice to work with others in a wider variety of spaces, including conference rooms, open areas and lounges, provides more opportunity for workplace performance.
The most progressive law firms have already started adopting open plan concepts. These early adopters, mostly in the UK, have some or all lawyers working at desks in the open. These open plan spaces only work when there is still a choice provided in where you can work. Private booths and enclosed rooms for focused quiet work are still needed.
The Next Shift
While these office changes have helped bring focus on teamwork there has been a growing emphasis on quality of life concerns. This is leading to next shift on the horizon for legal workplace design – working remotely.
Morgan Lewis + Bockius LLP announced that starting May 1, 2017 they will be implementing a formal remote-working program for associates in the firm's US and UK offices. Firm chair Jami McKeon said, 'Our clients have long recognized the value and effectiveness of remote working programs, and we know these programs work well. It is well established that they provide significant benefits for the individuals without any reduction in the quality or level of service."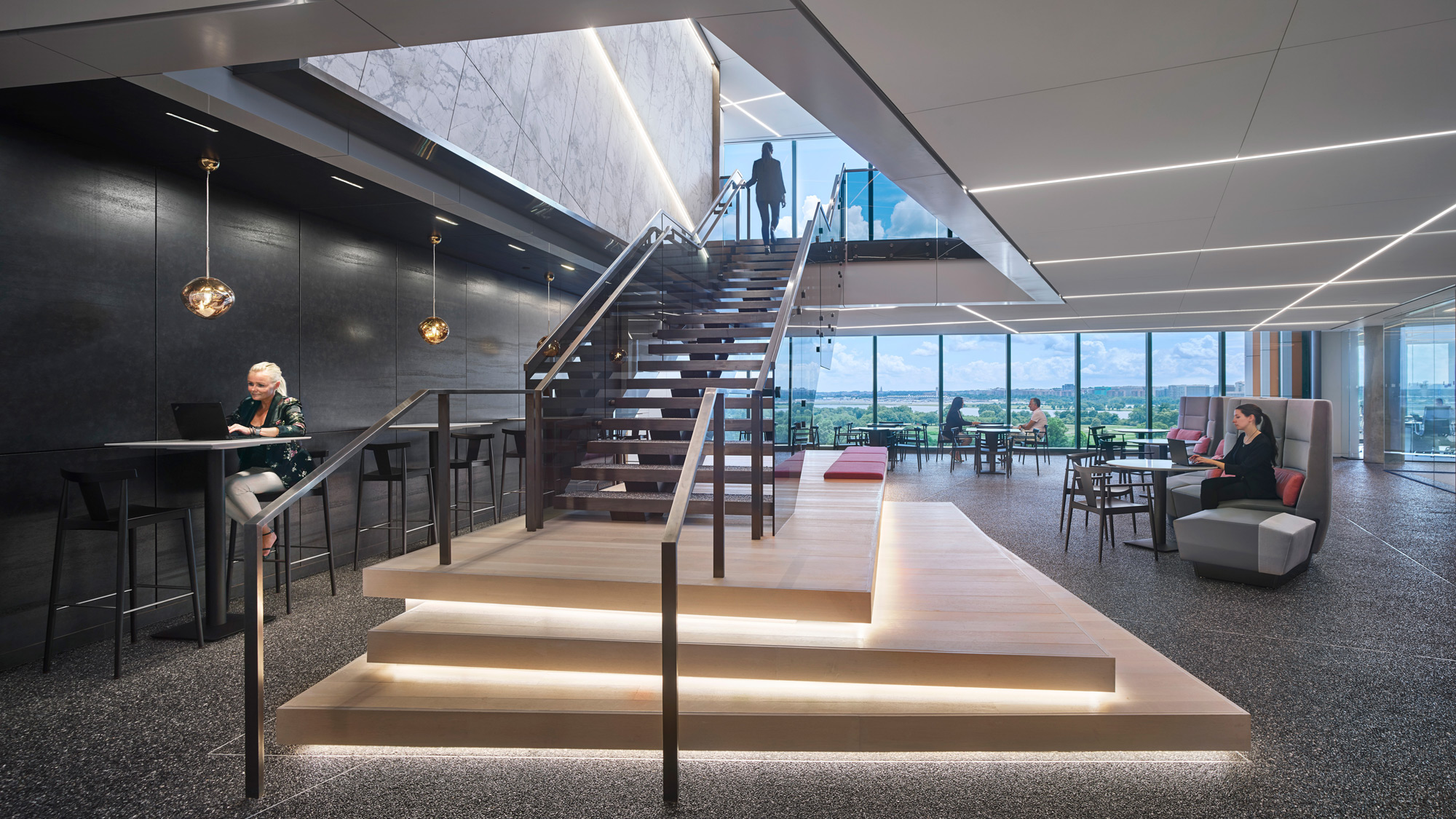 According to a 2016 Society for Human Resources Management Survey, sixty percent of companies allow their employees to telecommute. A recent Gallup poll found that remote working in the legal industry increased by 2 percent from 2012 to 2016.
Leveraging technology makes this telecommuting shift possible. Enforcing specific procedures and policies makes the work-life balance achievable. The workplace needs to follow and be even more creative and have spaces that prioritizes both individual and group work.
What's next for your firm?
Whether your firm is ready to embrace single size interior offices using more wireless technology or take advantage of open floor plans, the industry has begun to switch gears. The talent war demands change.
One design solution does not fit all firms but it is clear that the private office stands poised for a re-definition. A balanced workplace supports focus work while embracing a chemistry of collaboration, learning and socializing behaviors that could unlock the next level of legal workplace performance.
The U.S. Workplace Survey 2016 is the most recent installment in Gensler's 10-year Workplace Survey research effort., providing critical insight into how workplace design drives creativity and innovation, and impacts employee experience. The report outlines the state of the legal industry within the context of our latest research findings.
How do you Compare?
In today's competitive legal environment, having an effective workplace strategy is an imperative to effectively manage costs without sacrificing employee performance and innovation. Contact Jennifer, a Gensler industry expert to learn more about how Gensler can help clients drive business performance through workplace design.