It may be tough to admit, but today's legal workplace landscape is not what we see on our favorite legal shows like "Law and Order," "Better Call Saul," and "Suits." The harsh reality is that for many lawyers their everyday life is not the glitz and glam we see on television. Instead, most lawyers experience a completely opposite work life – one that revolves around having little to no connection with peers and working 12 to 14 hours daily or 2,000 to 2,200 billable hours per year.
The typical law firm workplace is vastly different from the traditional workplace found in other industries. Since the beginning, law firms have been designed for privacy, confidentiality, and focus. From the outside looking in, we perceive that these are the optimal conditions in which attorneys thrive; however, the data tells a different story.
Over the past year, Gensler has taken a deep dive into the measurable impacts facing professional service firms and how these impacts are affecting the current legal workspace landscape. Uncovering the latest research on global legal spaces highlights the obligation designers hold to implement a holistic and restorative workplace design to revolutionize the legal landscape and improve attorneys' performance.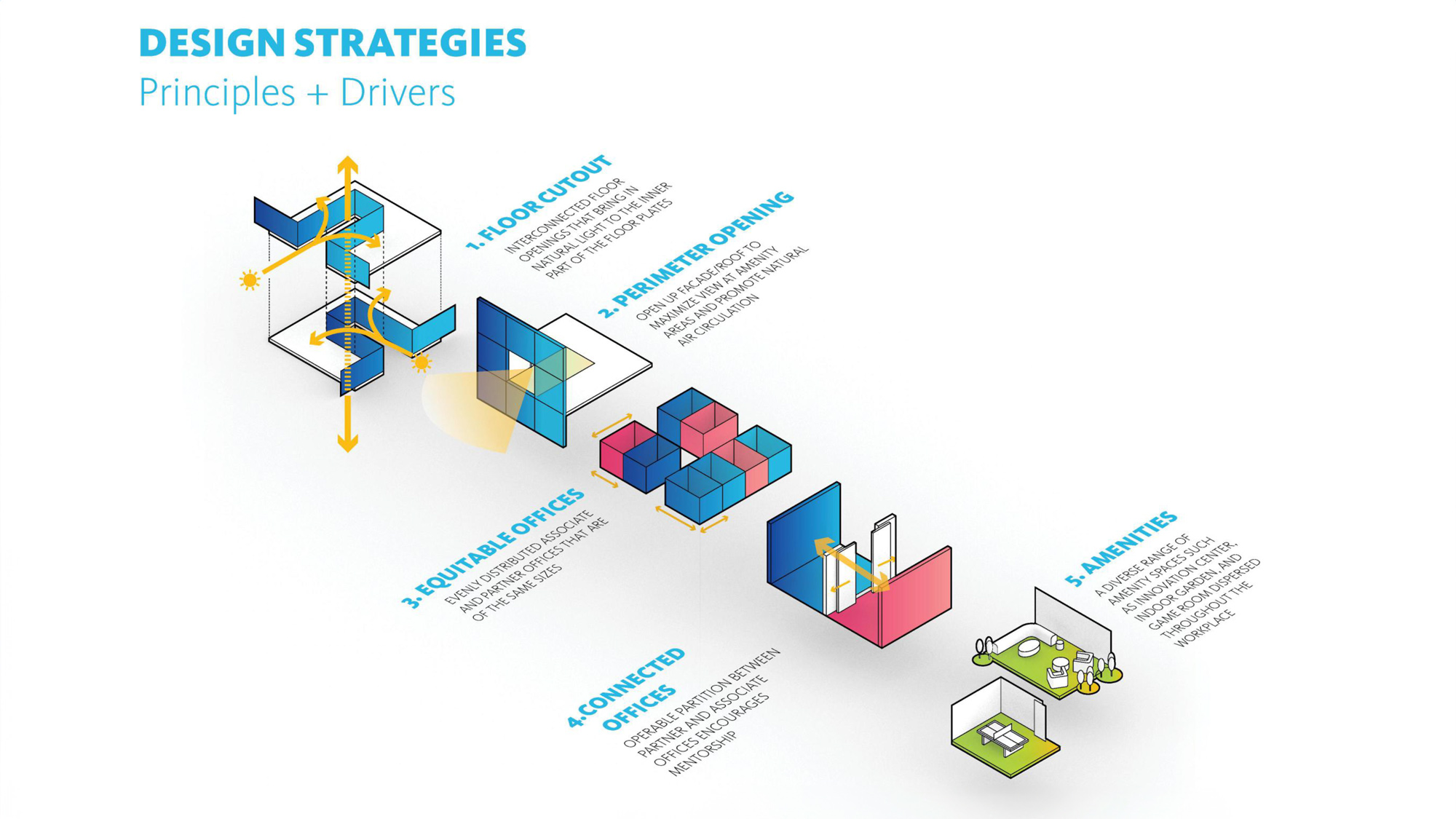 The Current Legal Landscape
A day in the life of an attorney is not for the faint of heart. Today's legal industry is underlined by demanding schedules, heavy workloads, isolation (attorneys spend 40% of their week working alone), less focus time, and stress – all leading to burnout. In a nutshell, the average attorney unfortunately is trapped in a never-ending stress cycle as they look to climb the hierarchy ladder. Our data shows that the race for the prestigious corner office mixed with the lack of social interaction and attorneys leaving the profession together, both of which deepened during the pandemic, the downtrend in workplace wellness, and the hierarchical access to amenities has led to an increased sense of isolation, decreased ability to focus, disengaged and stressed talent pool, a lack of innovation, and diminished overall productivity. These effects cannot be ignored. Shocking data shows:
23% have anxiety symptoms;
23% experience stress symptoms;
28% suffer from depression; and
36% of attorneys engage in substance use disorder;
When we lay down all the facts surrounding the legal industry, it is crystal clear that we must brainstorm better ways to protect our justice advocates health and well-being. This leads us down the path of how design has the potential to evolve the legal workplace beyond belief. Focusing on the legal industry's built environment will help mitigate these detrimental challenges.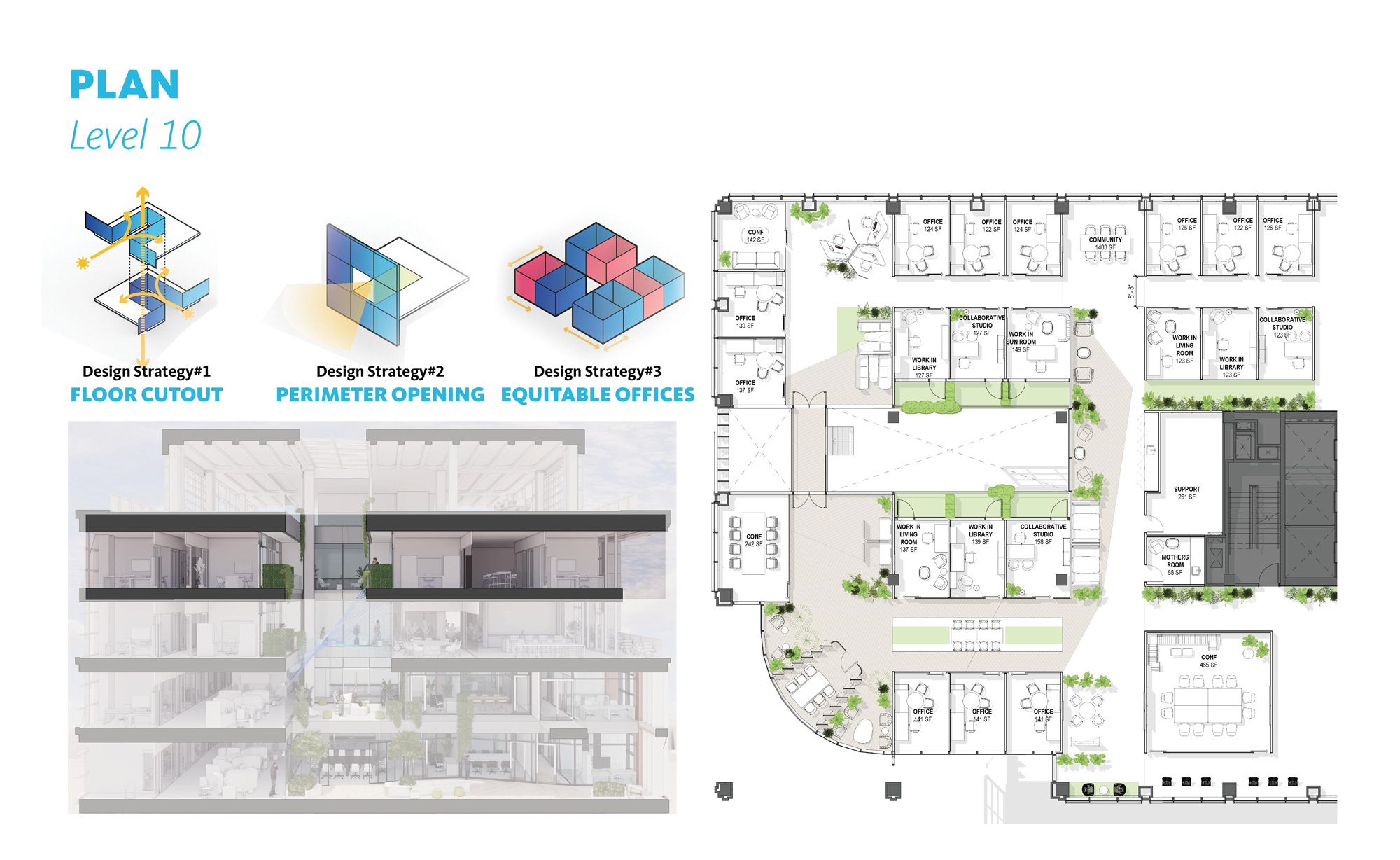 Addressing the Critical Gaps in Health and Wellness
What does health and wellness for attorneys look like? Based on a combined survey of various law firms, we asked what they would like to change, keep, and create in their work environment.
So, what are legal spaces doing well? We uncovered that almost all participants are happy keeping an agile work schedule. Many participants mentioned wanting to keep assigned individual workspaces and access to amenities such as a cafe and fitness center. Associates showed interest in "WeWork"-style coworking arrangements or unassigned hoteling spaces and sharing offices. Finally, partners indicated that they are open to smaller offices with meeting space for two to three people if it will allow for individual assignments when being in the office more than three days a week.
Law firms, like most high-performing companies, have top priorities including attracting and retaining talent and providing high-level technology that supports equitable hybrid work. Firms also want to encourage people back to the office, but recent research shows that people only want to return to the office if the workplace offers the right experience. Thus, what do legal spaces need to change and create?
Participants noted that the integration of natural light access, better views, collaborative spaces, biophilia, and spaces that promote informal interaction (among a list of other reasons) are all areas that the workplace needs to be home to. When it comes to areas that need to be changed within the work environment, this includes updating outdated design features, inclusive community/break spaces, dark areas, and intuitive technology.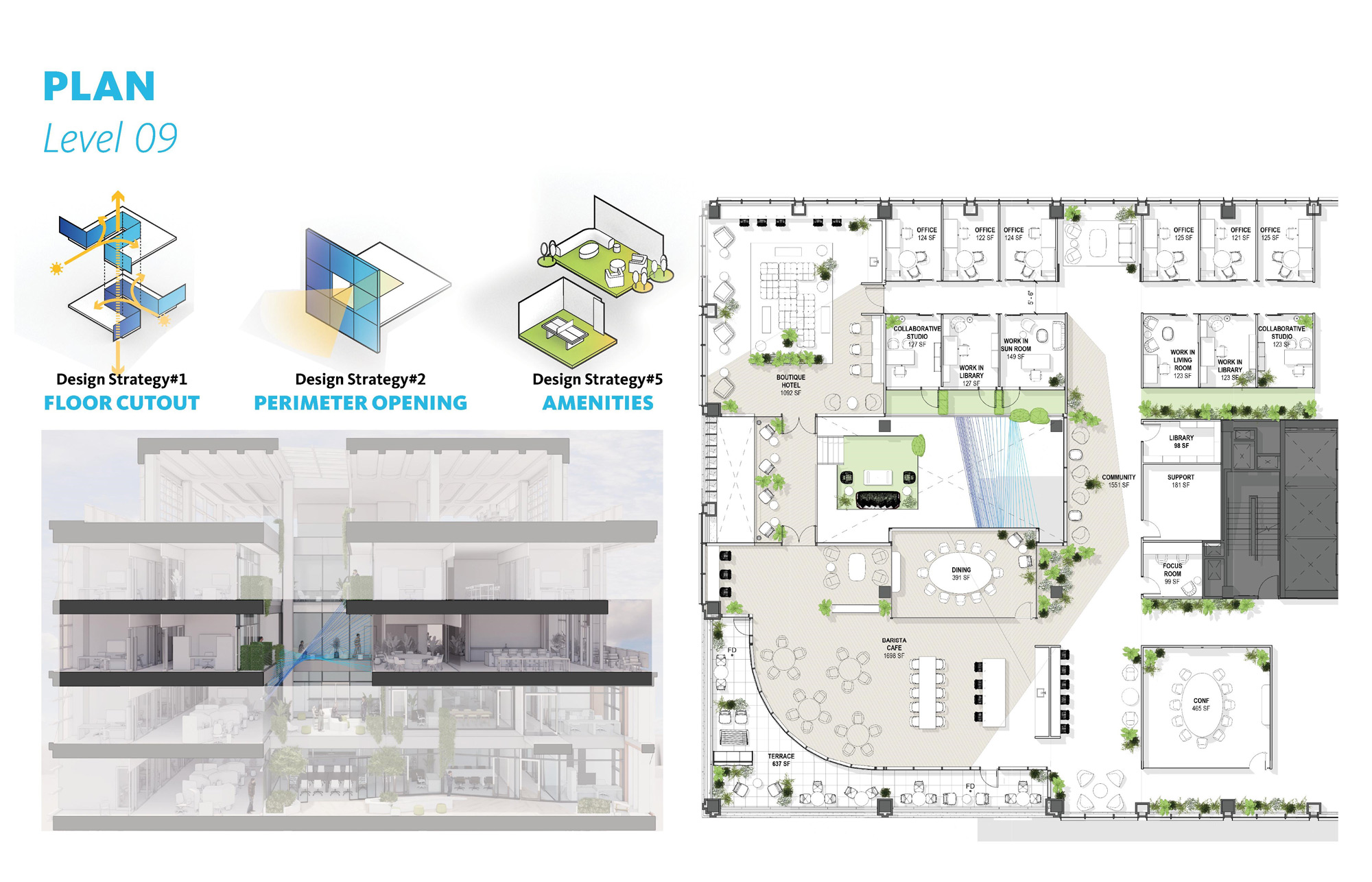 Although attorneys spend most of their week working alone and consider this style of work to be the most critical to job performance, on average, the overall workplace environment is among the least effective for supporting independent work. These results indicate that there is an evident gap when it comes to promoting and facilitating sustained focus/concentration in the workplace.
72% of surveyed participants mentioned they have a choice in where they work. Enhancing positive spaces, upgrading outdated spaces, and integrating new spaces will empower all attorneys with the freedom of choice in selecting their optimal work environments. For example, providing amenity-rich spaces is critically important for the younger workforce, especially those who seek greater freedom of choice in work environments. This can be an effective strategy to increase both productivity and engagement throughout the workplace.
We are also seeing cultural issues within the workplace that are adding to the health and wellness gap. Firm culture plays an important role in the workplace among law firm partners/executive leadership, senior attorneys/managers, and associates/technical/support staff. However, the reality is that most non-partner-level staff do not feel empowered to venture into new territories and take chances. By designing new ways to support new interactions and collaborations among team members, we hope to see work relationships blossom. Open and borderless workspaces will create new opportunities for learning, socializing, and mentoring. Precise attention to detail when it comes to health and wellness also includes designing quiet focus rooms, diversity, equity, and inclusion spaces including gender-neutral restrooms, ample greenery, and access to outdoor spaces and lounges that will also promote team bonding.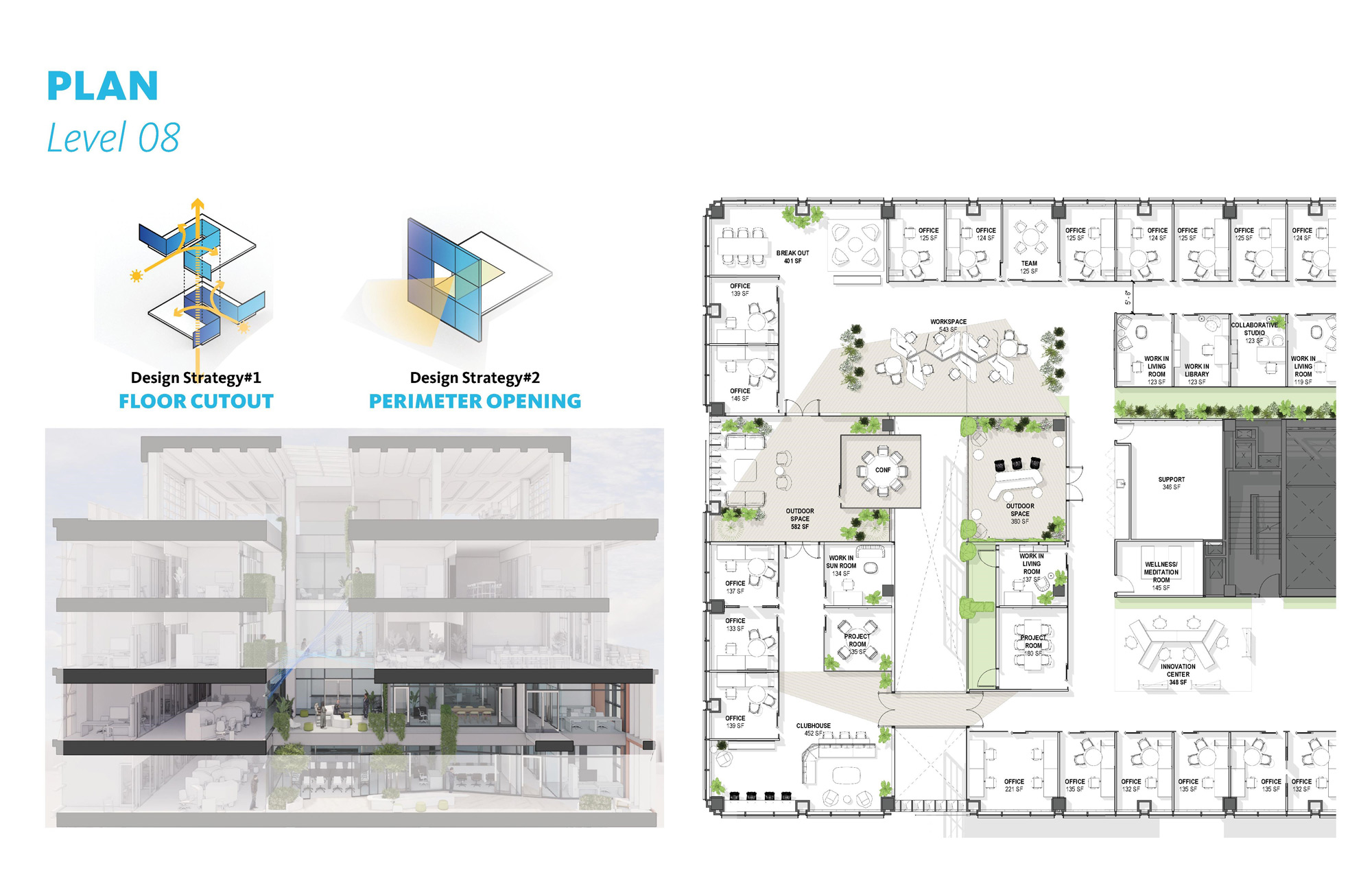 The Role of Holistic Wellbeing
To achieve the law firm of the future, law firm partners and executive leadership are hyper-focused on increasing workplace productivity and maximizing overall firm performance. Achieving these goals denotes that firm partners and executive leadership aim to implement strategies that innovate ways of working, encourage people to return to the office, and attract and retain top talent. Nonetheless, without addressing the underlying stress cycle that law firms are prone to, it is impossible for these three strategies to be effective.
To improve a legal firm's performance and outcomes, critical focus must first be placed on enhancing the workplace's effectiveness and experience. By being aware of issues, introducing a commitment to do better, and developing a renewed mindset focused on improving well-being, then by the fruits of our labor will we begin to see a change in workplace effectiveness and experience. This is where holistic well-being plays an important role.
There are three areas where law firms must cultivate holistic well-being: physical, social, and mental. Through our research, we determined that each of the three lenses has specific key performance indicators that will boost its respective category.
Enhancing physical wellness can be achieved through the benefit of daylight and proximity to views.
Mentorship opportunities help to alleviate isolation or burnout and instead enhance employees' social wellness; Mentorship can help to create a supportive work environment and facilitate knowledge transfer between experienced and new employees.
Providing employees with different work environment options is crucial for promoting mental wellness. Creating nontraditional spaces such as public amenities and collaborative spaces can provide employees with a refreshing change of pace and opportunities to restore, inspire, and connect with colleagues.
Daylight exposure. Studies show that the absence of natural light hurts the employee experience, often citing a lack of energy and feeling tired or gloomy. Law firms with smaller office floorplates often experience greater daylight exposure. Our research also showed that introducing folds along the perimeter, adding atrium/skylights, and increasing the surface area of the façade helps to bring in natural daylight for the firms with larger floorplates. Incorporating seating along or near the floorplate's perimeter instead of concentrating seating toward the interior will result in more people being able to experience the restorative benefits of natural daylight.
Access to views. The access to views holds the same importance as daylight exposure. As mentioned earlier, most attorneys become trapped in the stress cycle because they are working hard to gain the amenities that come with being a partner or executive leader. Several law firms reserve access to the best views for partners, subsequently reinforcing a more in-equitable workplace culture. The best practice is to share access to the best views with all staff and clients. Implementing shared access to the best views will improve a collective sense of belonging and boost engagement, further creating in-house connections, opportunities for growth, and increased productivity.
Innovative amenities. Law firms are increasing amenity spaces as a compelling incentive to attract and retain top talent. Providing different space types for different workstyles ensures employees feel included, secure, and confident in their work. A comfortable and more relaxed environment that features phone booth rooms, café/coffee bars, restorative meditation rooms, collaborative offices, innovation tech centers/genius bars, outdoor spaces, game rooms/collaborative studios, and team neighborhoods are a few of the many different space types to incorporate to create a neurodiverse workplace experience that energizes and inspires employees to come into the office.
Proximity and access to mentorship. Creating a sense of place in the workplace depends on a variety of factors, including having connections to leaders. Mentorship is important. Without it, an organization's in-house growth is affected and derails the development of future high-potential leaders. When we analyzed the distances between partners and associates, we determined concentrating partner offices toward a specific location not only enforces a hierarchical workplace but also decreases opportunities for spontaneous interactions and informal mentorship. Thus, prioritizing seating organization strategies that focus on maximizing synergies between partner and associate offices can help bring people closer together and Increase opportunities for informal mentorship, regardless of office size. People want to feel included, accepted, and a part of the bigger picture.
Disparity in office sizes. Piggybacking on the need for a more equitable workplace, office size disparity between partners and associates proved to be a hindrance in developing a place where all employees could feel welcomed. Implementing a more standardized office size cultivates a more equitable workplace experience and frees up space for more meaningful amenities. Doing so incentivizes employees to return to and work from the office.
The legal industry depends on the health and well-being of its attorneys. Designing an environment that shatters the stress cycle and allows attorneys to bring their best version of themself to work has never been more important.
For media inquiries, email .