AI is Transforming Workplaces. What Does That Mean for Law Firms?
By Christian Amolsch
As a workplace architect with Detroit roots, I think about two companies often: Ford and Shinola. Henry Ford revolutionized the world with the assembly line and left an enduring legacy of innovation. The automaker continues to innovate through technology, robotic implementation, and ergonomic advancements for all their workers — not just those on the assembly line. Workers are healthier as a consequence of these new production advancements, and it makes companies like Ford safer and more efficient. Future-oriented thinking has kept them not only relevant but also profitable as they retool the fleet with hybrid and electric vehicle developments, and as they look to have a fully autonomous vehicle in commercial operation by 2021.
By contrast, Shinola has taken the opposite tact by doubling down on craftsmanship. In the age of tech wearables like Garmin and the Apple Watch, Shinola is creating classic Swiss-quality watches with locally inspired product names like Canfield, Guardian, and Lake Erie Monster. Their employees are descendants of factory workers who bring the skills and dedication from a community that has faced decades of economic hardship.
Shinola is connecting to consumers not only through its online portal, but through retail stores that have popped up in cities like Toronto, Brooklyn, London, Washington, D.C. and San Francisco, hosting social events that engage the community and blur the lines between retail and social experiences. From the second you pass through the front door, you realize that it's a lifestyle that creates a memorable experience: Have a Shinola Coke while you shop for some cool Shinola swag and test-drive a Shinola record player like a house DJ.
Practically every industry is trying to figure out how to respond to rapid technological development. Whether you're in manufacturing, luxury goods, or professional services, the advent of advanced robotics and artificial intelligence are game changers. For many, this causes a level of fear. But the World Bank's World Development Report 2019 has an interesting conclusion on the topic: "fears that robots will take away jobs from people" are "unfounded" and, in total, innovation creates more new industries and jobs than it takes away. AI will require adaptation, but we shouldn't fear it.
I work with law firms around the world, and just like Ford and Shinola, they are challenged to find answers to how to balance technological developments with the craft and the pride of their practitioners.
To me, this is where the rise of AI comes in. I spoke recently with Thomas Hamilton, Vice President of Strategy and Operations at ROSS Intelligence, a legal research platform built on an artificial intelligence system. For those implementing this technology and integrating it with legal services, there's a "rising tide lifts all boats" mentality that struck me. What goes along with AI, Hamilton says, is that "people who are not as good at legal research are now better at it. People who are experts are even better than before." There are seriously impactful possibilities at play here which could shape how legal services are delivered in the future, as well as what types of services lawyers could offer: "What if you had technology that could predict, under Brexit, how a company could face legal exposure? How regulations could change that will impact your business?"
Intertwined with these conversations about technology are concerns about culture. Pathways are changing for young lawyers coming out of law school and entering the business of law. They yearn for mentorship, which really means learning through face-to-face interactions. AI frees lawyers up in terms of how both time and physical space are used, and the upside is that lawyers now have an opportunity to spend far more time actually talking to one another.
If you look at where the industry has been trending, this is nothing new. Technological developments have rendered the office library obsolete, so spaces that used to be dedicated to libraries have been replaced with social gathering hubs and larger cafés, vibrant shared spaces an entire staff can use. In the same vein, automated citation programs and electronic discovery tools have enabled lawyers to spend less time poring over dusty texts and more time actively conversing with colleagues and communicating directly with clients. In other words, doubling down on their own culture and talent. It isn't that we need fewer lawyers than we used to; their workdays are just spent differently now.
And it's surprising how physical space still plays a key role even while AI is introduced. As Hamilton mentions, "Many firms experiment with having a physical space to showcase AI technology. For instance, our clients will often create a dedicated space in the library including signage where attorneys are encouraged to use the ROSS technology. In a cyclical way, AI is bringing about a return of the library as an information repository and a center for the diffusion of that information."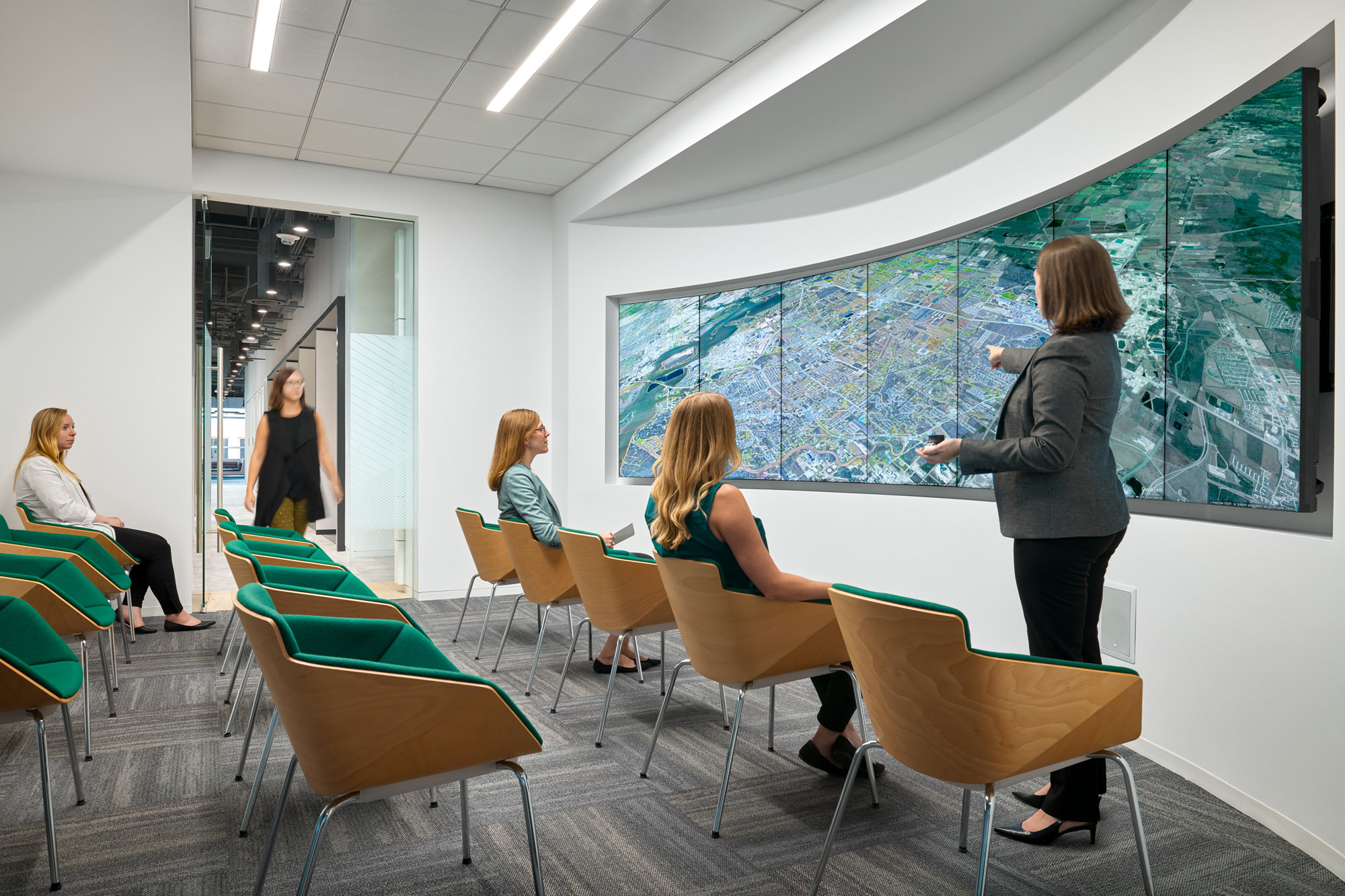 The law firms that can best harness AI tools and conceive of technology as a friend rather than an enemy are the ones most likely to lead the industry's future. This will make the lawyer smarter, more connected, more engaged, and in theory reduce the amount of time spent on matters. Such trends are already taking hold in the wider workplace. Gensler's 2019 U.S. Workplace Survey notes that, across all industries measured, the amount of time spent collaborating in person increased from 17 percent of the workday in 2013 to 30 percent in 2019. The amount of time spent collaborating virtually also increased, from 7 percent to 14 percent.
Technology can do many things. It can enhance working conditions and innovation at Ford and spark a retro revolution at Shinola. Above all else, though, it should bring us together. It should be seen as a tool to enhance culture and make our workplaces the engaged social hubs they always should've been.