WEBINAR:
PROFESSIONAL SERVICES FIRMS
DESIGN STRATEGIES FOR A POST-COVID WORLD
The recent launch of Gensler's latest Design Forecast underscores the importance of reconnection in a post-COVID world. What are tenants looking for in the post-pandemic legal or management advisory firm office? As hybrid work styles are adopted and office workers are seeking a more flexible culture, tomorrow's workplace will be a place to network, collaborate, and connect.
In this webinar, Gensler's Global Professional Services Firms Leaders Carlos Posada and Timothy Bromiley, with regional leaders Christian Amolsch, Jim Prendergast, Joe Durow, and Katie Buchanan, and Design Resilience Leader Mallory Taub, present design strategies for post-pandemic workplaces, and discuss how the shift to work from home is prompting many professional services firms to rethink their real estate requirements.
As the pandemic has accelerated the adoption of nontraditional workstyles, professional services firms are reimagining their offices to become hubs for networking and connection with professionals and clients. Management advisory and consulting firms are piloting hoteling models, new digital tools, and collaborative settings for hybrid work to attract a highly mobile workforce, while law firms are reevaluating how much real estate they really need and looking to build a more flexible culture.
Download Gensler's Design Forecast 2021 to discover more strategies for transforming workplaces for professional services firms to foster reconnection and collaboration among employees, promote flexibility, and create meaningful, new of engaging with clients.
Explore Design Strategies for a Post‑COVID World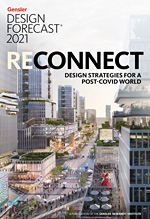 GENSLER RESEARCH INSTITUTE
DESIGN STRATEGIES FOR A POST-COVID WORLD
Download Gensler Design Forecast 2021 (PDF)