Design Forecast Dallas: People-Centered Workplaces Are Driving Connected, Resilient Cities
By Cindy Simpson
Editor's note: This post is part of Gensler's Design Forecast Local, a series of hyper local conversations with our clients about the topics that matter most in our cities.
Work is among the experiences that profoundly shape people's lives. As designers, we believe we can make our cities better, but to do that we have to put people back at the center. It's about creating places that attract and retain the best talent. It's about helping businesses build work environments that can incubate new ideas, or about creating buildings that leverage data and technology to help people perform their best.
On Oct. 17, 2019, Gensler's Dallas office hosted a panel discussion in partnership with Metropolis magazine, "People-Centered Workplaces Are Driving Connected, Resilient Cities," which explored global trends in workplace and office building design that are directly impacting the Dallas-Fort Worth metroplex, and how the individual human experience is the driving force behind more resilient, connected cities. The event, moderated by Metropolis Editor-in-Chief Avi Rajagopal, joined corporate and civic leaders to discuss how workplace is shaping the future of our cities.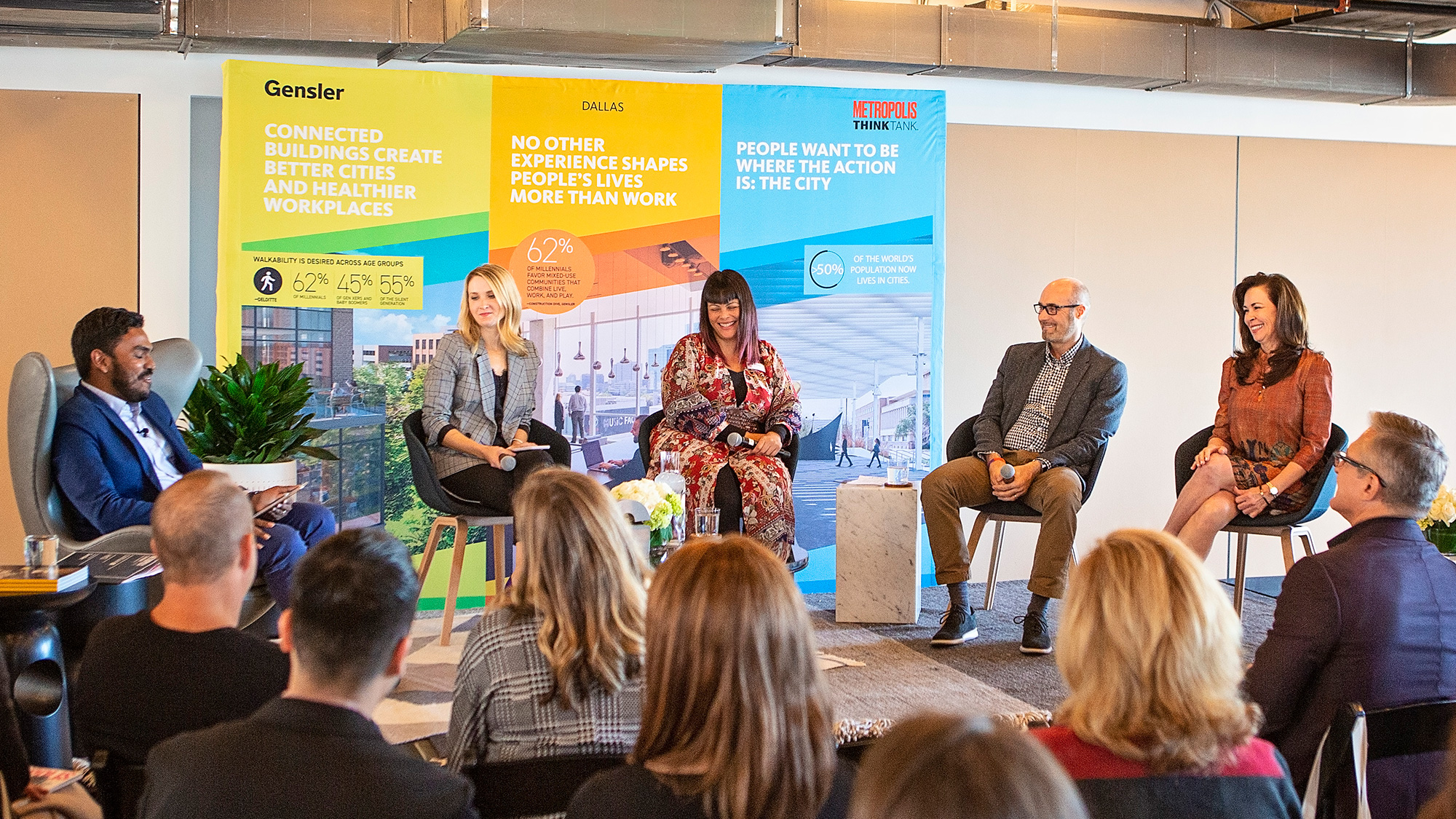 KEY TAKEAWAYS
The workplace is shaping our everyday lives.
Workplace and community are becoming increasingly integrated around the Dallas/Fort Worth metroplex. Work impacts every part of our lives now, and employers (and cities) are being asked to fulfill a broad range of needs. To create people-centered workplaces, it's critical for companies to understand workers' needs and activate the workplace through engaging programming and community connection — rather than just focusing on the bottom line. Jonathan Pierce, director of Campus Culture & Engagement at American Airlines, talked about how the company responded to their employees' desire for wellness and walkability by investing in 8.5 miles of trails instead of surface parking for their 300-acre campus. Similarly, Walmart's home office in Bentonville, Ark., will be fully integrated with its surroundings — extending the experience on campus in ways that enable associates to have a sense belonging in the community.
You can't have a place where the only thing cities care about is the public realm and private enterprise only exists to drive revenue to maintain the public realm. That's not how communities work today. Work is such an important part of our lives.
— Avinash Rajagopal, editor-in-chief, Metropolis magazine
Cities and corporations must come together to put people first.
Governments and corporations need to partner for the good of their workers and citizens to attract and retain people, both at the city scale and the building scale. The panelists talked about how the potential to shape the human experience together is being felt from the urban core to the suburbs, and public-private partnerships are necessary to bring about real change.
Mattie Parker, chief of staff to Mayor Betsy Price, City of Fort Worth, explained how the private sector can be part of the solution for creating vibrant communities. In 2014, Fort Worth ranked at 185th among 190 metro areas in the Gallup-Sharecare Well-Being Index. By 2019, the city jumped from 185th to 31st — putting them on track to realize their goal of being one of the healthiest cities in the nation. But the city can't get there with city resources alone, so they are turning to the business community for solutions — whether that's helping rebuild a neighborhood playground or identifying ways to leverage unused land to benefit the community.
We can all contribute to our cities by changing the way our companies are looked at within our communities.
— Donna Pahel, senior director of Growth, Innovation & Digital, Walmart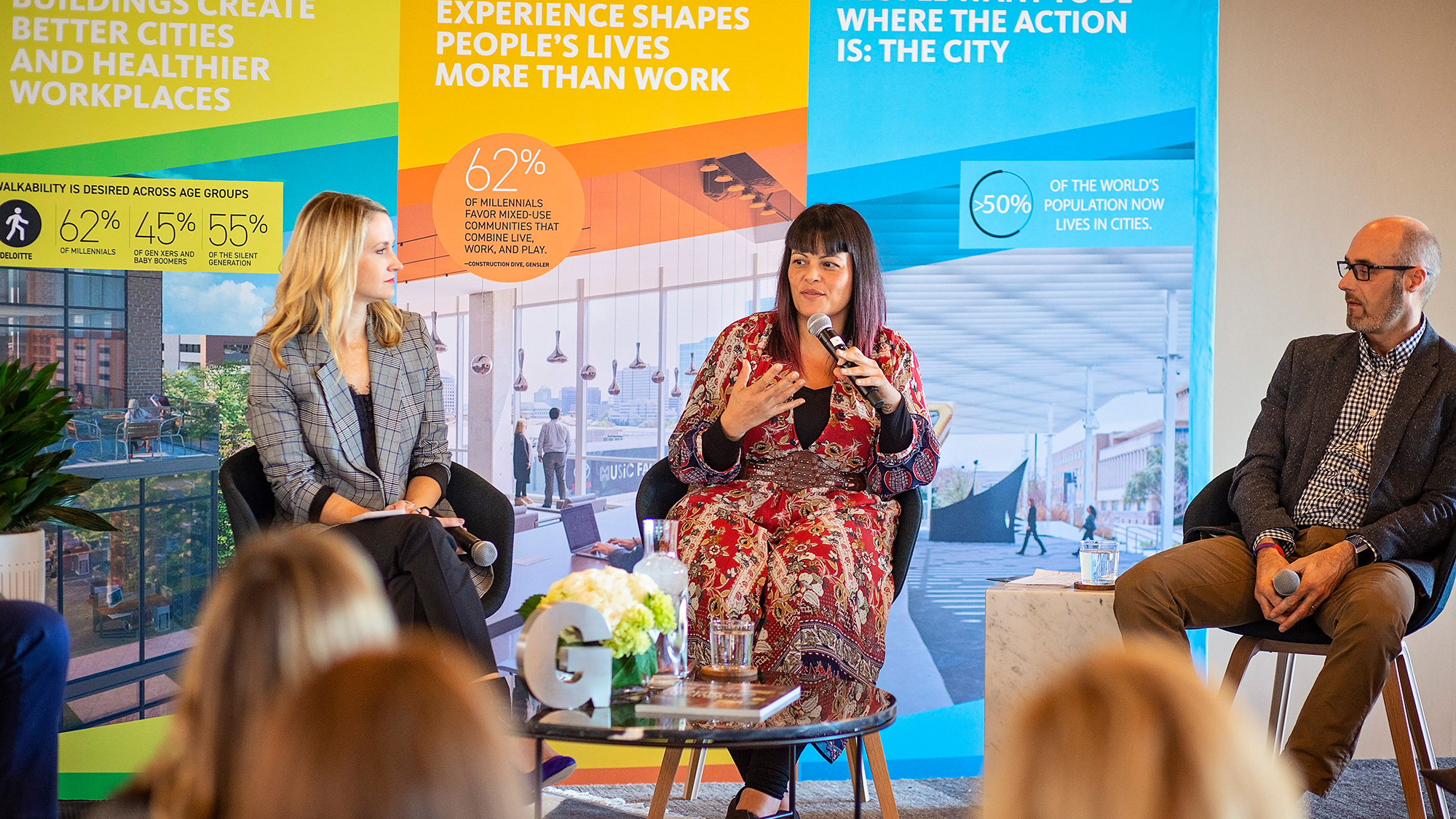 Give people a greater purpose.
Corporations are increasingly paying attention to purpose at work, and how it translates to community interaction. Metropolis Editor-in-Chief Avinash Rajagopal emphasized the importance of purpose in the relationship between the city and a corporation. It's not just about jobs — jobs aren't just about economic impact; they're also about the social impact that comes from having people engaged in work they believe in. If people don't have work they believe in, it can tear apart the social fabric of our communities.
As designers, leaders, and officials, we can never lose sight of the purpose of our work, and the big picture of what will improve our cities.
— Barry Hand, principal and studio director, Gensler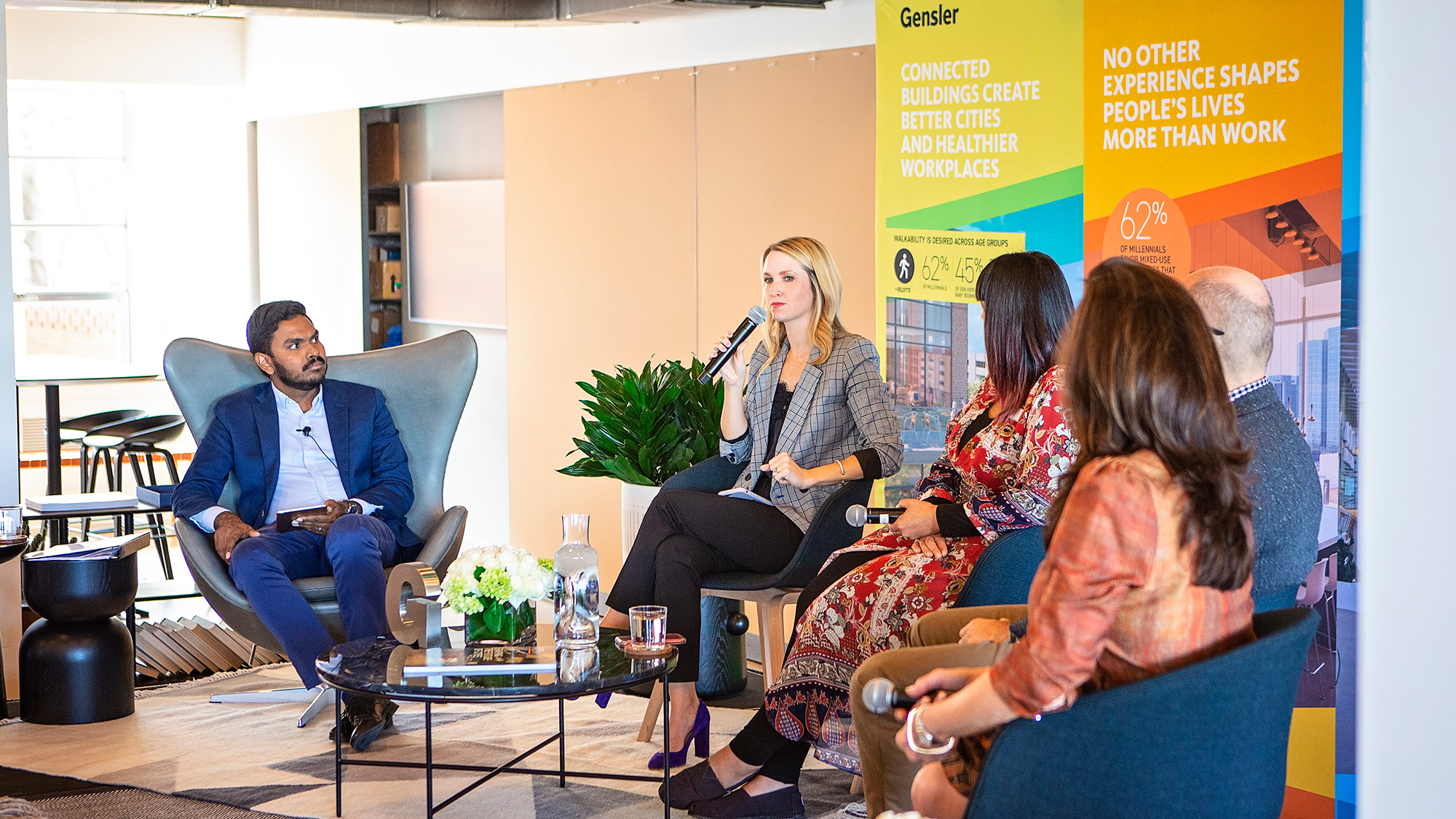 We must create places where people can form connections.
To create resilient, connected cities, we must create places where people can forge digital and physical connections — to each other, and to a greater purpose. People are demanding social spaces to connect at work, and walkable public spaces that spur interaction. True inclusion happens when people come together. If you don't give people opportunities to engage, you can't leverage their uniqueness and diversity.
Digital experience design is also changing the dynamics. For example, panelist Jonathan Pierce from American Airlines, talked about how the company's use of branding and icons is helping their recruitment and retention efforts on social media by connecting people to each other, to the company, and the brand.
Our research shows that when you connect all the dots, and remember the individual, it becomes a better product. It's no longer about the beautiful designed space — it's about the experience people have in that space.
— Cindy Simpson, principal and co-managing director, Gensler Dallas