Designing the First Triple-Certified Green Building in China
By Stephen Katz
Building well-being design is essential in mega-cities like Shanghai, where dense urban environments challenge the way we work and achieve healthy lifestyles. China's need for new office buildings continues to increase year after year making it the world's largest construction market. The government has taken notice and has mandated that almost every new building over 20,000 square meters meet China Green Building Design Label Certification standards. While these actions are a huge step in the right direction in efforts to fight climate change , there is an equally important need to integrate building well-being design along with energy savings strategies. Innovative approaches to the human experience in building design are an essential part of fostering productivity and innovation. Johnson Controls Headquarters Asia-Pacific in Shanghai is a great case study in combining energy efficiency, building well-being design, and smart technology.
Working with Johnson Controls, we knew at the outset that the building would incorporate cutting-edge sustainable mechanical, electrical, and plumbing systems, as well as intelligent building features. In addition, the team wanted to push the envelope on how the space could simultaneously promote an equally important goal: building well-being design. These high sustainability goals resulted in the first building in China to receive all three top sustainability certifications: USGBC LEED Platinum, China Green Building Design Label Three Star Certification, and IFC-World Bank EDGE Certification. The building is expected to generate 44 percent savings in overall energy consumption compared to the local market standard.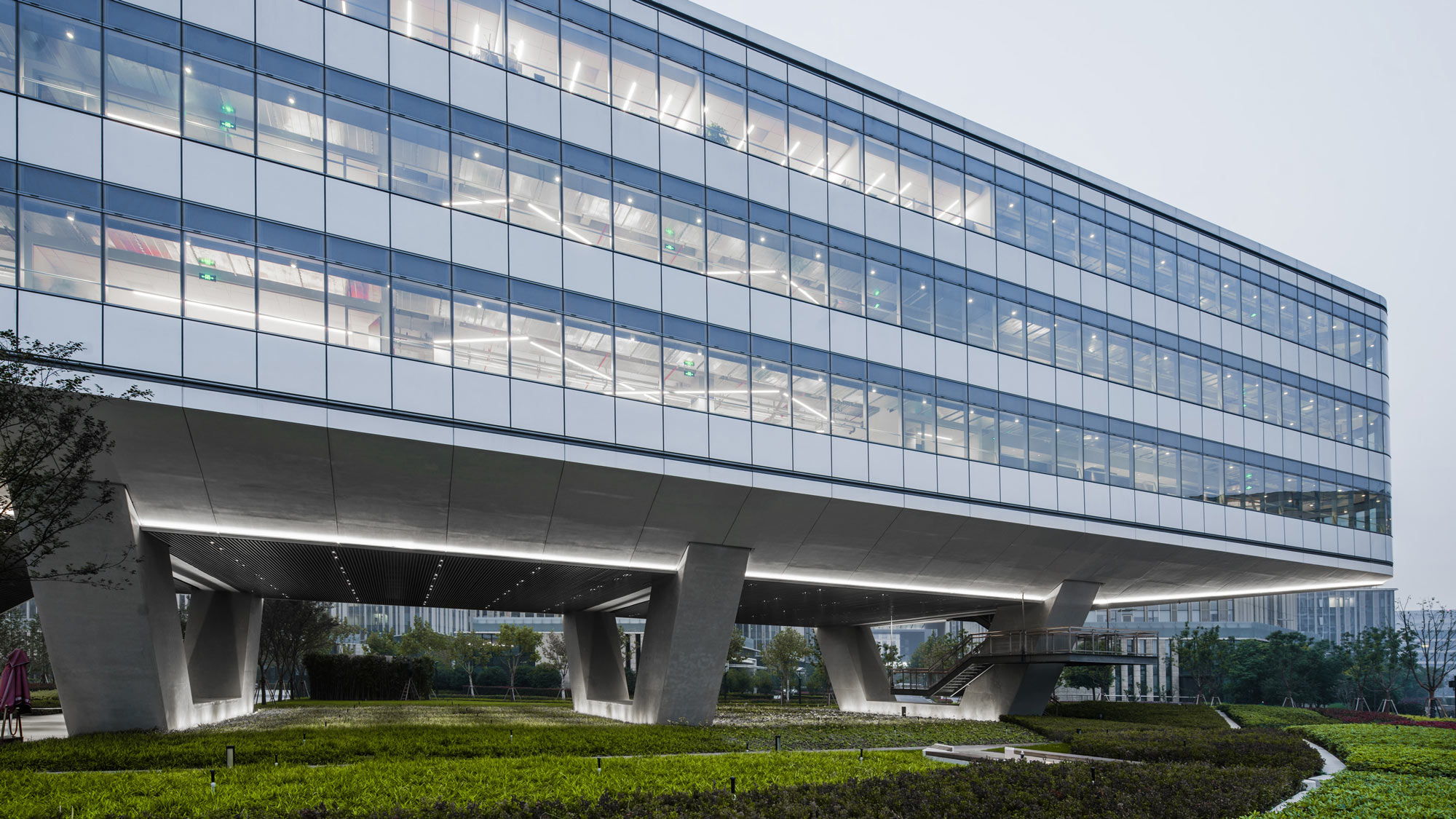 While most sustainable building features are not visible — such as properly insulated exterior walls or high performing mechanical systems — well-being features have visual design elements that can enhance the psychological experience, occupancy comfort, and social connectivity of spaces. This, in turn, can lead to a more productive work environment, decreased sick days for employees, and a dynamic place to exchange and develop ideas. These features will support Johnson Controls' ability to attract and retain talent in the Asia-Pacific market.
The Gensler team focused on three aspects of building well-being design: socially connected spaces, daylight and views, and access to outdoor areas. Each of these design features has implications for the shape of the building in addition to performative values.
Socially Connected Spaces
The site for the building is very narrow and has a 24-meter height restriction due to the proximity of Hongqiao Airport. This presented a unique challenge: how to create a sense of community on a linear site while optimizing floorplate efficiency. Our solution was to create two long rectangular buildings that maximize daylight and views. These separate buildings are bent in opposite directions and then joined together, creating a large atrium in between that serves as a central community gathering space. The atrium is surrounded by open circulation and staircases that link each floor to provide a platform for employee connections and chance interactions. Ample research links these conversations across departments and business units to increased productivity and innovation.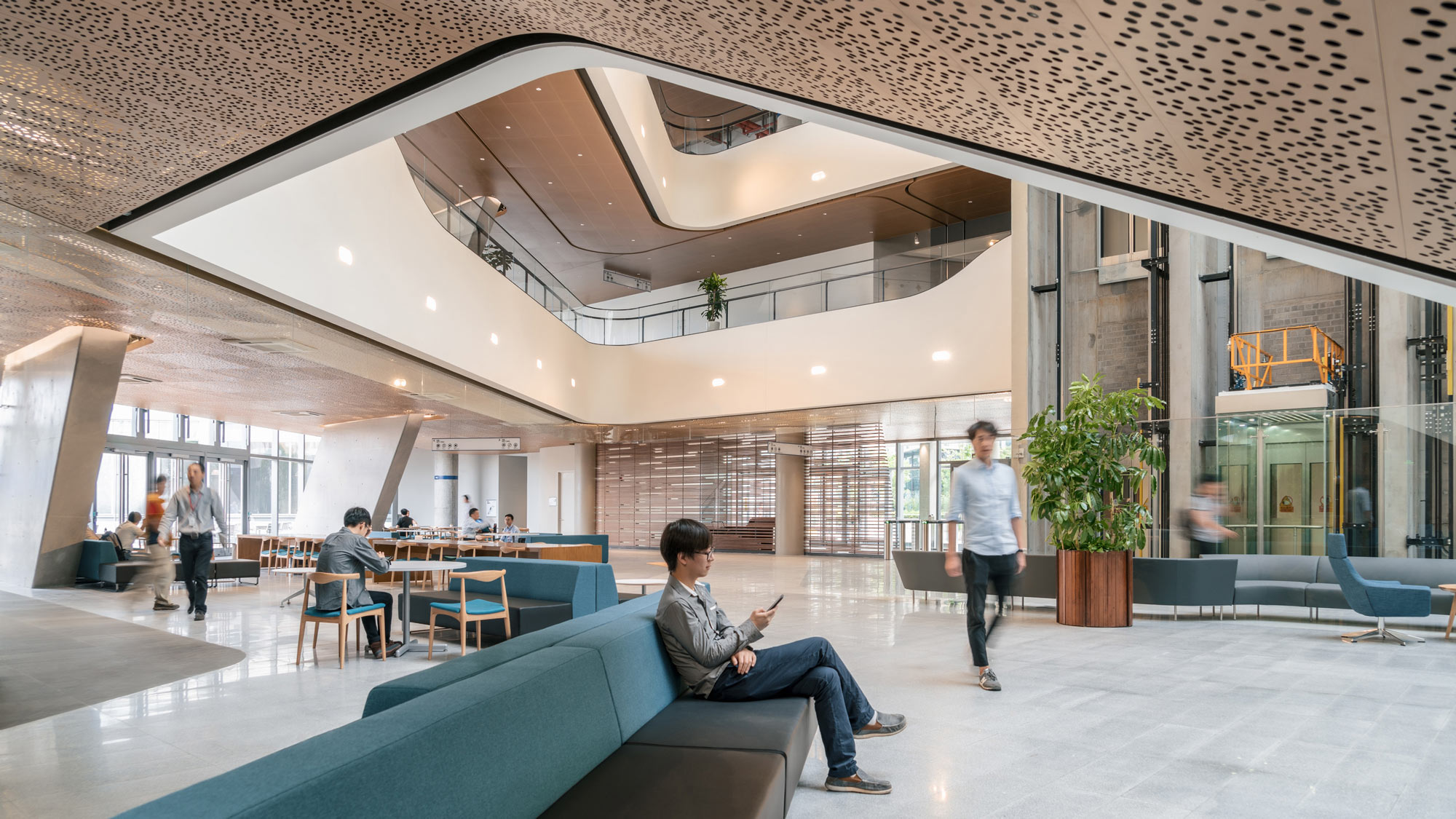 Daylight and Views
The long rectangular shaped floor plates created a perfect opportunity to provide access to natural light and views to landscaped exteriors. Workstations and collaboration areas are in close proximity to windows. In addition to reducing the amount of energy used for artificial lighting, research shows that this exposure to natural light offers psychological benefits during and beyond the workday, such as improved sleep.
The views out of the building were also important to the design team. Surrounding the building with green landscaping reduces urban heat island affects but also provides an opportunity for visual connections with nature, which are so important in an intense urban environment.
Access to Usable Outdoor Space
Distributing accessible and usable outdoor space throughout the building both at ground level and above gives employees choice in where they work — focus areas, places for collaboration, and options for a change of scenery — not to mention the connection to green space many residents of large cities often lack.
Each of the top-level floors has a terraced balcony where people can work or take a break. These build to a large two-level outdoor roof deck where casual gatherings or formal group meetings can occur. At the ground level, an outdoor courtyard off the dining area connects to a park along the adjacent Suzhou Creek. This outdoor retreat includes a water feature and is visually linked to a series of terraced balconies. The sum of these areas is a network of distributed, usable, and flexible outdoor spaces, which serves as a productivity and well-being catalyst for Johnson Controls.
Building well-being design is itself a sustainable goal. Environments that promote social connectivity foster innovation and have a direct benefit on quality of life. These merits are paired with a commitment to major energy savings and have been brought together in Johnson Controls' new Asia-Pacific Headquarters, again pushing the boundaries of what is considered truly sustainable.