Future Cities, Future Buildings
By Stephen Katz
As we think about what cities and buildings will look like in 2050, it helps to have examples in mind that convey a sense of what is possible — from both a technological and an urban design standpoint. How will our current responses to issues such as climate change, artificial intelligence, water management, energy use, and social interaction manifest themselves in the built environment of the future? Paradigm shifts in building design are accelerated when the ingredients for advanced solutions come together, and the Johnson Controls (JCI) Asia-Pacific Headquarters in Shanghai, China is a case study in designing and engineering super progressive environments.
This city of 24 million people already serves as an example of what future urban landscapes will become: hyper in scale with multi-modal transit networks, collections of international neighborhoods, and an embrace of mobile technology. With the local economy and society on the cusp of major change, a client with a stake in the future of building technology, and a team of professionals willing to push the boundaries of sustainability, the JCI project is a letter from the future that provides a platform for understanding how our priorities for work environments are shifting to reconnect with the urban fabric, emphasize social connections, and reintroduce daylight.
Reconnecting with the urban fabric
Cities will continue to grow both outward for new land area and inward for density in existing areas. At more than six times the population of Los Angeles, Shanghai is full of clues as to what the future holds for North American cities that are expected to grow three to eight times by 2050.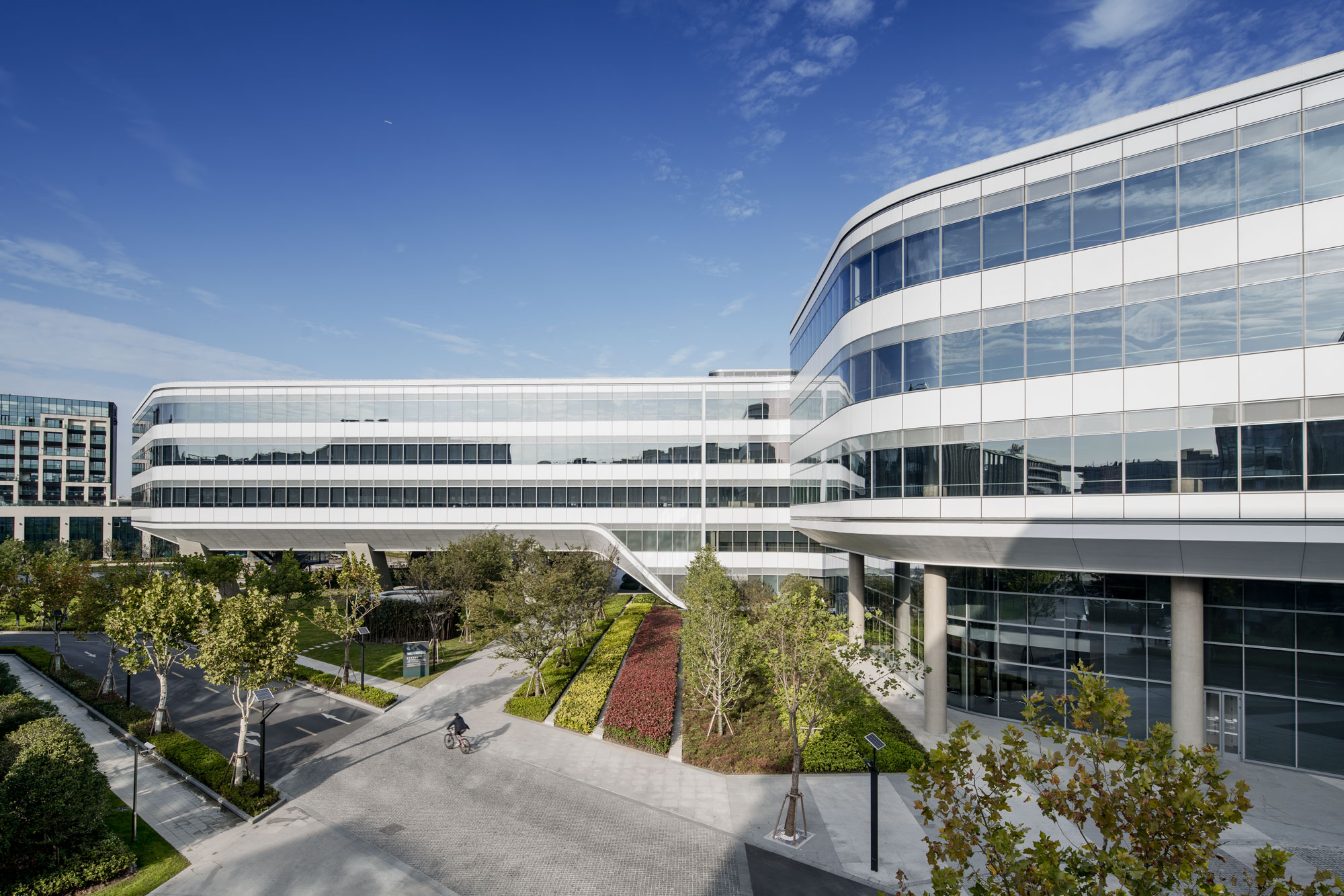 The project is located on the western edge of Shanghai in Changning District, which has seen explosive growth for office buildings and mixed-use developments. Once heavily polluted and used primarily for industrial purposes, Suzhou Creek along the north side of the building is now being embraced as an urban asset, and significant government resources are being employed to clean the creek, restore natural water features, and provide public access. The Gensler design team saw this as an opportunity to connect urban life to nature, lifting the entire north wing of the building to create a green walkway that connects the site to a new system of public riverfront parks.
This design solution created public access to the park, provided an expansive outdoor setting for staff and the public, and offers people daily interaction with nature in one of the densest urban centers in the world. Lifting the building's north wing six meters above grade with 18-meter structural spans was a significant investment beyond a conventional structural solution, but the design team and JCI understood the difference this gesture would make for the neighborhood. The importance of community connectivity especially to natural waterways and landscapes is an aspect that future urban environments will embrace as they seek to enhance the quality of life and maintain the ability of people to move freely.
Daylight and Views
City planners have traditionally relied on zoning laws to help shape buildings in such a way that daylight reaches the pedestrian level. These regulations will likely continue as cities densify vertically and expand outward. What is changing is a renewed recognition by architects, designers, and building owners of the value of connecting those who inhabit buildings with natural daylight and views of natural environments. While narrower floorplates permit more daylight to reach interior spaces, that impulse needs to be balanced against the current desire for large, open floors that encourage social interactions. On the other hand, large expanses of glass can provide more daylight and a better experience of the space, but generally perform poorly from an energy efficiency standpoint.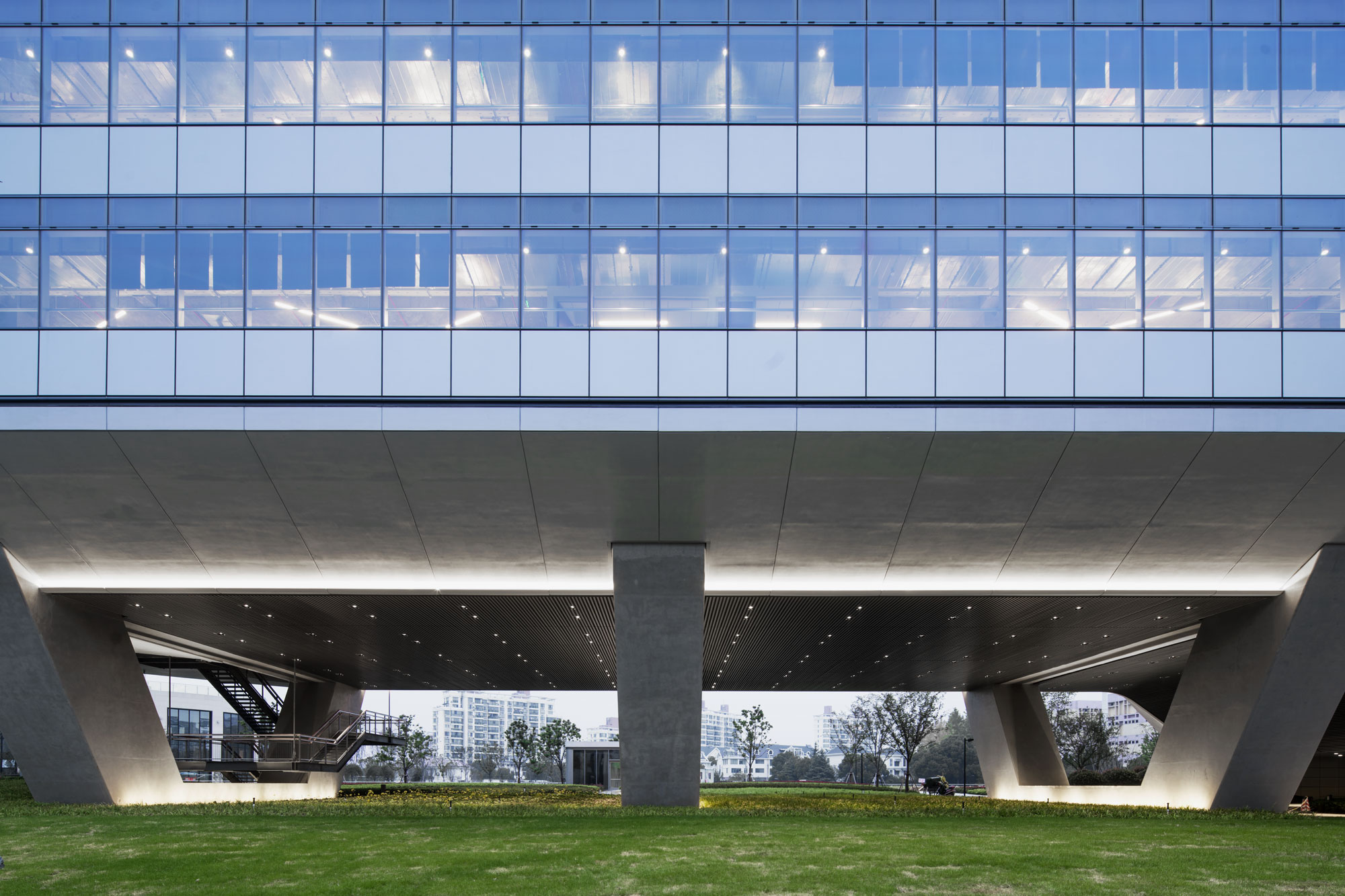 The site for the JCI Shanghai building is very narrow and has a 24-meter height restriction due to its proximity to Hongqiao Airport. This presented a unique challenge: how to create a sense of community on a linear site while optimizing floorplate efficiency. The solution was to create two long rectangular buildings to maximize daylight and views. The narrow floor plates helped bring in natural light. The window-to-wall ratio was capped at 47% glass and 53% opaque with a highly insulated metal panel system.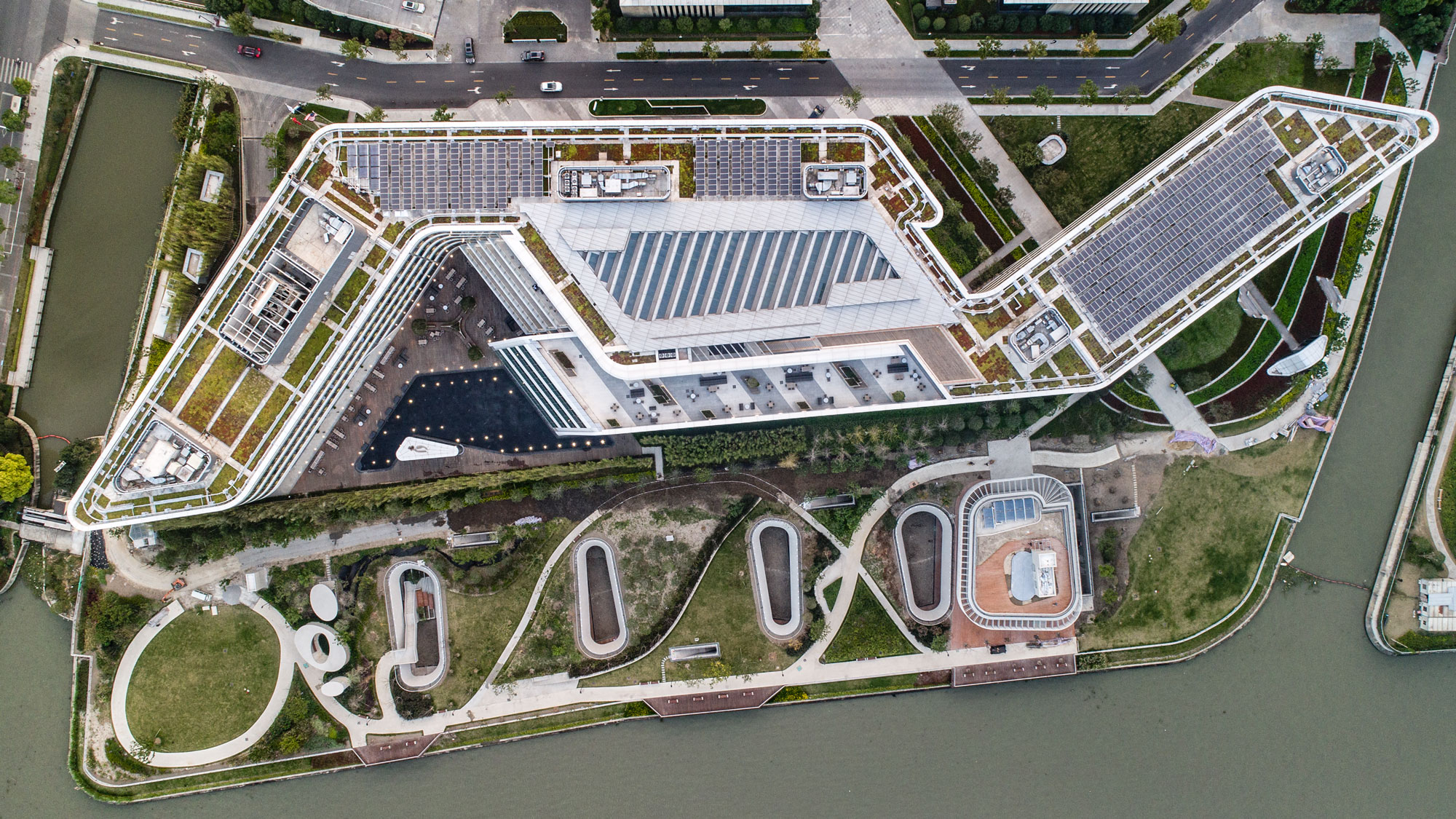 These separate buildings were bent in opposite directions and then joined together, creating a large atrium in between that serves as a central community gathering space. Open circulation paths surround the atrium and each floor is linked by staircases to provide a platform for cross-community connections, chance interactions, and physical activity. Research links these conversations across departments and business units to increased productivity and innovation, a hallmark of Johnson Controls' approach to progressive engineering solutions.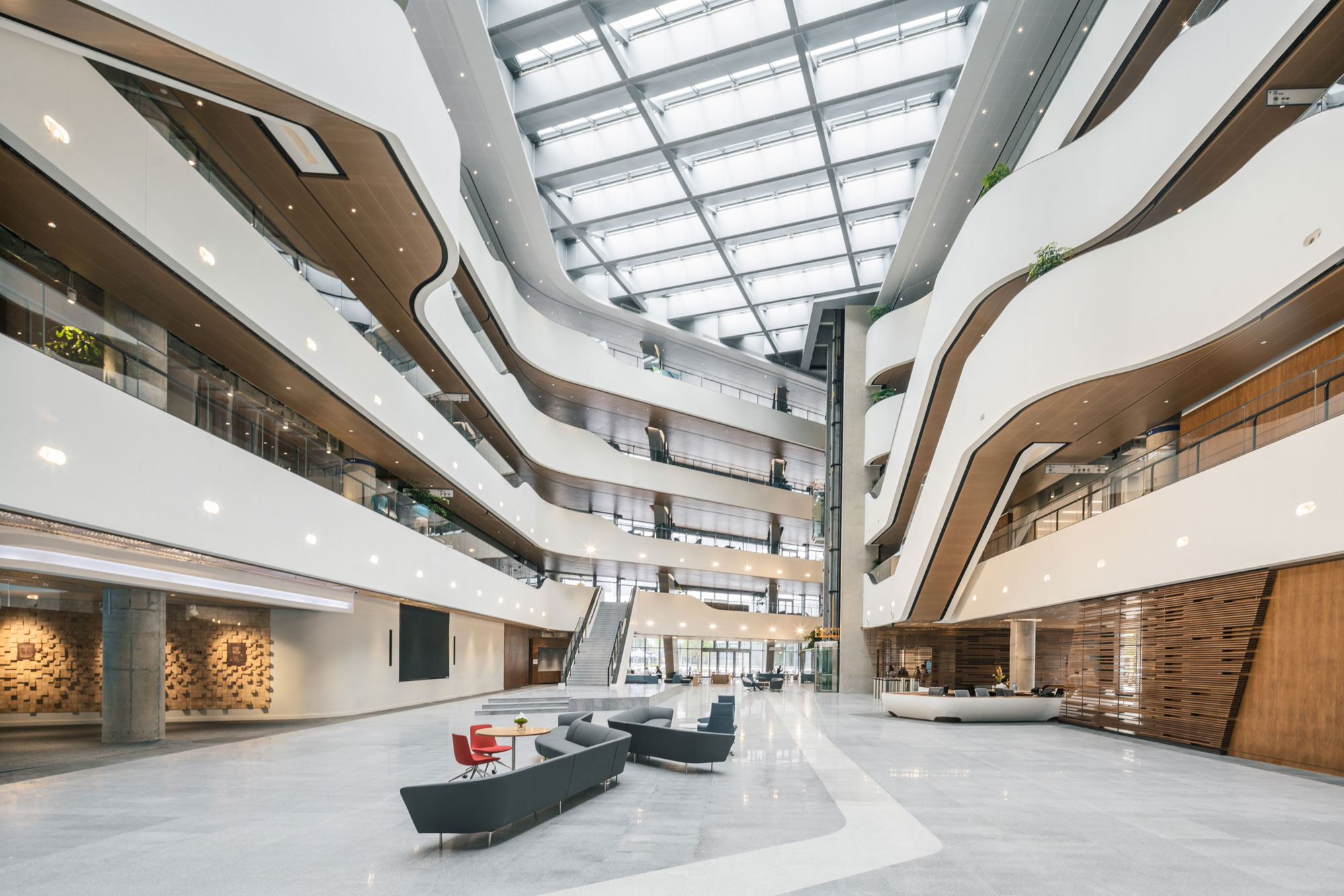 Conclusions
As we seek to understand how to adapt our cities, buildings, and urban areas for the future, we need to learn from present day examples which offer clues about what strategies are working and why they are successful. Mega-cities such as Shanghai are transforming their buildings just as socio-economic priorities are evolving. As China shifts from a manufacturing-based economy to a service-based one, corporations are competing for talent and placing a greater emphasis on quality work environments. In response, buildings and cities across the country are being reshaped.
Access to daylight, views, and social connectivity require new levels of capital investments — as well as progressive thinking on the part of public and private stakeholders. As architects and designers, we remain optimistic about our ability to positively affect the future of cities and societies.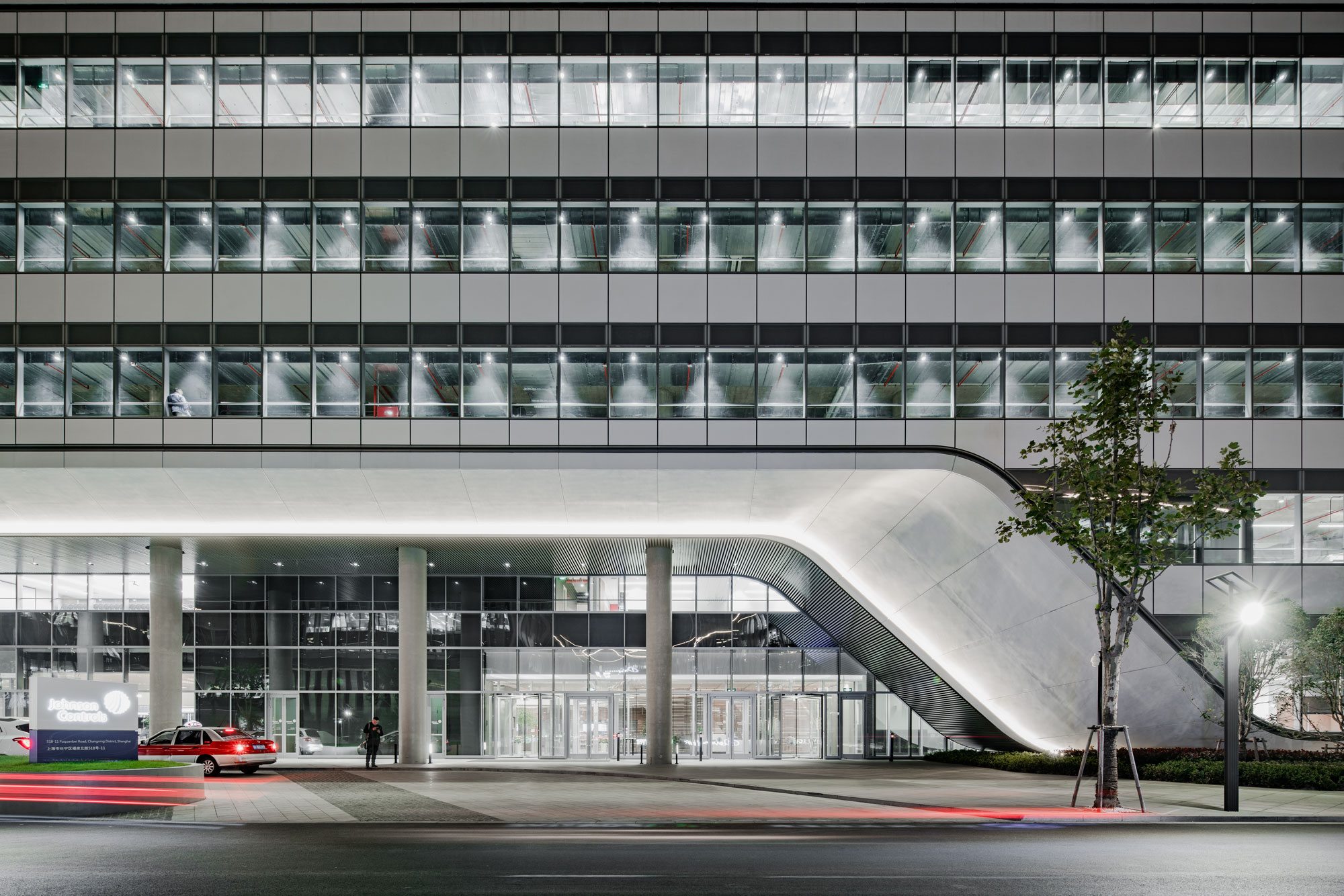 For media inquiries, email .