Gensler Research + Innovation Awards 2017
Research is the fuel that drives innovation, and innovation is the cornerstone of design excellence. That's the premise of the Gensler Research + Innovation Awards (GRIA) program, which is about celebrating the invention and exploration that produce inspired design thinking, creative problem-solving and better outcomes for our clients.
Now in its third year, the GRIA program took a step forward in 2017. Sixty-four submissions were reviewed by the jury of outside experts—and 11 stood out for recognition. "This is the kind of integrated thinking that Gensler does best," said GRIA Co-Chair Amanda Ramos. "Through this platform of research and innovation, Gensler can unlock the impossible."
The seven-member jury announced the winners and offered their critique at a Gensler leadership retreat in Denver, and for the first time their presentation was broadcast live to Gensler offices around the world. Both audiences were treated to ideas ranging from the reimagination of an underused rail right-of-way into a vibrant, urban asset to a workplace outreach program that gives every employee a chance to be "Office Heroes."
The jury represented a cross-section of industry experts, including clients, academics, publishers and architects. Divided into two groups—one for Research and another for Innovation—they spent a day closely examining the submissions and asking challenging questions to winnow the field to a select few. "No one of these submittals or winners could exist without all the other work, thinking and efforts that every member of the practice contributes," said juror Ann Beha, of Ann Beha Architects. "You can't do this stuff without a community of thinkers and without the encouragement of leaders who believe that research and innovation are an intellectual foundation for design practice."
RESEARCH WINNERS
In her introductory remarks, research juror Kathleen Carey, president and CEO of the Urban Land Institute Foundation, noted that her team of jurors focused on rigorous methodology and data. "But as the day went on, we really found ourselves using words such as visionary—and, on the other side, practical. Is the research implementable? Is it immediate?"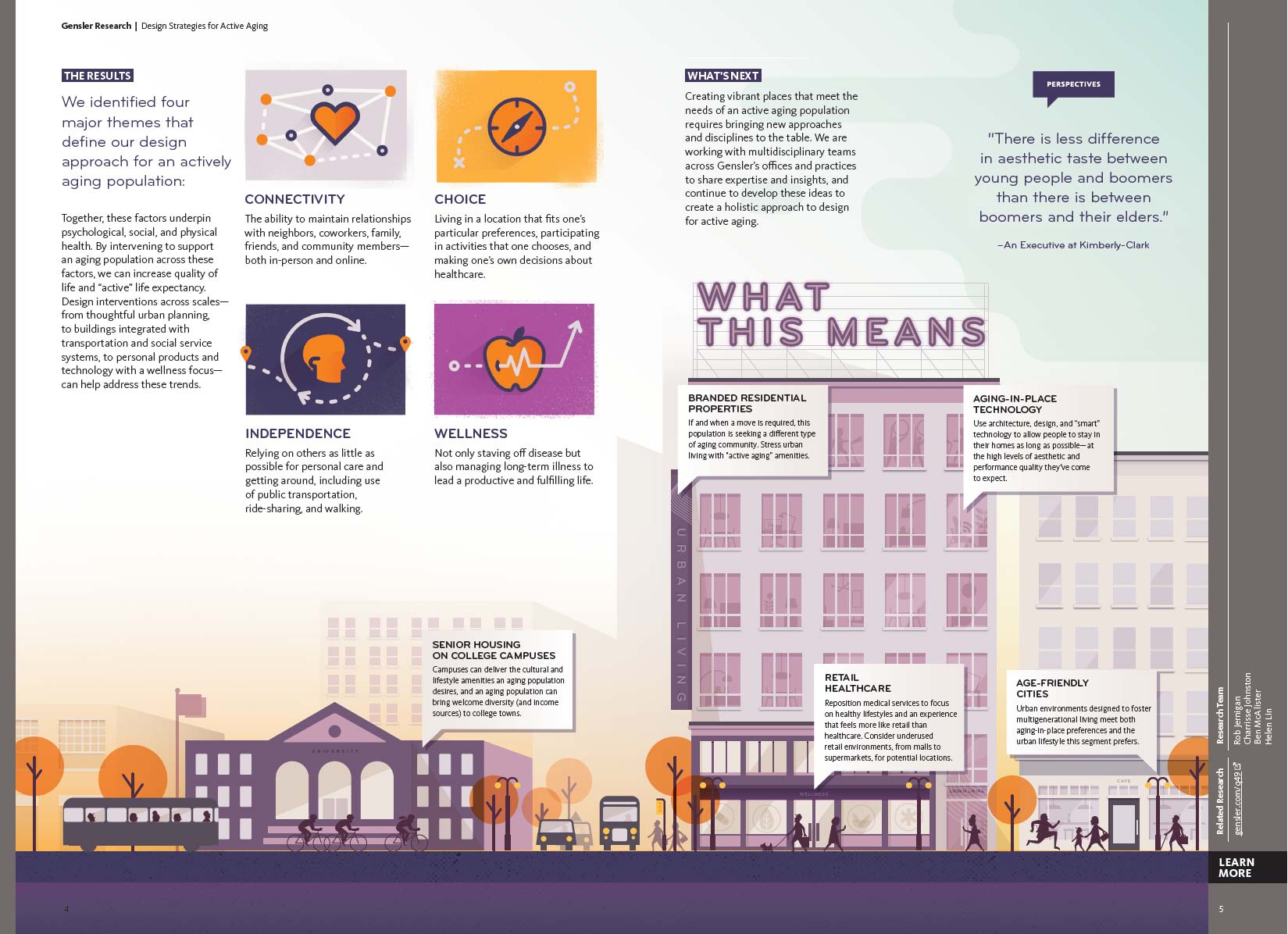 The research jury called out five projects for an award, starting with Design Strategies for Active Aging, a study of how design can better support today's active aging population. This team documented trends for Baby Boomers and the aging market, focusing on demographic shifts along with the unique physical, mental and social needs of this group. They identified four themes that define the design approach for an actively aging population: connectivity, choice, independence and wellness. "This group of Boomers represents the greatest expenditure of wealth in the world," said Strauss. "This new future has not been designed and built yet."
The other GRIA research winners included:
Gender-Inclusive Design: Rethinking the Binary Restroom, in which the research team asked, "How do we design and plan for restrooms to be inclusive for all gender identities?" They explored what works, and what doesn't, in non-binary restroom designs via third-party research, a staff survey of more than 900 respondents and four community roundtables held across the U.S. The goal was to identify best practices for designing gender-inclusive restrooms and generate discussions regarding universally inclusive restrooms. "It's critical that Gensler continues to lead this," said juror Richard Henderson, head of corporate properties at Wells Fargo. "It's a challenge looking for a solution."
The Gensler 2016 Workplace Surveys Workplace Performance Index, a redesign of the firm's Workplace Performance Index® (WPISM) Survey Tool, which was used to survey 11,000+ global workers to identify the key drivers of innovation. The team uncovered nine design factors that are most important to drive innovation, and used education as the cornerstone for sharing those insights. One means of sharing the results was a first-of-its-kind portal on Gensler.com. "This is the most breathtakingly large and useful base of research there is in the community," said juror Mark Strauss, president emeritus of Interior Design magazine.
SFO Waste Messaging Trial Testing and Research, a project that aims to help San Francisco International Airport (SFO) reach its zero-waste goal by 2020. This team applied behavioral science and ethnographic research to understand what kinds of messaging, graphics, bin designs and user interactions would prompt improved trash-sorting accuracy and diversion. Their evidence-based design approach resulted in a holistic trash bin design strategy for SFO and informed client decisions about a $2.5 million expenditure on trash bins. "This project solves a real-world problem very eloquently," said juror Kathleen Carey.
XQ: Summit Elevate, which offers a new vision for what student-focused education could become. For the concept, Gensler explored ways to consider Artificial Intelligence to deliver learning in a curated manner, freeing students from traditional constraints and helping them cultivate self-awareness and resiliency. "This redefines education as we know it today," said juror John Picard, founder of John Picard & Associates. "It unlocks the power to learn."
INNOVATION WINNERS
Submissions in the innovation category were considered in the context of what fuels the abundance of modern life. Kim Erwin, associate professor at the IIT Institute of Design, noted that potential award winners were moved forward in the deliberations if they were considered novel. "We also asked ourselves, what is the potential of this project to have impact within the firm? We asked is it scalable? Is it extensible—meaning if you had created it in one context, could it be repeated in other parts of Gensler's global network?"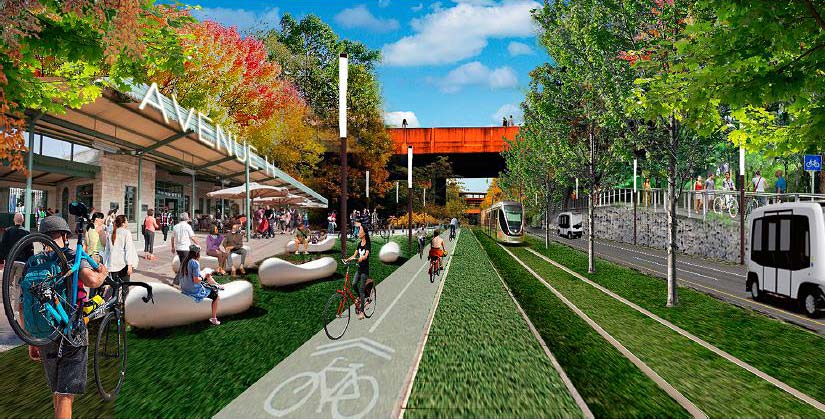 BQXL: The Brooklyn Queens Cross Line met those criteria. The project is a comprehensive strategy for resilient neighborhood development through the heart of Brooklyn and Queens. It leverages 15 miles of underutilized freight corridor into a community asset and proposes opportunities for new open space, business incubation, affordable housing, partnerships with local institutions and enhanced multimodal connectivity. "It's about advocacy and planning integration, with commerce and transportation and nature and community all working with each other," said Beha.
The other GRIA innovation winners included: The Northwestern University Common Spaces project, a data-driven approach to allocating and managing common space on a sprawling university campus. The team employed digital tools to record and assess space characteristics and usage, then produced a standards document and prioritization tools to help the university implement $70 million of upgrades. "The project takes the idea of space inventory to an entirely different plateau," said Erwin. "It took a real estate approach and made it an institutional approach."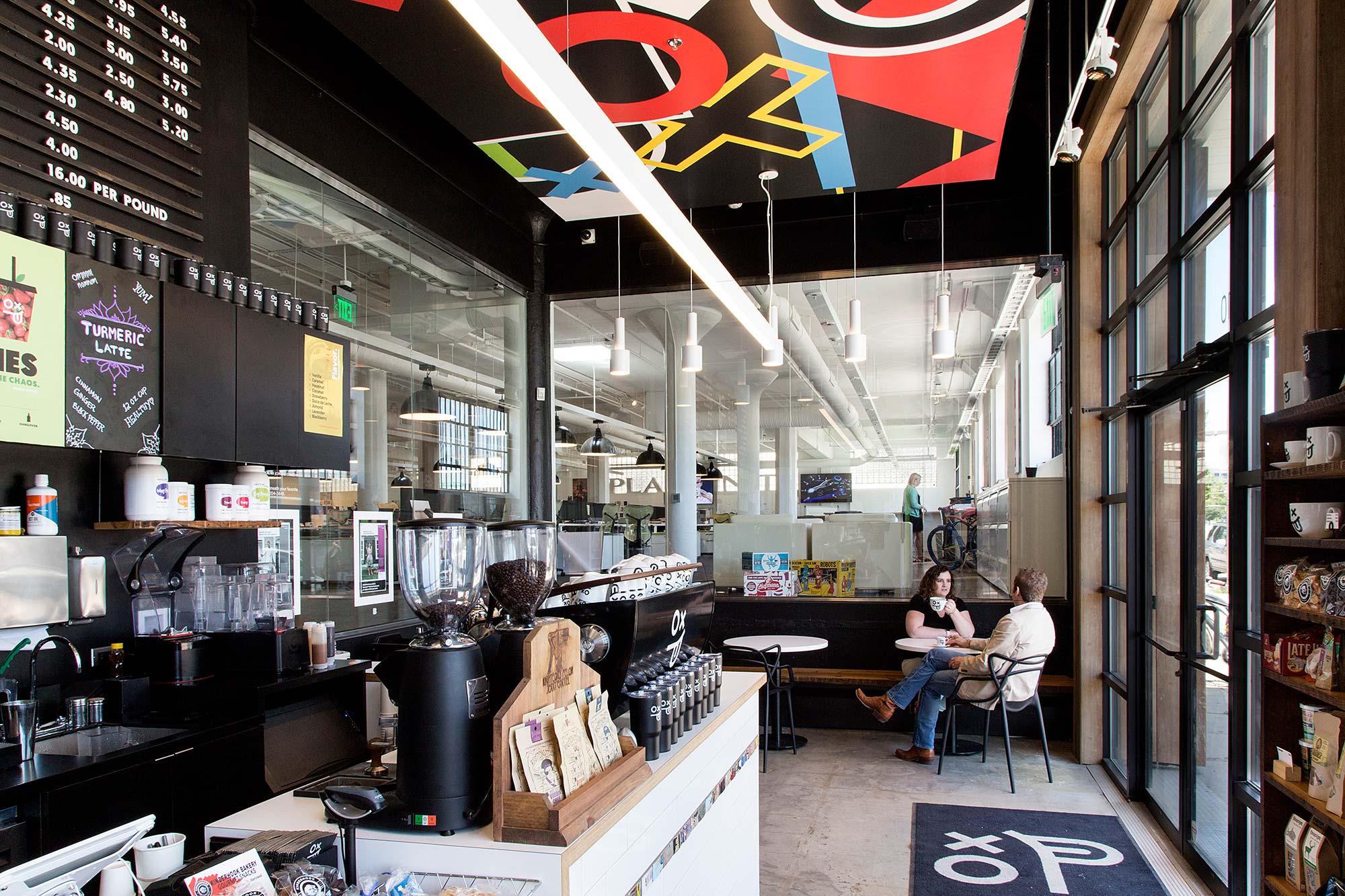 Planit Agency: Order & Chaos, which challenges office design conventions by integrating a neighborhood coffee shop into an ad agency's new office. With a brand built on how Planit Agency works, the coffee shop offers a window into the workspace and provides an experimental area for market testing. "This breaks down the wall between the company and consumers, creates community connections and blurs the line between hospitality and traditional office space," said juror Mike Lentz, managing director of development for Host Hotels Resorts.
Office Heroes League, an outreach program that connects members of Gensler's San Francisco office with peers (office managers, administrative assistants, etc.) in the community. Rather than being spearheaded by senior leaders, the program engages a network of newer staff, or "Office Heroes," in business development, employee development and brand building. Through quarterly meet ups, community interactions are built on topical events in Gensler-designed workplaces—planned and executed by the Gensler team. "This is a terrific way to create the next level of leadership and embed the Gensler brand," said Erwin.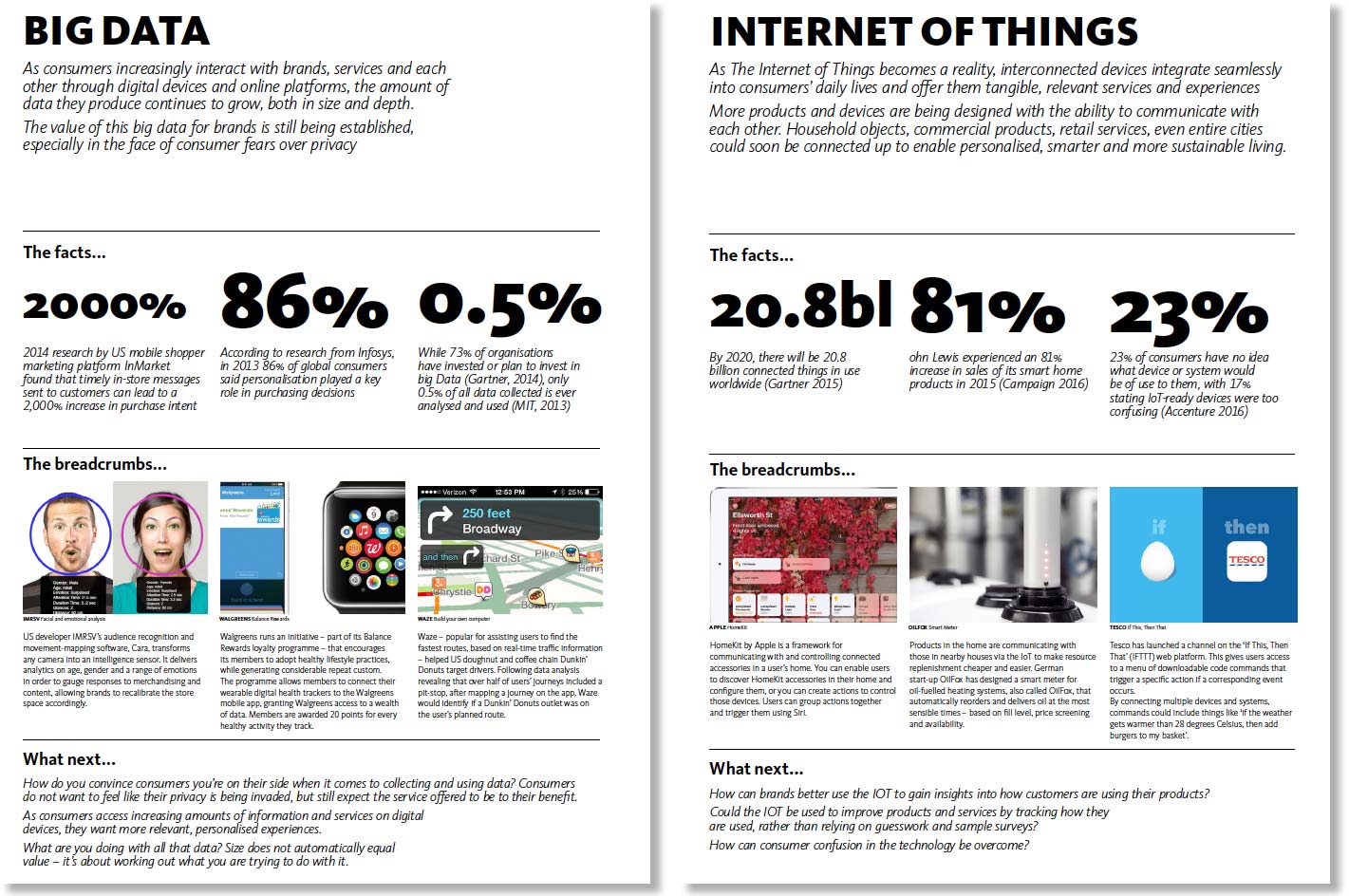 Gensler Insights Group – The Set List, an effort by two London studios to stay ahead of the pace of cultural change by identifying insights, disruptors and ideas that will shape the future. The team identified 52 emerging trends and innovations, each claimed by an individual champion. Their research was leveraged as a blog series, pocket-sized "field notes" and social media promotions—all reinforced in the office by an engaging graphic display. "This project is content-rich, stimulating and culturally-tailorable. It's promoting a new way of thinking that's replicable and extensible," said Erwin.
2017 San Francisco Key Objectives Campaign, an internal initiative to engage employees to create and achieve four fiscal year key objectives: TECH, CRAFT, CARE and YOU. The branded campaign generated more than 800 ideas—an open platform for employees not only to voice their ideas, but have the resources and support to own those ideas, present a business case and see them actualized. "This innovated a process," said Lentz. "The results are increased engagement, greater commitment, more passion to achieve goals and ultimately more creativity to drive innovation.
As a bonus, the Research jury called out three entries that explored automated workplaces, drones with 3D printing capability and the idea of sequencing the design code within nature. While not selected for awards, the entries dealt with important topics. Added Carey: "We wanted to make sure that we communicated these ideas to you as well, because we think these present opportunities for Gensler to take a leading role in these fields and really make a remarkable difference."
---
CREDITS
Story
Vernon Mays (Gensler Integrated Communications)
2017 Gensler Research + Innovation Award Co-Chairs
Don Ghent (Gensler—Washington, DC):
Amanda Ramos (Gensler—New York):
2017 Gensler Research + Innovation Awards Committee
Amrapali Agarwal (Gensler—Firmwide)
Ana Luisa Alfaro (Gensler—Costa Rica)
Elaine Asal (Gensler—Baltimore)
Amanda Baldwin (Gensler—London)
John Circenis (Gensler—Los Angeles)
Anne Gibson (Gensler—Chicago)
Sven Govaars (Gensler—Houston)
Richard Hammond (Gensler—Costa Rica)
Aimee Messina (Gensler—Washington, DC)
Mark McMinn (Gensler—San Francisco)
Gail Napell (Gensler—San Francisco)
Tim Pittman (Gensler—Firmwide)