The Next Phase for Climate Action: An Embodied Carbon Revolution
April 14, 2022 | By Andy Cohen
Environmental advocates have been applauding the recent proposal by the U.S. Securities and Exchange Commission that would require public companies to disclose a wide range of information on their climate impact. They say the resulting transparency would hold companies accountable for their role in climate change and help force changes in business practices that currently contribute to rising global temperatures.
It's the kind of coordinated effort that's required to get more information out into the marketplace and get more companies behind the massive effort required to rein in climate change. And it's an effort we applaud.
In the same spirit of transparency, Gensler has been reporting the carbon impact of our design portfolio since 2016. But, more importantly, we are working intentionally to influence the building industry by sparking a greater demand for sustainable building materials and products. Our goal is to trigger a sea change by decreasing carbon emissions, improving the resilience of global supply chains, and bringing about a more sustainable future.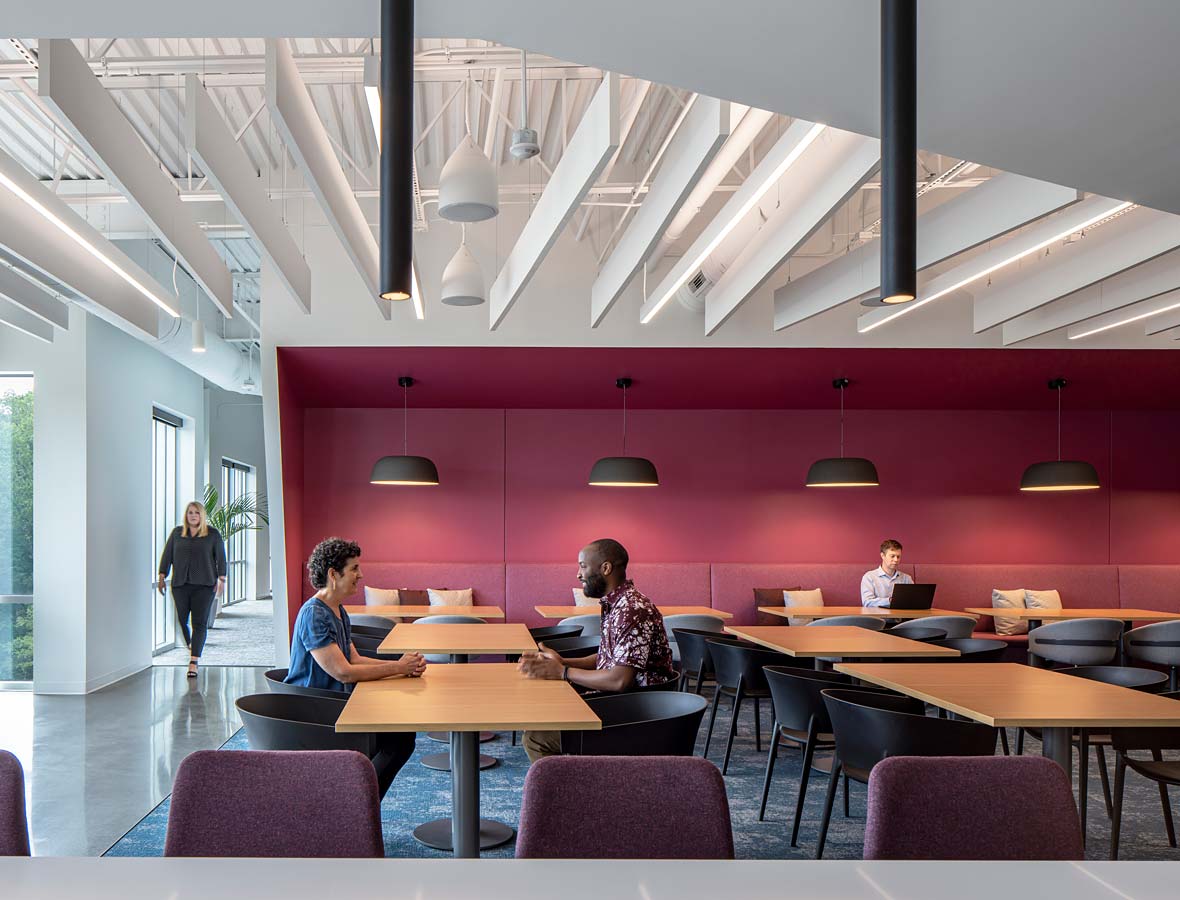 Gensler Product Sustainability Standards
Gensler has established sustainability performance criteria for the top 12 most commonly used, high-impact product categories selected for our architecture and interior projects.
This all ties back to a public commitment we made when we announced the Gensler Cities Climate Challenge. The challenge states that, by 2030, all our work will be net zero. Over the next eight years, converting our portfolio of buildings to net zero will offset hundreds of millions of metric tons of CO2 as the savings compound each year. This is a challenge to ourselves — and to all architects and designers around the world.
We're challenging our industry because buildings are such significant contributors to climate change. Many people are surprised to learn that nearly 40% of carbon emissions are generated by buildings, not by industry or automobiles. And the largest single source of carbon output from buildings — 25% of it — is expended during the production and transportation of products and materials. In fact, more energy is expended during the production of materials than at any point during the building's life cycle. This is what's known as embodied carbon, and reducing it is key to our strategy to combat climate change.
Better Building Materials
Since nearly 75% of all raw materials are used for buildings, we must make careful decisions about how we obtain materials, plan for construction, and finish our structures. But where do we begin?
A good start would be to look at the materials that make up the supporting framework of most commercial buildings. The cement used in the making of concrete, for example, accounts for nearly 10% of all carbon emissions worldwide. One observer noted that if the cement industry were a country, it would be the third-largest emitter in the world. Steel, which is widely used in building structures, is nearly as carbon intensive. Wood, on the other hand, has relatively low embodied energy — as much as five times less than steel. Because trees absorb CO2 while alive, wood also has the additional benefit of storing carbon forever, preventing it from being released into the atmosphere.
That's one reason mass timber is becoming an important part of Gensler's portfolio. The combination of fire resistance, structural integrity, and environmental attributes makes timber buildings an attractive option. Recent mass timber buildings, for example, weigh up to 20% less than comparable concrete buildings, which reduces their foundation size and embodied energy, according to the Mass Timber Code Coalition. In addition, mass timber elements can be installed quickly on-site, with added benefits like reduced construction time, traffic, and noise. Waste is also minimized.
Gensler's design for Walmart's new 350-acre campus in Bentonville, Arkansas, exemplifies mass timber's potential. It will include more than 1.7 million cubic feet of Arkansas-grown and Arkansas-produced mass timber across more than 2.4 million square feet of office space, making it the largest mass timber corporate campus under construction in the U.S. With ambitious sustainability goals — efforts that prioritize people and the environment by sourcing responsibly, eliminating waste and emissions, selling sustainable products, and protecting nature — the campus will create an inspirational and healthy work environment for Walmart's associates.
On a smaller scale, Gensler completed an 8,500-square-foot retail branch for First United Bank in Fredericksburg, Texas. It's the first full mass timber construction project to be completed in Texas and the first in the nation to use cross laminated timber (CLT) panels made of Southern Yellow Pine, a native species that grows readily in Texas and southern states. The choice to use regionally sourced materials that require less energy to transport reduced the environmental impact of the building even before it was occupied.
At First United Bank, the mass timber elements were completed 60% faster than if they had been erected by traditional construction methods. Combined in this case with Southern Yellow Pine glulam beams and columns, the material becomes an important part of the building's warm, rustic aesthetic — appearing in the lobby, community room, office spaces, and exterior overhangs. The project is also designed to be net zero energy, producing as much energy as it needs without tapping the power grid.
Moving Forward
Looking to improve the long-term resilience and sustainability of the building industry supply chain, Gensler is taking the lead with a "green specifications" initiative that focuses on reducing high-carbon materials, sourcing materials that are extracted and manufactured locally, and minimizing waste. To catalyze the effort, we are having in-depth discussions with our industry partners — including contractors, engineers, consultants, and manufacturers — seeking a collaborative solution that will supply the market with materials that significantly reduce construction-related emissions.
As part of Gensler's action plan, we have tuned our master specifications to add a new layer of information to our decision-making when we select products and materials. These specifications will include requirements for Environmental Product Declaration (EPD) forms — independently verified reports that provide apples-to-apples comparisons of the environmental impact of products across their entire life cycle. It's a change in our process that will transform how we choose building materials and products. We are quickly training all our designers to operate by these standards, so that they become a part of Gensler's design culture. Going forward, it's how we will design and deliver all our projects.
We believe this initiative will do more than help our clients meet new sustainability mandates, building codes, and health requirements. We are tackling the issue of embodied carbon to set an expectation for low-carbon building materials that our clients and colleagues will take ownership of and come together to set us on a course toward net zero.
For media inquiries, email .