Pairing BIM and Connected Devices to Elevate Design
By Islay Burgess
Our increasingly complex world offers an ever-expanding number of factors to consider when designing. Environmental influences, constantly evolving business models, and a new generation of employees can all mean rapid change for the way space is used. Using networked devices — often referred to as the Internet of Things (IoT) — we can capture signals within our created places and measure everything from lighting power usage to occupancy rates and electrical plug loads.
Once we have these signals captured, how do we leverage them to elevate our design? Simple. By harnessing the power of Building Information Modeling (BIM). Our BIM models are designed to be digital twins of physical spaces, but they can also be used to visualize and analyze the complex symphony of data created by the network — thereby serving as a tool to inform the future of a place. By layering this new capability onto our creative, research-driven process, we can define a new people-centric method that is optimistic and adventurous!
After our clients begin occupying our spaces, we can pull live IoT information into BIM to enhance our understanding of energy usage, circulation patterns, environmental factors, and 3D space — to name a few elements. By merging IoT data with the spatial framework of the digital twin, we can monitor the post-occupancy of our designs and recalibrate the designed space with an unprecedented frequency. As we aim to make net-positive buildings the new normal, connected devices can also reveal opportunities to save energy by automating shades, balancing daylight and lighting fixtures, and learning from energy usage patterns. Using BIM beyond the typical design and delivery workflows means we can coordinate static physical elements with the ever-evolving human experience and environmental concerns.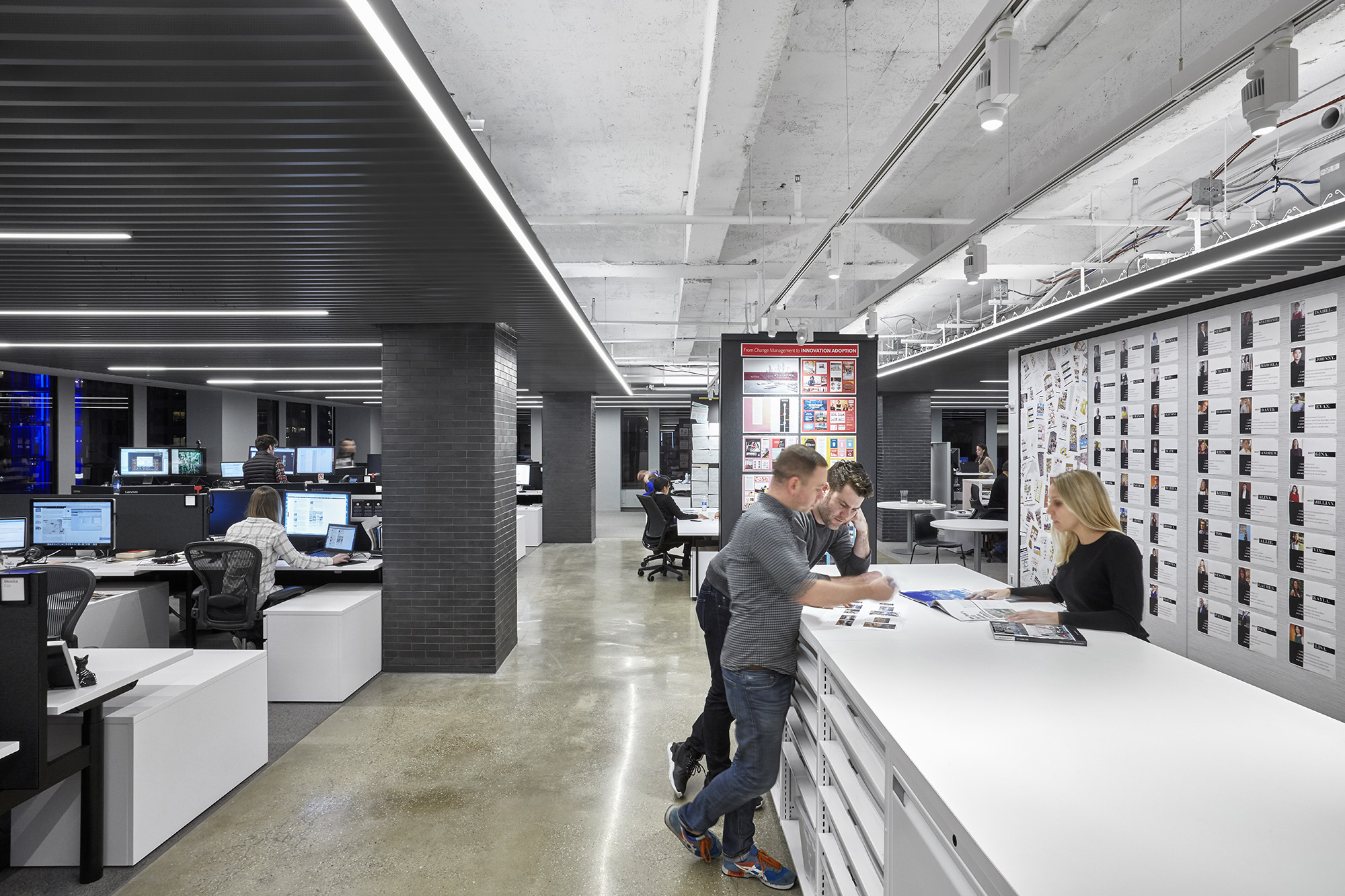 Additionally, coupling our design models with the construction process will lead to smarter fabrication workflows. In the coming years, IoT devices will allow us to track shipment of construction components, update BIM data with newly installed elements, establish site controls, and ultimately understand our opportunities for improving the entire design and delivery process. On a recent workplace project, for example, a connected device on site used information communicated from Revit to shoot laser "chalk lines" across the slab to outline and measure the partition layout. The contractor was still responsible for the partition in this example, but it illustrates how the roles and levels of data use will change in the future.
As a firm, we are beginning to address the best methods for using this signal information, while also questioning whether a specific signal or data point should be collected in the first place. Here are a few areas that a project team can explore once they have IoT data about a space:
Using the model as an underlay for data visualization. For example, the Gensler New York office added the sensor layout in their coordinated consultant models.
Gaining a 3D understanding of space from a first-person point of view. This lets you see how devices would capture human movement within space and verify the space's arrangement.
Examining how different material and physical conditions might affect signals; e.g., glass office fronts versus solid, doors versus openings, glare from context buildings reflected into space, and the need for controlled shading devices.
Augmenting design options to consider multiple alternatives and balancing what those layouts require.
Creating data-driven diagrams to show device tracking, sensors' field of view, capture range, connection points, paths of travel, frequency of data capture, and percentage of the floor plan with coverage—and then viewing it all in 3D, section, and axon.
By pairing the IoT signal information in BIM with additional information—such as the Workplace Performance Index® (WPI) , our workplace survey tool, or the Gensler Experience Index (EXI) , our ethnographic research—Gensler will be uniquely positioned to explain the attributes of space, paving the way for the predictive analysis and global information our clients are seeking. The intuitive design process we are all trained in will be super-charged by the ability to layer post-occupancy, performance, experience, or operational IoT data onto BIM.
The convenience of devices like connected speakers, video doorbells, and personal activity-tracking wristbands has enhanced how we live and play. As design professionals, we are looking towards a future where connected places will help us map how environments are used, how activities change over time, and how we can repurpose those places while considering multiple facets of complexity. By linking our design understanding with quantitative signal data tied into our 3D models, we gain more valuable usage insights and experience better project outcomes. And by maintaining a pulse on emerging technologies, we can design for inclusive social outcomes and continually recalibrate the built environment based on real people's needs.