What makes a space great?
And how do you measure human experience?
The Gensler Experience IndexSM is the result of a multi-year research effort to identify and quantify the factors of design that impact the human experience.
We surveyed more than 4,000 people across the U.S., and spent more than 60 hours in one-on-one ethnographic studies, to gain a deeper understanding of why people go where they do, how design impacts their behavior, and ultimately, how to design spaces to deliver great experiences.
The Modes
of Experience
EXPERIENCE STARTS WITH WHY
A fundamental element of designing for experience is understanding a person's intention and how it frames their experience. Though there are myriad reasons people do what they do, our research identified five distinct categories, or "modes," of experience.
Task
Social
Discovery
Entertainment
Aspiration
Modes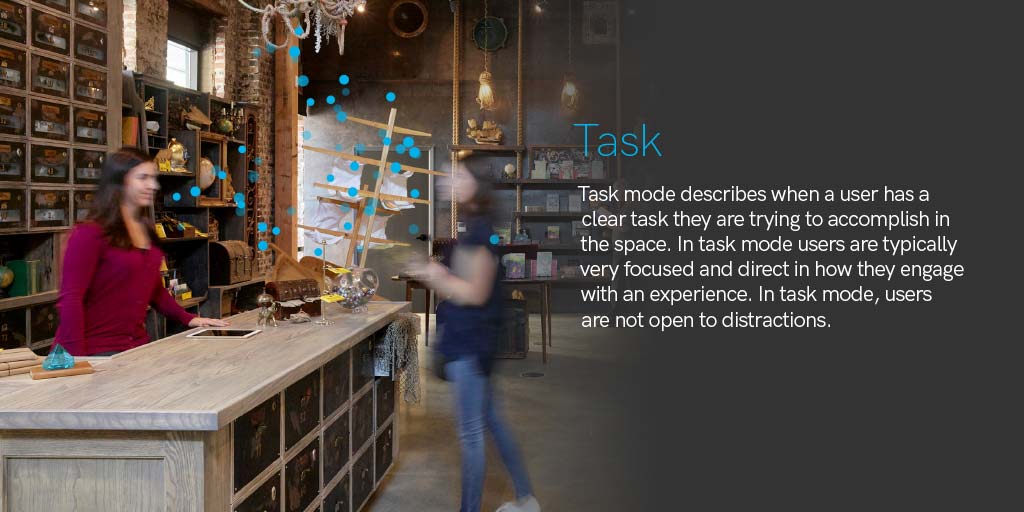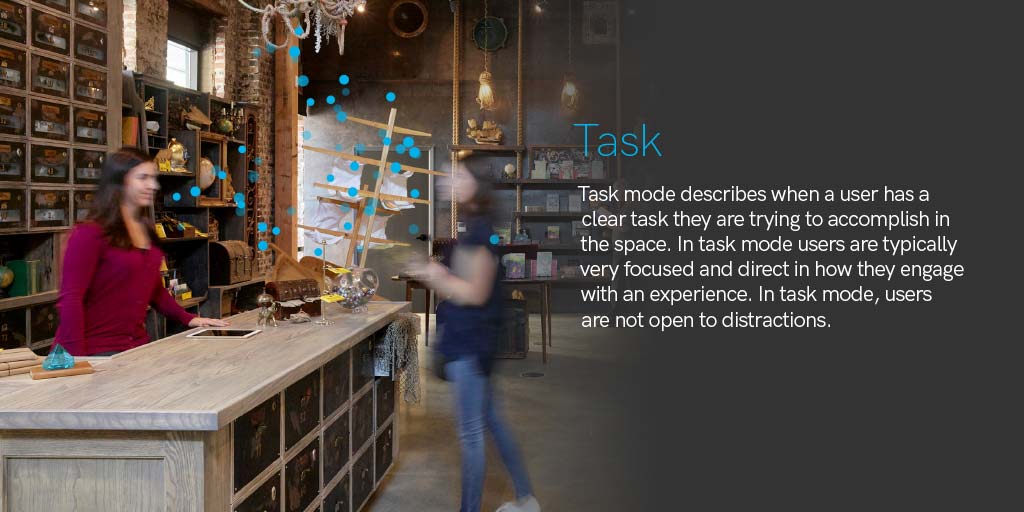 A Framework
for Experience
HOW DESIGN DRIVES EXPERIENCE
To document the full suite of factors that create a great experience, we developed our Experience Framework. At its core is a user's intention — our "experience modes." When we understand a person's intentions, expectations, and behavior in the context of a space, we can begin to define the quality of their experience.
Experience Framework
Expectation
Interaction
Space
Experience
Framework
Expectation
Interaction
Space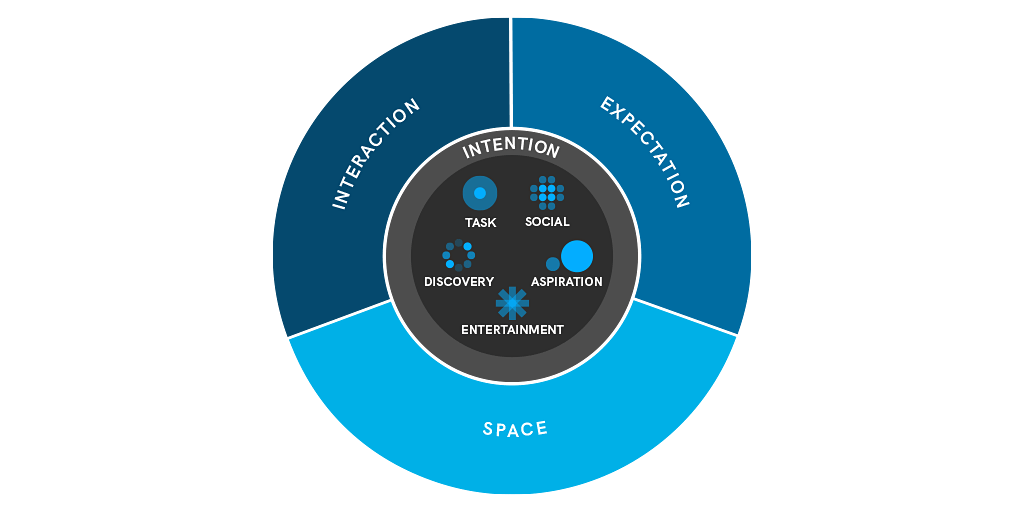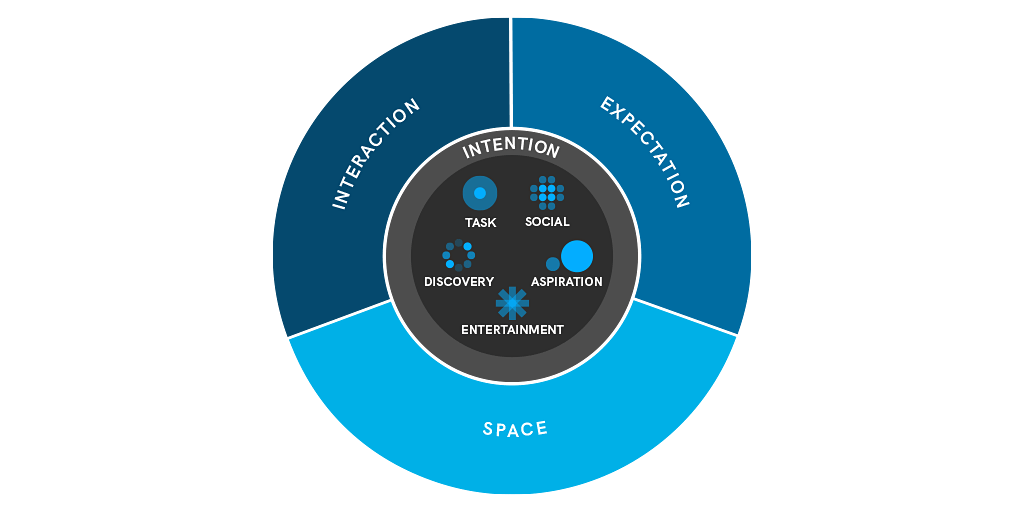 What Makes
People Tick
UNDERSTANDING PEOPLE TO UNDERSTAND EXPERIENCE
Ultimately, designing experience is about understanding people's mindsets, behaviors, emotions, and desires. Our data reveals insights about how experiences are happening today, and how we can make them better.
Better Design,
Better Experience
Complexity of
Experience
Multi-use
Spaces
Importance
of Social
In-between
Time
Technology
Matters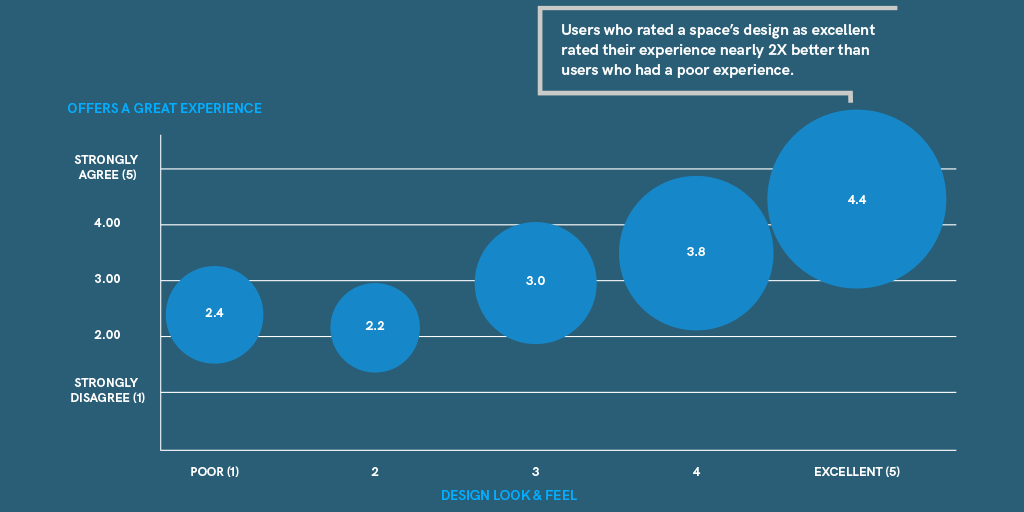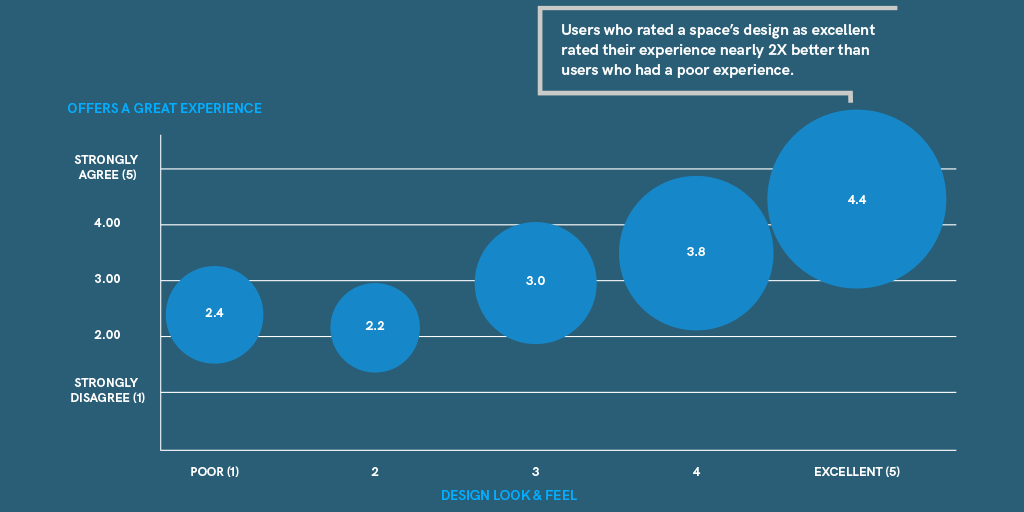 The Future
of Experience
Experience is emotional; so is design
A key aspect of our research was quantifying the impact of design on a great experience. We know that design is a key driver of a great experience, and that better designed spaces elicit a greater overall experience in users. How? Tapping into human emotion is the key component. We proved that there is a direct connection between design and experience through human feelings and emotions. The overall design look and feel of a space influences positive emotions, which in turn influences positive experience — and positive emotions and experience are at the heart of engaging users, whether connecting employees to organizational purpose or shoppers to a brand's larger mission and story.
Design with intention(s) in mind
Creating emotional connections requires a nuanced understanding of the needs and expectations a user brings with them to an experience — we can't exceed expectations if we don't understand them. Our experience modes offer a framework to explore intentionality as a new way to target and segment a user base — is your core audience in task mode, there to get something done, or are you courting a discovery-based audience seeking inspiration and new ideas? Meeting the needs and expectations of your users is the necessary first step to delivering a great experience; once primary needs are met, people are often open to new activities that expand experience and drive emotional connection, and those multimodal experiences are more likely to drive recommendation and engagement.
Design sends a strong message
Beauty, authenticity, uniqueness, and the overall design of a space consistently proved important variables to overall experience. Particularly as places seek to accommodate users beyond task mode, the importance of these variables rises — the broader a person's mindset, the greater the impact of design on their emotions and experience. Our ethnographic work offers a key caveat here, however — design sends a strong message, but only when it's in alignment with the overall brand and value proposition people expect. A task-focused value shopper will be put off by design they perceive as excessive; a traveler trying to get through security in an airport will see pre-security investment as frivolous; and a workplace where investment is solely in common spaces while neglecting the individual worker can communicate a lack of respect and value. Every design decision should be considered within a person's mindset — sometimes a "wow" is the answer, but not always.
Make every place feel like a public space
Every space we studied supported a strikingly wide variety of activities, a symptom of today's everything/everywhere culture, and a recognition that the spaces we spend time in must reflect the "blur" of our modern lifestyles. As we continue to conceptualize and create great places, public spaces offer a number of lessons that can be adapted to any space type, and with good reason. Public spaces support the widest diversity of experiences, offer some of the best experiences overall, and are the most likely to be shared on social media by visitors. Why? Their capacity to support unstructured time, provide a platform for reflection and inspiration, and promote both social activity and work is a lesson in variety and adaptability. Their diversity and welcoming nature prove to be key components of success, too — a goal to which every space should aspire.