Polycentric Cities: The Future of Sustainable Urban Growth
By Aleksandar Sasha Zeljic
Decentralized cities offer a pattern for smart density
The era of the traditional metropolis, with a central business core surrounded by rings of decreasing density, may no longer be sustainable. As we approach a new normal for urban density — with cities housing 10 million, 15 million, or more inhabitants — the cities that are best positioned for the future are evolving along a polycentric, multi-nodal model.
In this model, several key districts can coexist and offer something slightly different for the urban inhabitant, while also functioning like a self-contained "city within a city." When these city-districts are built around well-planned transit infrastructure, ample public space, and mixed-use developments for work, housing, and leisure, they begin to suggest the best opportunity to create a sustainable future for the millions who will move into cities over the coming decades.
This concept is not new. New York's Downtown and Midtown rose in different waves of development before the city grew to incorporate its neighbors in the Bronx, Queens, Brooklyn, and Staten Island. London, meanwhile, was polycentric almost from its earliest origins. But even today, New York and London are seeing new urban clusters shift their centers of gravity. Meanwhile, cities based on the core business district model — like Toronto or Hong Kong — are starting to shift density out beyond the established center. As it becomes polycentric, a city starts to take on an undulating form, with waves of density rising into a series of peaks across the skyline.
In Southeast Asia, I've been fortunate to work with Daiichi Properties in reimagining Fort Bonifacio, a new cluster development in Metro Manila that is growing at an unprecedented speed thanks to the recent investments in the local tech industry. Consisting of 16 individual cities and 12 million inhabitants, Metro Manila is one of the densest urban environments in the world and a model of polycentric expansion.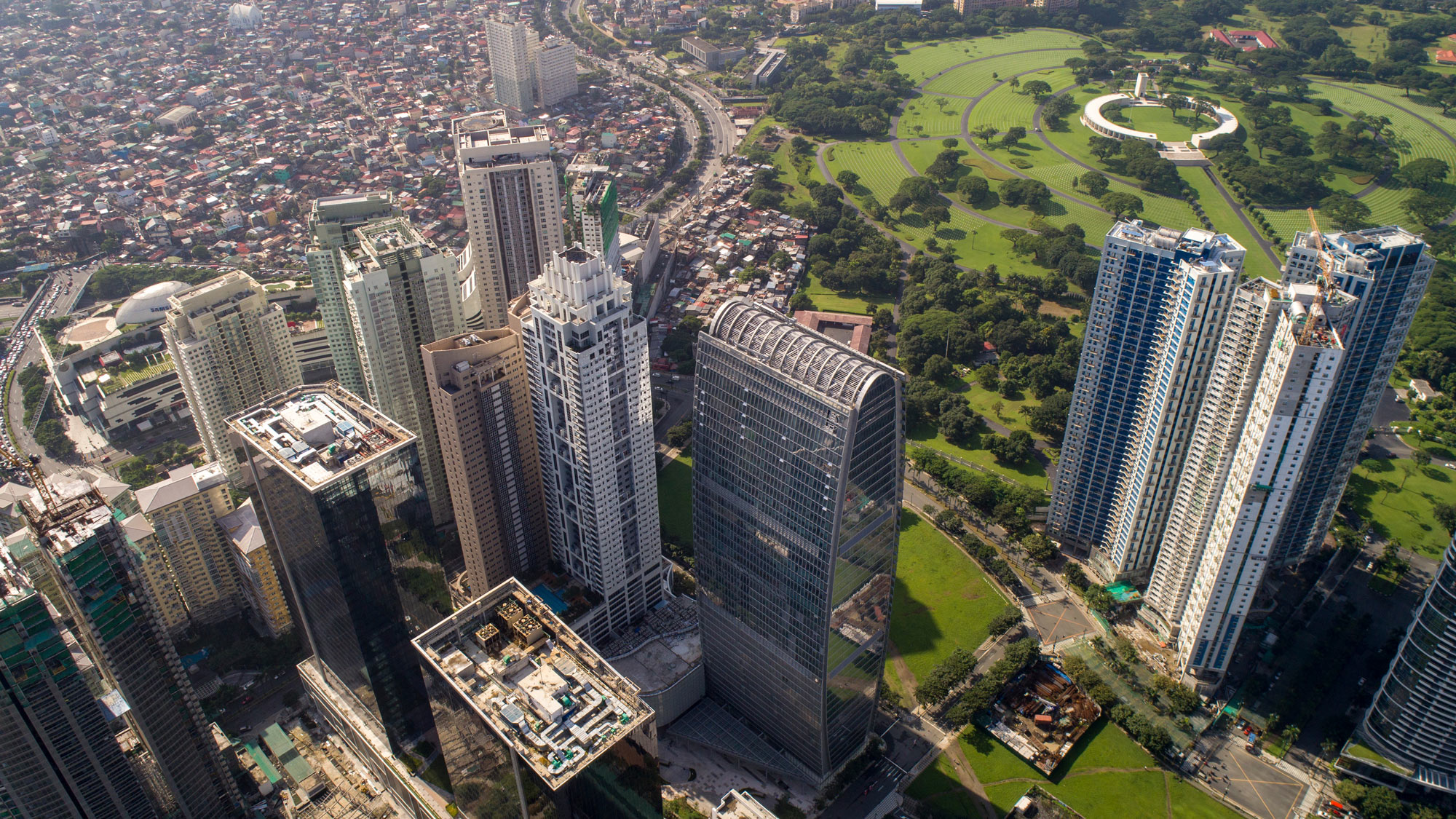 Like Chicago, where I currently practice, Manila was once the subject of a grand vision by the celebrated architect and urban designer Daniel Burnham. In 1905, nearly a century before the Bonifacio Global City began development, Burnham recognized Manila's potential to become a vibrant city of connected public spaces, existing in relationship with the surrounding environment. In his plan for the city, Burnham wrote:
On the point of rapid growth, yet still small in area, possessing the bay of Naples, the winding river of Paris, and the canals of Venice, Manila has before it an opportunity unique in history of modern times, the opportunity to create a unified city equal to the greatest of the Western world with the unparalleled and priceless addition of a tropical setting.
In the intervening years, the 240-hectare Fort Bonifacio site served as a US military base and the national headquarters for the Philippine Army, before much of the land was converted for development in the 1990s. Since then, the district's master plan has been revised and adapted, resulting in a unique overlay of orthogonal and round circulation grids — and some challenging building sites.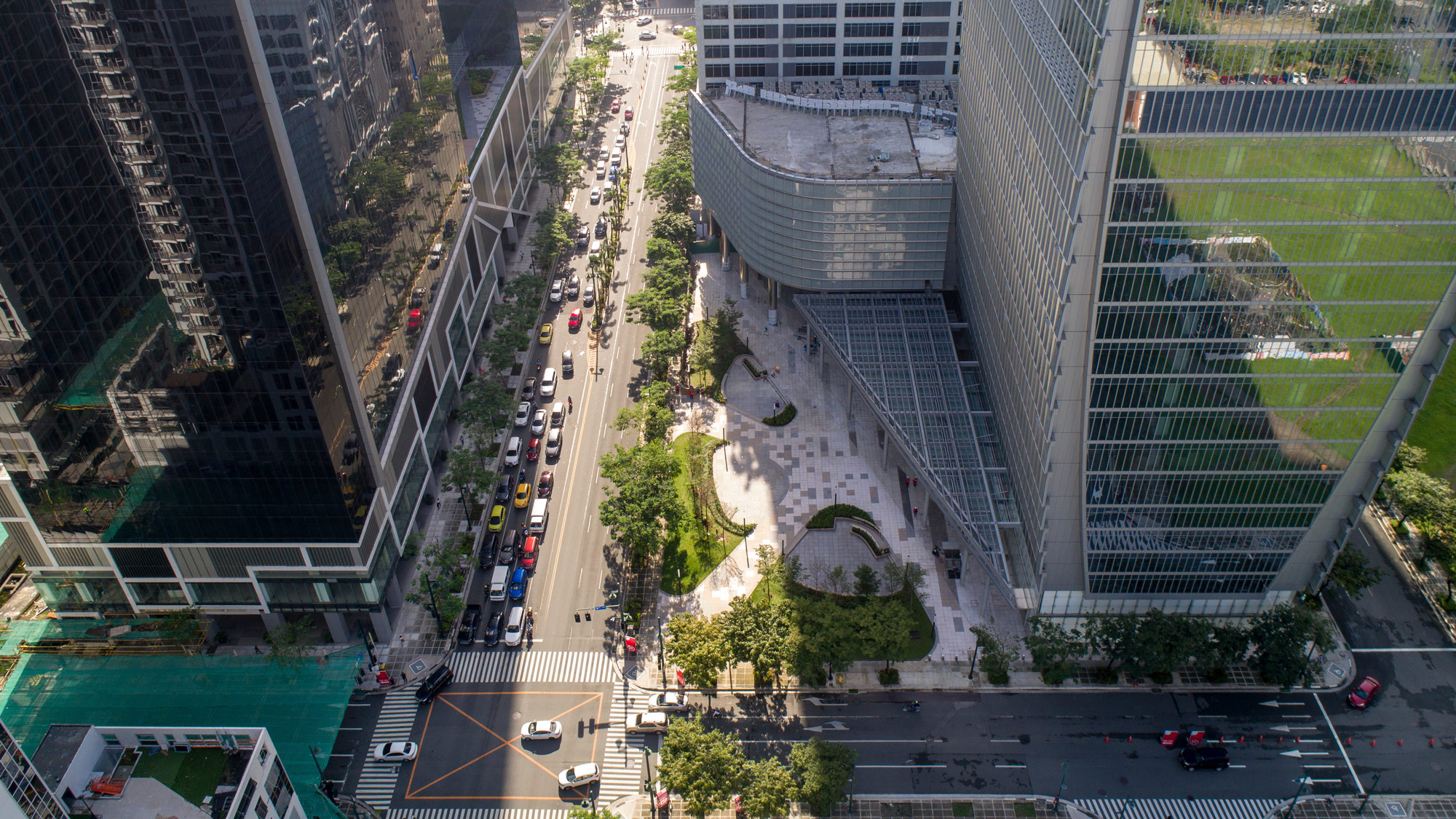 When Gensler and Daiichi Properties began working in the area in 2011, the primary goal was to contribute to the district's economic and environmental resilience, while facilitating community engagement in public and private spaces. Completed in 2019, the 44-story Finance Centre achieves these goals in a modern, regionalized expression of the City Beautiful philosophy that Burnham championed. Thirty-one floors of office space draw tech firms to the area, while a 1,700 square-meter plaza brings in the public with sunken gardens, water features, and a sky garden above a retail podium.
Along with Gensler and Daiichi's other recent projects in the area — the 32-floor, LEED Gold-certified One World Place, completed in 2015; and the 27-floor LEED Gold-certified World Plaza Building, completed in 2017 — the Finance Centre represents a sustainable path forward for a rapidly growing district, and a crucial touchpoint in Manila's polycentric growth.
This article is based on a presentation given at the 2018 CTBUH conference, titled "Rationalizing an Idealistic City Plan: Three Projects at Bonifacio Global City."