WEBINAR:
CITIES & URBAN DESIGN
DESIGN STRATEGIES FOR A POST-COVID WORLD
Gensler's latest Design Forecast 2021 underscores the importance of the relationship between the experiences and the places we value as we reconnect in a post-COVID world. The pandemic, inequality, and the climate crisis are driving us to rethink our cities through the lens of human experience. The dialogue between urban designers, public policymakers, and community voices is taking on new meaning as they work together towards a vision for more equitable and sustainable cities, without sacrificing the density that fuels their economies.
In this webinar, Gensler's Global Cities & Urban Design leaders Oliver Schaper, Carlos Cubillos, and Andre Brumfield, with regional experts Mark Erdly, Ioana Toma, and Chris Rzomp, discuss how they are tackling some of the biggest challenges impacting cities across the globe, including climate change, urban revitalization, and equity. As people's relationships with their cities shift, Gensler's urban design strategists offer new solutions to promote sustainable urban revitalization, citing recent findings from the Gensler Research Institute. The conversation also focuses on how cities are infusing flexibility into the public realm, what the pandemic means for the future role of central business districts, and why the 20-minute city concept needs to be driven by equity.
Watch the webinar and download Gensler's Design Forecast 2021 to discover new trends and strategies for reshaping cities in a post-COVID world.
Explore Design Strategies for a Post‑COVID World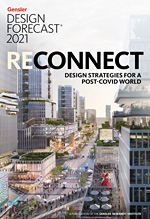 GENSLER RESEARCH INSTITUTE
DESIGN STRATEGIES FOR A POST-COVID WORLD
Download Gensler Design Forecast 2021 (PDF)