How to Create a Vibrant, Inclusive New City: The Story of Tysons, Virginia
September 08, 2021 | By Tony Okoye
For years, my impression of Tysons, Virginia has been that it feels like a miniature United Nations. As a longtime resident, I have loved sharing in this special amalgamation of local and immigrant communities, where people from all over the world mingle amid a glassy, cosmopolitan setting. There are suited up professionals walking the streets by day, but late at night the bars, cafes, hookah lounges, and beer gardens are packed with people speaking a multitude of languages. Among these people, the age range is remarkably wide. You will see people with families alongside others who are just starting out in life and getting their first apartments.
Tysons strikes a special balance: It has the high-rises of a city, a thriving nightlife, and intriguing restaurants, but it is small enough to feel comfortably residential. There is an ease to life here, a feeling that curiosity and optimism are to be encouraged. Hard work, while important, never comes at the expense of respect.
As one of my colleagues has put it, Tysons has a particular form of urbanism, one that simply isn't replicated anywhere else. It has an uncommon diversity that goes beyond the surface level, and an inclusive architecture that sets a stage where life can be lived in a distinctly Tysons way. The story of how this came about is rich with lessons for urban environments everywhere.
Building on a historic foundation of retail and workplace
It would be impossible to describe Tysons' path without mentioning the role of the Tysons Comprehensive Plan. These days, I am used to coming across articles like "Why Tysons, VA is a Great Place to Live." But only a decade ago, when I first moved here, that evolution was still in its infancy. The Tysons Comprehensive Plan had just launched, and this 30-year initiative was setting out to take advantage of four new Metro stations coming to Tysons, and to transform it "from an edge city into a true urban downtown for Fairfax County."
That former edge city had much to its credit. With millions of square feet of office space including the headquarters of Booz Allen Hamilton, Tysons had a longstanding presence in the corporate world, drawing its fair share of commuters each day. Likewise, as the home to Tysons Galleria and Tysons Corner Center, each a super-regional shopping mall, Tysons was a well-known destination for luxury retail. But as the visionaries behind the Comprehensive Plan saw, Tysons contained the potential for something far greater. They pushed for a wide range of changes, including adjustments to height and density regulations and the establishment of a green network, that would ultimately enable both architects and developers to unlock that potential.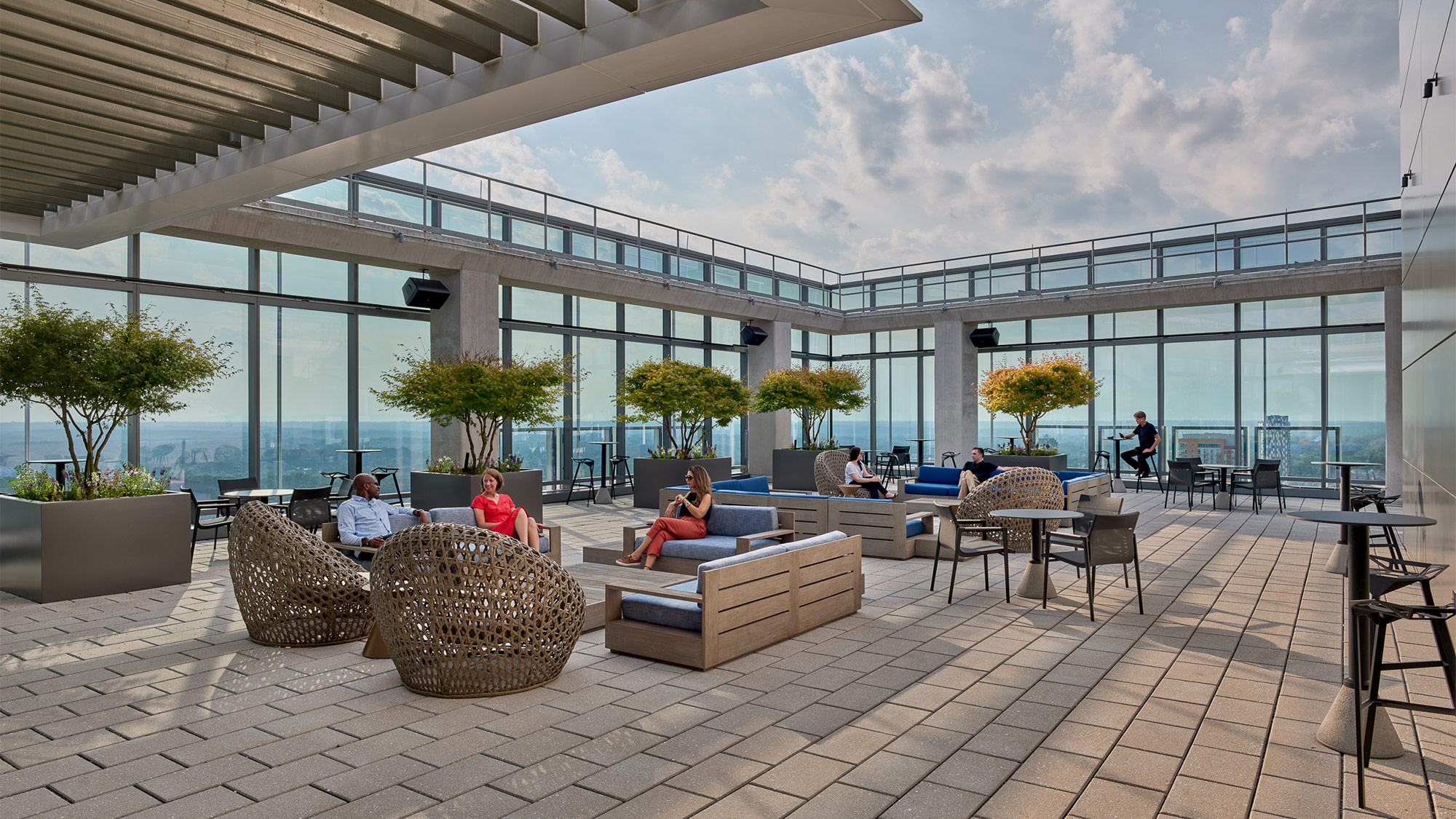 The Boro: A case study in inclusive mixed-use design
I've spent more hours than I'd like to count working on the very developments that are showcasing this new Tysons character. One of those is The Boro, which I believe is central to explaining why inclusive design has been so impactful in this context.
With more than 677 residential units, 500,000 square feet of office, and 250,000 square feet of retail, The Boro showcases how mixed use can enable neighborhoods and cities to develop in more welcoming ways. Here, tenant selections for the retail spaces — such as a flagship Whole Foods Market and Showplace ICON Theatre — are geared toward residents, not just office workers (more on this later). And while large firms like KPMG, TEGNA, and Hogan Lovells call The Boro home, so do smaller tenants such as Bridge Bank and HanWha. Law, finance, and tech can rub elbows every day. This is more energizing for the tenants, and more resilient from the point of view of building ownership, which can rest assured that its real estate is flexible if market conditions change.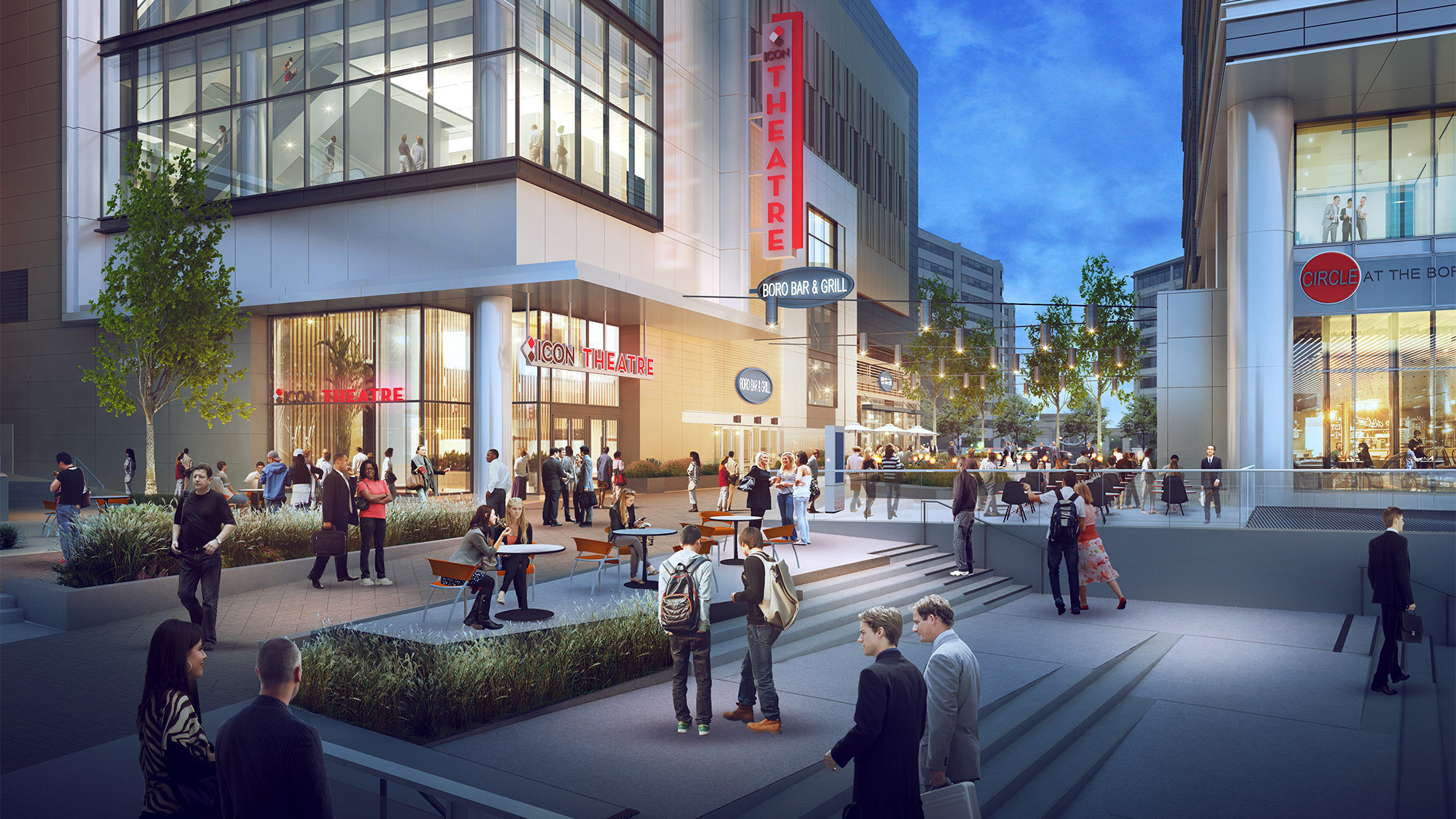 One of the most interesting chapters in The Boro's story is how its penthouse condominiums filled up the moment they became available at record prices. To our surprise, a significant number of the residents turned out to be so-called "empty nesters" — parents who lived in affluent nearby neighborhoods and decided to sell their homes and downsize after their children moved out. Tysons, it turns out, offered a level of status that nearby markets couldn't match and provided a walkable, convenient lifestyle close to Washington, D.C. but without the hustle and bustle of a big city.
Seeing these intergenerational communities develop is a magical thing. They energize everyone involved, both old and young, and create a sense of neighborhood that is all too rare.
A recent day at Boro Park
SLIDESHOW — 2 IMAGES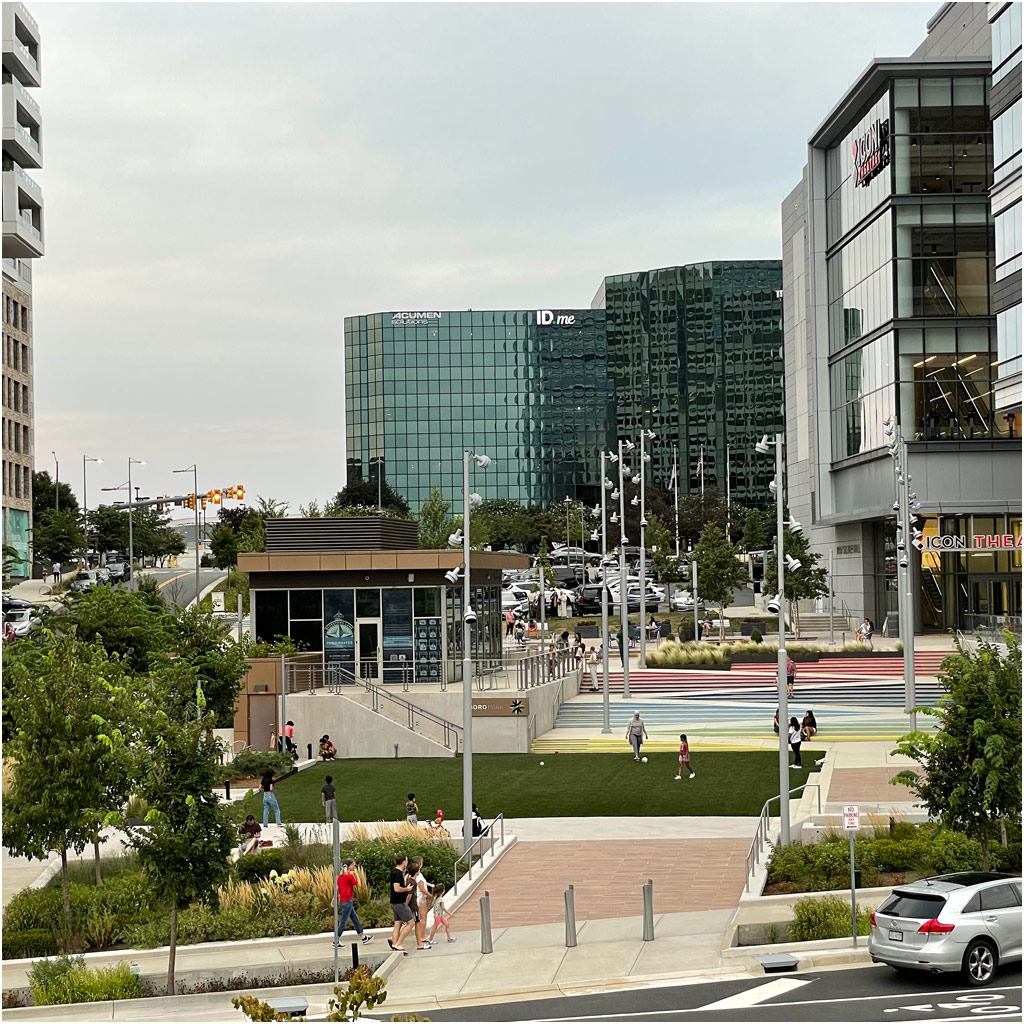 Nature as connective tissue
Something else about The Boro: a unique park links the development together and serves as its anchor. This tiered area, doubling as an amphitheater for outdoor events, is The Boro's most used space. New parks like this stitch the urban fabric together, providing connections to natural outlets like the Vesper Trail and the Washington & Old Dominion Trail. Not all Tysons residents will walk to work and go birdwatching in the early mornings — but they could — which has big implications for their quality of life.
This grounded character has translated to a diversity of office tenants. Tysons has long been a magnet for large companies, but it also plays host to plenty of startups. As Gensler's 2021 City Pulse Survey revealed, 69% of people who are likely to move want to relocate to a smaller, less populated location. As talented individuals move to cities with less density and congestion, employers will follow.
On that note, a major factor for the development's office leasing is Tysons' geographical location at Fairfax County's highest elevation. While the cityscape features prominently in the office views, it isn't the main attraction. That, unquestionably, is the Blue Ridge Mountains on the horizon, with lush green trees atop rolling hills in the foreground. Visual access to such picturesque scenes, it turns out, can be as valuable as a trophy-class office design.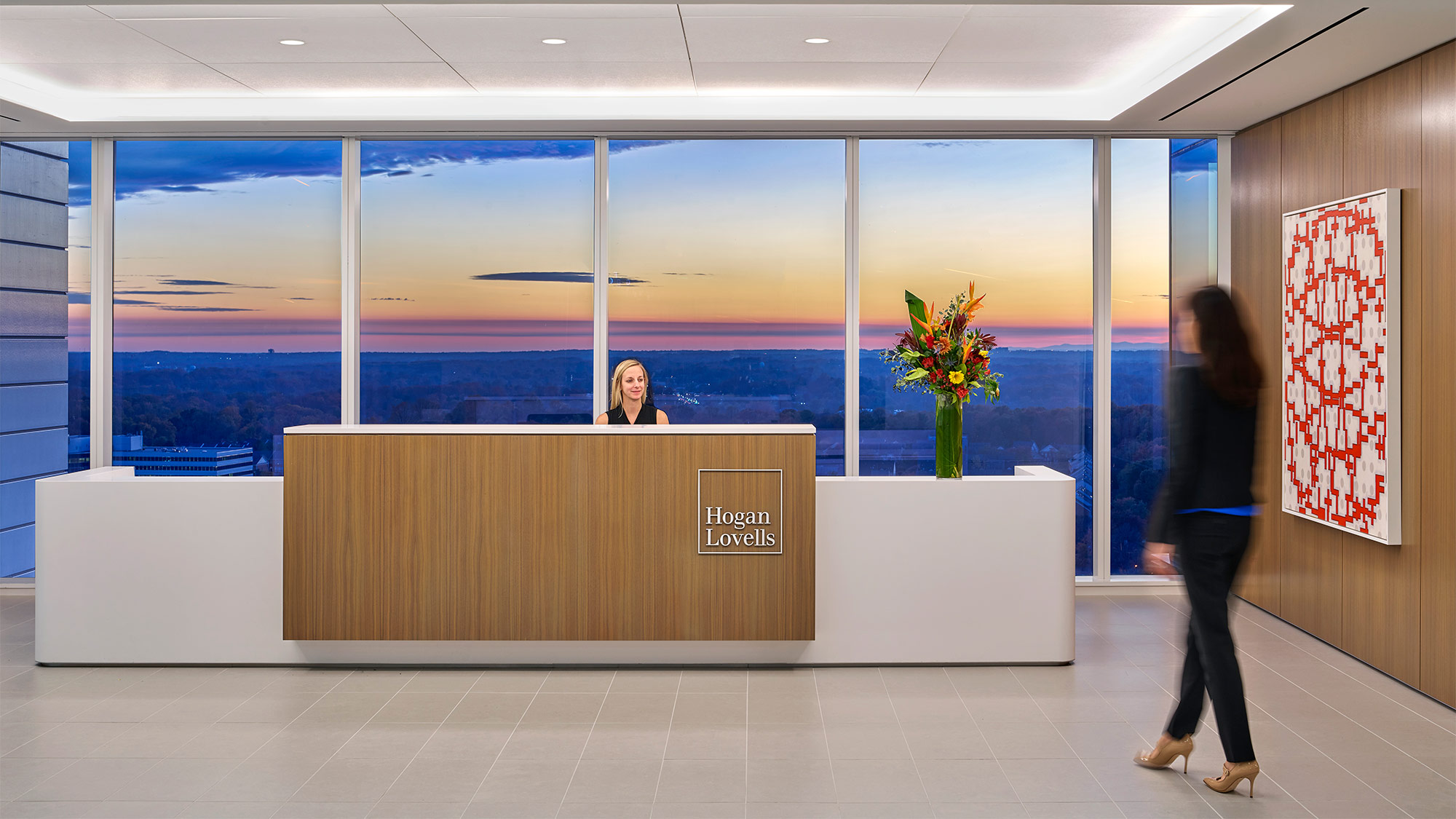 Rethinking anchor tenants is the key to creating livable, vibrant neighborhoods
Tysons' success should send a signal to architects and developers everywhere: We need to rethink ground-level space and amenity tenant choice in office buildings. For space at the ground level to truly serve a neighborhood, rather than only the tenants above it, commercial office developments need to reallocate their square footage. In practical terms, this means the square footage allocated for retail often needs to increase by a magnitude of three.
What Tysons shows us is that those tenants need not be traditional retail. They could be movie theaters. They could be offices. They could be libraries, grocery stores, or — as The Boro proves — even parks. It's about understanding the neighborhood's actual needs and filling that gap.
Architects should play an active role in this process by providing tangible visions for retail amenities that go beyond standard business cafes. We can also advocate for the selection of tenants with evening and nighttime operating hours. For a neighborhood to have a vibrant, 24/7 feel and to avoid the evening vacancy of many business districts, it is crucial to have restaurants, retail, and lounges that remain open late.
From one historic challenge to another
In December 2008, The New York Times ran a piece titled "A Virginia Nexus Outside Washington Plots a Future as an Urban Center". At the time, that "Virginia nexus" faced a troubling asymmetry. It was the 12th largest employment center in the United States, with 115,000 retail and office workers. But it had only 17,000 residents, with nearly half of its 1,700 acres taken up by streets and parking. Since then, that place's residential population has increased by nearly 50% to 25,000 (a number that is projected to double by 2045), Metro Silver Line trains rumble by, and local developers trade parking for walkable street retail and a prioritization of green space that welcomes athletes, picnickers, or music fans.
As you may have guessed, the subject of that Times article was Tysons, and the article's main question was whether the ambitious plans for the area, set in motion years earlier, could endure the economic crisis of the day. Over a decade later, as Tysons is the economic driver for Northern Virginia and the metro area, the answer could not be clearer. As we move forward from yet another crisis, Tysons continues to plot a future, this time setting an example for emerging cities around the world.
For media inquiries, email .