WEBINAR:
MIXED USE & RETAIL CENTERS
DESIGN STRATEGIES FOR A POST-COVID WORLD
Gensler's Design Forecast 2021 uncovers key design trends and strategies for fostering reconnection in a post-COVID world and explores how the mixed-use and retail centers sectors can offer valuable lessons for post-pandemic development. As store and mall closures continue, developers and cities are facing the reality that there will be thousands of square feet of available space in prime locations in their communities. What should they do with it?
Moving forward from a tumultuous year, mixed-use districts and retail centers are now poised with opportunities to unlock latent value and align underutilized real estate assets with growing needs to become community assets. Through the integration of open space and shared urban experiences, mixed-use environments can become new hybrid destinations that are designed for people.
In this webinar, Gensler's Global Mixed Use & Retail Centers Leaders Beatriz De Paz and J.F. Finn, and Regional Leader Michael Townsend share strategies for how these properties are being repositioned and unlocking new opportunities for redevelopment. A panel discussion that includes Design Director Hasan Syed follows.
Download Gensler's Design Forecast 2021 to discover in-depth insights for transforming mixed-use and retail center developments to meet new needs and facilitate meaningful engagement with the community in the post-pandemic future.
Explore Design Strategies for a Post‑COVID World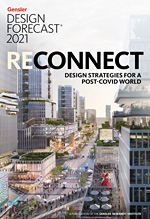 GENSLER RESEARCH INSTITUTE
DESIGN STRATEGIES FOR A POST-COVID WORLD
Download Gensler Design Forecast 2021 (PDF)