Why Circular Cities Play a Critical Role in Restoring Ecologies
August 03, 2021 | By Carlos Cubillos, Daquan Zhou
Cities are powerful engines of economic growth; however, they also have an enormous footprint — consuming over 75% of natural resources, producing over 50% of global waste, and emitting between 60-80% of greenhouse gas emissions. To address pressing global challenges such as climate change, pollution, and natural resource depletion, we must take a more regenerative, resilient approach to planning and developing our cities — one that is less linear, and more circular.
It used to be a common assumption that the economy and the environment were mutually exclusive ends. Ecological protections, according to this old way of thinking, presented a cost to human societies and their development. Operating within that framework, cities had what may be called linear metabolisms: They consumed food, water, and natural resources, produced waste and pollution, and sprawled inexorably.
In recent years, several of our master planning initiatives have demonstrated that the opposite can be true. In this new framework, Gensler is advocating for the creation of cities with circular metabolisms. Such 'circular cities' minimize sprawl, repurpose waste, and increase the biodiversity of their areas. We have learned that sustained economic growth relies on sustainability writ large, with ecological stewardship as a necessary ingredient.
One recent project in particular, a vision enabling a picturesque habitat on the south coast of China to rise from the proverbial ashes, gives us hope for a redefined relationship between land, water, and people. The project, the Xichong Special Ecological Zone in Shenzhen's Dapeng New District, pioneers a new model of development that can achieve both economic growth and ecological sustainability.
Xichong: An ecological phoenix
On the southwest side of the Dapeng peninsula, there are three streams that flow along the foothills into the sea, forming a special natural haven called Xichong. Amid stunning mountains and tucked behind the longest silver beach of Shenzhen, local villages have thrived for hundreds of years using traditional fishing methods. In recent years, however, Xichong has encountered a trifecta of serious challenges. First, driven by economic interests, the villagers transformed the lagoon wetlands into fishponds, polluting the water and damaging the wetlands. Second, engineering companies have led sand excavations, depleting and shrinking the picturesque beaches. Then, in 2018, Typhoon Mangkhut struck, doing further harm to Xichong.
Recognizing the opportunity to restore Xichong's habitat, the Shenzhen Bureau of Urban Planning and Natural Resources hosted an international competition for a master plan to reimagine this natural haven a promising future. Gensler was named as one of three winners, with a master plan that returns Xichong to its rich natural state, achieves sustainable economic and ecological development for the villages, and elevates Xichong into a regional and global tourism destination.
XICHONG SPECIAL ECOLOGICAL ZONE, SHENZHEN, CHINA
SLIDESHOW — 3 IMAGES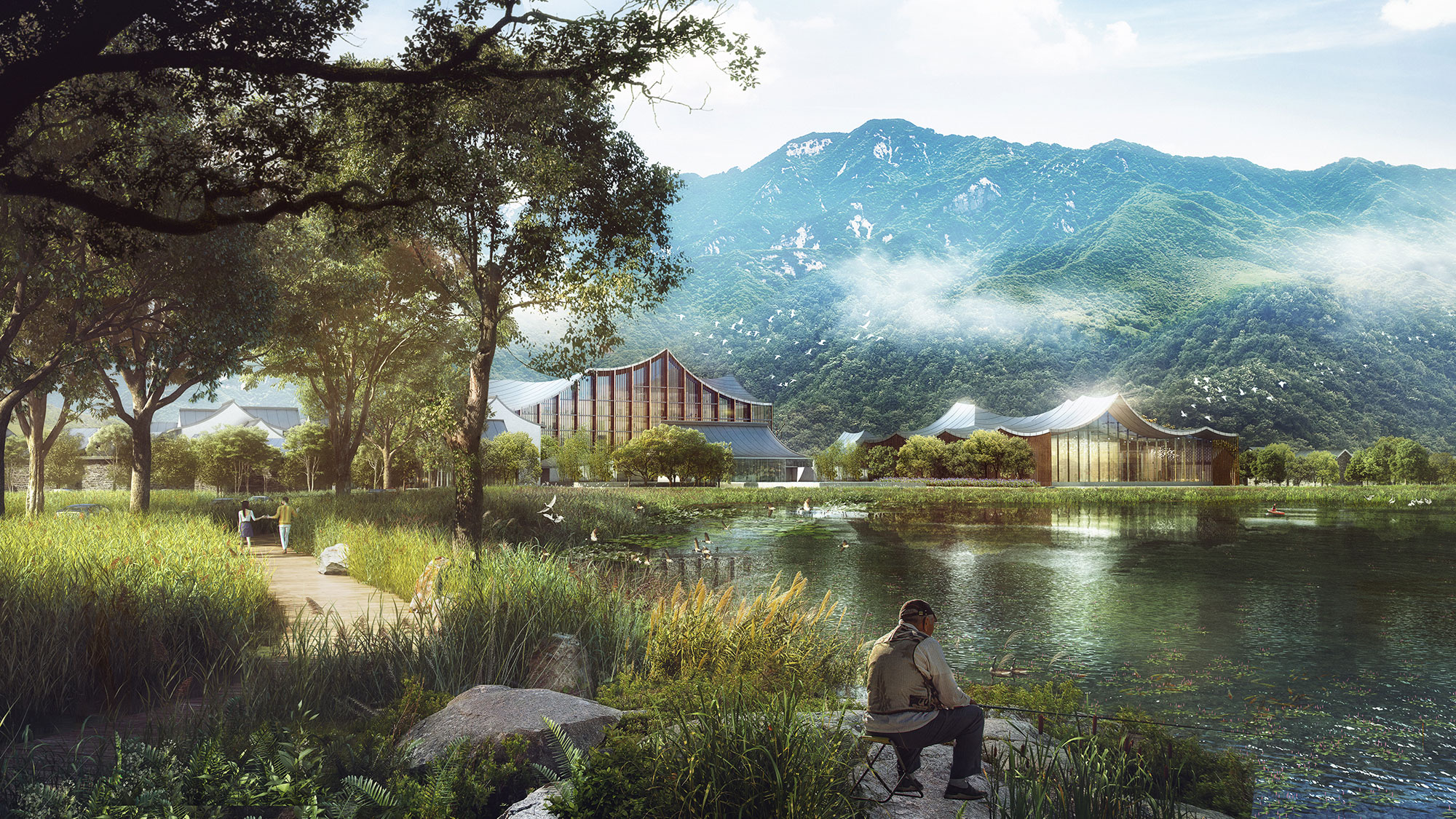 Green infrastructure, in which the community plays an active role
Recognizing that green infrastructure and natural resource conservation are critical strategies for circular cities, the first step of the plan is to establish Xichong as a special ecological zone. This strategy starts within the bay through the planting of coral reefs, the reconstruction of mangroves, and the restoration of lowland forests, wetlands, and sand dunes. To enable this, the strategy entails pulling back the hospitality development away from the seashore. The plan then remodels Xichong's green infrastructure, using it to collect and purify the contaminated water, and envisioning a boardwalk to support the creation of dunes.
Unlike conventional park management models, the plan imagines Xichong's community playing an active role in the development and management of the special ecological zone, with locals serving as administrators and guardians.
Xichong's three streams anchor the plan and form the nodes of development for the villages and tourism sections, with unique clusters for culture and lifestyle, family and education, and a conference resort center. The village of Xigong features a resort and conference facility, and is imagined as a hub for boutique shops and hiking preparation with local experts; Hesou becomes a more authentic and active town square with local cuisine; Yashan and Xinwu are linked by a nearby recreation and education area, connecting families with a market, sustainable fishing, and fruit picking activities. Glamping areas, sports fields, and a fairground open the scene up to the beach and the boardwalk that carries people along the dunes. Here, views emerge of the neighboring bird sanctuary, surrounding mountains, and the bay.
Green mobility is key to plan's function, with a metro station and ferry terminals connecting from Shenzhen and surrounding areas; shuttle strategies enable easy transport while keeping personal vehicles away from the bay to minimize their environmental impact. In total, the program supports 3,500 residents, 7,000 workers, and an average of 15,000 daily visitors, putting Xichong on the map as a tourism beacon while granting custodianship to its residents.
Inland ecosystems: Different conditions, similar planning principles
While coastal ecosystems like those of Xichong are in many ways unique, restorative planning principles apply for inland projects, as well. Nearly a decade ago, Gensler led a master planning initiative in Canalete, a town in Colombia balancing the demands of an ecologically sensitive site with a growing middle class. The project established a strong network of green spaces, as well as both natural and engineered waterways, to respect and enhance the regional ecological corridors and drainage patterns.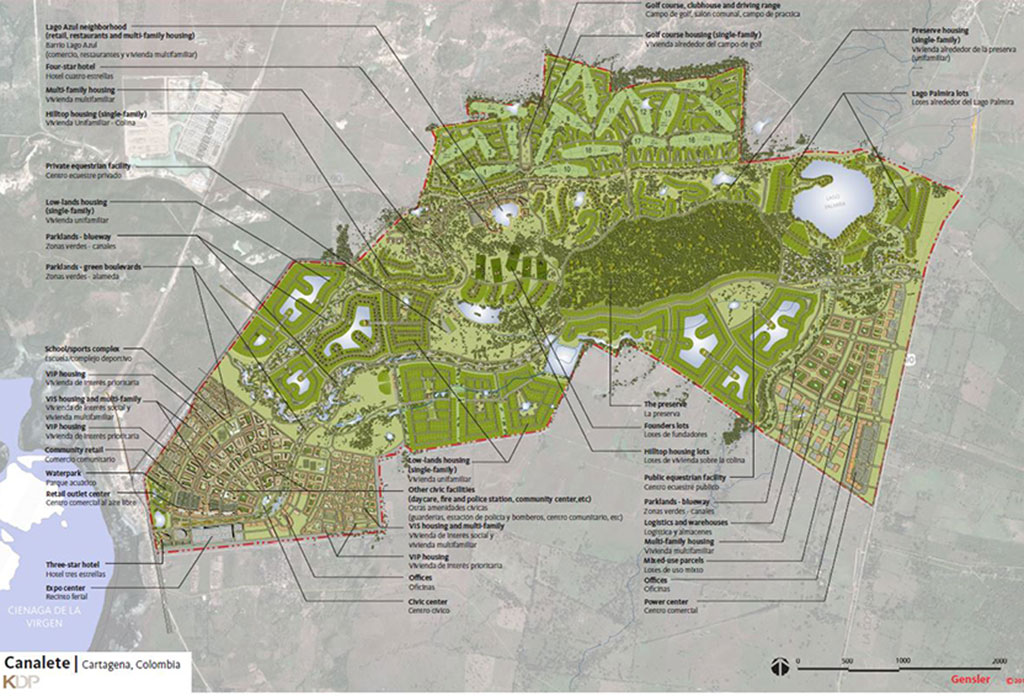 Just last year, our team completed a master plan for Al Bustan, a mixed-use neighborhood located in Medina, Saudi Arabia, the second most important holy city in the Muslim world. This residential- and retail-focused city within a city stretches to 160 hectares, 2.5 million square-meters. It is an urban oasis, based on a crisscrossing "green network" that weaves through the site and connects distinctive neighborhood districts.
AL BUSTAN, MEDINA, SAUDI ARABIA
SLIDESHOW — 3 IMAGES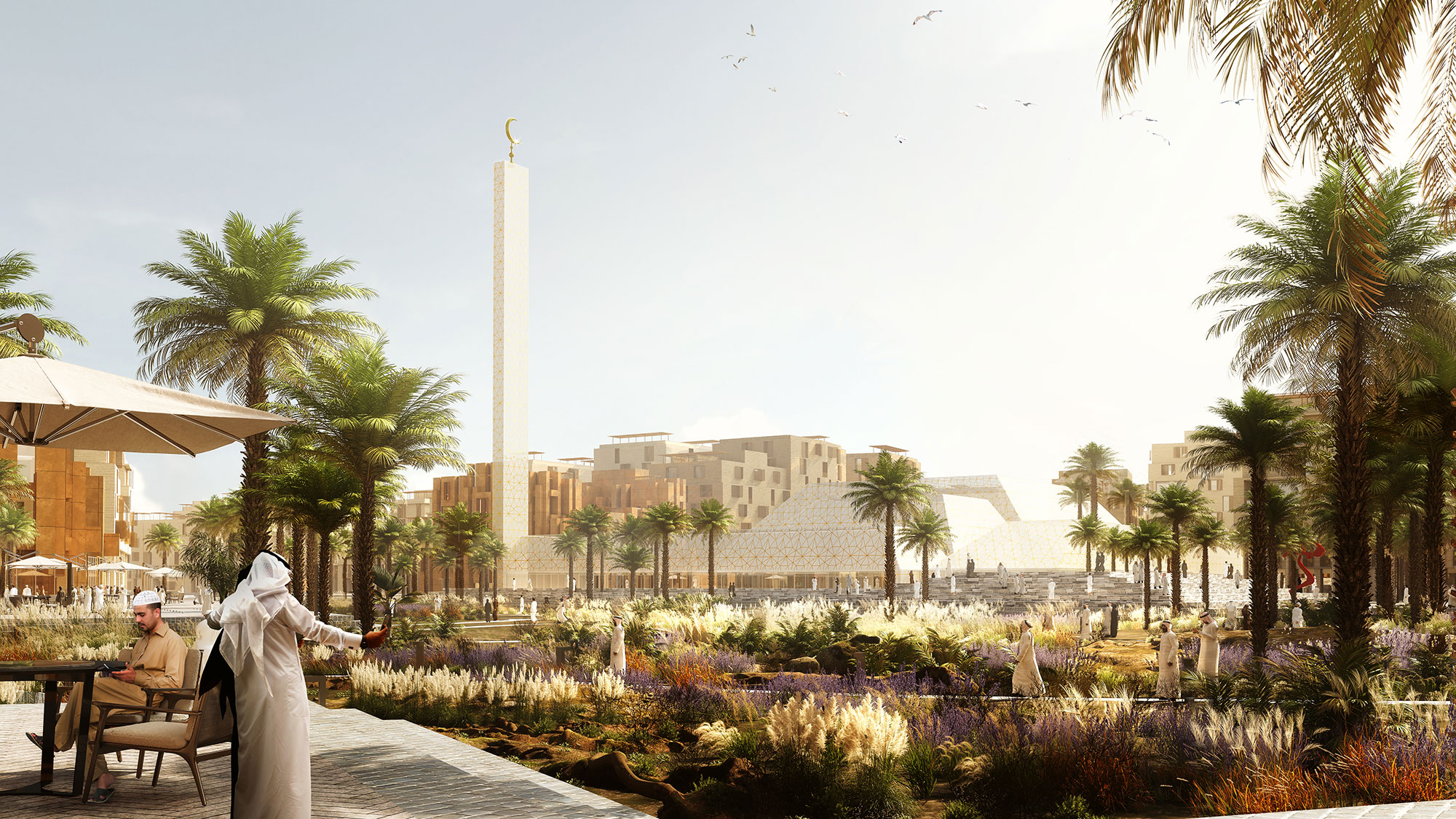 The green network is oriented toward the surrounding mountains and palm groves, with direct views toward the Prophet's Mosque. The project restores the natural system — a network of intersecting wadis, valleys or channels that only contain water during seasonal periods of heavy rain — that existed before the site's initial development. The plan clusters apartments and other amenities around the transit stops, with most daily needs accessible by foot.
The time to act is now
Each day, we learn more about how to prevent economic growth from being a zero-sum game with the planet on the losing side. Our cities need a positive new vision for how they can return to the circularity that defines the natural environment. Within a circular metabolism, one encounters a harmony as old as nature itself: a romantic idea, but also a practicable one we should not hesitate to adopt.
For media inquiries, email .