The Future of the Central Business District: Resetting Our Downtown Cores
November 04, 2020 | By Mark Erdly, Sofia Song
With plummeting rents and property values, low levels of transit ridership, growing homelessness, a shrinking tax base, and no immediate cure or vaccine for COVID-19 on the horizon, cities are facing crisis. Central business districts (CBDs), more than any other city neighborhood, are particularly susceptible to the impacts of this pandemic. As employers shuttered downtown offices, neighboring restaurants and retailers who depend upon these workers have suffered. CBDs quickly became scenes of deserted streets and empty office buildings, boarded up restaurants and eateries, and closed assembly venues. We are now at a critical inflection point.
But, instead of portending the end of the central business district, we believe that this is a once-in-a-generation opportunity for a reset of the CBD and their relationship to the city at large. We can use this moment to imagine a new model for growth, one that is more inclusive, resilient, sustainable, and healthy. Underpinning this rebalancing are the foundational issues of affordability, jobs, talent, and the economics of real estate.
According to insights from the Gensler Research Institute's City Pulse Survey, which aims to capture people's changing attitudes during this time, many people were contemplating moves out of global cities before the pandemic, largely due to affordability concerns. The current global health crisis has accelerated many of these trends.
The findings from our research have implications for workplace, mobility, retail, culture, and entertainment. And, this means big implications for the future of central business districts.
People's attitudes towards cities are shifting
With the City Pulse Survey, we've already seen how people's experience of urban life is changing in cities like New York, San Francisco, London, and Singapore. We found that as economies began to reopen, people wanted to resume the activities that they wanted to experience in person again, where virtual alternatives couldn't compare, such as visiting friends and family, or visiting public open spaces, or even buying groceries in person.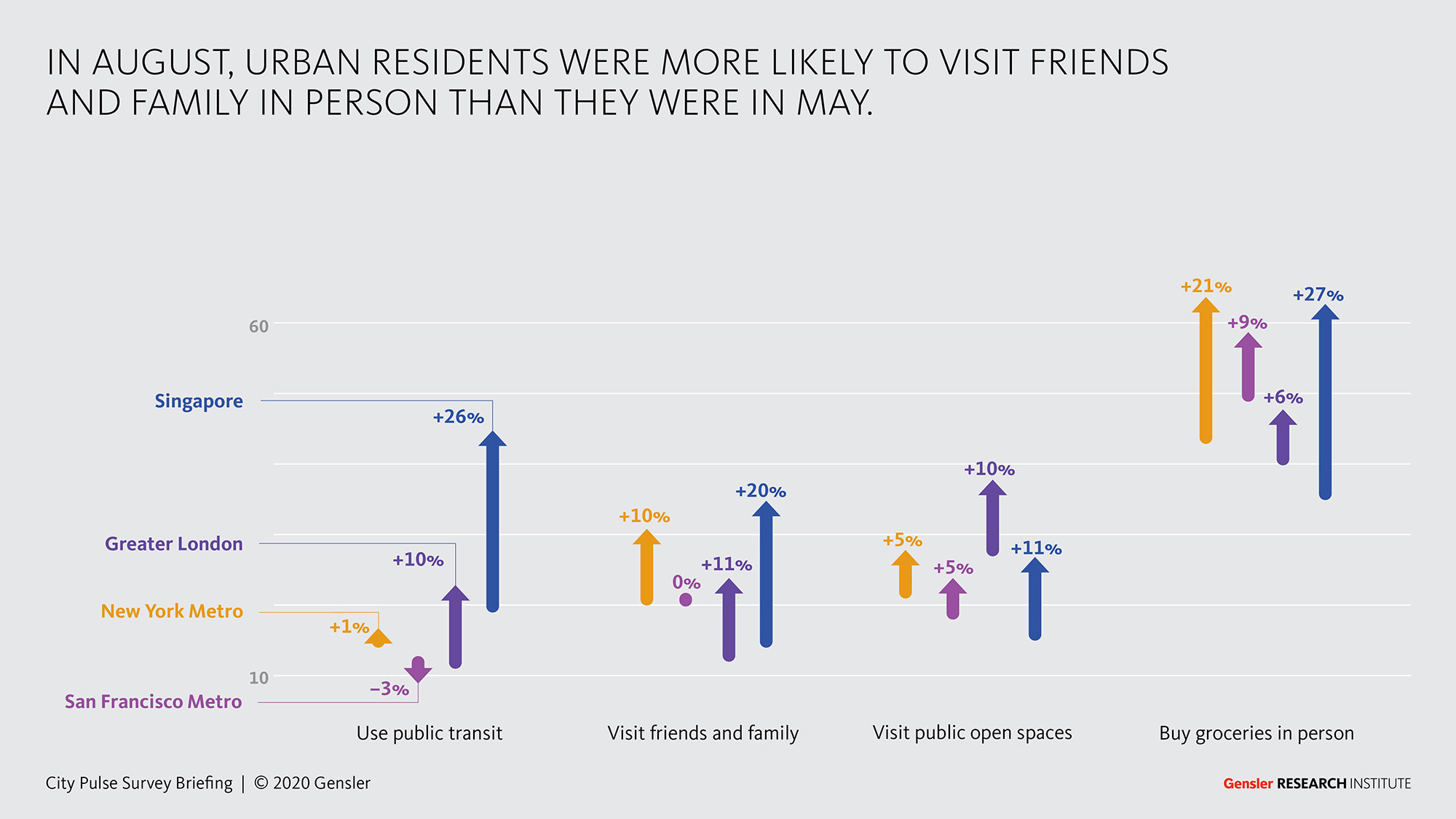 Conversely, we found that there were some virtual activities that people did not want to give up, despite the ability to do these activities in person. These included activities such as telemedicine, shopping online, and banking online.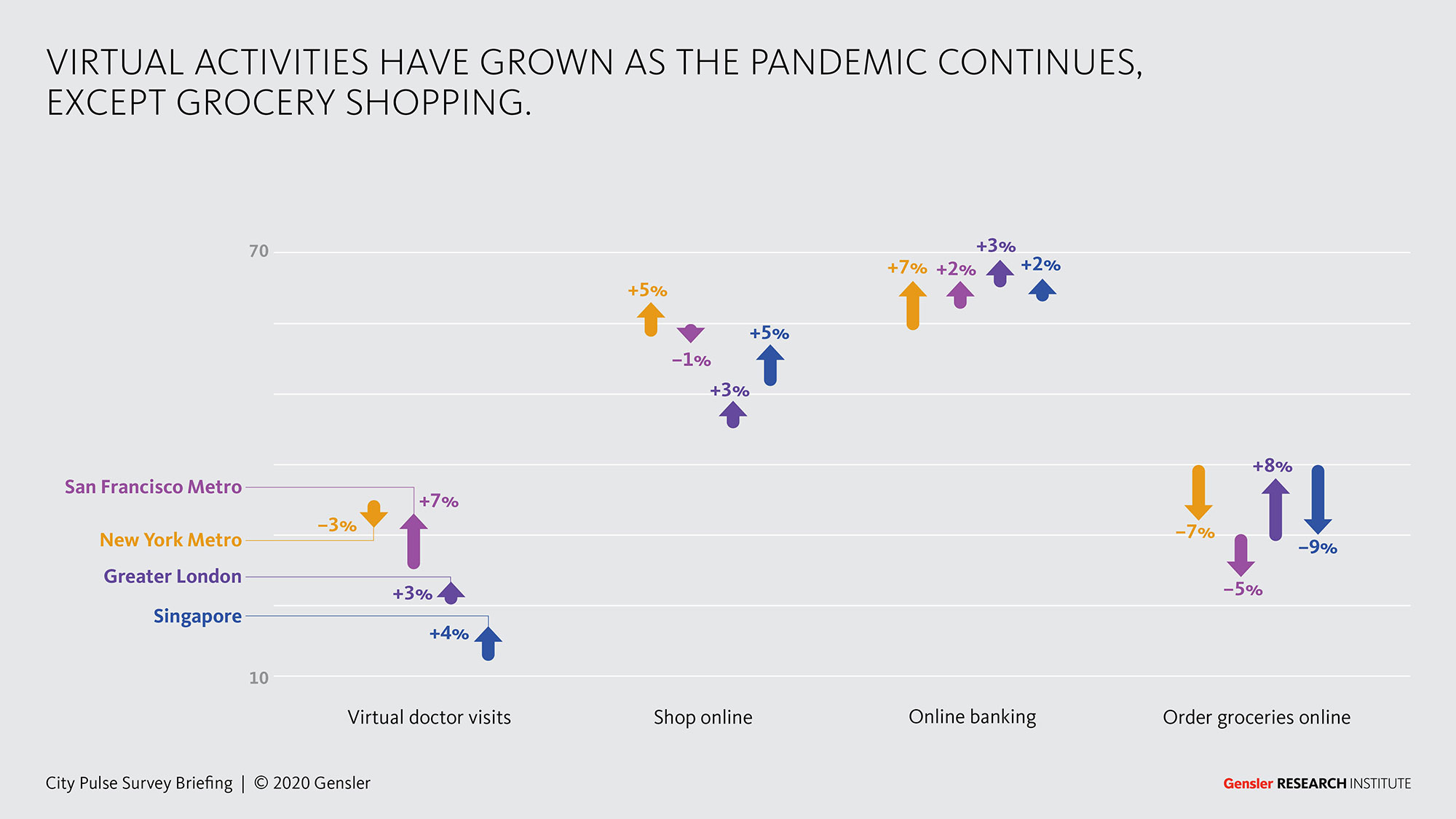 We also asked people what activities they would feel most comfortable resuming as economies begin to reopen. As you can see in the illustration below, activities range from green (comfortable) to red (uncomfortable). Across all four cities, people said they are comfortable grocery shopping. And they are comfortable returning to work and school, shopping in stores and malls, and even staying in hotels.
However, what they are not comfortable with is how to get there. Using mass transit and flying on airplanes are huge sources of anxiety for people, as is attending large gatherings.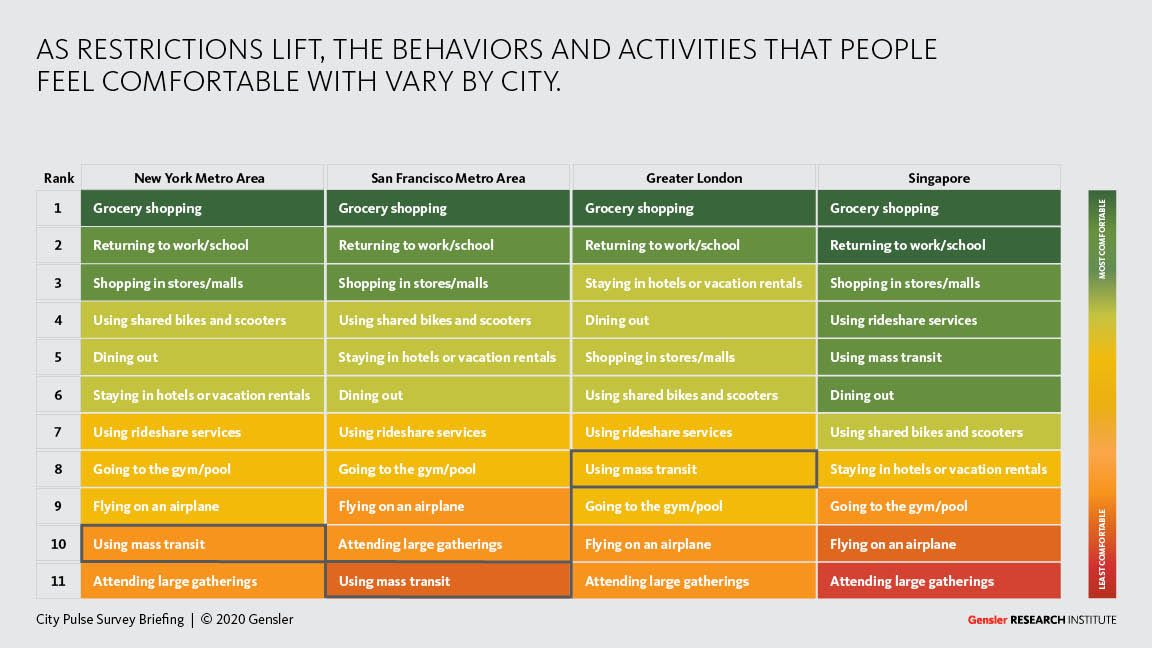 In our latest U.S. Workplace Survey findings, conducted in summer and early fall 2020, we found that over half of U.S. workers would prefer a hybrid work model where they are in the office for a portion of the work week, and working remotely for the balance of time. For the central business districts that are already emptied out, this means fewer daily commuters and lower weekday population densities even after workers do start to return.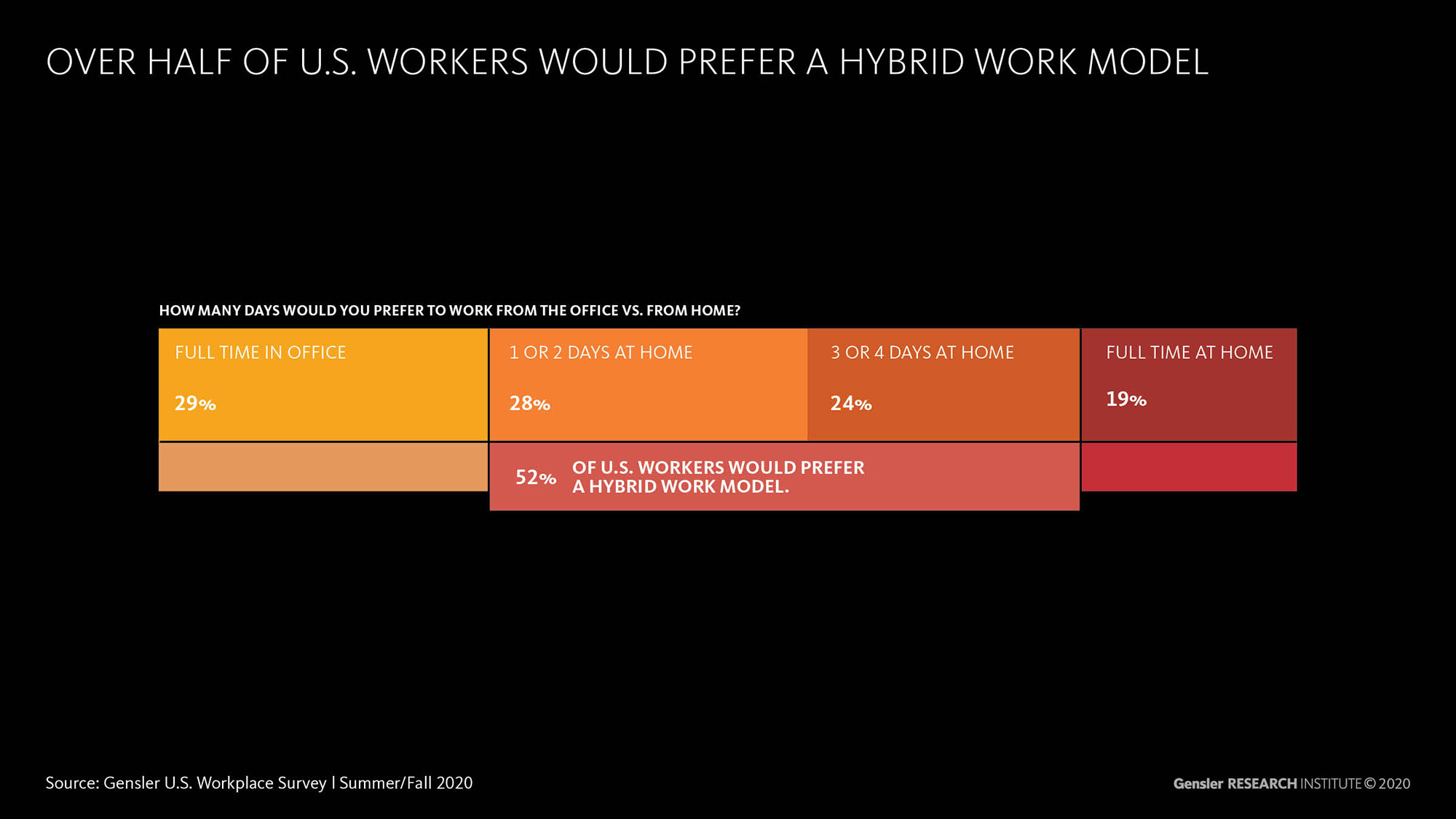 Impacts of the pandemic on the CBD
Although a CBD is a dense, globally connected area that often serves as the center point for regional transportation systems, most CBDs are imbalanced and weighted towards core commercial uses and business functions. As such, they have huge transient weekday population swings, which have made COVID-19's impact to downtowns and CBDs particularly pronounced.
Cities quickly mobilized and responded with improvised innovations such as "streeteries," creative uses of tactical urbanism, and growing community use of parking lots and other empty spaces.
In fact, the pandemic is, in many ways, accelerating trends that had already begun to subtly transform our CBDs with a greater mix of uses; more focus on experience and destination; more responsiveness to evolving work patterns and mobility; and the migration of families and companies from global/mega cities to the suburbs, second tier cities, satellite cities, and less expensive metros.
The CBD reimagined
The following are some possible frameworks for a reimagined central business district. These scenarios, which are not mutually exclusive, envision an optimistic future for our downtown cores:
More mixed-use and more local: Lower rents and property values can make cities more accessible and affordable to locals, with the opportunity to create more walkable "20-minute neighborhoods." More residential and pedestrian-oriented uses with more green space can be infused into CBDs. Lower rents can also attract local startups, mom-and-pops, not-for-profits, small businesses, innovative food & beverage, community partnerships, makerspaces, and local manufacturing. These homegrown enterprises exist in synergistic contrast to the reemergence of corporate workplaces in the CBD.


Hotbed for innovation: Empty spaces and lower rents will allow entrepreneurs to try new things in novel combinations. R&D and tech can also flourish, building off of innovation districts worldwide and their ties and proximity to higher education institutions. Creatively reimagining abandoned storefronts can attract culture, arts, diversity, and quirkiness, seeding a new and authentic DNA. This will require a fundamental rethink of ground floor retail to allow for more public accessibility with integrated public/private and indoor/outdoor transitions. Consequently, a younger, more diverse population moves in. Streets become more pedestrian-oriented and lively.


Evolution of the employment core: As companies evolve to support a new model of working at the office, so too must their neighborhoods. Based on our recent research, one possible scenario is that as fewer workers travel daily, CBDs have an opportunity to become more appealing, hospitality-oriented, and highly-amenitized destinations that are more 24/7 and less 9-to-5. Parks and greenspaces can flourish, promoting health and wellness. New kinds of assembly venues and entertainment options emerge.


The rise of satellite CBDs: With the decentralization and decoupling of commercial office and industries from larger, established CBDs, the emergence of smaller, edge city CBDs more interwoven in regional industries can offer a new model for growth.
Here are eight strategies that can help create a more inclusive, resilient, sustainable, and healthy central business district:
1. Rethink zoning and development regulations. To reshape the CBD, a change of mindset is critical to create zoning and development regulations that promote walkability, resiliency through adaptive reuse, and inclusivity that would allow the CBD to be enjoyed by all.
2. Greater emphasis on public-private partnerships. With more public-private partnerships and an increased private sector role shaping a new CBD experience, companies and industries can help reposition cities and drive meaningful change.
3. Creative repositioning. Diversity in many aspects (in mixed uses, housing types, job creation, etc.) at many different levels (city, neighborhood, building) is essential. As landlords adapt large commercial floor plates to accommodate different scales and uses, buildings are "hacked" to accommodate a new mix of functions. A similar dynamic is played out at the city block and CBD scales, further breaking down traditional typologies and zoning.
4. Prioritizing diversity for greater resilience. We believe there is a strong correlation between urban regeneration and resilience. Urban regeneration is the process of renewal, restoration, and growth that makes ecosystems resilient. And urban resilience is the capacity of people, communities, institutions, businesses, and systems within a community to survive, adapt, and thrive — no matter what kinds of chronic stresses and acute shocks they experience. The new CBD must diversify risk. In doing so, the future CBD will be far more interesting, diverse, healthy, sustainable, and fun.
5. Reexamining and rewriting regulatory and fiscal policies to increase affordability and equity, support businesses to remain open and stay, and foster job creation. All of these interventions would aim to attract and retain urban residents.
6. Investing in technology in its many forms (autonomous vehicles, new energy sources, new construction methods or new construction materials, machine learning, etc.) to increase safety, lower costs, and lower our environmental impact.
7. Encouraging community participation to include all voices in shaping the future of CBD, and ultimately reshaping our future cities.
8. An open-mindedness to trying new things. In an age of profound uncertainty and change, everything has to be on the table. This will take a mindset of courage and optimism. While we think big, we must also prioritize smaller, less ambitious ideas that have incremental but meaningful impact.
For media inquiries, email .