Destination Aldgate: Reinventing London's Central Business District
February 07, 2023 | By Michaela Winter-Taylor
Imagine the streets of the Square Mile, from St Paul's Church Yard to the Guildhall, filled with giant puppets, circus performers, jugglers, storytellers, and interactive theatre.
This is not a vision from the past, but a vision of the future. To draw in visitors and workers in a bid to return to pre-pandemic footfall, the City of London is planning to invest £2.5 million a year to increase its offering as a cultural destination. In 2019, the City of London had about 540,000 business commuters coming into the city every day. It now averages 62% of that number, with the vast majority only traveling to the office between Tuesday and Thursday.
As part of the Square Mile's mission to maintain its position as a leading central business district (CBD), the 'Destination City' programme is designed to boost the vibrancy of the City of London, drive forward its recovery from the pandemic, revitalise its streets, reinvigorate its business, and boost its attractiveness. The intent is not to dilute its focus as a business city, but instead to complement and reinforce it.
Besides the City Corporations' drive to achieve greater cultural diversity, their Vision for London 2025 is also aiming to curate an innovative ecosystem for a more diversified economic base. The goal is to attract other types of business to the Square Mile, as well as small and medium sized businesses, supported by investment in infrastructure and making the labour market more accessible for all backgrounds.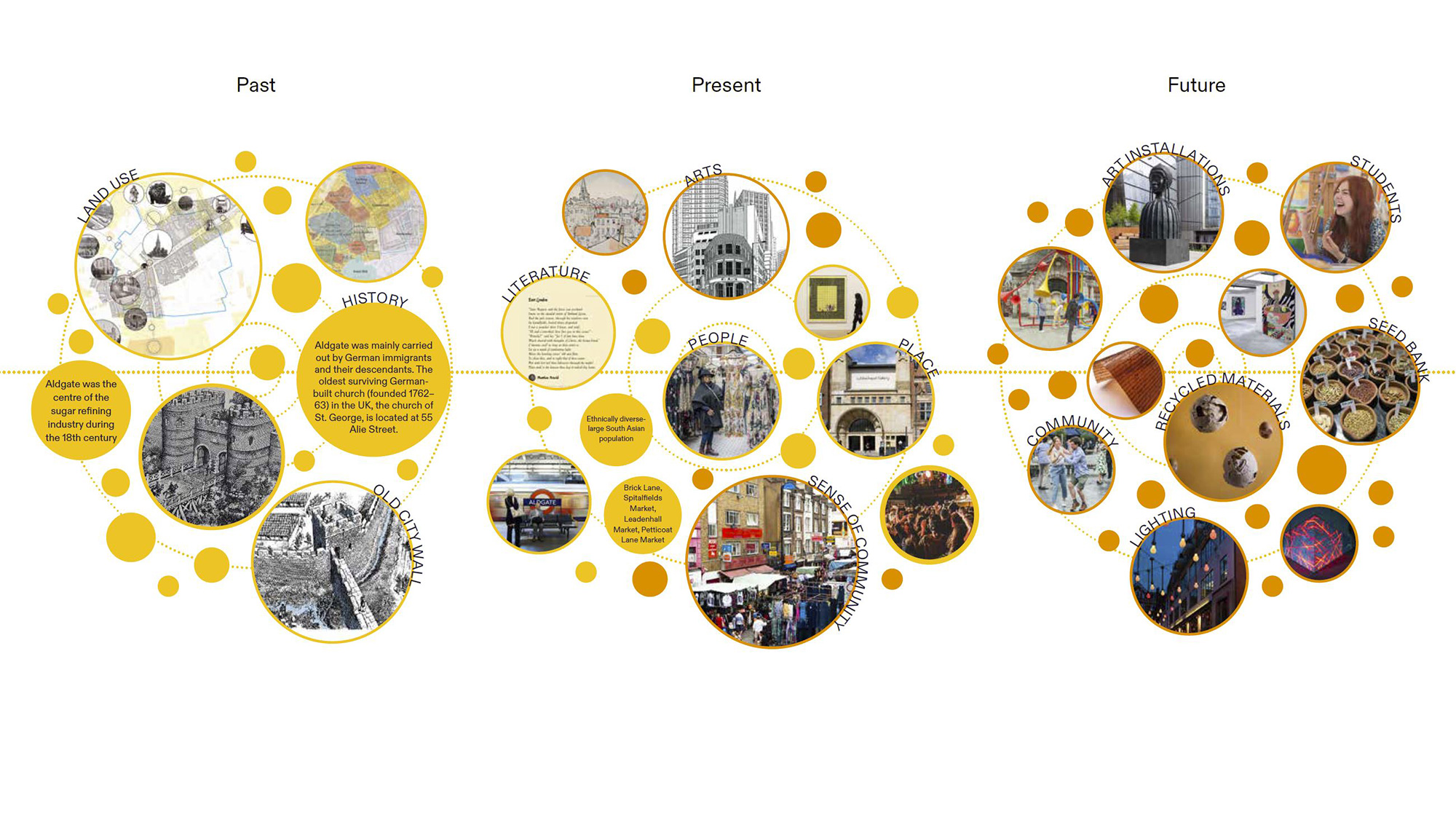 Attracting a new, blended customer base: residents, workers, tourists, students, and fun-lovers.
The Aldgate Connect BID area, which straddles two boroughs – the City of London and the London Borough of Tower Hamlets – has experienced rapid growth of both commercial and residential development over the last decade, along with new hotels and student housing. This more diverse mix of uses has brought transformational change to the area. The residential population has added a new buzz and dynamism to the Aldgate area and allowed it to become more of a seven-days-a-week community. Aldgate has made immense progress in curating its offer and winning a new, blended customer base: residents, workers, tourists, students, and fun-lovers.
However, public realm and streetscape have not been able to keep pace with this wide-ranging transformation. The increased pressure on the public realm and the noticeable gaps between various improvement initiatives underpin the need for a comprehensive strategy for the whole area. The Aldgate Connect BID recognised the importance of a high-quality environment and, in summer 2021, engaged Gensler to develop a public realm vision and strategy for the wider Aldgate Connect BID area to address its challenges and bring out the area's distinctive identity.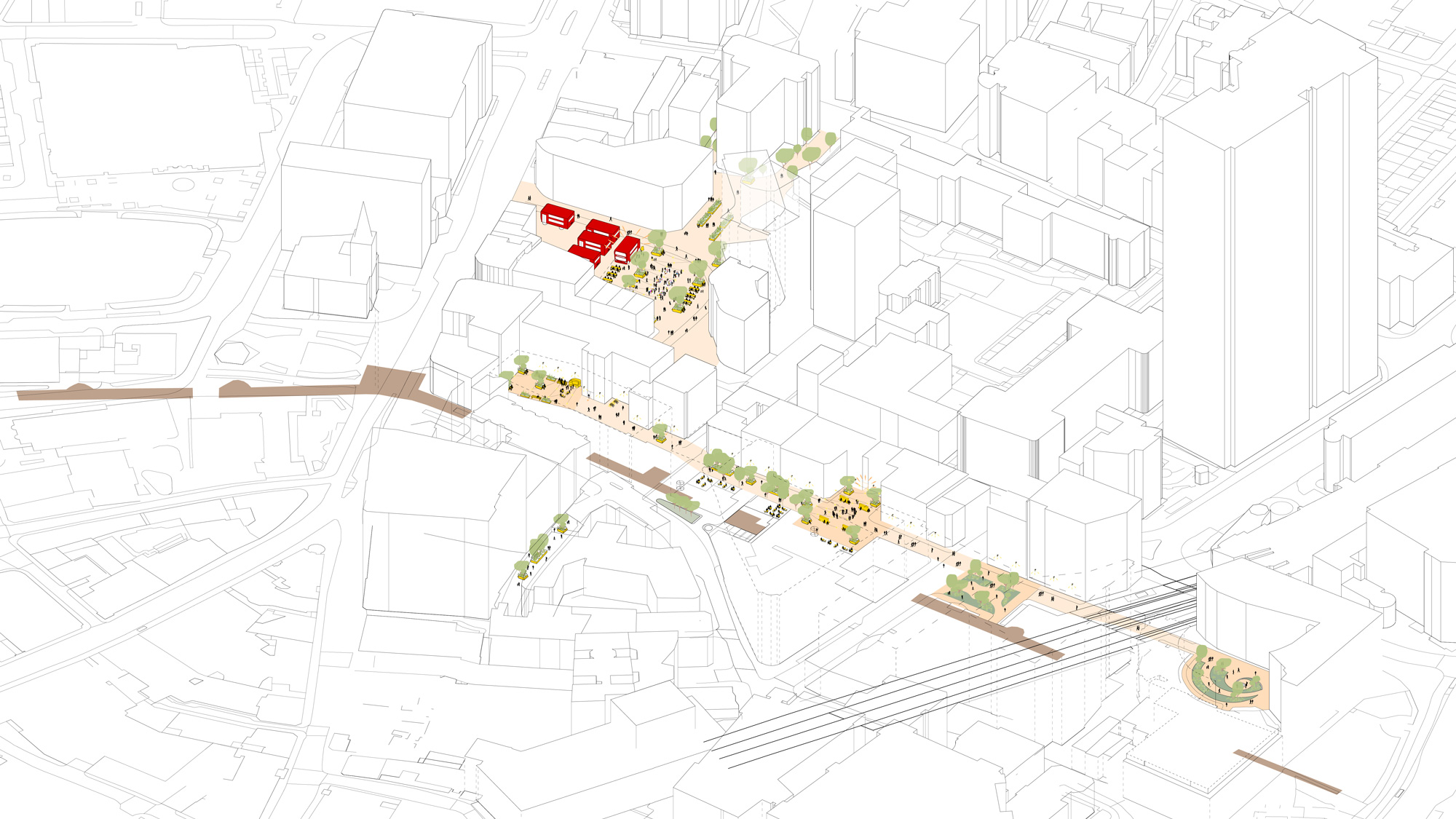 Placemaking is crucial for the success of our CBDs in providing attractive destinations that pull people back.
People are driven by experience. The experience is what makes a place memorable and instils a sense of belonging. Strengthening the connection between people and the places they share, we understand placemaking to be a collaborative process through which we can shape the public realm to maximise its shared value. The following points have shaped our approach for Aldgate's public realm strategy:
Reclaim Streets as places for people – poor post-war planning and the need to increase capacity to accommodate growth has seen cities plan for cars and traffic. The result is that areas like Aldgate now suffer from a dominant infrastructure-led environment, congested and divisive road corridors, and weak connections between places. Gensler advocates the removal of the extensive one-way traffic systems in the area to promote walkability and active travel, encourage social interaction, and enhance the overall experience within natural settings.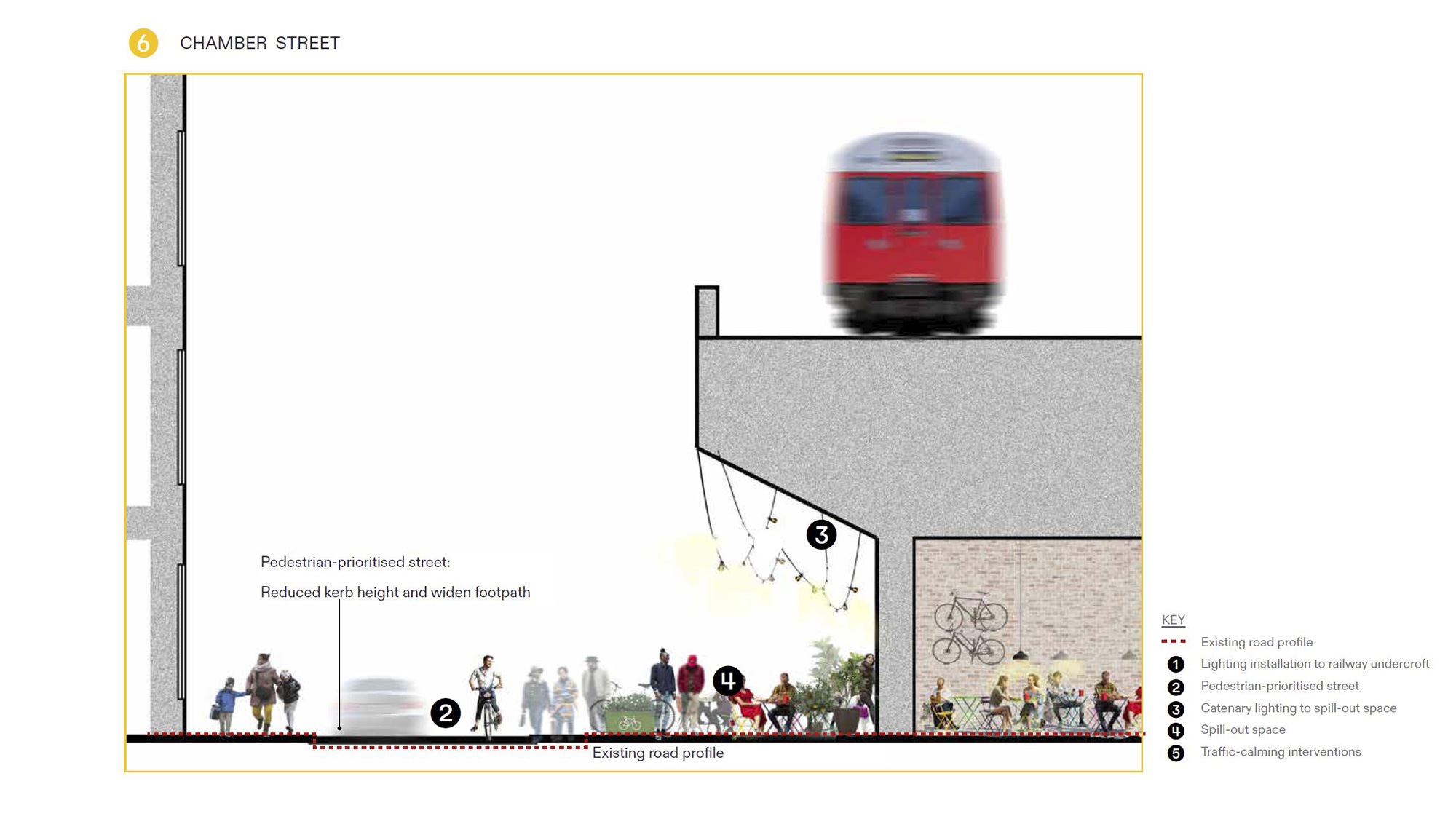 Create public spaces as multi-use destinations – to define a place's identity through the diversity of uses and public spaces that highlight local assets, unique characters of the locality, and skills of the community. Creating public open spaces to support activities and programs will promote Aldgate as a cultural hub and enhance its identity. Public art installations can be impactful catalysts to change perceptions and create new urban landmarks.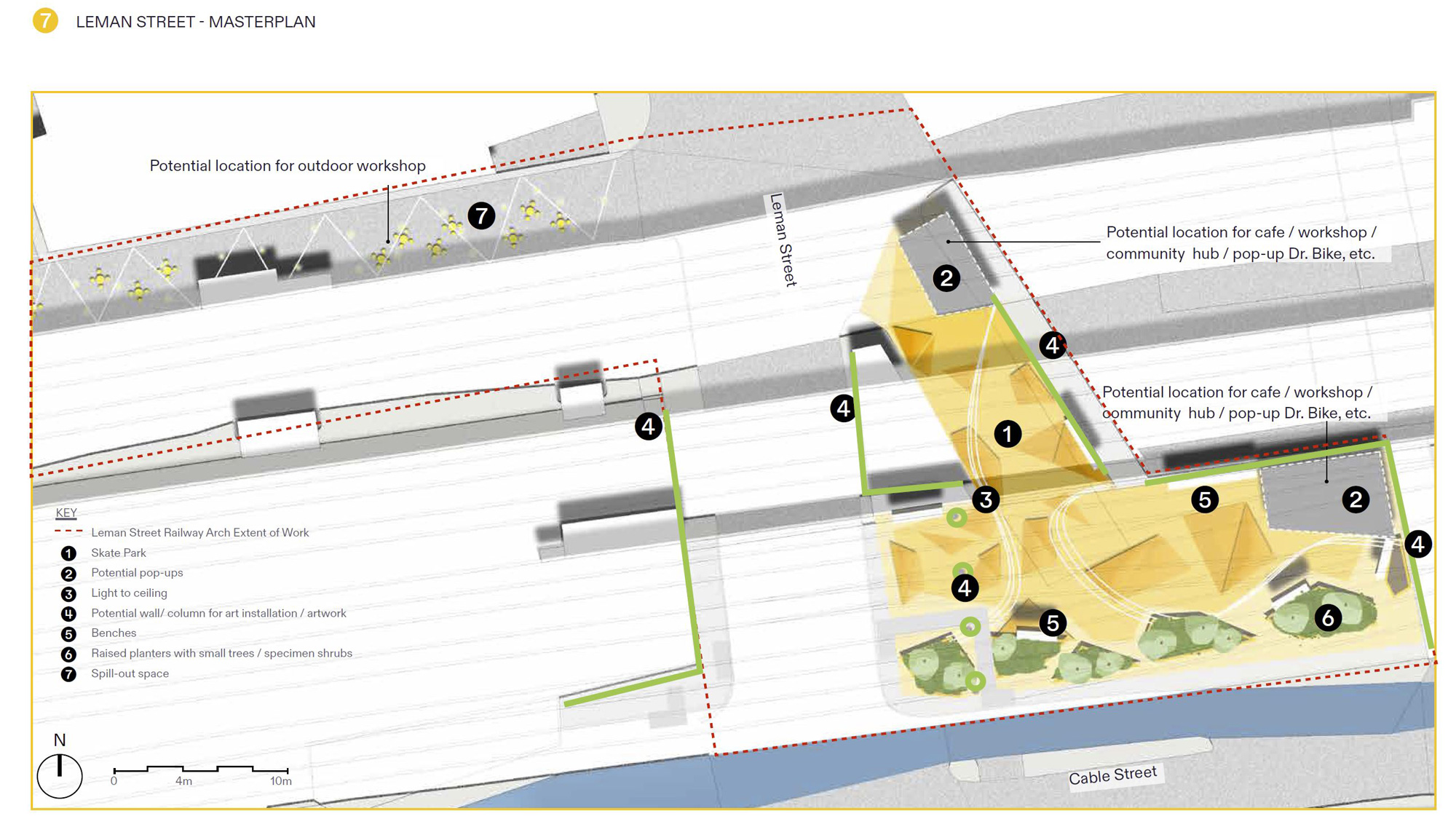 Designing supportive places – dynamically connecting to the surrounding neighbourhood, fostering street life, and creating a strong sense of place. Amenity spaces should be inclusive and welcoming to all users. Open spaces are precious in the city centre; therefore, the offering should be flexible, high-quality, and inclusive. Gensler proposes a series of community projects, and incremental smaller projects which are quick wins to carry out and are key to binding the community together.
Support the public health agenda– promoting healthy, active lifestyles and delivering more vibrant communities. Gensler's big focus was to enhance overall wellbeing by increasing access to open space, improving the quality of existing spaces where people can interact, promoting walking and cycling through more convenient routes, mitigating the impact of traffic, and reducing pollution. Besides health benefits, this approach also combats social isolation and brings economic value.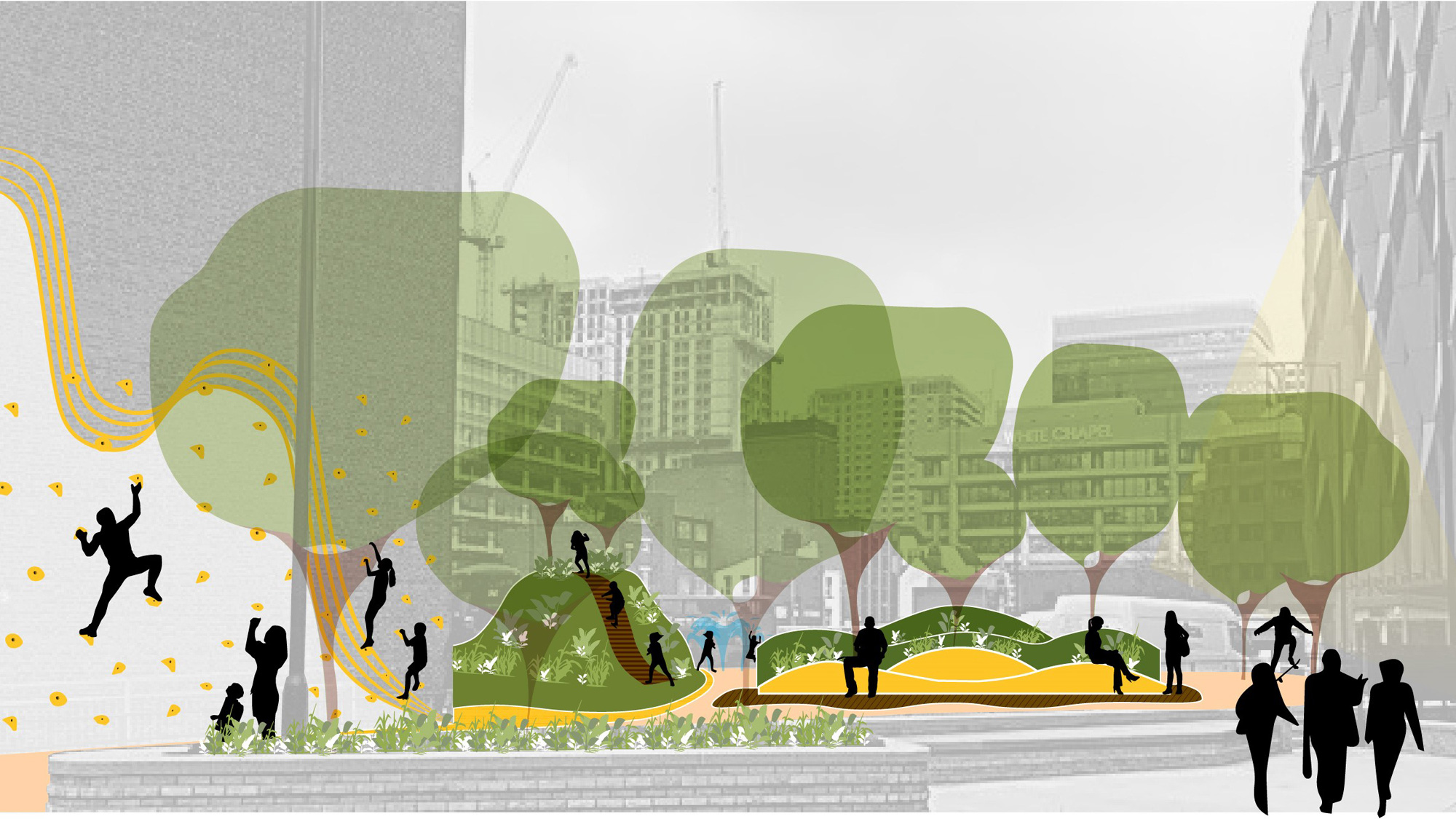 Instilling a sense of identity – building designs on historic and local context to create strong identity whilst ensuring they are future ready to respond to changing work and lifestyles. Aldgate has many heritage assets and important historical sites, such as the Roman Wall, Petticoat Lane, and connections to the river Thames. These heritage nodes and routes should be reinvented, emphasising placemaking to reiterate their historical roles.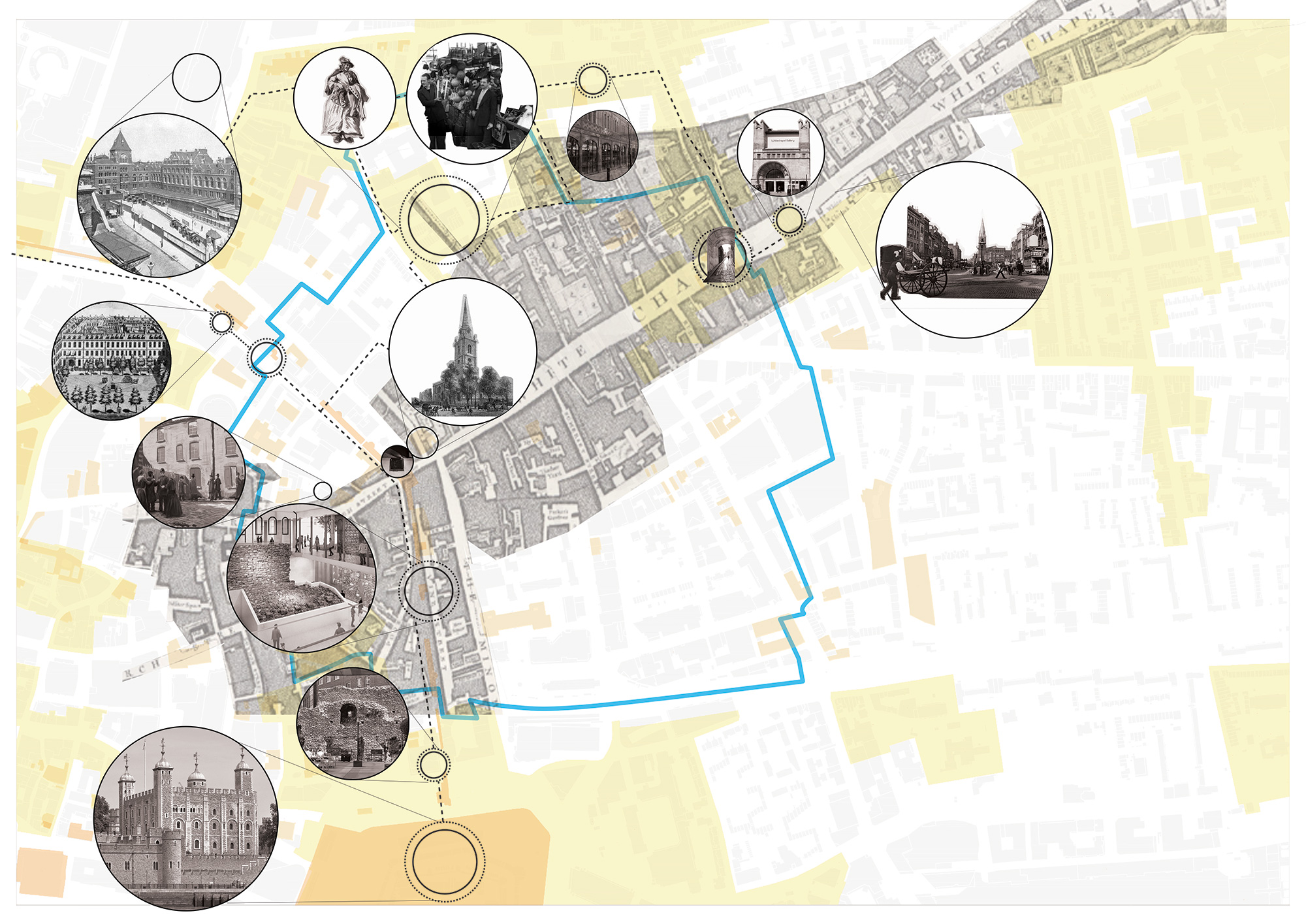 The renaissance in Aldgate has already started, with the new Aldgate Square and Braham Street Park, both demonstrating the value of reclaiming the streets for public realm and creating new destinations in the area. Placemaking is crucial for the success of our CBDs in providing attractive destinations that pull people back. They form the backdrop for the social and leisure aspects that visitors feel drawn to.
Investment in these amenities is fundamental to ensure they evolve along with the uses around them and accommodate new workstyle and lifestyle trends. Conventional levels of street design, improvement, and maintenance are simply not sufficient for an area facing such intense transformation. It is important that the vison for public realm improvements is bold and ensures a real long-term positive impact, along with short-term interventions to realise the potential for change.
For media inquiries, email .