Strategies for Reinvigorating Singapore's Central Business District
September 18, 2023 | By Najeeb Rahmat
While many major global cities, like San Francisco and New York, are struggling with record office vacancies in downtown districts, the demand for office space in Singapore is expected to outpace supply. Office vacancy rates in Singapore have reduced to around 10% compared to the high of 13% during the pandemic and as employees continue to return to the workplace, businesses are fervently preparing for growth.
In Gensler's 2023 Singapore & Philippines Workplace Survey, we found that one of the most important reasons for employees to come to the office is to focus on their work. Workers in Singapore also value the office for scheduled, in-person meetings and access to technology. As workers start returning to the office, we explore strategies that blend functionality, inclusivity, and community engagement, thereby creating vibrant, functional, and adaptable spaces that foster collaboration, creativity, and a sense of community.
Integrating the office building with the surrounding cityscape is essential to create a seamless and engaging experience for the return to the office and rethinking the role of public spaces can also entice workers to return to downtowns for a more fulfilling and enjoyable experience. Below, we explore some placemaking strategies that can provide attractive destinations in Central Business Districts (CBDs) to encourage workers to return to the workplace.
Rethinking the Role of Public Spaces
Public spaces have taken on a new life and meaning as people start returning to the office post-pandemic. To continue this momentum, building owners need to embrace the public realm as a value-add and transform their buildings into community hubs. We know that in-person interactions between colleagues are prioritized after years of virtual socializing. Urban plaza, squares and open spaces around the building can host community events, outdoor markets, and cultural festivals. These spaces become focal points for social interfacing and engagement. An example is the confidential repositioning and placemaking project we are working on along the Singapore River with its eponymous open plaza that serves as a dynamic event space for lunch time concerts and other community events. With its success, the building owners are seeking more ways to activate these public spaces throughout the year to ensure continued engagement. Mediating the Outdoors and Indoor Environment
Public spaces that seamlessly transition from indoor to outdoor environments mediate the harsh temperature gradients between the outdoors and the air-conditioned office building. Biophilic design has been shown to benefit office workers and by utilizing Singapore's lush greenery to provide shade and incorporate wellness features such as quiet zones, meditation corners, and green lounges, we can reduce stress, enhance creativity, and promote well-being.
As users traverse through the lobby, the experience can further be amplified through the lens of service and hospitality. From the car park and public transport hubs to the office lobby, further improvements can enhance the user journey, down to picking a distinctive scent and ambient sounds in the lift cars and entering an office that affords plenty of natural light and biophilia.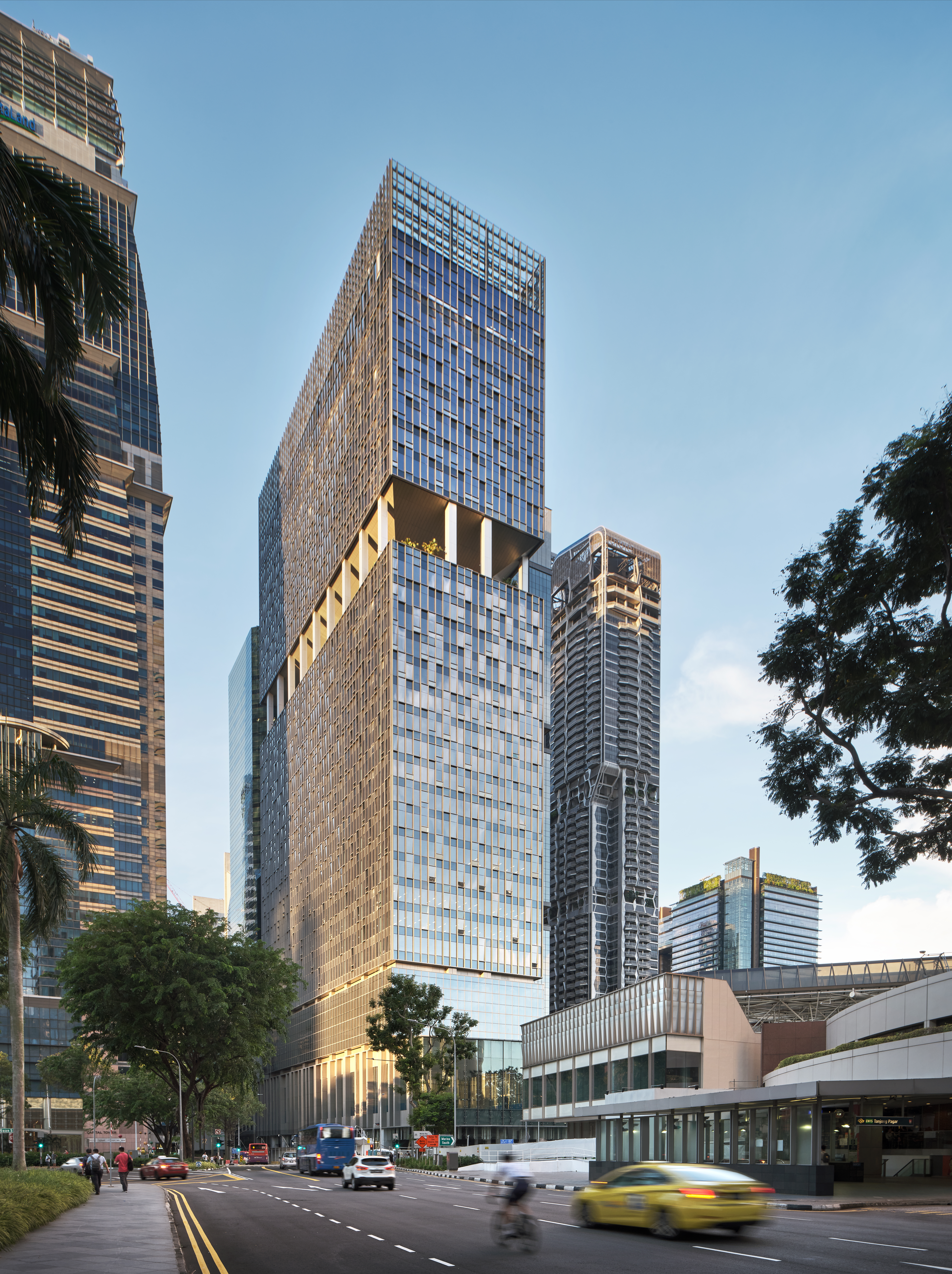 Active Mobility and the 20-Minute City
Transportation and accessibility play a large role in influencing workers to return to the office. According to Gensler's City Pulse Urban Mobility Study, the rise of hybrid work patterns, despite workers returning to the office more frequently, is directly co-related to public transit ridership and alternative modes of commuting. Developing active mobility networks and convenient commuting opportunities, such as the provision of safe and functional infrastructure in the form of bicycle racks, end-of-trip facilities, and efficient linkages between multimodal transportation hubs, improve the commute to the office. Creating first- and last-mile connections enhances access and mobility for the surrounding neighborhoods.
In Singapore's Land Transport Master Plan 2040, the city envisages a land transport system that is convenient, well-connected, and fast. The plan supports a commute of no more than 20 minutes to get from home to the nearest neighborhood center and 45 minutes or less to reach the workplace during peak period. Besides the beneficial impacts to the environment, such as mitigating the impact of traffic and reducing pollution, an active mobility network promotes healthy and active lifestyles, enhancing overall health and well-being, and allowing for a more enjoyable workplace experience.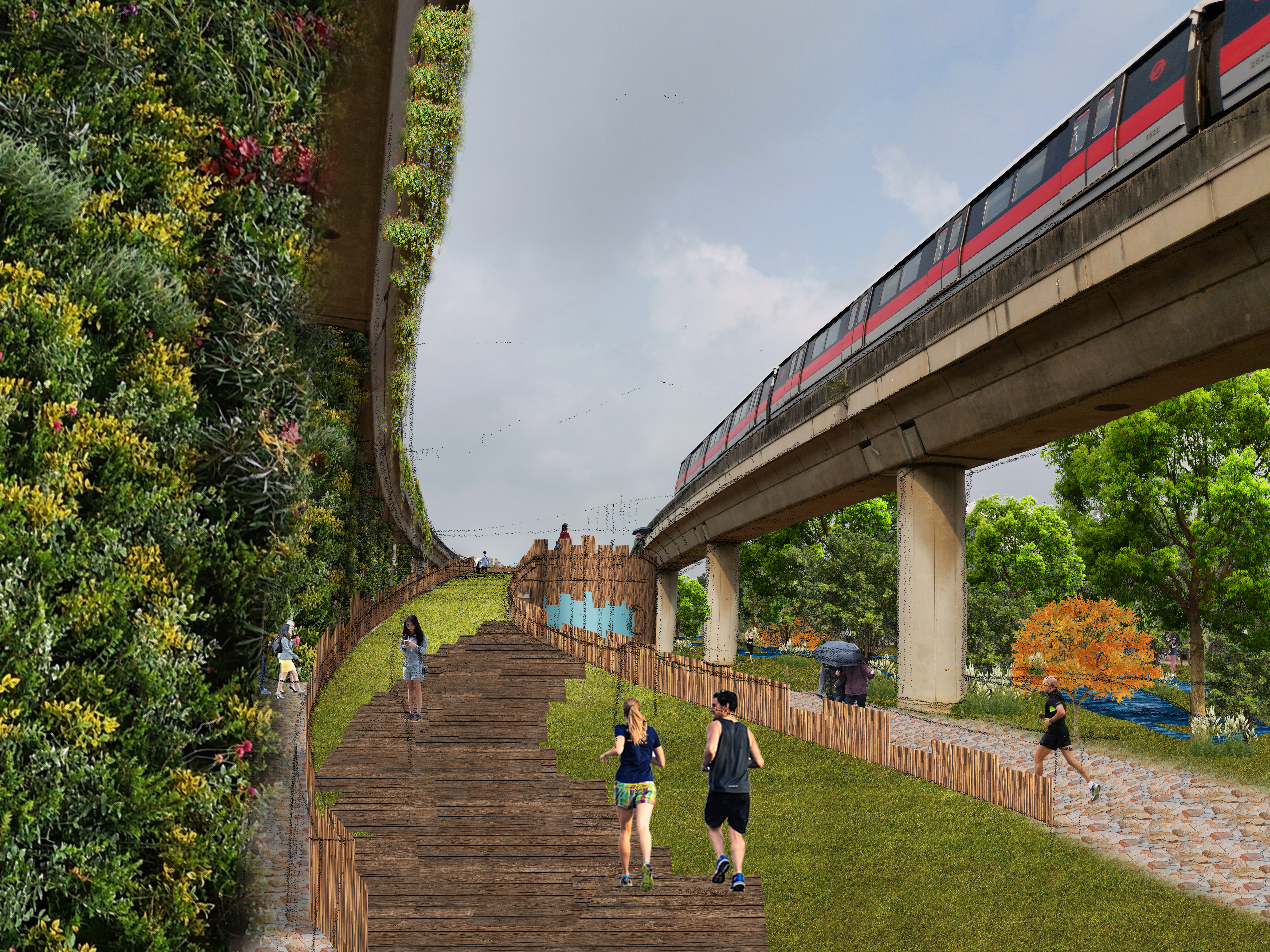 Mixed-Use Developments and the Multi-Use District
Planning for a variety of centrally located community facilities such as schools, childcare, and wellness or recreational amenities maximizes community interaction and moves away from single-use buildings to multi-use developments that foster economic, social, and community improvements. By opening the public realm to the larger community, the office building takes on a role as an incubator for community engagement as well. In our City Pulse research, we saw that people come into the city for socializing, dining, for parks and public open spaces, entertainment, and culture. The office building can no longer exist as a single use building, instead contributing to the future of the multi-use district.
Gensler is currently working on repositioning projects in Singapore that connect into a program of existing activities and leverage what is already being planned by the arts council, tourism board, and other local organizations. Our clients are keen to see how their assets and community outreach programs can be utilized to synergize and curate together with other stakeholders in the city.
We've seen asset owners partner with local community organizations to host workshops, seminars, and civic engagement activities in public spaces, fostering a sense of belonging and social responsibility. Additional investments in the arts and culture attract tourists and visitors, and some are even teaming up to create their own art trails. These art pieces can serve as landmarks, drawing people from the city to the building and acting as catalysts to change the perception of central business districts and highlight the power they can hold in building shared communities.
For media inquiries, email .