How Union Square Can Become San Francisco's New Central Social District
October 05, 2023 | By Barry Bourbon
This is the fourth in a blog series to explore ways to reimagine the future of downtown San Francisco. Read Part 1 here, Part 2 here, and Part 3 here.
San Francisco has reached an inflection point in its post-pandemic recovery. Like many office-centric downtowns nationwide, the city is feeling the effects of climbing office vacancy rates, compounded by a lack of affordable housing and a waning sense of safety. At the heart of its downtown core, San Francisco's Union Square district is a microcosm of the city's challenges. Long regarded as a central shopping and tourist destination, Union Square has suffered from declining foot traffic and prominent store closures, prompting many to ask: What's next for Union Square?
We recently hosted a workshop, "Union Square Reimagined," where we brought city stakeholders together to share three meta trends outlined in our Design Forecast 2023 report that will transform cities going forward: reclaiming experience, building transformation, and attainable housing. Attendees shared their ideas for what the future of Union Square could look like, considering changing zoning amendments, shifting consumer preferences, and an evolving real estate market.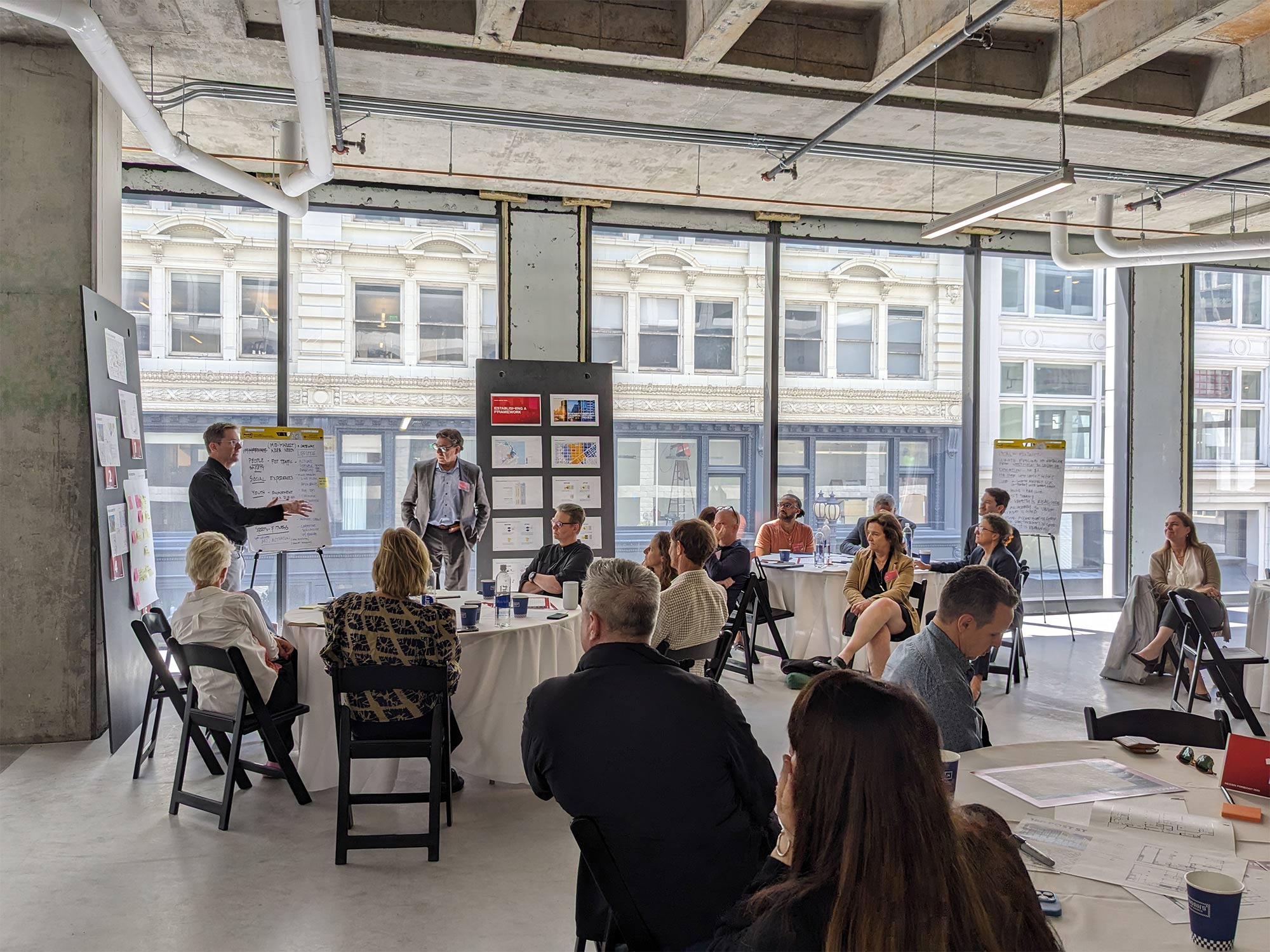 As our collaboration with these stakeholders continues, our goal is to build on the momentum of the score of efforts already underway to realize a new path forward. Our joint study with SPUR, Urban Land Institute (ULI) San Francisco, and HR&A Advisors to identify suitable buildings for office-to-residential conversions represents one viable solution to revitalize the city's central business district.
Mayor Breed has made significant progress on her Roadmap to San Francisco's Future, the city's plan to transform downtown into a stronger, more resilient, economic, and global destination. Vacant to Vibrant, a program by SF New Deal with support from the San Francisco Office of Economic & Workforce Development, saw more than 1,000 small businesses, cultural creators, community organizations, and property owners submit applications detailing their ideas to reenergize the neighborhood by filling vacant storefronts — 17 of which were selected and began opening this week. And the Union Square Alliance delivered a strategic plan that maps out its vision for the next three years to reinforce the neighborhood as a focal point of San Francisco's downtown core.
While it's easy to focus on the challenges we face, the successful revival of Union Square will require us to collectively view this moment as an opportunity to begin again and offer a blueprint for downtowns of the future. We'll need to shift our mindset from expecting a complete return to pre-pandemic conditions to embracing the notion that downtowns aren't dying — they're evolving.
Here are five ideas for transforming Union Square into a dynamic, 24/7 destination:
Singular Destinations for a Multiplicity of Experiences
Diversification is the name of the game when it comes to building a healthier and more resilient Union Square. Largely a shopping-only district, Union Square must become a multifaceted, experience-oriented locale that more completely meets the public's needs in the post-COVID era.
Another byproduct of the pandemic is the desire for more in-person experiences and social interaction, putting into focus the function of spaces and how they can enhance our day-to-day lives. Mixed-use environments check all these boxes with a variety of offerings that not only excite and delight but also build a sense of community and convenience.
San Francisco supervisors recently updated downtown zoning rules, opening the door for more curated all-in-one spaces that have the potential to attract a more diverse set of users and activities. Imagining what a successful mixed-use space in Union Square would look like requires careful attention to shifting consumer trends, such as competitive socializing. Combining high-end dining with interactive games, competitive socializing concepts have grown almost four-fold since the beginning of 2021, according to Cushman & Wakefield. While not an entirely new offering, this fast-growing segment has evolved in sophistication, and its reemergence is not only emblematic of people's desire to choose experiences over things but also a legitimate business opportunity for landlords to target different types of tenants.
For example, a competitive socializing experience such as Chicken N Pickle, which taps into the exploding popularity of pickleball with a side of wood-fired chicken and space for live entertainment, could be the anchor tenant in a mixed-use building of the future, with workplaces and services on upper floors. While Chicken N Pickle currently has a more suburban presence, introducing an urban model could create buzz and draw more people downtown. Employees could transition their day from in-person meetings to a unique social experience with colleagues and clients without having to leave the building. This use scenario would not only draw foot traffic, but also build community, bring more diverse activities to the neighborhood, and keep people in Union Square for extended periods of time.
With the right grouping of services, hospitality, and amenities, mixed-use spaces are constantly activated and can contribute to the around-the-clock factor Union Square is in desperate need of.
What Does the Next Generation of San Franciscans Want Union Square to Become?
Foundational to the reimagination of Union Square will be continued engagement with a broader audience to ensure they are represented in the neighborhood's next phase. A starting point could be interfacing with local institutions to connect with their audiences and stakeholders and ultimately co-create a vision for the new Union Square. One possible outcome is the creation of a new higher education campus in the neighborhood, given its potential to (eventually) draw thousands of students and create a livelier, more versatile district centrally located in the city. Factor in the proliferation of artificial intelligence (AI) companies and San Francisco's dominance in the tech industry, and it is reasonable to assume that more and more students will flock to the city to learn from the very best. A new tech education campus could improve downtown density with the addition of micro unit apartments, while student attendance in classes would contribute to a more consistently activated Union Square. While not an immediate fix, a collegiate presence in the neighborhood would bring a new dimension to one of San Francisco's most historic districts.
The City's New Entertainment and Cultural Hub
In line with Mayor Breed's strategy to transform downtown into a leading nightlife destination, repositioning Union Square as an entertainment and cultural hub would theoretically solve many of the problems the neighborhood is facing — all while showcasing the food, art, music, and culture that makes San Francisco so special.
Creating distinct entertainment offerings will be instrumental in generating standout moments that draw people back to Union Square. A steady cadence of weekly and monthly happenings could translate to a regular influx of crowds, such as a "Music on Market" event that groups can go to on the last Friday of every month at various participating venues.
By introducing a mix of paid and free events on a consistent basis, we can improve Union Square's dynamism while creating a singular, welcoming experience for attendees. Supporting local artists and talent will also provide a boost to our economy and instill a greater connection between visitors, San Franciscans, and the city.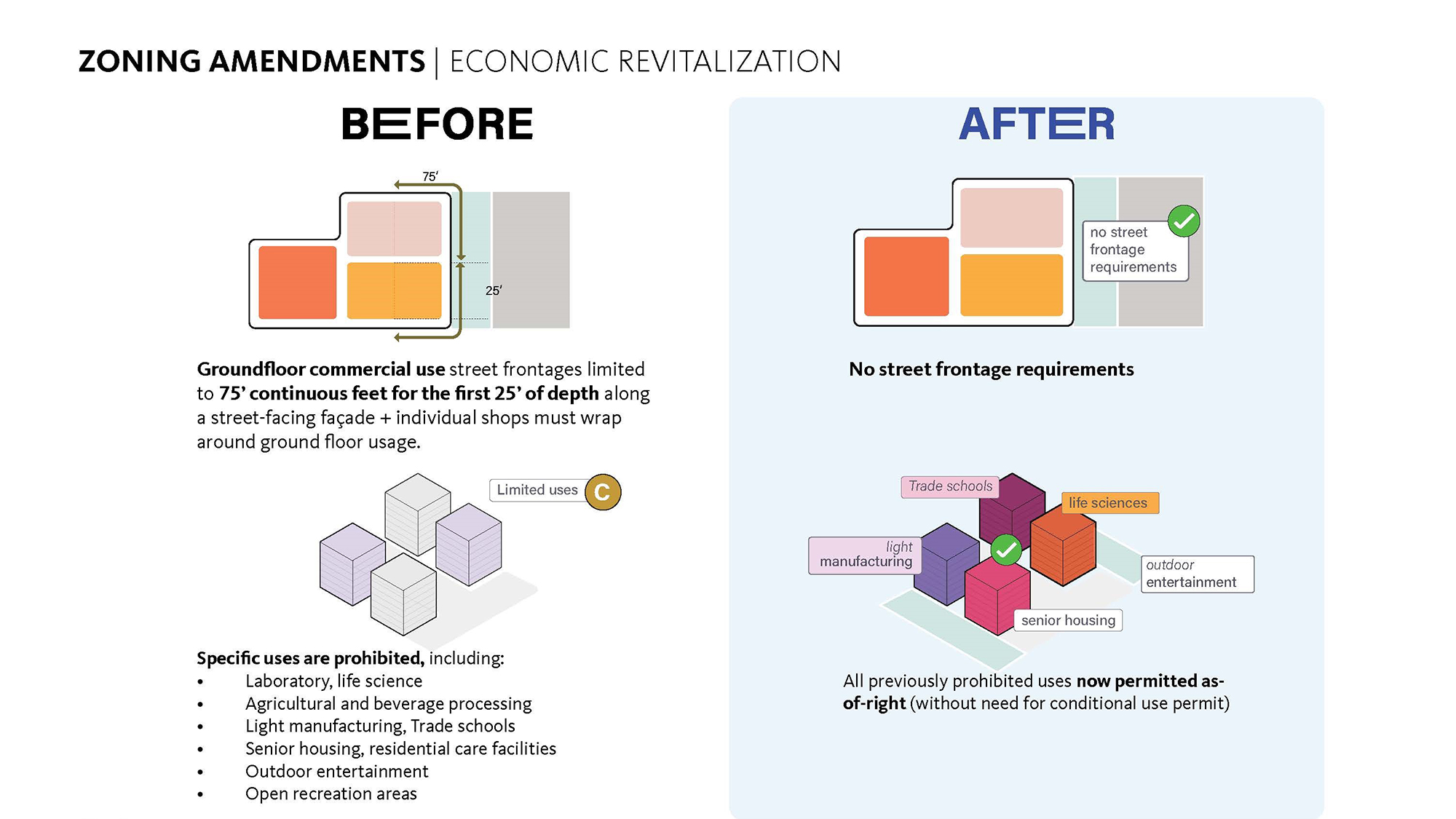 Attainable Housing Is Key
While a nationwide issue, the housing crisis is amplified in the Bay Area due to a lack of affordable residences, soaring rental costs, and high home prices. As a result, San Francisco is facing an uphill battle when it comes to solving the homelessness crisis, reducing displacement, and ensuring families aren't pushed out of job markets in search of attainable housing. Policymakers are continually working to address this issue, and there are solutions we can implement in the near future that will bring density to the downtown core while meeting the needs of a broader range of families in our city.
Cohousing is one way to address these challenges. Designed with community in mind, cohousing features private residences that are oriented around ample common areas like shared kitchens and dining rooms, recreational zones, and open spaces. Pairing affordable housing with shared services like childcare would meet the needs of people from all socioeconomic backgrounds while setting the precedent for inclusive downtown housing of the future. Although it is not the sole solution, bringing multifaceted housing like this to an area rife with development opportunities complements other strategies, helping create a more synergistic neighborhood and meeting a crucial need in our city.
Enhancing the Tourist Experience With Tech
Union Square has always been a huge draw for tourists, and as we brace for future waves of visitors, there are ways we can ensure tailored, enjoyable trips. The city is renowned for its tech prowess, so what better way to offer a memorable visit than through a mobile experience designed specifically for tourists? A Union Square app that houses timed tickets for tourist attractions like the Powell Street cable car turnaround, similar to airline ticketing with corresponding boarding times, could limit wait times and enable easier wayfinding for tourists to locate cultural and historic neighborhood icons like the Neiman Marcus Rotunda and the Maltese Falcon room at John's Grill. It could also result in increased retail visits, supporting the area's economy.
A New Union Square Is Attainable
San Francisco has proven time and again that it is capable of bouncing back, and now is our chance to redefine the function and design of the heart of our city. With the right combination of stakeholder collaboration, community engagement, and fresh design approaches, the next iteration of Union Square as San Francisco's Central Social District is well within our reach.
For media inquiries, email .