Retail Design for Better Consumer and Employee Experiences
November 17, 2023 | By Julia Brunzell
While consumer shopping habits have evolved considerably over the past three years, driven by pandemic closures of brick-and-mortar stores and the increased convenience of online shopping, we are starting to see a shift in preference back to in-person experiences. This resurgence brings with it not only a new consumer experience, but an equal emphasis on a new employee experience. Brands are considering human behavior and psychology to create spaces and experiences for lasting impact and connection. Design considerations for storefronts, layout, lighting, storytelling, and function are all key components in creating an impactful experience for everyone.
First Impression
A retail storefront is the first impression that can pull you in or pique your curiosity. The design plays a huge role in consumer's perception and why potential shoppers walk past or walk in. Not only is it a key brand moment that includes signage and branding, but the design itself can be a bold statement and sets a tone for how the brand is experienced. The simple psychology behind an open, transparent façade versus a closed off, monolithic storefront is interesting. Either design approach can entice customers to enter, but for very different reasons, and both can cause a person to keep walking or compel them to go inside. A completely opaque storefront piques curiosity and draws consumers inside. When you can't see what's behind the walls, it creates mystery and intrigue that pulls the customer in to see and discover more. A closed off façade creates an experience that is focused on discovery and an intake of information in a measured way.
When a storefront is open or predominantly glass, one can see the product and people inside. An Apple store is a great example of this. The overall design is very clean, modern and understated, allowing the product to be visible and accessible. Apple stores are always busy and full of people; an open storefront allows customers to see this and pulls them in. When a store is busy, the pull to be a part of the energy is hard to resist for some and for others, can be intimidating or off putting. Choosing a design strategy for a first impression is important and it isn't uncommon for brands to evolve around this over time.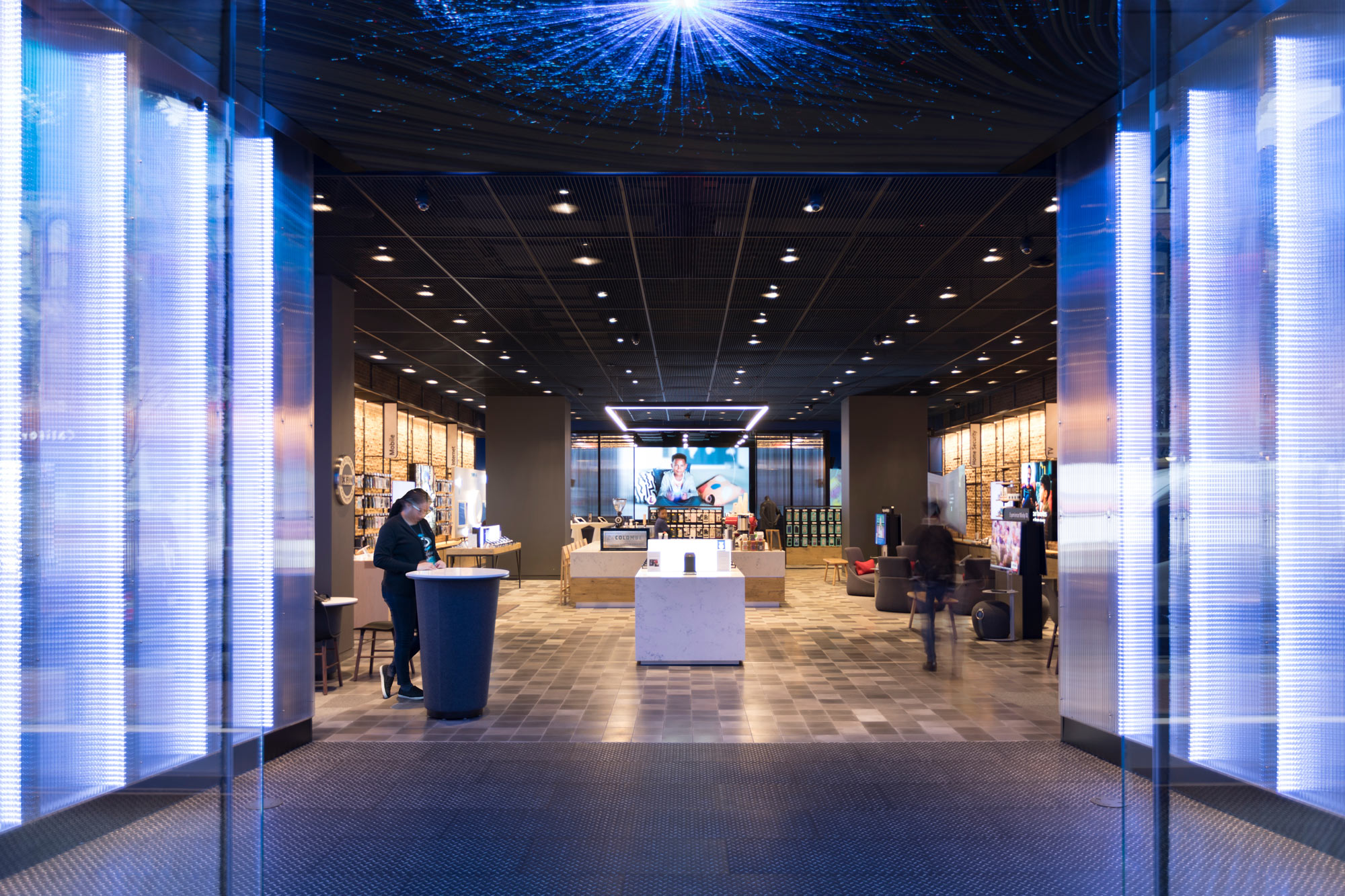 Customer Journey
Studies have shown that almost 90% of North American customers turn right when entering a retail store. This is referred to as "invariant right" and it's based on the majority of the population being right-handed. It is important to consider this when planning the customer journey through a space. The layout of a store can impact customer behavior. Fixtures and displays can be planned to force a path from front to back (think IKEA), increase time spent in the store, drive toward key product destinations. Storytelling moments can serve as touchpoints to guide a consumer experience and deepen connection to a brand's mission and purpose. It's often most effective to weave these moments into a floor layout so a story unfolds along the way.
Assuming a consumer is experiencing a brand for the first time, an overview at the front of the space creates an initial impression. Moving from front to back or side to side allows for self-guided discovery that's curated around a product story, an inspirational person who represents the brand, showcases where a product originated or how it was designed. As one moves through the space, a connection is made in a fitting room and/or the point of purchase. Fit rooms and POS areas are some of the most impactful places to tell your story, establish a connection, and create brand loyalty.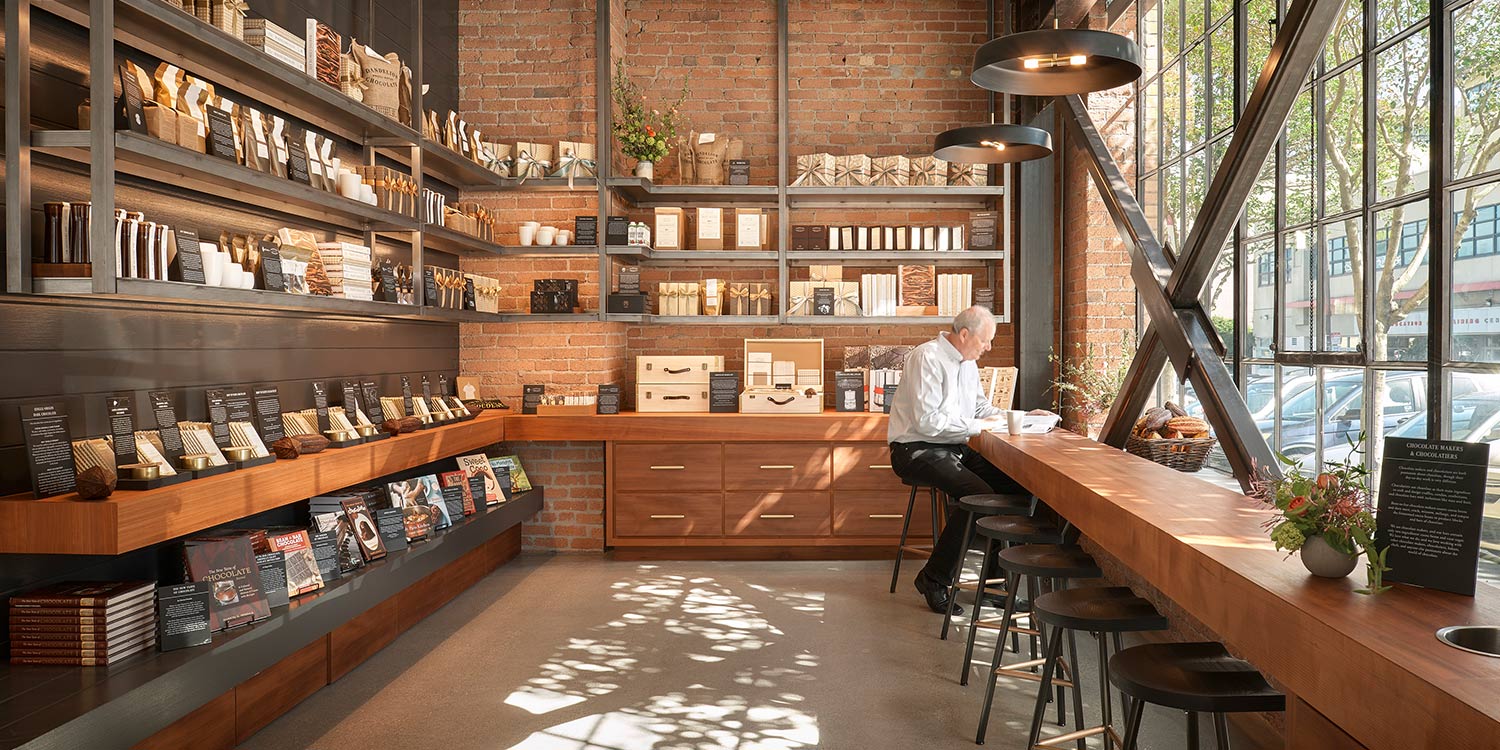 Storytelling for Brand Engagement
Shopping in a retail store has become more than merely a transactional experience. Over the past several years, brands have created spaces where consumers can engage in ways that go beyond looking at and trying on product. Engaging customers is critical to establish a strong brand connection, and if a company has a compelling story about why they are doing what they do, they should tell it. Consumers are looking for a connection to an inspiring story and a brand that shares their values and takes action to back them up. Shopping can be overwhelming and tedious for some; learning and getting inspired along the way creates connection, and often a much-needed break from being bombarded with products from which to choose.
Designing and creating intentional moments in a retail shopping experience is critical for enriching a consumer's understanding of a brand and highlighting its purpose. Finding space for imagery, digital experiences, story boards, and educational displays are just a few ways brands can tell their stories. Some of the most creative ways to layer in brand stories come in unique applications such as interactive digital displays, and show up in unexpected places like mirrors, floors, fixtures, product tags, and at the point of sale or cash desk.
Elevating the Employee Experience
Inspired and supported employees also play a crucial role in consumer engagement and experience. If a physical store is a key element of a brand's expression, a well-trained and engaged employee is your best brand ambassador and critical relationship builder. When employees work and function in a space designed to value their experience, development, and comfort, that energy and enthusiasm is passed on to the customer. When companies acknowledge the important role that their retail employees play in consumer experience and their bottom line, they prioritize design that provides solutions for things like functional back of house spaces, storage, and breaks.
Co-creating personalized experiences for both customers and employees involves careful consideration around lighting, acoustics, music, temperature, layout, materials, and functionality. These important elements woven together with engaging and interactive displays and storytelling play a key role in how humans experience space. When all users are considered and key functions are well designed, especially when it comes to brand ethos and messaging, a fully connected and impactful retail experience is possible.
For media inquiries, email .