The Climate Crisis Is Also a Well-Being Crisis
Climate change is a profound global concern and appears to have an outsize impact on the mental health and well-being of younger generations.
Every aspect of our lives at every scale is colored by well-being. As individuals and organizations everywhere work to build an improved quality of life in the face of accelerating climate change, it is essential that we recognize the role of the physical environments where we live, work, and play on global well-being.
The belief that the physical and social environment impacts mental and physical health is one with deep historical roots. Recently, this belief hit the mainstream when the COVID-19 pandemic shined an international spotlight on health and well-being. In the post-pandemic world, newfound awareness is being driven by research that highlights connections between environmental factors like indoor air quality and mental health. In particular, climate change is emerging as a profound global concern and appears to have an outsize impact on the well-being of younger people.
Well-being is the interconnected emotional, cognitive, and physical health aspects of a person — or of an entire population. Central to our approach to well-being is that a proactive approach should be taken to mitigate health risks before they manifest themselves. This can be through policies — and in the manner we design, construct, and manage our buildings and cities — to proactively encourage healthy lifestyle choices and behaviors. Such an approach provides the conditions to circumvent health issues before people are negatively impacted.
Across the world, people are beginning to prioritize healthier homes, office buildings, public spaces, neighborhoods, and cities. Wellness certifications are working to address this global desire by helping architects to design spaces for health and sustainability. On the city-scale, urban planners are minimizing environmental stressors like pollution while fostering a sense of safety and walkability; addressing the social determinants of health to improve community well-being.
Only by addressing the connections between environmental health and well-being can we mitigate the effects of a changing climate and build a healthier world.
Stress and its negative impact on well-being affects all life activities.
While work is a significant stressor for most adults, research shows that Americans are also distressed by a host of external factors such as the lingering effects of the receding pandemic, political climate, inflation and random violence. More recently, studies suggest an emerging link between climate change concerns, anxiety, and mental health. One such study by the Gensler Research Institute recently found that 92% of people are concerned about climate change, with 83% of the population anxious about the impacts of environmental stressors on their physical health.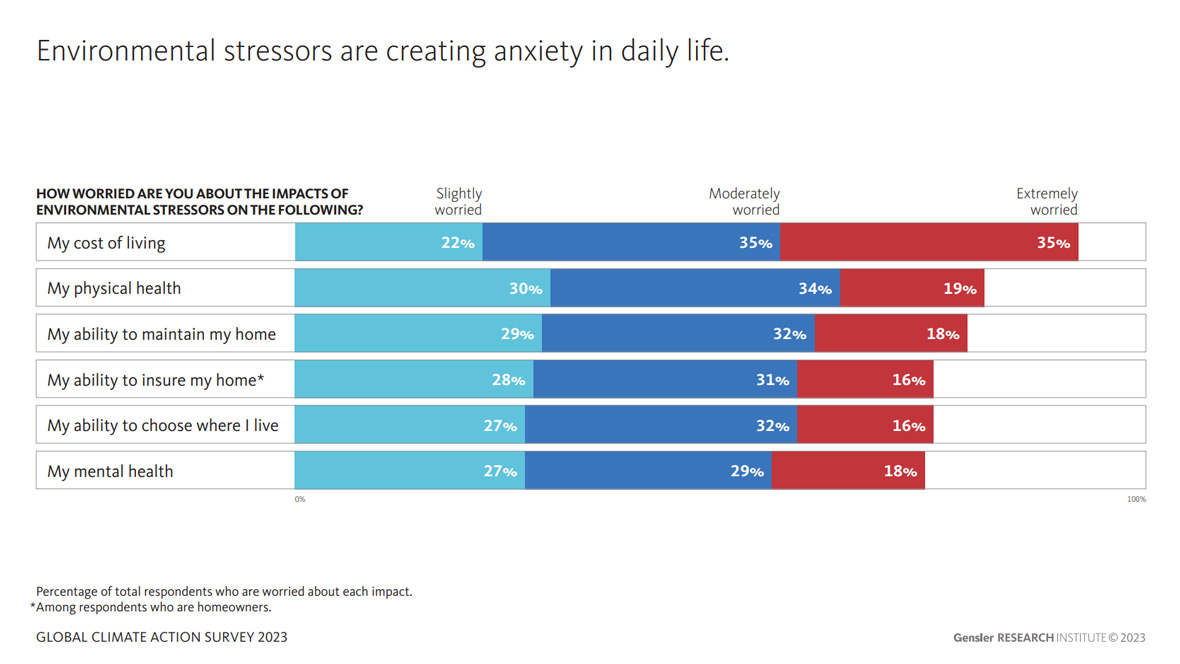 Sustained psychological stress has a negative impact on behavior (maladaptive coping issues such as overeating and alcohol consumption), and ultimately on physical and mental well-being. It is imperative that we develop strategies to help people manage stress in all spheres of life including home, work, school, social, and more. Such an effort could yield powerful benefits to improving overall population well-being.
Extreme weather exacerbates the global well-being crisis.
Climate change is not a distant concern but a rapidly unfolding crisis, with its far-reaching effects leaving an undeniable imprint on human health and well-being. In addition to devastating impacts to natural environments, the toll that the climate crisis is taking on mental, physical, and financial well-being is increasingly apparent.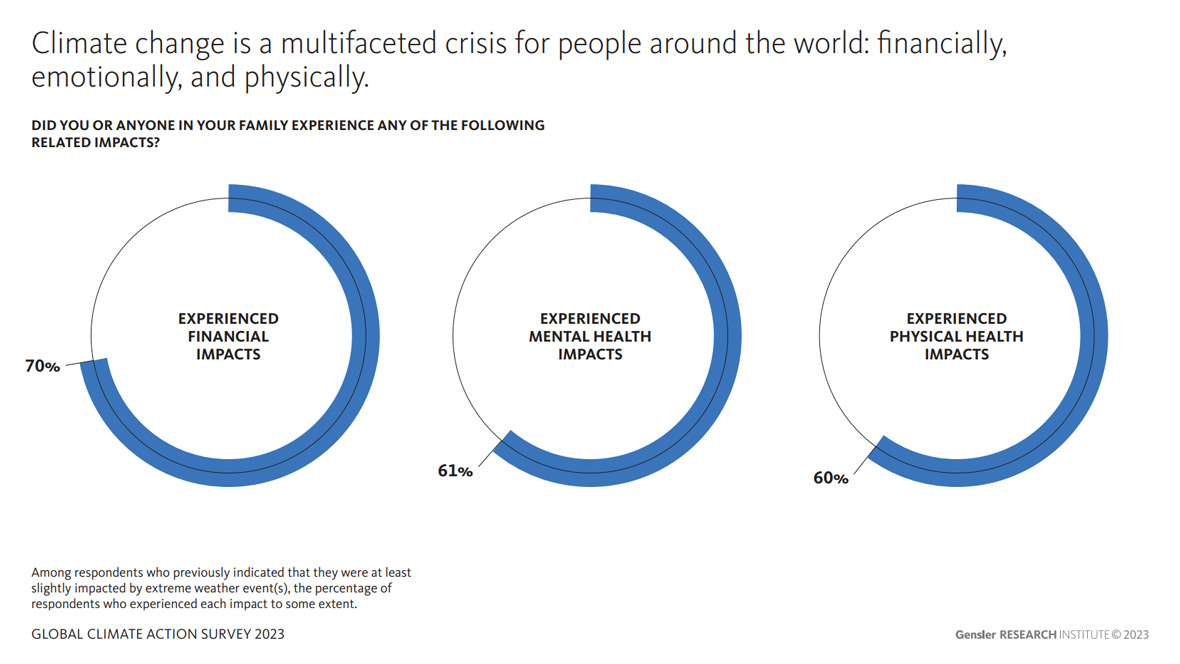 Extreme weather events, intensified by a changing climate, are exacting a heavy toll on communities everywhere. Gensler's Global Climate Action Survey 2023 found that 90% of people were recently impacted by at least one severe weather event. Of these respondents, 60% experienced physical health impacts, 61% experienced mental health impacts, and 70% experienced financial impacts as a direct result of severe weather. As the realities of climate change become more tangible, the imperative to address its multifaceted impact on human well-being grows ever more urgent.
Mental health burdens the greatest in marginalized and younger populations.
Global well-being fundamentally requires a proactive and equitable stance towards protecting health and offering strategies for resilience. Studies have found that marginalized groups such as veterans6, health care workers and people of color can suffer from greater stress due to their life experiences. Younger populations, like Generation Z and Millennials, also suffer higher than average stress than older adults. A 2022 study of Gen Z young adults found that 42% have been diagnosed with a mental health condition; the most reported symptoms being anxiety and depression. When it comes to climate change, both Gen Z and Millennial respondents experienced mental health impacts from severe weather events at rates 30% higher than Baby Boomers.
Given the outsize mental health burden of climate change on the youngest members of society, endemic stress and negative impacts on well-being will likely reverberate as a significant public health issue for decades to come. This comes at a time when environmental change stressors are increasing in both frequency and severity, driving further climate anxiety in our youngest generations.
Today's well-being crisis calls for changes to policy, programs, and places that advance global sustainability and resilience. In the face of accelerating climate change, positive design and healthy experiences offered by our cities, communities, neighborhoods, educational institutions, and workplaces are critical to proactively protecting well-being for generations to come.
For media inquiries, email .