The Case for Adaptive Reuse: How The Link Drives Sustainable Design Strategies in Downtown Denver
November 01, 2021 | By Alex Garrison
During the era of urban renewal spanning roughly the late 1950's to the 1970's, a significant portion of downtown Denver's historic fabric was cleared away. New buildings were erected to "revitalize" the city with grand — but often sanitized and impersonal — architecture. There is then some irony in re-imagining one of those buildings that symbolizes urban renewal.

Originally built in the early 1960s as a telecom office tower serving the rapidly growing economy of the American mountain west, the Link sits in the heart of downtown Denver. In recent years, however, the tower sat underutilized. Despite its prime location within the city, the Link's heavy concrete panel facades and lack of an "active" ground floor presented a major barrier for any prospective tenants. The Link simply did not have the engaging experiential qualities expected by 21st century office tenants.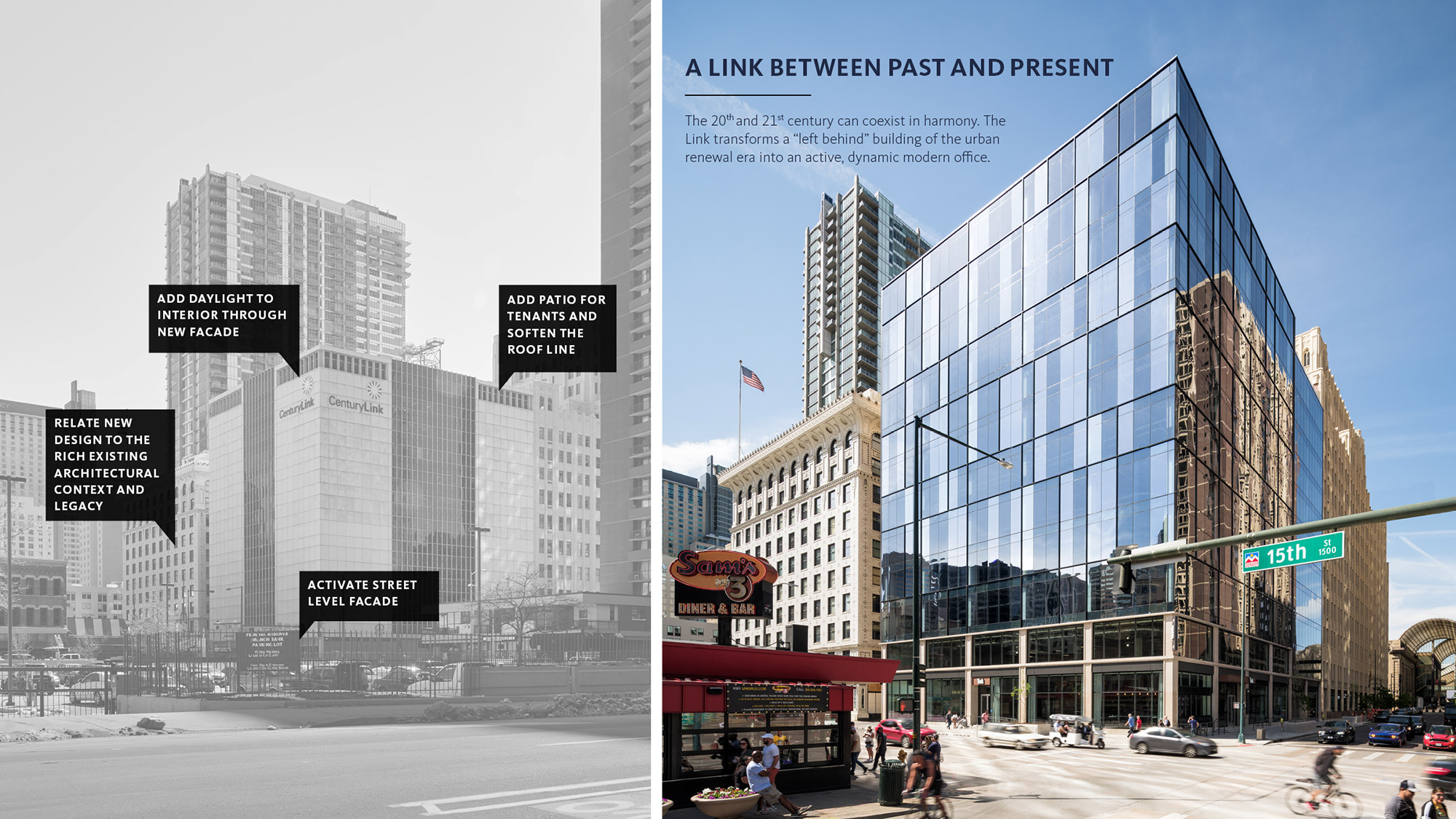 Through the tactical use of design, we brought the Link from its mid-20th century urban renewal roots into the present day. By focusing on the tenant experience, we transformed the Link into a creative, modern, mixed-use office building featuring increased access to daylight, an active ground floor, elevated health and wellness amenities like a new indoor/outdoor rooftop lounge and gym, and modernized building systems throughout. And by adapting an existing building, the Link achieved those goals at a fraction of the embodied carbon cost — around 68% less CO2 — than an equivalent new build.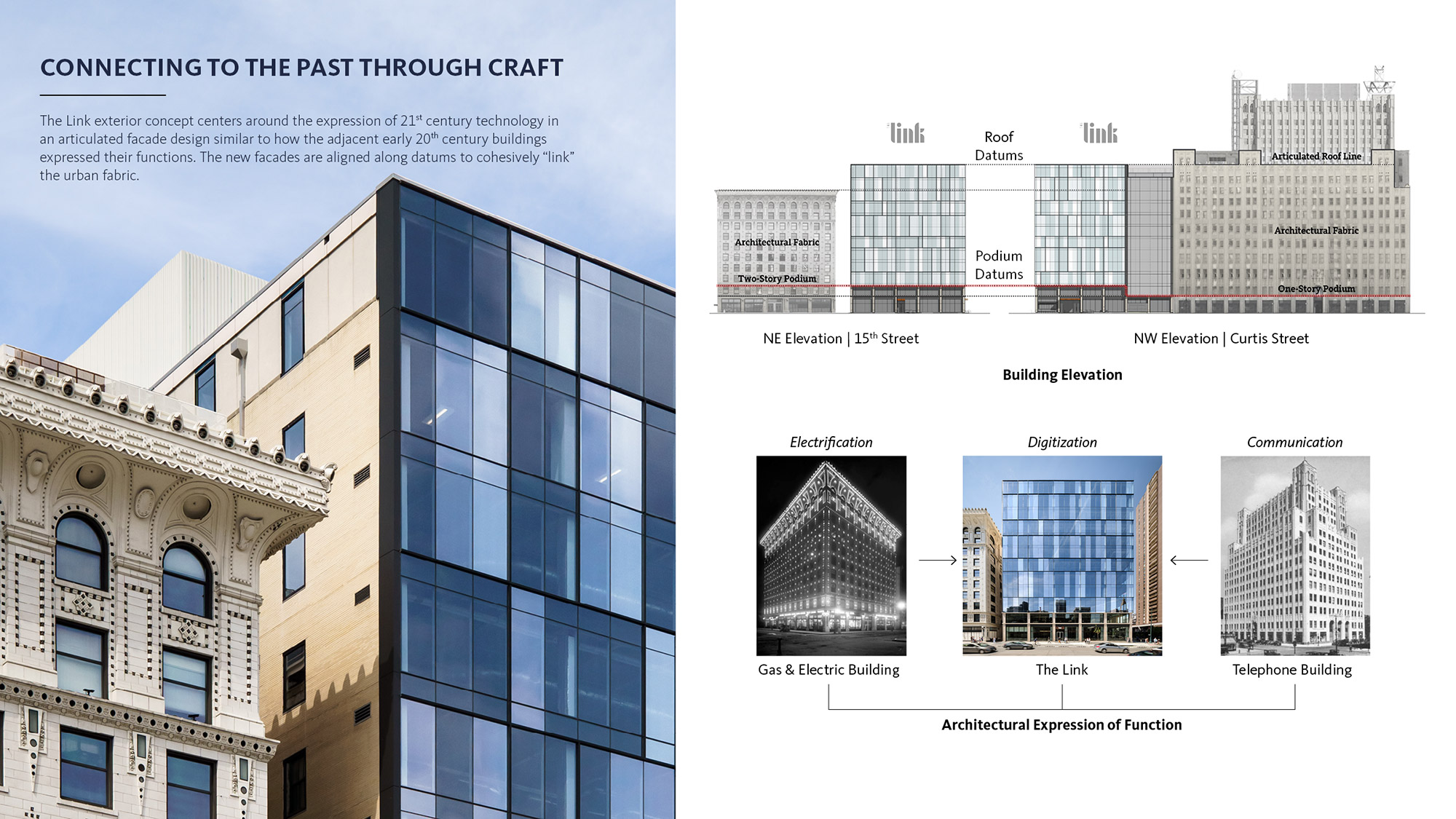 The concept is simple: the most sustainable building is the one you do not have to build.
Renovations of existing buildings have an inherent advantage over ground-up construction in that they do not require an entirely new structure. According to the US Energy Information Administration (EIA), concrete, steel, and aluminum together account for 23% of total global emissions. Since most commercial construction is still built using concrete and steel, the reuse of existing structures can have a significant impact on carbon reduction right out of the gate.
The Link, built primarily from concrete and steel, proves this concept. With an existing structure already in place, we leveraged the building's bones to craft a new design that caters to current expectations for a healthier, happier, more daylit workplace. We left in place core walls, elevators, plumbing, heating systems, and other components of the original construction that could be salvaged through minimal upgrades. Our new design considered existing infrastructure throughout the building to avoid overly destructive renovation work while simultaneously adding completely new features and amenity areas, such as:
Increased access to daylight through a new high-performance curtainwall that also defines a new architectural character.
An activated ground floor that blends retail and office functions into a hospitality-inspired lobby.
Elevated health and wellness amenities with a new rooftop patio, gym, and lounge connected by operable sliding glass doors.
Modernized building systems.
Despite the complete transformation of the Link, the ability to leverage its existing structure had a significant impact on the project's carbon footprint. With the newly reimagined façade, ground floor, and amenity areas, the Link now competes with the latest commercial office buildings while accounting for only one-third of the embodied carbon compared to building new.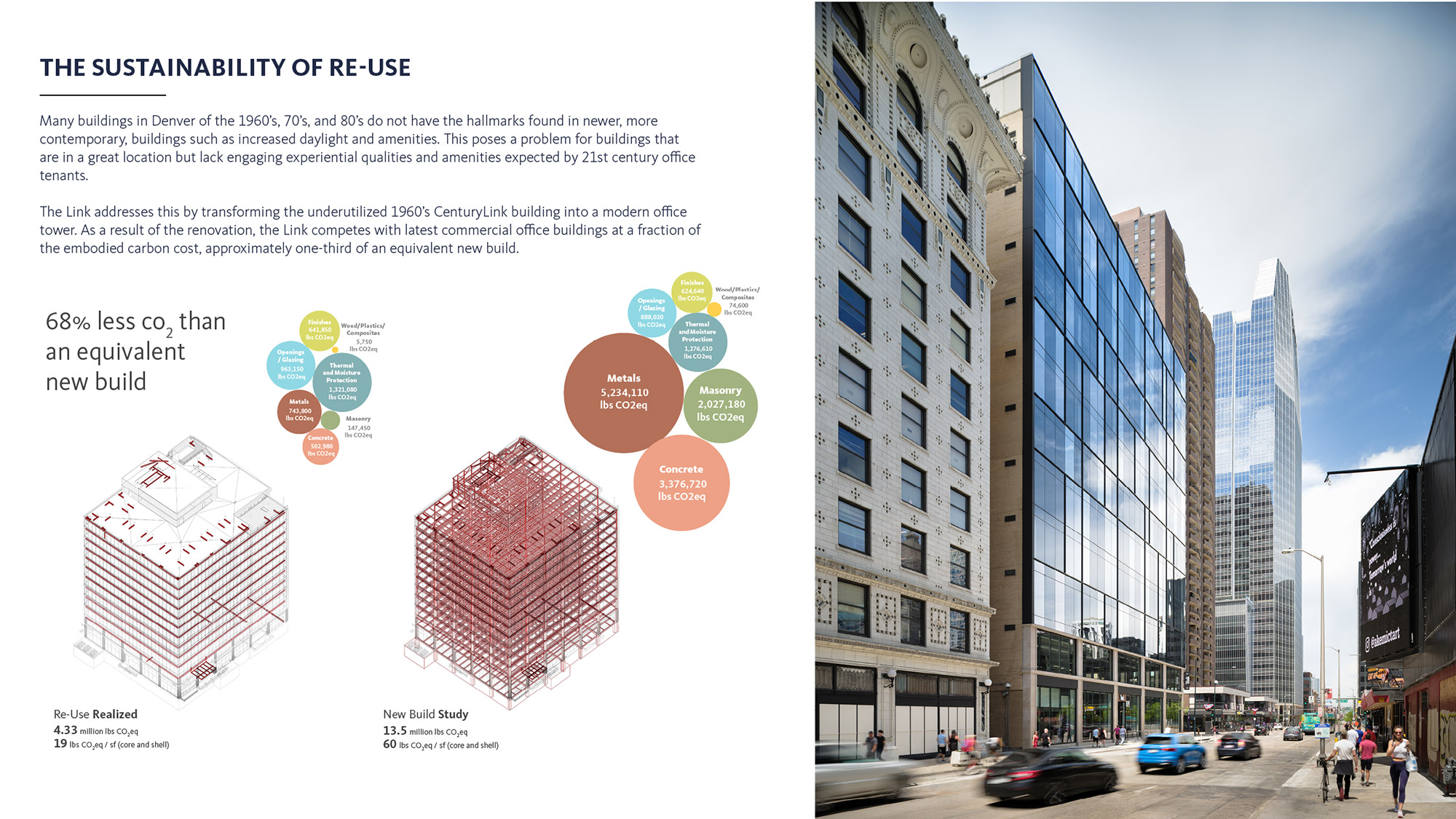 The future of our cities is already here.
Movies set in the future often depict either gleaming utopian cities of glass and perfectly manicured parks or gritty patched-together dystopian cities of uncaring architecture and struggle. This might make for good entertainment but as a design point of view lacks any understanding of our nuanced world.
There is a better way forward that honors the past with an aspirational eye towards the future — where cities continually improve their urban fabric through thoughtful and strategic evolution. Infill projects, renovations, and adaptive reuse offer a far more sustainable future that can simultaneously honor the past while improving upon our shared legacy. By capitalizing on the already-built good structural bones all around us, we are afforded excellent opportunities to transform seemingly left-behind buildings into projects that embrace contemporary wellness and a more inclusive paradigm.
Design is a powerful tool and catalyst for enacting this transformation in all our cities. As practitioners of design, we are trained to see possibility. Every built structure has possibility and should be considered thoughtfully as a candidate for reuse.
For media inquiries, email .