The Most Timeless Design Differentiator Is Technology
May 25, 2021 | By Erin Greer, Lucas Roberts
The history of architecture is a story of the interplay between art and science, and between imagination and engineering. As such, it has always been — and will always be — a story about technology and what people can create with it. No other form of human expression is as dependent on the tools people develop, and none puts those tools to such necessary and celebratory use.
In the past year, we have seen our practice evolve and transform thanks to a number of proprietary computational design tools Gensler has developed. gFloorz™ is one, which our colleagues Janet Pogue and Joseph Joseph unveiled in late 2020. We use this program to carry out test fits with real-time participation and feedback from clients, and to do so in a simulated, data-rich environment where we can envision, implement, and evaluate the implications of design decisions instantly. Blox™, another proprietary Gensler program, performs similar functions for site planning and core and shell architecture.
These tools are turning heads — quickly. In March, Fast Company named Gensler as one of the top 10 most innovative architecture companies for 2021, recognizing how our overarching vision and investment in technology will affect positive change by enabling our practitioners to work more quickly and collaboratively alongside clients and colleagues. And now, our technology investments are leading to new partnerships and project endeavors.
Unlocking more effective — and more fun — collaborations.
The Center for Global Health Innovation (CGHI) is a first-of-its-kind 501c3 organization resulting from the merger of the Georgia Global Health Alliance and Georgia Bio, formed to make the global response to future health crises more effective. As GGHI created a business plan to make their project viable, they linked up with our designers in Atlanta, who used gFloorz to explore options for a potential space and to help prove the program beta. Time was of the essence in this situation, as was cost minimization — a must when an organization is in the process of going out to market and generating buy-in. The result with CGHI, as with so many of our partners at this growth stage, is that computational design insights provided the hard data that leadership, investors, and employees crave.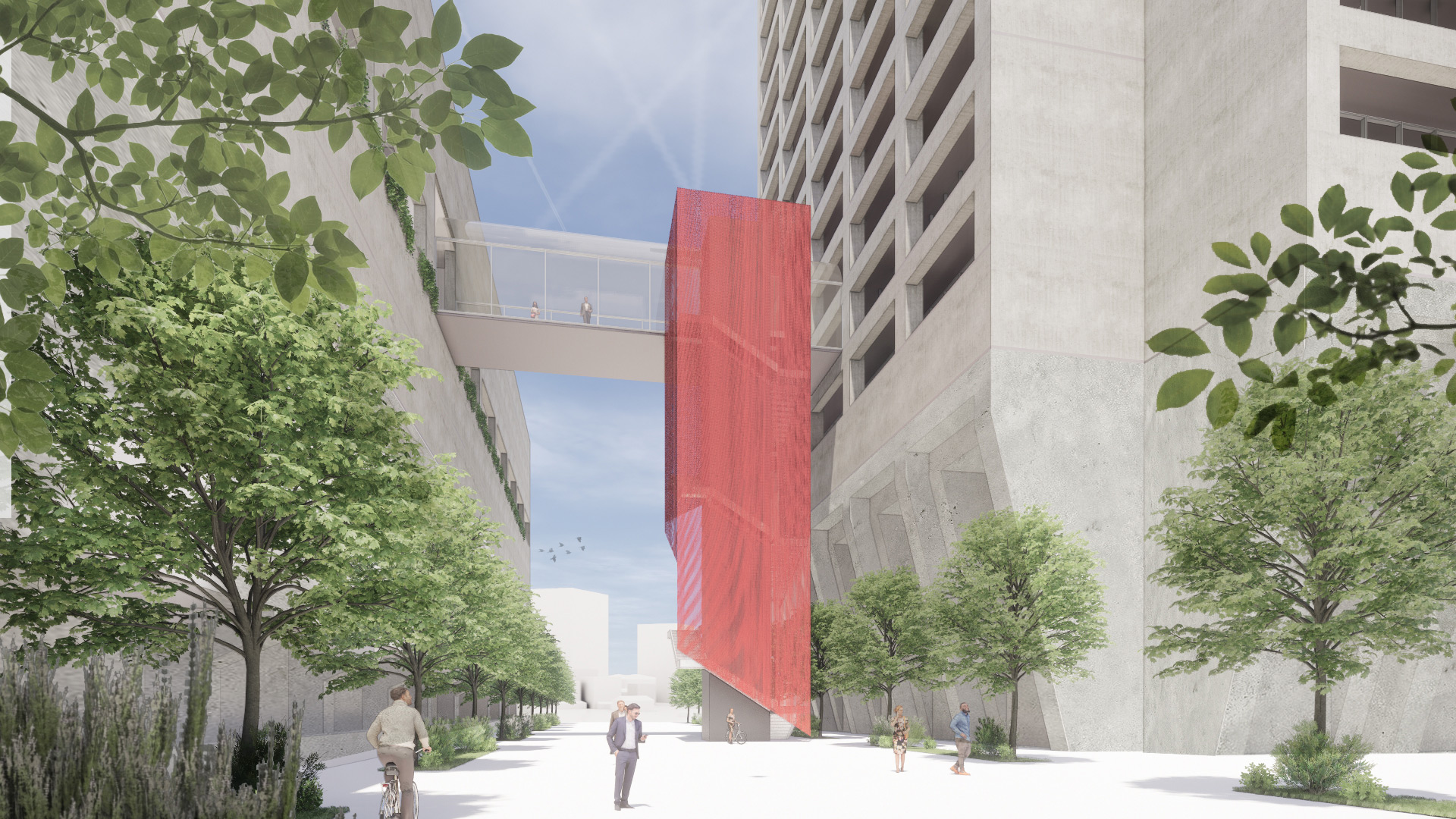 We also worked with QGenda, a software company based in Atlanta, to envision their new space. Our high-end visualization tools were the star of the show during one of our key meetings. The photo below is a memory that will always stand out to us, in which QGenda CEO Greg Benoit, using VR goggles to get immersed in the imagined space and duck under virtual desks, offers us tweaks and adjustments that we could incorporate in real time.
A day productively spent, to be sure. But this was also, well, fun. It's why we wanted to be architects and designers in the first place. And, amazingly, we're hearing from clients that even our completely virtual interactions have been genuinely enjoyable because of these programs. This is a game-changer for the substance of our client relationships.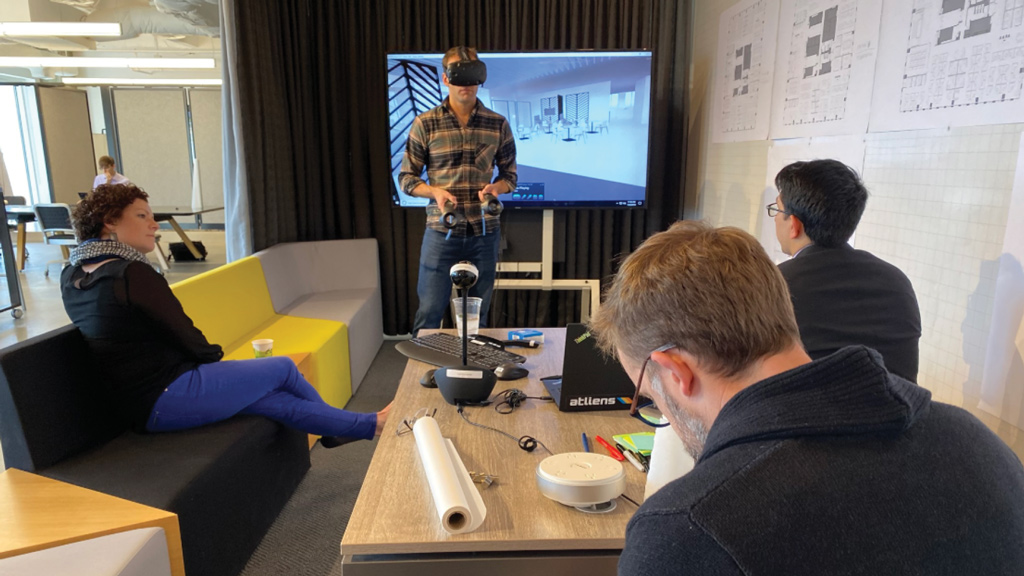 It's not always easy to build bridges across industries. Designers are used to making decisions based on aesthetics, whereas technologists may assign a higher value to data, and lawyers will prioritize hard evidence. With our computational design tools, we have a newfound ability to unify these approaches. When we use gFloorz and Blox, our clients can participate in design conversations on their own terms. This results in decisions that aren't based on gut feelings — they're informed by rigorous data and a far richer collaborative process than was possible years ago.
Mitigating risks while embracing our human connections.
While it may not be the sexiest topic in the world, the risk mitigation that computational design offers is a huge deal. A seat counting mistake on one floor may be easy enough to correct, but the same mistake multiplied across twenty floors could incur a serious cost. Computational design reduces opportunities for human error, which means we can reduce the risks that were once inherent in the design process.
For a major confidential technology client of ours, gFloorz has proved instrumental in validating how a current project has developed in comparison to the original program. Performing this status check enables us to establish a baseline against which to compare changes in terms of cost as we move forward in program management; each edit, from a half percent adjustment in density to moving a single conference room, can be understood immediately in terms of impact on the project budget and overall metrics.
Perhaps most importantly, computational design frees up our designers to spend more time and energy on the human side of client relationships, and in performing the creatively demanding tasks and thought leadership that showcase them at their best.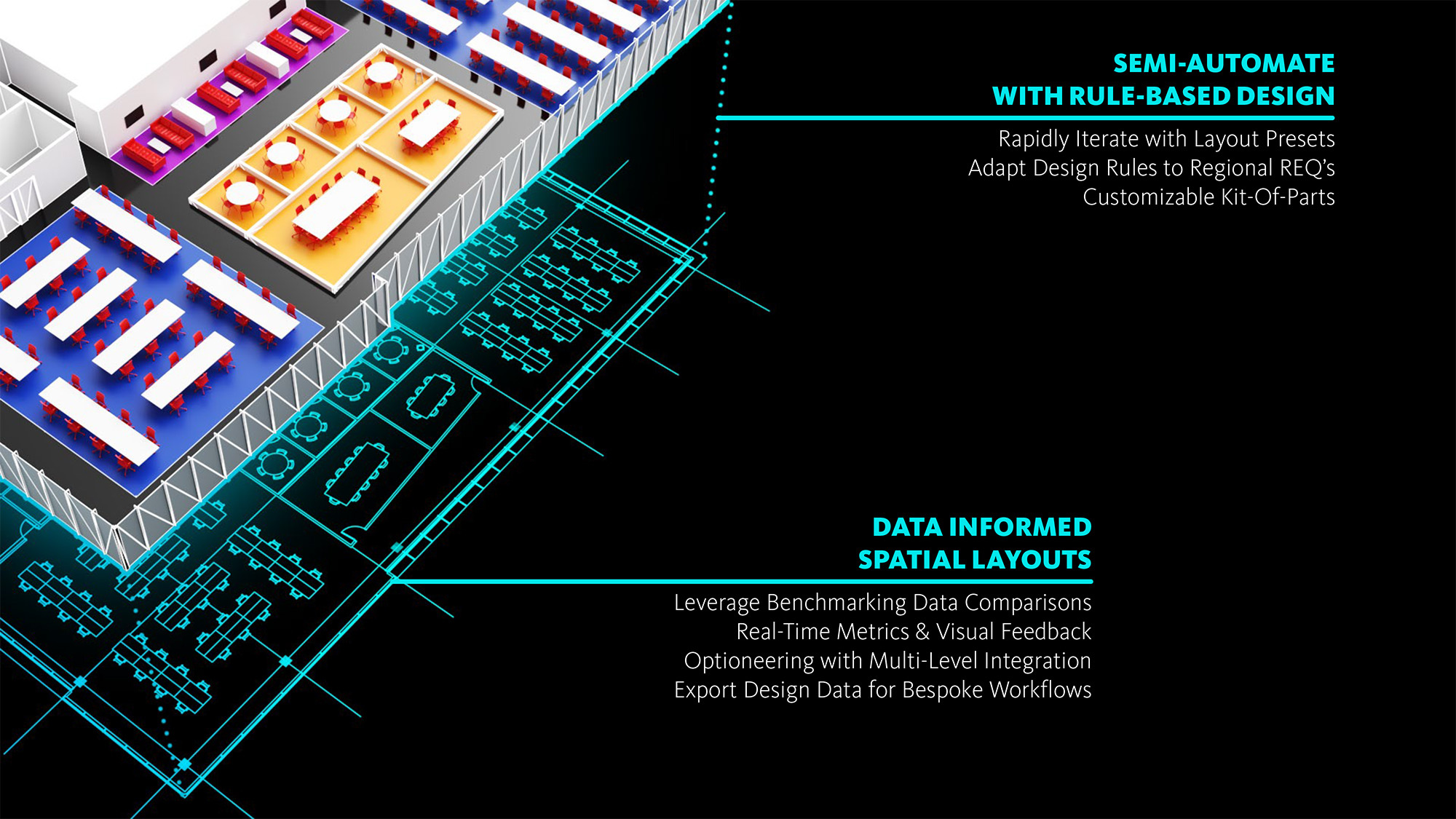 New frontiers: It only gets better from here.
As with so many responses to the COVID-19 pandemic, designing for health and wellness in the workplace has undergone an acceleration that was unthinkable just a year ago. Crocker Partners, a developer in the Southeast Region, recently tasked Gensler with developing a wellness spec suite that could pull together the best of modern healthy workplace features. Here, gFloorz enabled us to plug and play with augmented HVAC systems, strategically clustered collaboration areas, and multiple entrances. Because of the high volume of requests across multiple building types, the proprietary tools made all the difference, allowing us to make changes on the fly and adjust in real time as Crocker Partners explored alternatives.
We have some exciting next steps in mind, including plugins that expand what computational design can tell us. One realm in which this can make an immediate impact is sustainability, so clients can see the expected environmental impact of each decision they make. We're able to push forward with these technologies thanks to continued partnerships with companies like Nvidia and Disney Imagineering, and we eagerly await the opportunity to dive even deeper in the coming years. As we speak, we are using Blox to actively evaluate sites that we think have potential during a post-pandemic market swing, and then taking our ideas to potential developers.
Aqueducts and reinforced concrete were yesterday. Computational design and enhanced visualization are today. We have a new toolbox, but architecture's story continues as it always has.
For media inquiries, email .