Trends to Watch: The Evolution of the Sciences Workplace
May 30, 2023 | By Ed Palushock
Over the past several years, the science industry has grown in the Puget Sound region, with this building type garnering substantial attention in our post-pandemic economy. The sciences market has experienced the collateral effects of the softening office real estate market and the temporary slowdown of venture capital. Despite the tempering of growth, this sector rests in a position of strength for its next evolution.
Looking across our region as well as to other cities, the low inventory and finite parcels will likely bring increasing competitiveness to delivering new space. We are anticipating the following factors coming into play as owners and developers in the Puget Sound region look to find space, increase existing efficiency, and strategize scientific development.
Proximity to tech districts and universities will drive where companies choose an address.
Science developments have traditionally established themselves around anchoring institutions or existing clusters. Most science work needs to be performed in person, where there is a reliance on networks, resources, knowledge, and talent. For the Seattle area market, clusters have emerged around several institutions, including a number of University of Washington research centers, the Allen Institute, and the Fred Hutchinson Cancer Center, among others.
As central institutional clusters such as Eastlake, South Lake Union, and Bothell densify, future development has begun and will likely continue into their peripheries. New development projects such as at 222 Fifth Avenue bring new science uses to the doorstep of Seattle Center, while creating the potential for new sub-clusters or tech centers forming. This instance of blending building-specific spaces with localized neighborhood amenities in proximity to major institutions creates new offerings of "more" for researchers and scientists.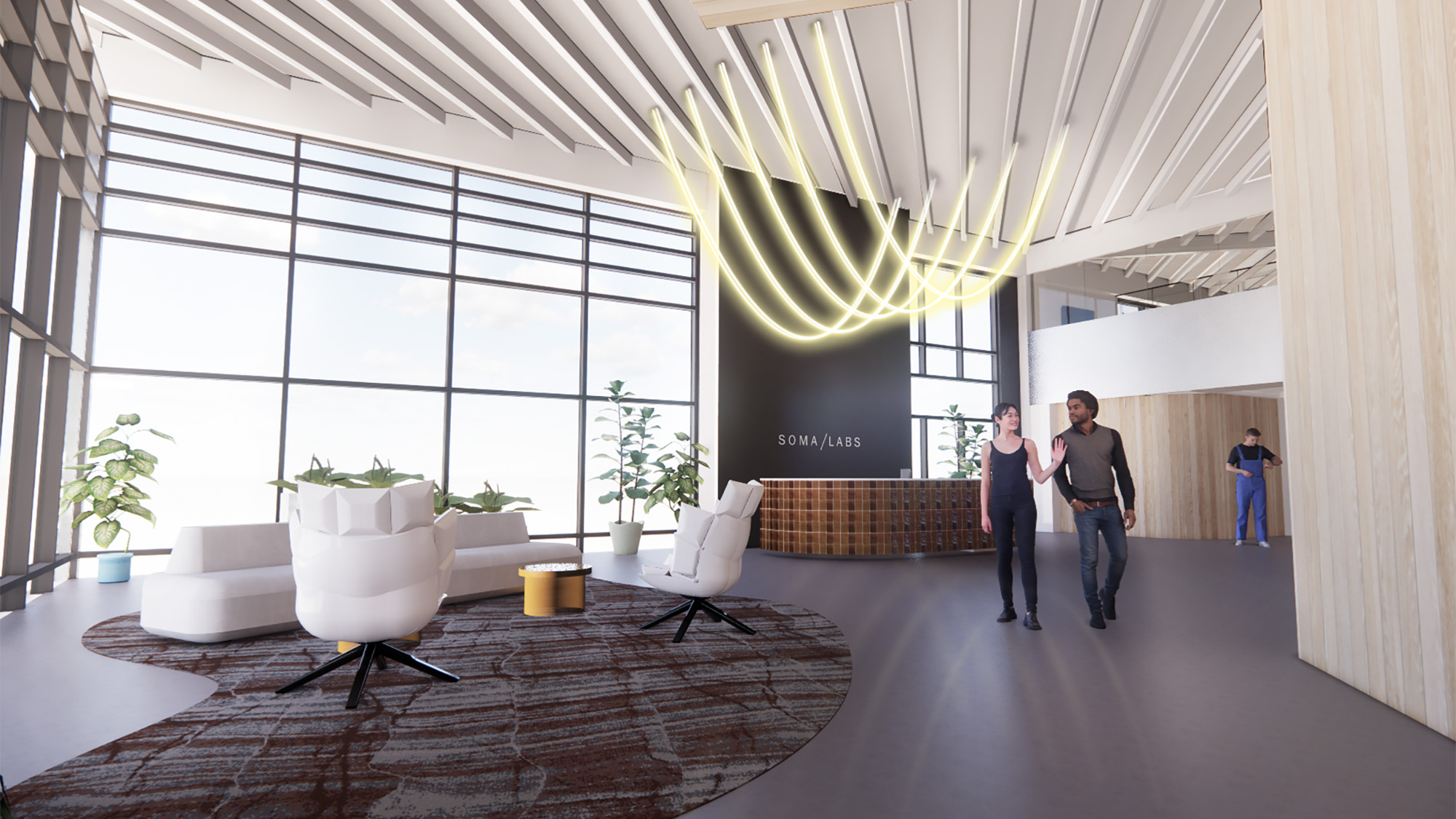 Large capital investments will make office-to-lab conversions more frequent, sophisticated, and muscular.
In a post-pandemic environment, repositioning existing office spaces to other uses increases diversity of active uses. Converting existing office space into production-ready, speculative lab suites offers early-stage startups and science companies an opportunity for them to begin work sooner while addressing larger ESG or sustainability aspirations. While this approach is not limited to existing buildings, we are finding this repurposing approach also being applied to new development either just prior to commencing construction or during construction.
While each existing building offers its own set of unique conditions affecting the degree of improvements to be made, in low-rise buildings these improvements can be more readily addressed. The robustness of the existing structure, column grid spacing, floor-to-floor heights, HVAC pathways, and other features all necessitate careful evaluation. Pairing available solutions on the market to address potential challenges can be creatively found, such as dampening devices applied to existing building structure that might not otherwise be stiff enough to address lab vibration criteria.
Controlling air exchange could yield global energy reduction for labs and other energy-intensive buildings.
The average energy usage of science buildings consumes up to ten times more energy than a typical office building. One contributing feature of this intensity is the number of air changes required, which could be up to six more air changes per hour. Lab spaces built on spec commonly over-compensate on base building systems to maintain a high degree of flexibility for potential lab companies or researchers.
Lab space as a spatial typology has not dramatically evolved over the past 20 or even 40 years. New approaches that consider demand-based systems could allow "right-sizing" ventilation usage and could lead toward potentially a two to four reduction in air-changes and reducing operational energy, while still providing a flexible, speculative approach in base building systems. Additionally, if segregated office space was allocated into a design, those spaces could utilize natural ventilation approaches to reduce the over-conditioning of all interior spaces.
Artificial Intelligence (AI) and the Internet of Things (IoT) will transform labs and offices into efficient and responsive intelligent spaces.
In our lab planning efforts, we have been seeing an increased amount of equipment that has helped researchers and scientists collect, analyze, and process data. As software begins to include aspects of AI for processing automation, the ability to make near-immediate connections between what is being initially reviewed and previously run data sets is expected to open greater potential. While AI is still in its earliest stages, the ability to mass-analyze and draw new relationships is astounding. We've already been seeing a trend towards dedicated labs for mass processing, so an ability to bring this greater range of discovery into the lab space is already on its way to happening.
With the likelihood of more equipment and processing time at our doorsteps, the current lab space typology again comes into question. It's expected that the immediate realization will be a shift in the allocation of office and lab space. Preparing our new lab projects for resiliency in accommodating more processing equipment is one part of the future of labs. Additional considerations include the impacts on the researchers' and scientists' daily activities, roles, and newfound time allocated to science, and how this affects the spatial workplaces we are making.
The largest science companies in the Puget Sound region have adopted ESG goals, which most commonly aim towards minimizing operational carbon, reducing potable water usage, and decreasing waste to landfills. Taken in combination with their anticipated commitments to established clusters, increased repositioning of existing buildings to begin the science work, sustainability aspirations, and the forthcoming efficiency in processing makes the science workplace ripe for change.
For media inquiries, email .