Trends to Watch: What's Next for Media Workplaces?
April 13, 2023 | By Johnathan Sandler
Editor's Note: This blog is part of our Design Forecast blog series, looking at what's next in 2023 and beyond.
In Gensler's most recent Workplace Survey, the media sector stood out as an industry that is looking for something especially different in their workplace. Perhaps this isn't surprising given the disruption that streaming, social media, and new immersive technologies have had on all media sectors. More so than most other industries, media employees recognize the importance of the physical workplace, reporting they would 'vote with their feet' and return to the workplace — if it was for the right workplace experience.
Here are four factors driving the future of media workplaces and their unique set of needs:
1. The Work Itself Has Changed
One of the most notable findings in Gensler's Workplace Survey is the degree to which the type of work undertaken by media employees has changed in the last 5+ years — regardless of whether at home or in the office. Today, media employees report spending only 28% of their time working alone, compared to 49% in 2016. The time previously spent working solo has shifted to working with others virtually, learning, and socializing. Most workplaces haven't caught up with the highly collaborative, highly social nature of how the media industry works today — but they need to in order to provide employees with the spaces that align with today's expectations while recapturing square footage that will otherwise remain underutilized.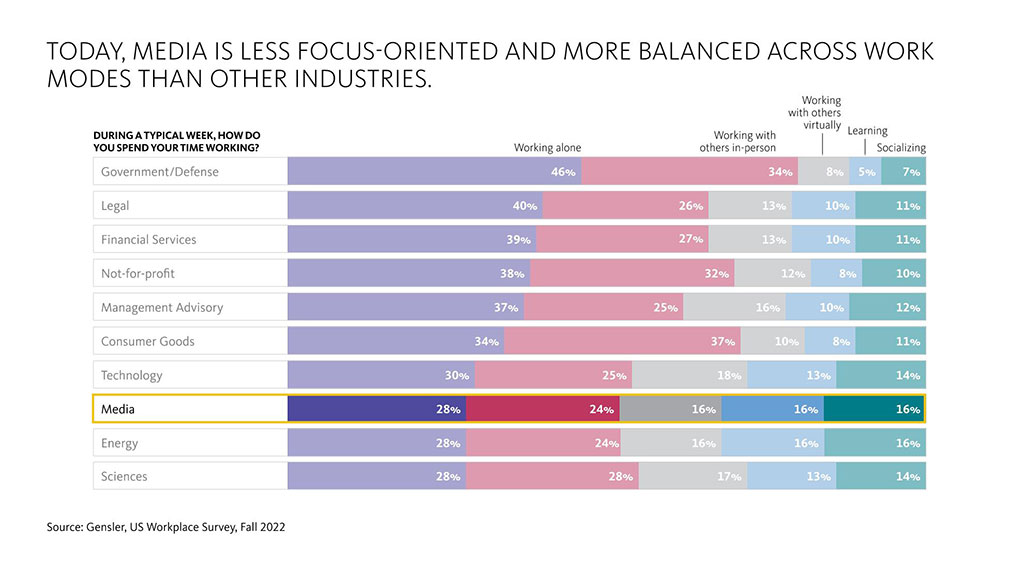 2. A Highly Mobile Population
Media employees report being in the office less than 40% the time, which is low compared to other industries. But what's different about media is that these employees spend a significant portion of their time at "other locations," including coworking spaces, client/partner locations, traveling, and spaces unique to media — such as offsite studios and production facilities. Media employees appear to work from a greater variety of locations than almost any other industry. While some of this mobility will never go away, if a company's goal is to make their offices more of a center of gravity, co-locating more studios and production spaces with workspaces — and prioritizing spaces, technology, and hospitality-level amenities — will encourage clients and partners to choose the office over alternatives.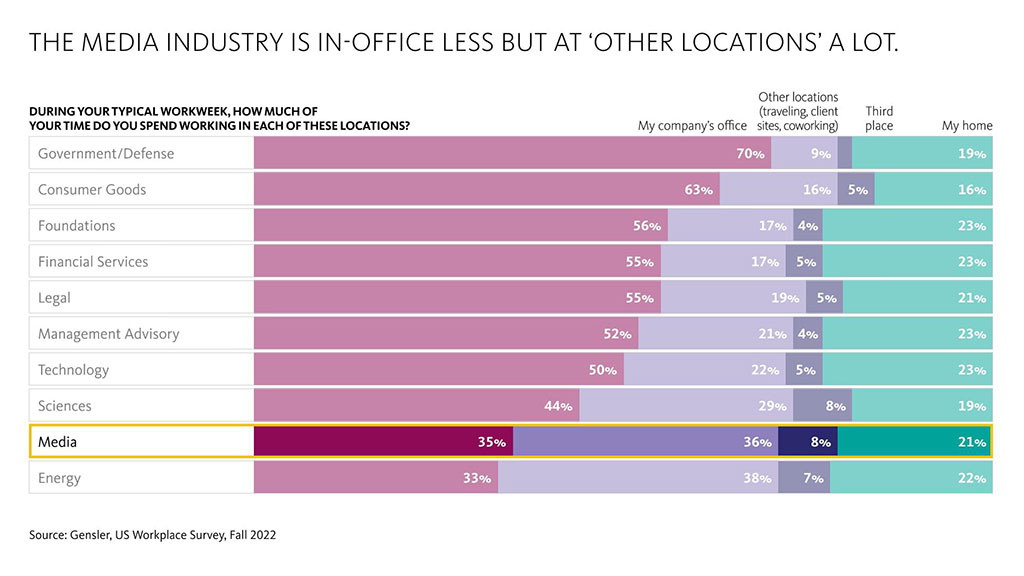 3. A Workplace That Is the Envy of Millennials and Gen Z
Across most questions in our survey, media's overall responses align with the viewpoints of Millennials and Gen Z across all industries — including a desire for a less corporate, and a more informal and dynamic work experience. Similarly, media and younger generations overall report a workstyle that emphasizes in-person and virtual collaboration, socializing and learning, and less individual focus work. Remarkably, 51% of media respondents said they would choose to come to the office one day more a week if they had their ideal work experience. This presents a unique opportunity for media companies to rethink their workplace experiences for their existing employees and simultaneously appeal to Millennials and Gen Z — the latter of which will soon make up an overwhelming majority of the workforce. This will also enable media companies to distinguish themselves in the broader labor market by delivering what the upcoming generations are not just craving but demanding.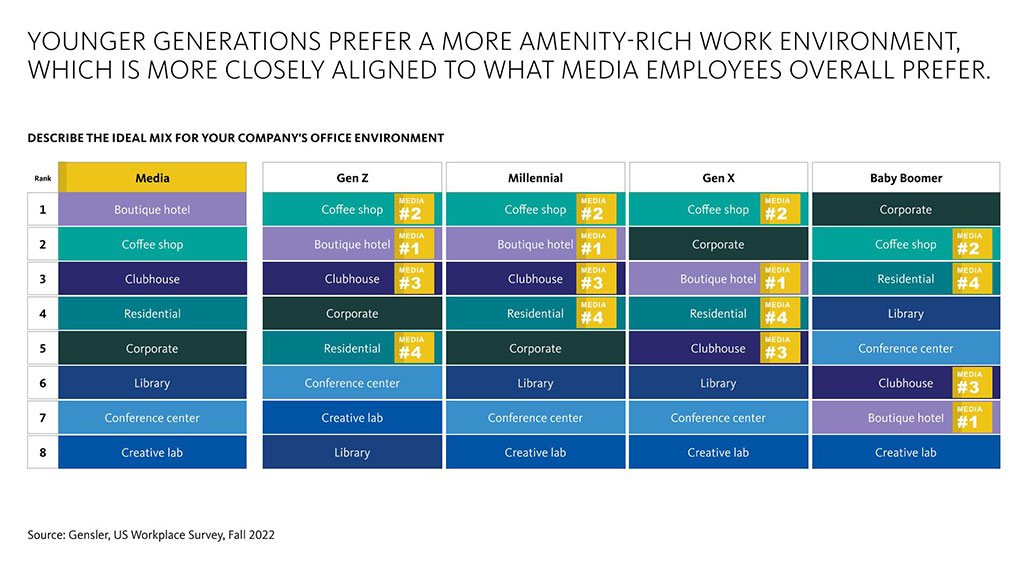 4. Media Employees' Needs Are Nuanced
Our survey also showed that media employees are more driven to return to the office "To access specific spaces, materials, and resources" — again, think studios, production spaces, and other creative areas. Another factor was for "Impromptu, Face-to-Face Time." This points to a need for more spaces that act as magnets to bring people together, and a planning approach that incentivizes connectedness and opportunities to congregate. Media employees also note that 60% of meetings involve a virtual participant, which is higher than other industries. Creating spaces that can effectively accommodate these hybrid meetings, which are here to stay, is a top priority for quickly improving workplace performance.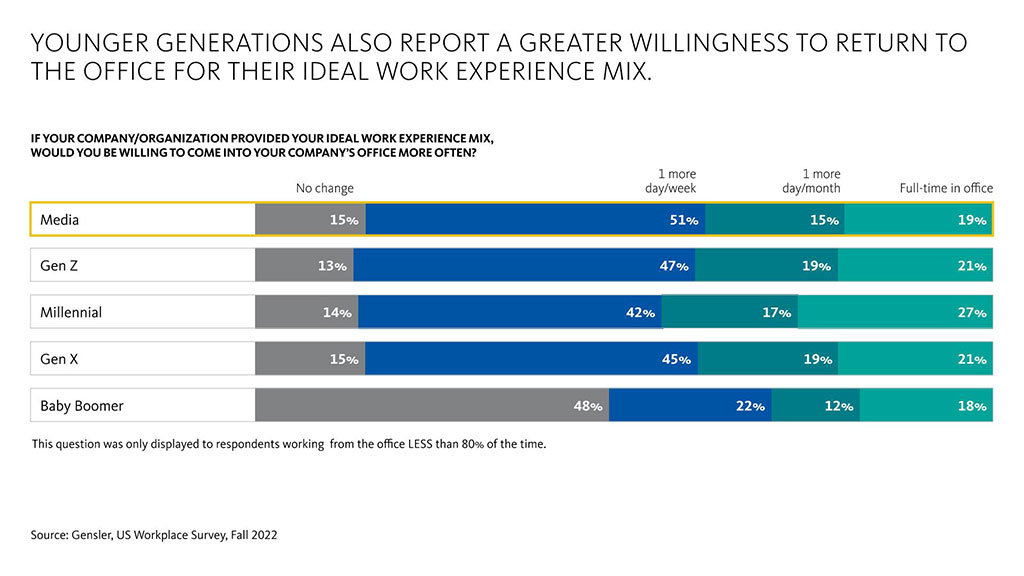 As the media sector enters its next stage of growth, what defines the workplace must be reexamined to accommodate the industry's recent evolution — and to recognize how much the energy, atmosphere, and the overall experience matters to talent.
For media inquiries, email .