Using Technology to Help Solve Persistent Accessibility Problems in Public Transit
December 21, 2021 | By Christopher Rzomp
With the recent passage of the Infrastructure Investment and Jobs Act, legislators are making a $1.75 billion fund available for transportation providers to improve the accessibility of their systems. It's a move that many consider long overdue. More than 20% of the Americans have some level of disability, and nearly the same percentage of transit stations were not fully accessible as of 2019. For the millions of individuals with visual, cognitive, or mobility challenges, accessing stations via elevators or even physically boarding a train or bus are still real daily concerns. Thirty one years after the passage of the Americans with Disabilities Act, we are not where we should be.
For many legacy stations, their historic nature contributes to the challenge. Amtrak's Northeast Corridor grew out of the Pennsylvania Railroad's initial completion in 1834, obviously well before the ADA era when addressing accessibility became a legal mandate. One of its hubs, Washington Union Station, still has some low platforms with limited elevator access due to its original design, making access and boarding for some trains difficult and requiring the assistance of Amtrak staff.
The situation is even more challenging in extremely dense urban environments where existing infrastructure is stacked and intertangled. As a case in point, the New York City subway system began its operation in 1904, and to this day fewer than a quarter of its stations have elevators. In such contexts, full-scale redesigns may not be financially feasible.
For accessibility goals, personal mobile devices are an underutilized tool.
As transit systems of all sizes grapple with accessibility among their many concerns, they are turning to technology for creative solutions. In June of 2021, the Southeastern Pennsylvania Transit Authority (SEPTA) partnered with the City of Philadelphia to announce the SEPTA For All Challenge. This open challenge requested ideas on how to develop an Augmented Reality (AR) tool to help people with disabilities better utilize public transit and navigate the city. To Gensler, this represented an opportunity to combine our expertise and collaborate across diverse practice areas including transportation, design technology, and digital experience design to address these critical needs for public transit riders.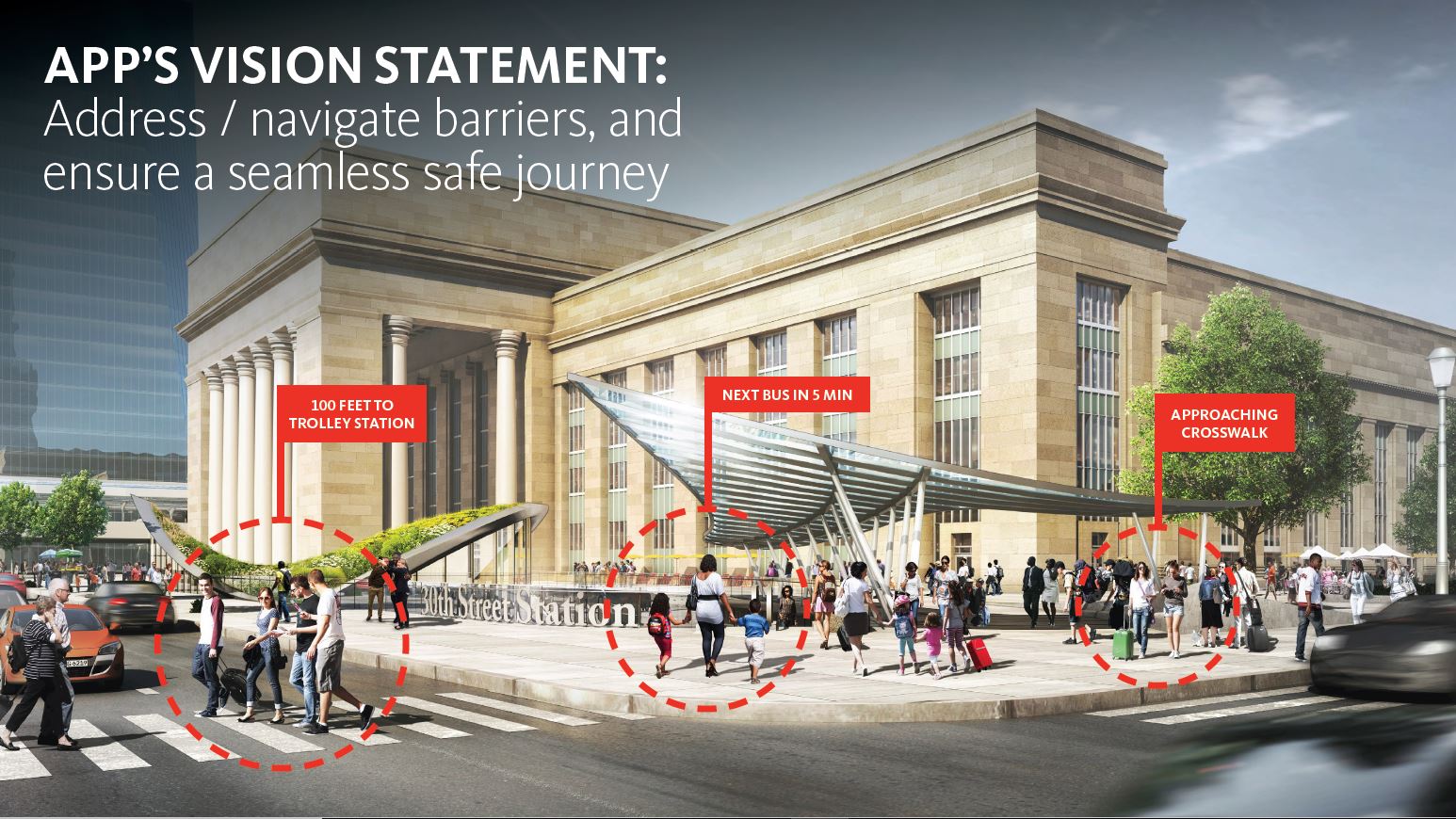 Our winning submission, built by my colleagues Victor Martinez, Razan Altiraifi, and Jordan Parsons in Gensler's Digital Experience Design (DXD) practice, is an AR application for mobile devices that is downloadable just like any other app on one's phone. It ties real-time transit information with the physical environment to provide information to those with disabilities regarding what their transit options are and how best to navigate any interruptions in their journey.
Once the user enters a destination, the app integrates with the SEPTA schedule system to provide real time information for all of the most efficient transit options to that destination. The app then uses the mobile device as a navigation tool to assist the user in their journey, providing warnings when a physical barrier may intrude on their path and providing visual or audio guidance to help them along the route. In practice, it works like a guide dog, but on one's phone. Once piloted, the tool will also provide real time information on disruptions or delays, as well as information on how to manage them.
Reimagining the user's journey, from home to destination.
Accessibility is not just about elevators and ramps. An individual's travel experience starts in their living room. Making choices on how best to get to and from a station or bus stop is a critical first part in the journey.
For some, these choices may be starkly limited. Cities, after all, are often fraught with dangerous intersections and construction closures. Getting to the nearest bus stop or deciding on the quickest mode of travel can be a difficult proposition for people with physical or visual challenges. Navigating while also unsure if you will catch your train or bus only makes the experience more stressful.
To address both issues simultaneously, the app provides navigation from the home to the station through augmented reality while also providing real-time schedule updates. The app can thus serve as a comprehensive tool to improve accessibility in a way that goes far beyond a station's four walls.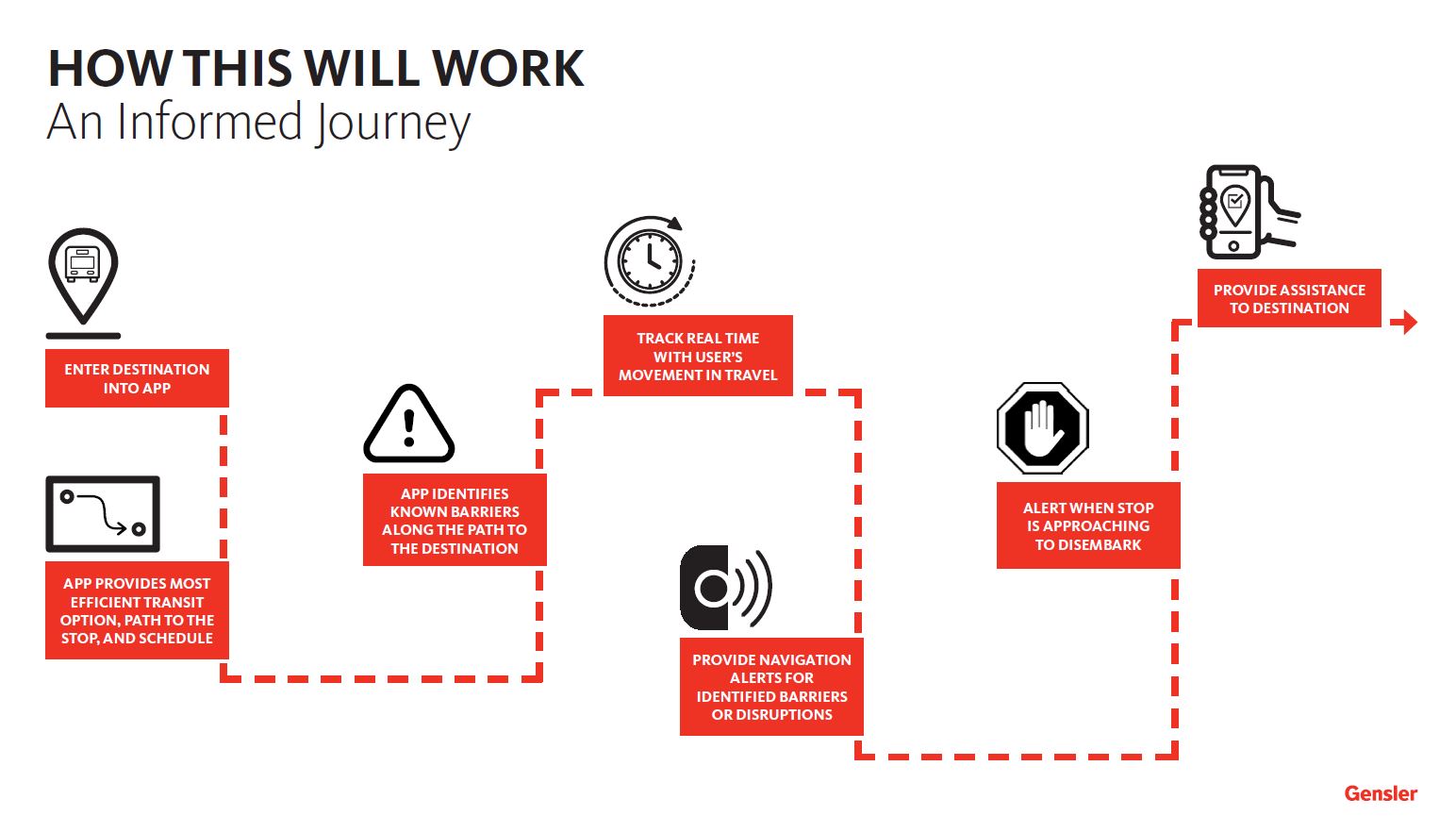 Physical infrastructure isn't the whole story.
Going beyond physical design solutions by using technology and other innovative tools will be necessary to advance universal accessibility, and I believe apps like these are only the beginning. The development of new AR hardware will enable individuals to use eye movement or voice commands to control the journey, with possibilities for real-time feedback functions to eliminate any errors and streamline the experience. Riders could even reach out directly to station staff in advance for any additional assistance needed.
Regardless of whether achieving full ADA compliance is feasible at every single historic station, the goal of universal accessibility remains. Making public transit accessible to all, regardless of ability, must be a fundamental goal for public transportation.
Mobile devices were still in their infancy when the ADA was passed in 1990, and it is high time that and transit operators and designers took strides to unlock the full potential of such devices. For people with disabilities, the impact could be nothing short of transformative. In taking this path, we could make our public transportation systems both more efficient and more equitable for all.
For media inquiries, email .