Want Your Organization to be More Creative? Embrace these Four Workplace Strategies
By Johnathan Sandler
Creativity is the secret sauce in the success of every business. The best businesses across every sector operate as idea factories. When you think of creative businesses, you may think of companies like Apple or Pixar. But today, encouraging creativity is a must in every business, from law firms to banks to media companies. A creative culture arises from many factors — who you hire, your reward system, how you structure teams — but the space you house it all in can be a huge amplifier of creativity. Here are four things I've seen supercharge creativity on our recent projects:
1. Mixing Unlike Minds
As the old axiom goes, great minds think alike. But there is evidence that the real truth is great minds often think differently — and connecting different points of view spurs on creativity. As a result, creative companies are bringing in outside voices and actively connecting individuals across their distinct businesses. Many organizations are creating coworking spaces for their staff or accelerators for emerging, external businesses to help germinate ideas onsite. These can be fully integrated or, more typically, onsite but separated. This is all part of a shift to workplaces that embrace outside minds while simultaneously safeguarding confidential information.
2. Showcasing the (Sometimes Messy) Process
A workplace that celebrates the products, content, or innovations inspires those who work there. This is true for all employees, not just the ones specifically working on content or product development. The divide we used to see between the war rooms, the labs, the newsroom, and the general workplace is eroding. By showcasing creative work at all stages of the process — from idea generation to testing to marketing — a narrative office tells the story of the work as it unfolds, allowing various teams to see how their own roles contribute to the final product and the overall mission. Employees feel a sense of connection and the space can also be a captivating experience for clients and visitors.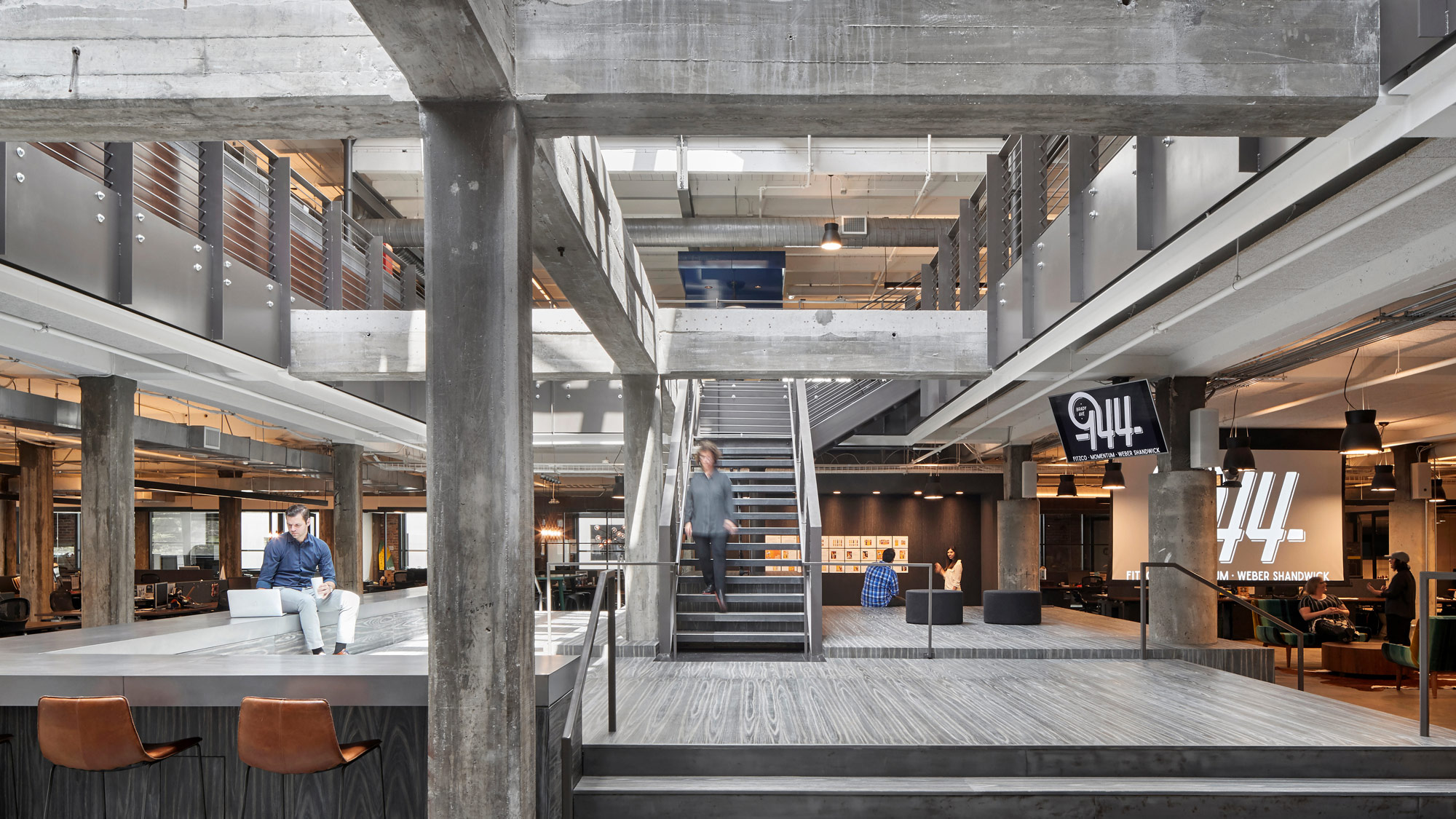 3.Team Agency
The creative process requires focus at the individual level, as well as brainstorming and idea sharing. Empowering both individuals and teams to seek out the spaces that work best for them is critical to a successful 'creative' workplace. All rooms, and even many open spaces, need to be designed with a configuration and technology that allows remote attendees (the norm now, rather than the exception) to fully participate. A team's needs may vary based on personal preferences, the project or topic at hand, and the stage of the creative process. Giving individuals and teams license – through varied spaces and a good degree of flexibility in configurations and furniture – will allow them to thrive in their creative endeavors.
4. Spontaneous Connections
Amenities aren't about escaping work — they're about optimizing it. The best amenity strategies prioritize the ability to work anywhere, creating hybrid settings that deliver both an amenity and a workspace: work cafés, quiet/focus zones, innovation hubs, cafeterias, receptions, pre-function spaces, and pantries should be thought of as places where employees can work and connect throughout the day. These spaces also give employees the ability to get a change of scene – to get out of one headspace and into another – something that can be key to spurring on creative thinking.
We talk more about innovation than creativity, but the two go hand-in-hand. Making a space conducive to both is less about a cool aesthetic or techy vibe (though it can help), and more about rethinking the environment to capture all the dimensions that empower individuals and teams to create new ideas, new products, and new offerings.