Since the Ford Foundation opened its iconic New York headquarters in 1967, global uncertainty and divisiveness have underscored the importance of supporting social justice. So when the not-for-profit enlisted Gensler to renovate the building to meet New York City fire codes, it seized the opportunity to realign its physical space to reflect its 21st-century mission: to promote the inherent dignity of all people. Under the direction of CEO Darren Walker, that meant rejuvenating the building with respect for its architectural legacy, while ensuring that it engages the public and serves as a beacon of change.
STEWARDS OF A LANDMARK
Renovation of the building, originally designed by Kevin Roche John Dinkeloo and Associates, has boosted its performance and addressed a host of structural and mechanical upgrades required for fire protection and life safety. But stewardship of the revered landmark was always top of mind. Roche's vision was central to the renewal, and the Gensler-led team strived to restore original finishes and reuse materials at every turn. Distinctive materials such as Cor-ten steel, skylight glazing, brick pavers, and brass were repaired and restored to keep the original mid-century look and feel. Carpeting, wood floors, lighting, millwork, and bronze were refurbished by collaborating with a team of specialists. The original interiors also featured sophisticated mid-century modern furniture by designer Warren Platner. More than half of it was saved — stripping wood to its original stain, reconditioning leathers, and adjusting the height to meet universal design standards.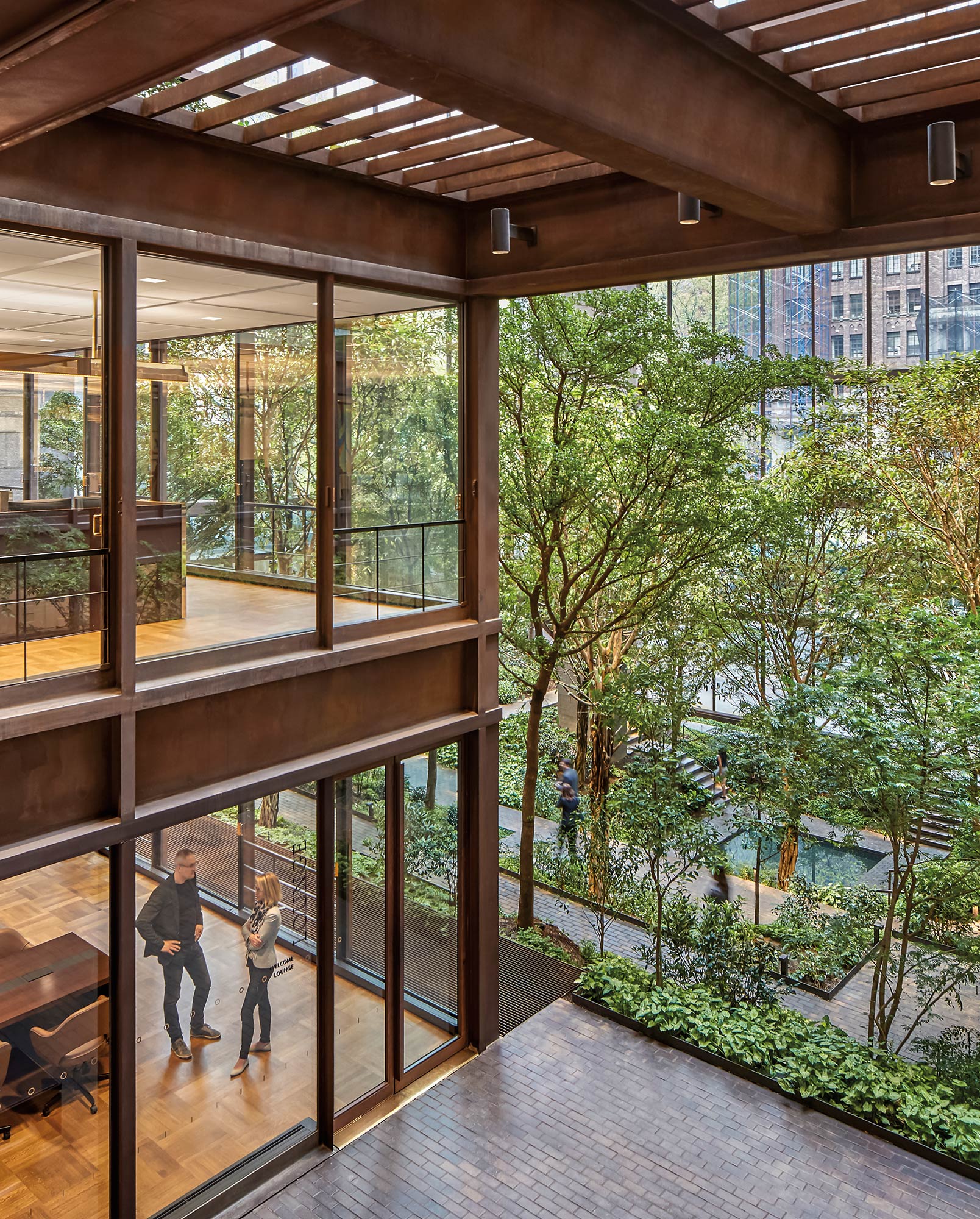 Also revived was the building's signature botanical garden, designed by renowned landscape architect Dan Kiley. Heralded as the first large-scale interior atrium garden in the U.S., the landscape was replanted with species that adhere to Kiley's design intent and enhanced with new irrigation and lighting systems.
The foundation's sustainable mission set high expectations for the renovation, which has been awarded LEED Platinum certification. The team specified low-VOC paints, adhesives, and sealants for better air quality, while high-efficiency bathroom fixtures and low-energy lighting fixtures were specified to reduce water consumption and energy use, respectively.
ILLUMINATING SOCIAL JUSTICE
Beyond the technical aspects of the project, it was critical to the foundation that its social justice mission be clearly communicated throughout — an effort amplified by a brand narrative celebrating voices of change through evocative devices like murals and honoree plaques. Step one in highlighting the mission was ensuring that accessibility and universal design were a top priority, so that all would feel welcome.
PRIVATE OFFICES AROUND THE ATRIUM WERE DEMOLISHED, OPENING THE WORKPLACE TO DAYLIGHT AND VIEWS OF THE CITY, AND PROMOTING A SENSE OF EQUITY.
IN THE AUDITORIUM, DISTINCTIVE FEATURES SUCH AS WALL TREATMENTS, BRASS RAILINGS, AND EAMES CHAIRS WERE RESTORED TO KEEP THE MID-CENTURY LOOK AND FEEL.
BY REMOVING PART OF THE SECOND-FLOOR SLAB, THE TEAM CREATED A SPACIOUS GALLERY FOR EXHIBITIONS THAT ADDRESS JUSTICE, DIGNITY, AND FAIRNESS.
Access to daylight was given equal importance. In the original building, that privilege had been reserved mostly for the foundation's managers, whose walled-in private offices lined the atrium. In the renovation, the partitions were removed, resulting in an open office layout with floor-to-ceiling glass that makes the building bright and transparent. In the redesign, Gensler also consolidated the foundation's operations, opening two floors of the building for use by like-minded organizations and increasing convening space by 50% for other not-for-profits to meet and collaborate.
Today, the building is more open to the public, including improved access to the garden and a new double-height gallery that features art, performances, and public programs highlighting themes of social justice. Handicapped accessibility was improved beyond ADA requirements. Those improvements include street-level entrances to the atrium, which were widened to accommodate wheelchairs, and a new brick pathway in the garden that expands wheelchair access. Through transformations like these, the foundation has staked its claim as a champion of social justice for decades to come.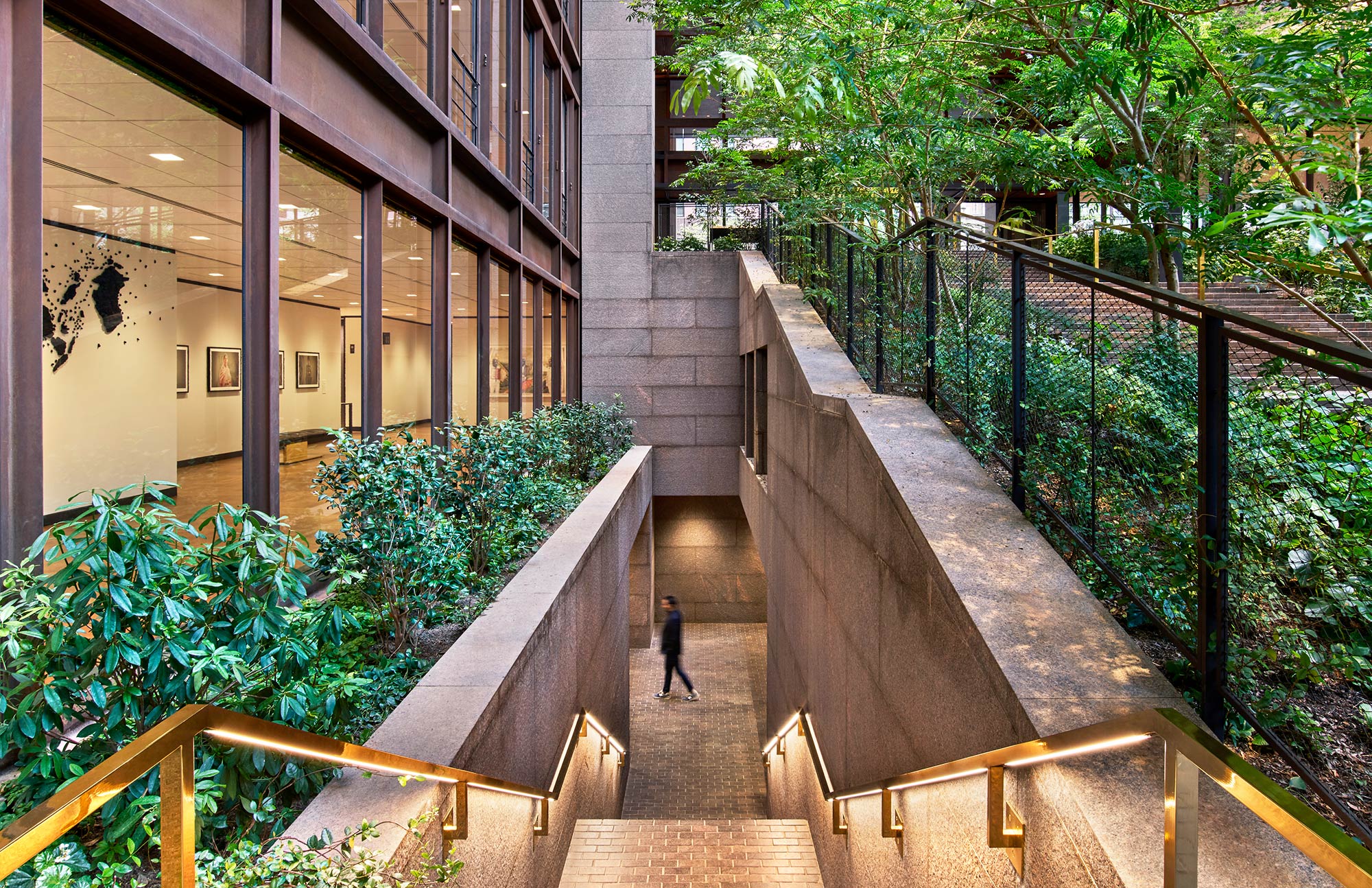 What was the impetus for the Ford Foundation renovation?
This is an iconic building from the 1960s, and as fire safety codes changed, we found we were no longer in compliance. We could have relocated, but once we decided we were committed to this place, we explored the new opportunities that presented. Darren Walker, our CEO, saw this as a once-in-a-generation opportunity to change the building and its role in New York.
What were your key strategies?
The building was originally designed to be collaborative, but inward-looking. Darren wanted to fill the building with light. He wanted to make it equitable, in keeping with the organization's values. No longer are the light-filled garden facades reserved for the privileged few. Now daylight sweeps across all workplaces equally. Darren also wanted to move to an open floor plan, and Gensler showed we could comfortably move back in using less than half the space we had been using before. That allowed us to bring in like-minded partners.
How has design helped bring the Ford Foundation's mission to life?
We wanted this to be a welcoming space for people with disabilities of all kinds. I'm sitting, for example, at one of the original Warren Platner mahogany tables that we raised two inches so that every table and desk meets height standards for wheelchair users. We also went above and beyond in restoring the botanical garden — taking out steps, re-leveling the garden, and installing a lift.
How do those changes impact how the building functions as a workplace?
Before the renovation, the building discouraged collaboration. You didn't see people and you didn't bump into them. The walls were solid then, but now they're glass. Collaboration is an important value of our organization, and the new design has helped that flourish.