A new story is emerging about the traditional mall, and it's one of resurgence and reinvention. The empty retail centers that dot the global landscape have attracted developers with new ideas and a better understanding of consumer behavior. Even as Credit Suisse estimates that between 20–25% of existing malls will close by 2022, developers around the world are repositioning underperforming assets into vibrant mixed-use centers.
Their goal: To create thriving communities that resemble town centers that feature cultural assets like schools, libraries, fitness centers, and medical clinics in addition to retail and entertainment options.
4 Malls Reimagined as Lifestyle Centers
SLIDESHOW — 4 IMAGES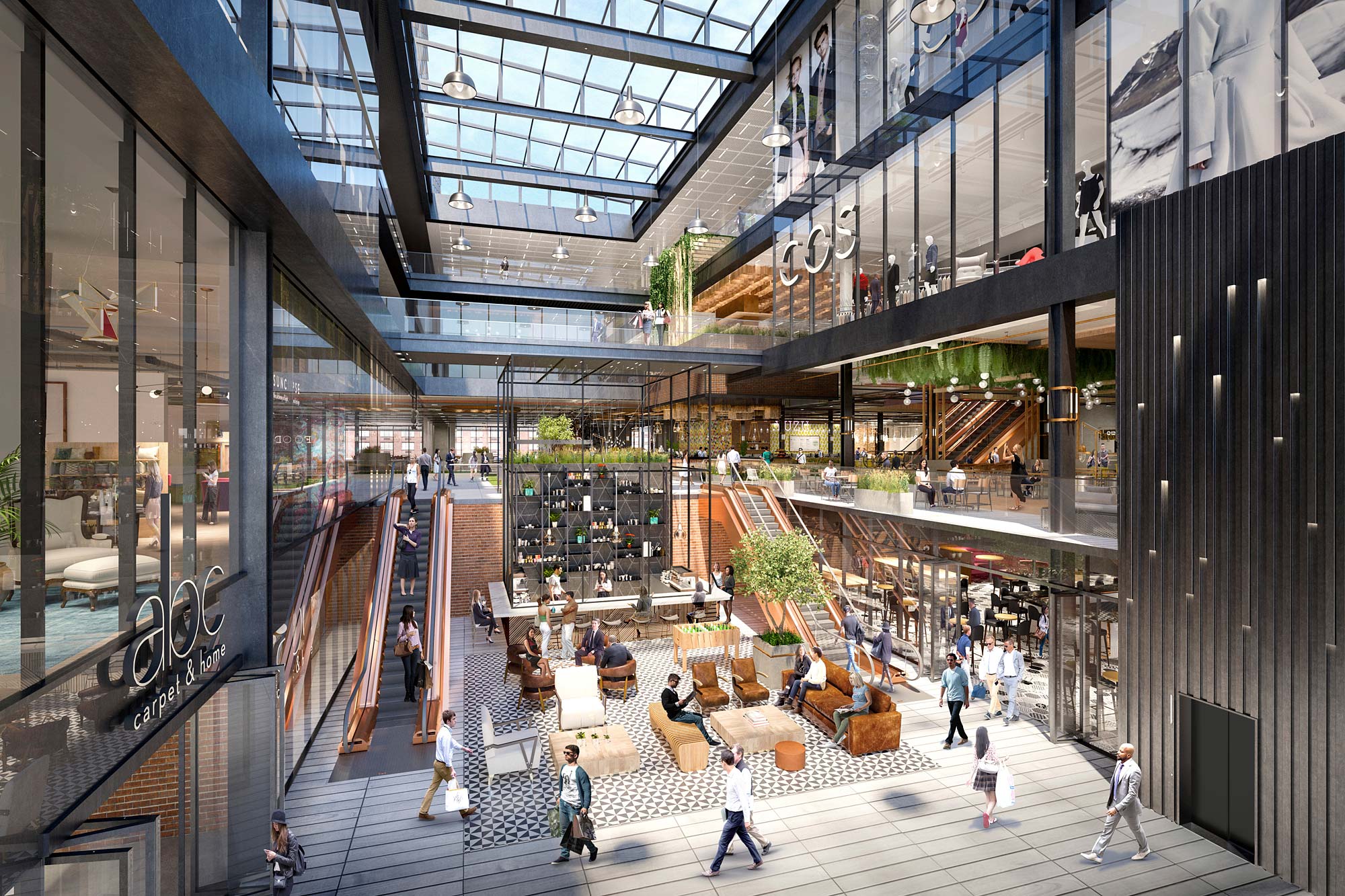 GIVING CONSUMERS WHAT THEY WANT
This reinvention comes in the midst of a years-long shift toward e-commerce, as well as new consumer behaviors. Consumers still view retail centers as hubs for community and connection. More than 90% of Gen Z consumers said they went to the mall at least once during a three-month period in 2018, according to the International Council of Shopping Centers. The difference is that most mall visitors aren't going there just to buy something. Gensler's Experience IndexSM for Retail found that more than half of retail consumers recently visited stores to socialize, learn something new, or just spend time with family and friends.
"A store needs to be broader than just a place of transaction," Jeff Gennette, chairman and chief executive officer of Macy's, said in McKinsey's State of Fashion 2019 report. "It needs to be a place where people gather, and if you don't bring in experience, education, and entertainment, you're not going to do as well."
With steady foot traffic, higher-end tenants, and lower vacancies, top-tier, Class A malls are highly valued by tenants and investors.
70%
CLASS A AND ABOVE MALLS ACCOUNTED FOR MORE THAN 70% OF ALL MALL RETAIL SALES IN 2016.
SOURCE: CUSHMAN & WAKEFIELD RESEARCH, FUNG GLOBAL, GREEN STREET ADVISORS
Forward-thinking malls are using advanced analytics tools to glean insights on consumer behavior, select tenants, and optimize layouts. For example, some malls are using geofencing (or virtual geographic boundaries) to track visitor behavior. When a location-aware device, such as a smartphone, enters the geofence, real-time data about when and where users shop is collected, analyzed, and fed to landlords and tenants. According to McKinsey, malls using analytics tools have increased their leasing revenues by double-digit percentages.
That means new opportunities for owners to partner with their tenants to create a curated, diverse mix of experiences. JLL found that 40% of U.S. consumers choose which mall they go to based solely on the food there, and transactions increase as much as 25% with quality food-and-beverage options. The American Dream, a 3-million-square-foot complex in East Rutherford, New Jersey, will be about 45% traditional retail and 55% entertainment and dining — with a water park, theme park, and indoor ski park among the attractions.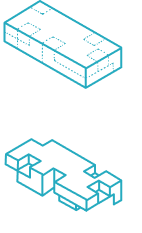 1
DESIGN FOR EXPERIENCE PER SQUARE FOOT
Remove conventional big box retailers in favor of flex spaces, public gathering zones, and other programmable public-private areas.

2
MIX IT UP
Drive reinvention by mixing retail spaces with housing, health clinics, entertainment, or schools that will transform single-use malls into integrated, mixed-use communities.

3
BREAK DOWN WALLS
Create transparency and permeability by breaking up big boxes, bringing the outside in, and opening up visual connections to the street.

4
IMPROVE CONNECTIVITY
Link up retail centers to the surrounding city with access to mobility and shared transit, and encourage multimodal connections that prioritize pedestrians and cyclists.

5
CREATE A TAPESTRY OF THIRD PLACES
A multitude of public spaces creates "third places" where people can connect and gather, supporting the retail center as a civic destination.
But this isn't only a U.S. phenomenon. According to the Academy of Social Sciences in Beijing, as many as one-third of China's malls could close in the next five years. In response, local governments and retail executives have seized on the idea of hybridization. By adding sports complexes, libraries, housing, or even urban farms, they hope to appeal to mall owners, tenants, and consumers. Retail is just one part of a larger shift toward culture and lifestyle.
THE NEW MALL IS COMMUNITY FIRST AND RETAIL SECOND
Today's mall places a new emphasis on creating community and connection. To reinvent itself as a civic as well as commercial destination, the design concept for NewPark Mall in Newark, California, removed inward-looking anchor tenants and created outdoor public plazas, amphitheaters, and playgrounds. Getting community members involved in new designs can also bring them back. For example, Gensler is conducting community meetings and focus groups with stakeholders to transform South Bay Galleria in Redondo Beach, California, into a mixed-use destination with residential, hotel, offices, parks, bike routes, and art displays.
In the past, a typical anchor tenant was a movie theater or department store. Now, art and other cultural components are increasingly at the core of large retail centers. It's less about scale and more about providing "newness," as tenants team up in a single space, or when a major brand creates a new consumer experience in a smaller space.
In Asia, catering to different generations, especially the young and elderly, is important, so health-care and day-care centers are not uncommon. In cities like Singapore, there's also an increased need for education. Often, if a mall is not performing well, developers will add schools and wellness centers, driving families to these centers — with a positive community impact.
CONNECTION TO THE OUTDOORS AND TO THE STREET
Boundaries between inside and outside are also blurring as malls seek to connect with the surrounding neighborhood by breaking up big box stores and introducing small green spaces and urban streets. That visual connection is vital to consumers' sense of place, and it prioritizes access to mobility for pedestrians and cyclists. More open access to the outdoors can also be a resilience strategy in cities like Singapore, where mixed-use developments are naturally ventilating interiors.
Connection to transit is also key, especially in Asia. Situated between three separate metro lines, Shanghai's Wujiang Road experience is envisioned as an iconic local entertainment and tourist destination with art, landscaping, and unique programming that revitalizes adjacent commercial anchors.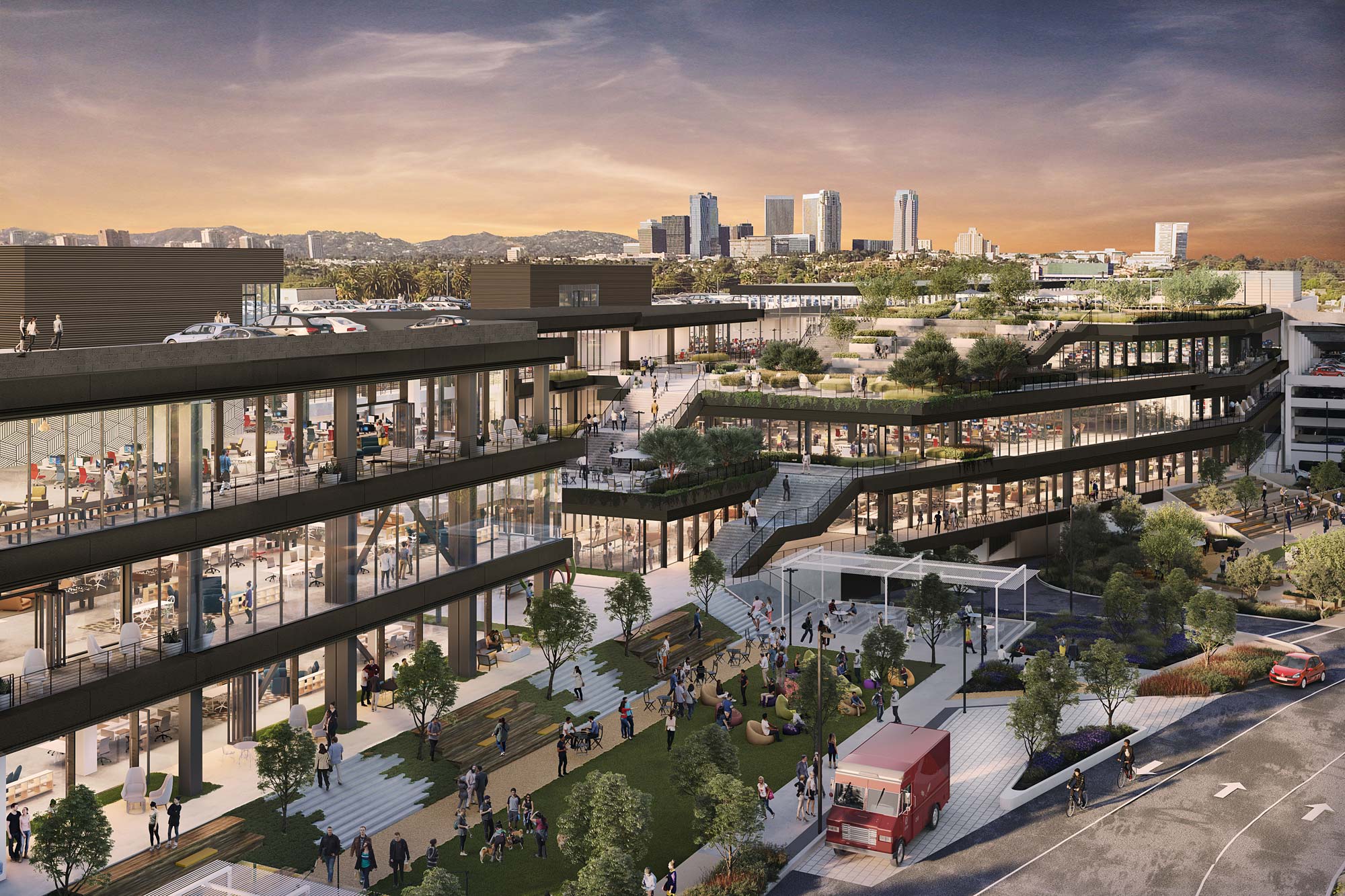 FROM RETAIL TO OFFICE SPACE
In some cases, developers are repositioning aging malls to support entirely new uses. For example, adaptive reuse transforms Los Angeles' Westside Pavilion shopping center into 600,000 square feet of Class A creative office space. In Morrisville, North Carolina, Gensler is converting a one-story shuttered mall into a multi-tenant office project.
Some developers are repositioning aging malls for new uses, such as office space, to generate new revenue.
In cities where formulaic, overbuilt malls have lost their appeal for most consumers, retail centers are responding in order to survive. In the past, they were inward-facing, retail-only places. Now, they're transparent, outward-facing, and mixed use. It's the kind of change that's driving the conversion of empty malls into vibrant communities across the U.S., Asia, and the rest of the world.