What Makes a Great Retail Experience? Community, Connection, and Entertainment Are Key.
November 10, 2022 | By Barry Hand
For the past several years, many of us have turned to the ease and convenience of online shopping and industrial discount retail transactions. Who doesn't now receive various deliveries of school supplies, hair products, screen protectors, or groceries at their house these days? Despite the growth of same day deliveries from online retailers, certain retail and hospitality brands continue to thrive and grow in their brick-and-mortar outlets due to the visceral experience that mass e-commerce retailers simply cannot deliver in a box to your front porch. Clearly, experience remains a vital component of retail and hospitality offerings. But what does that visceral experience actually look like?
Those of us engaged in the strategic planning and design of commercial centers have known that the retail lease space committed to physical brick-and-mortar centers is an elusive, ever-shrinking commodity that increasing numbers of property owners are chasing. The pandemic accelerated that trend as much as any other.
Numerous retail or hospitality entities are thriving due to the return of customers and strategic curation of experience targeted at specific psychographics. Again, we are convinced of the need for experience, but what exactly does it look like? What are the necessary components? What is needed for an experience? Is it 65,000 people watching a concert with fireworks? Is it ziplining across a lake? A manicure with soothing music and essential oils? Standing in a waterfall? Dinner in a great space with friends and family? Does one need to supply reindeer and music to attract customers? Not necessarily.
Community/Connection
In July of 2020, one of our design teams staffed a photo shoot on a humid summer evening as the AT&T Discovery District was nearing completion in Dallas. Everyone was eager to get out to see colleagues who had been sequestered at home. If you recall the sequences of the pandemic, certain COVID-19 numbers had seemingly peaked around June of 2020, and city mandated lockdowns were being lifted. We still didn't know much about the virus, but the public was eager to once again be outside to dine at restaurants with friends. Outdoor dining was quickly stitched together all over streets and parking lots as restaurateurs adapted to mandates and regulations on indoor gathering.
People were organically looking for and finding good places to meet. Gathering with friends over dinner now mattered more than ever. We soon realized and valued that dining, conversing, laughing, loving, and relating with friends and family was not just convenient, it was an integral piece of the larger human condition. A condition that is not transactional and cannot be fulfilled with a delivery to your doorstep.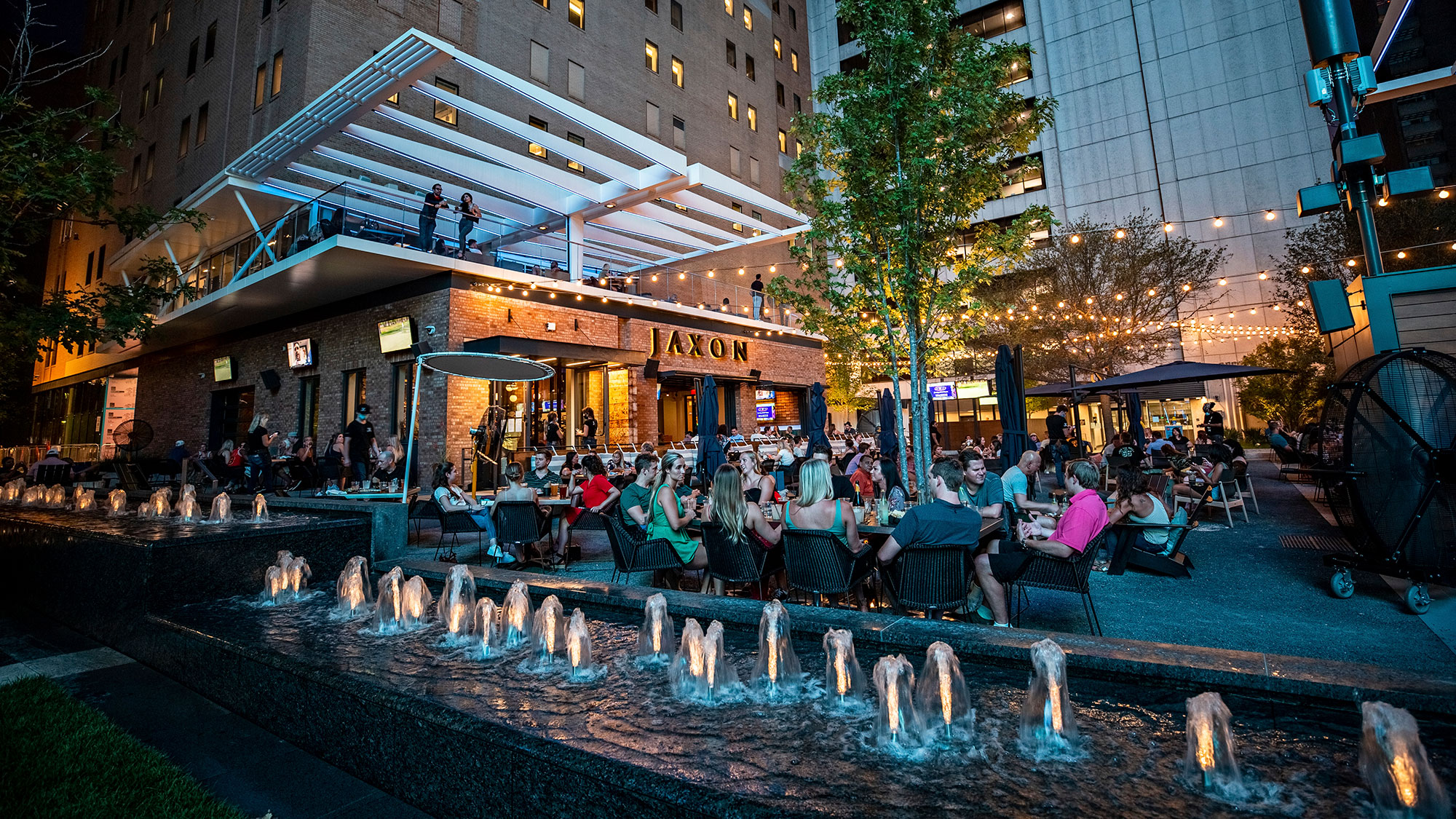 Exhibition/Entertainment
The definition of exhibition is the display or demonstration of a particular skill. We have recorded history from before the amphitheater at Pompeii and the Roman Coliseum, of the importance of exhibition and entertainment in drawing crowds. Entertainment is a primal force after all for both actor and audience, and it is an integral component of human experience and fulfillment.
For decades, the streets of New Orleans have been uniquely populated with children who tap dance for money. It is one of the many authentic threads in the tapestry of sights, sounds, and smells of a Saturday morning in the French Quarter. Who hasn't enjoyed a busker in the subway stations or streets of New York? Or a juggler at Covent Garden in London? We speak often of the need for purposeful public spaces in successful and intuitively interactive, people-centric places. A diversity of planned and spontaneous experiences and offerings is necessary for a place to be durable in our community. Does it require fireworks to successfully activate a space? Not necessarily.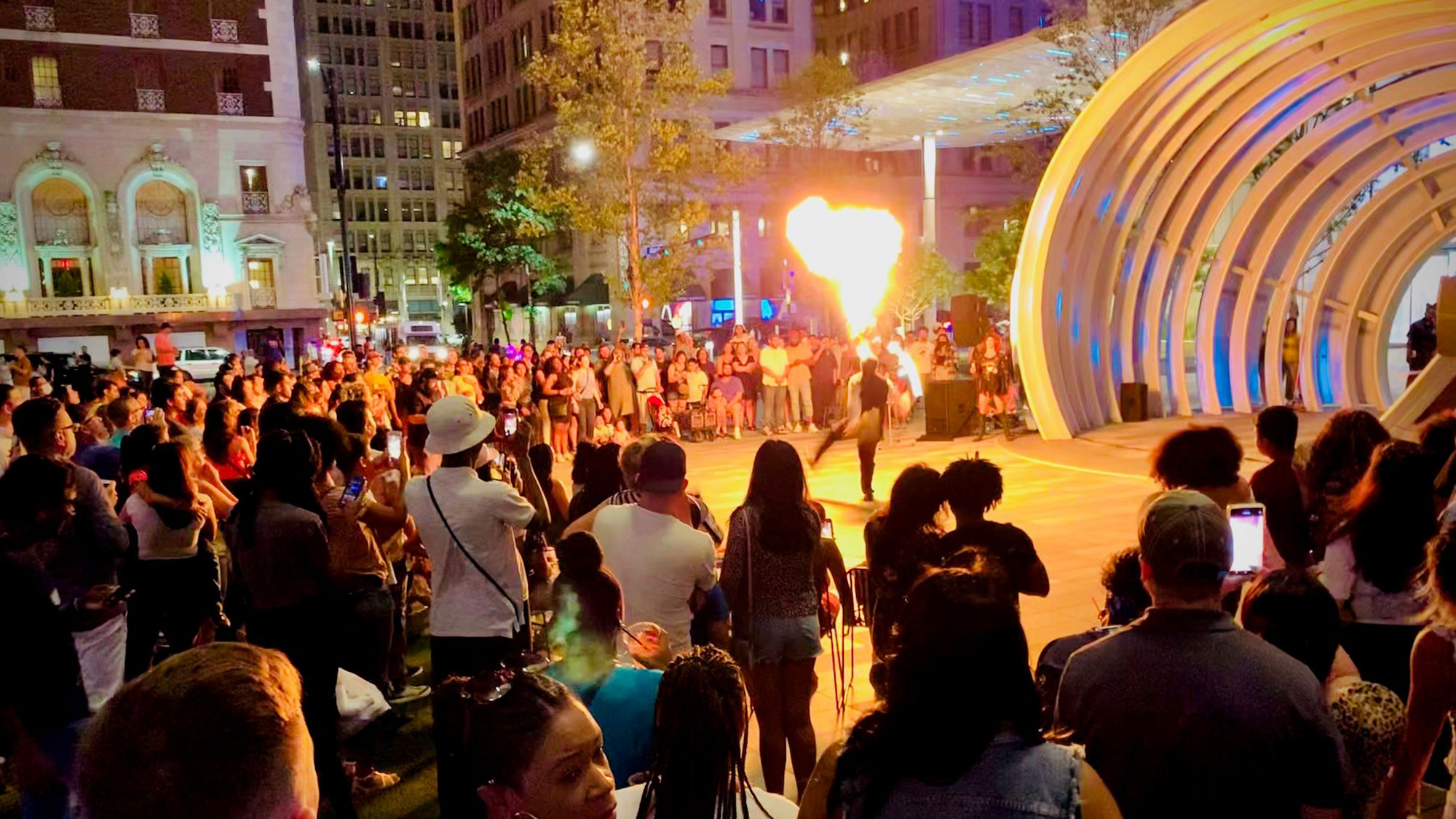 Carefully programmed public spaces with events, entertainment, and exhibitions allow operators to quickly create activated places successfully curated toward a diverse psychographic range. The full-time staff at Klyde Warren Park in Dallas carefully curates approximately 1,000 events each year ranging from boot camps for yoga to tai chi, Zumba, and ballroom dancing to large-scale food events, ballet performances, and concerts in the park. The operating staff at The Grove in Los Angeles has perfected hundreds of scheduled events each year ranging from fashion shows, live music, storytelling, and puppet shows to keepsake photos with Santa.
Legacy West in Plano, Texas, also plans hundreds of events ranging from football watching parties to fashion events, tribute band concerts, business cohorts, and launch parties for various products. Recently, long after the shopfronts were closed, a local artist climbed atop a custom van outfitted with a specialized mount on which he could spin canvasses and create paintings to music. The paintings were ultimately for sale, but the spectacle of the actual activity was enough to attract and entertain hundreds of visitors in the neighborhood.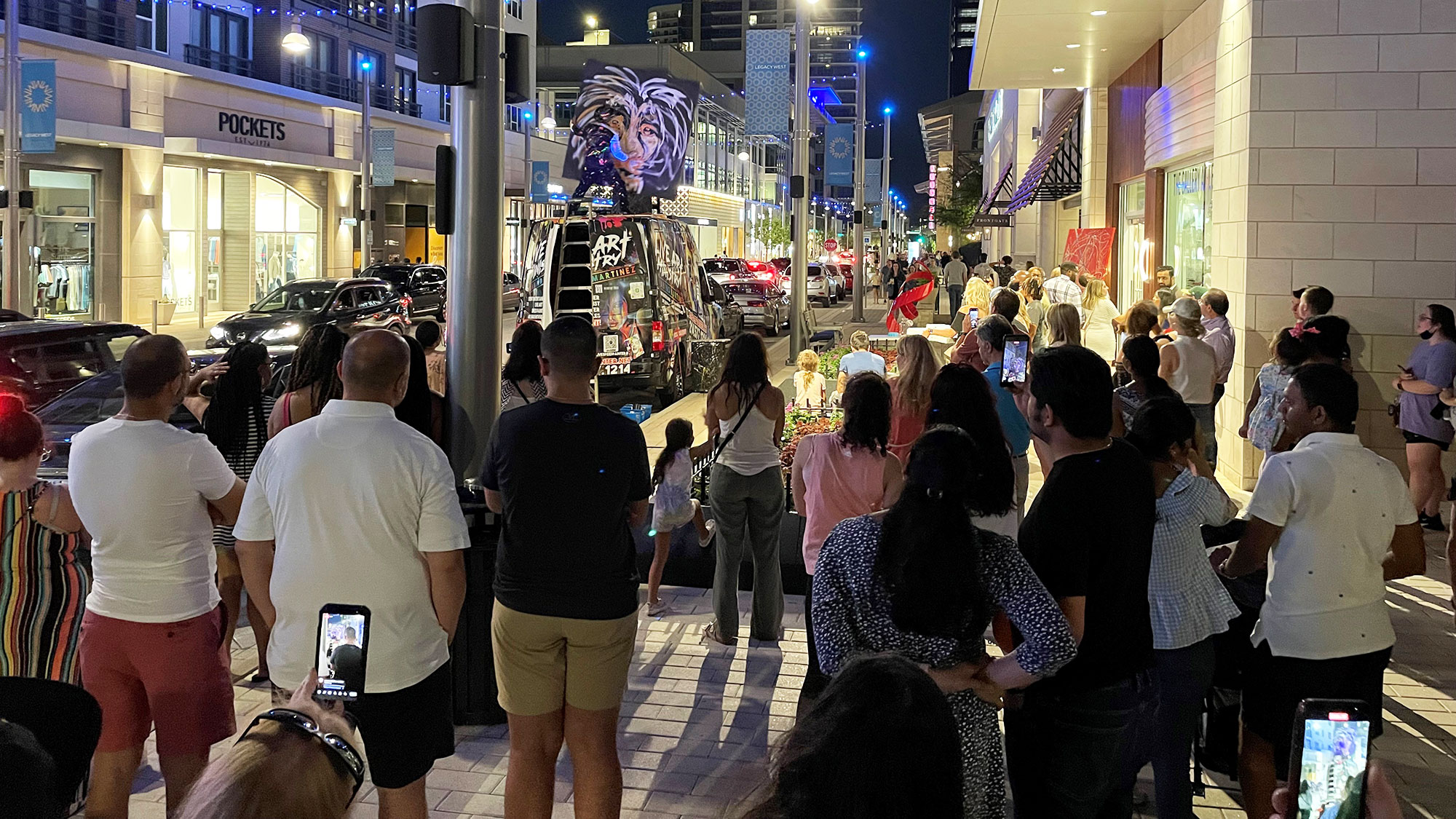 Today, as much as ever, amid our world awash with a barrage of digital messaging and connection, there is a vast and almost insatiable appetite for visceral, in-person human connection and experience. Astute retail and hospitality providers are carefully understanding this demand and increasing footfall and sales on the back of the community and exhibition-based experiences.
For media inquiries, email .