The Framework and Factors for an Intentional Culture of Innovation
In a multi-year, mixed-methods research effort, Gensler's Culture Strategy Team sought to uncover the factors that enable a culture of innovation in organizational settings. The research process included data collected via surveys, a literature review, and subject matter interviews engaging individuals from a wide range of industries, position titles, and tenures.
The outcomes of this research effort include an evaluative framework with key elements that can activate a culture of innovation, a diagnostic survey tool, and findings on the state of innovative cultures across the U.S.
As more and more organizations recognize the impact culture has on business success, it's important to understand which factors shape culture and enable innovation. Our data shows how being intentional in creating a culture of innovation is a key differentiator — organizational culture should not be left to chance.
CLICK HERE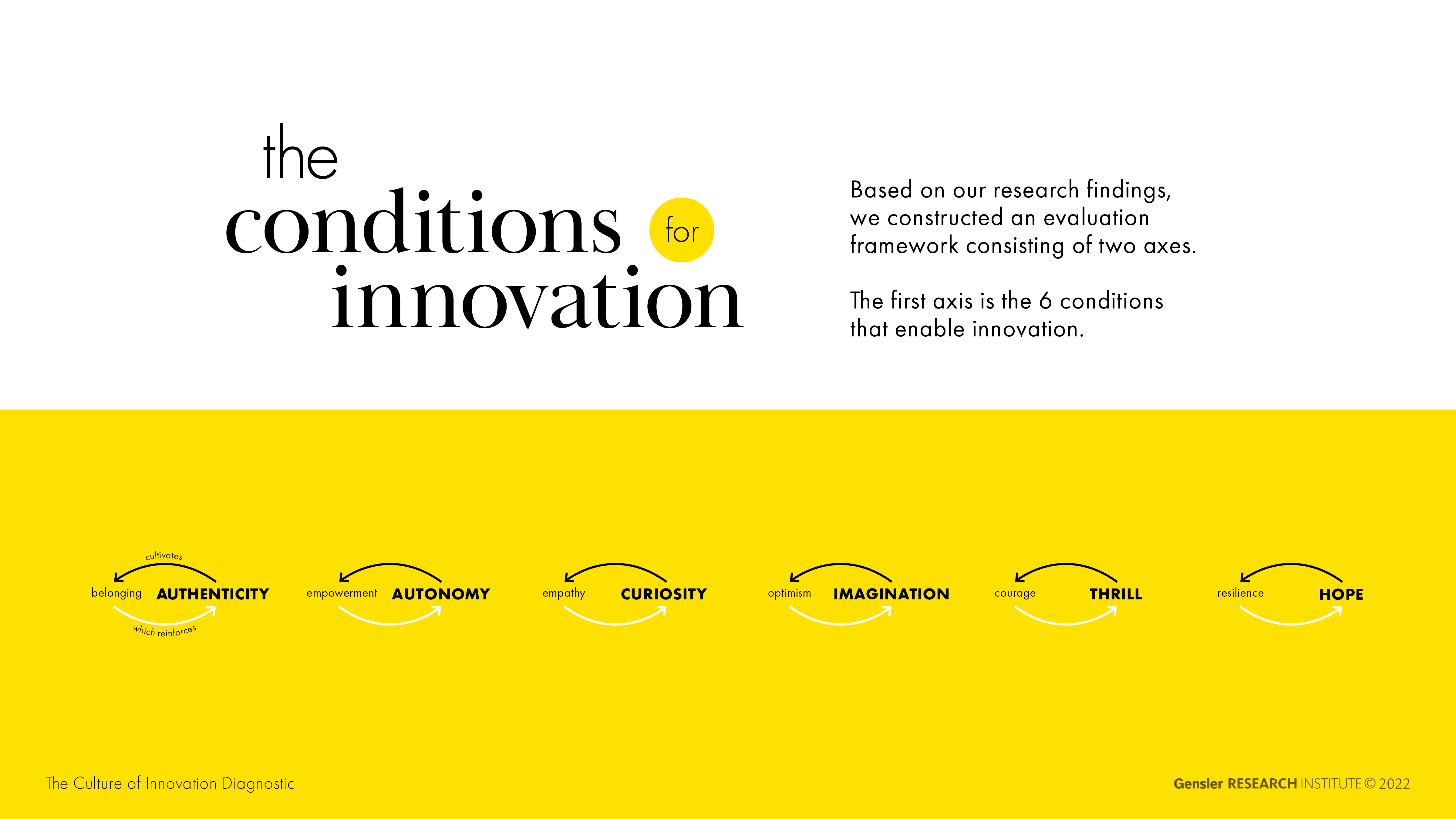 The framework identifies six key conditions that drive innovation: authenticity, autonomy, curiosity, imagination, thrill, and hope. It then combines the conditions with six key components that influence organizational culture: representations, structures, norms, regulators, resources, and workflows. By understanding how organizational components enable or disable conditions for innovation, we can uncover whether innovation is being systemically supported. In other words, the framework reveals alignment or misalignment between "knowing" and "doing" — what a company says versus its everyday actions.
While all of the variables in the framework are critical to understanding an organization's current state, examining "resources" and "hope" is a good place to start when initially gauging whether your organization supports a culture of innovation.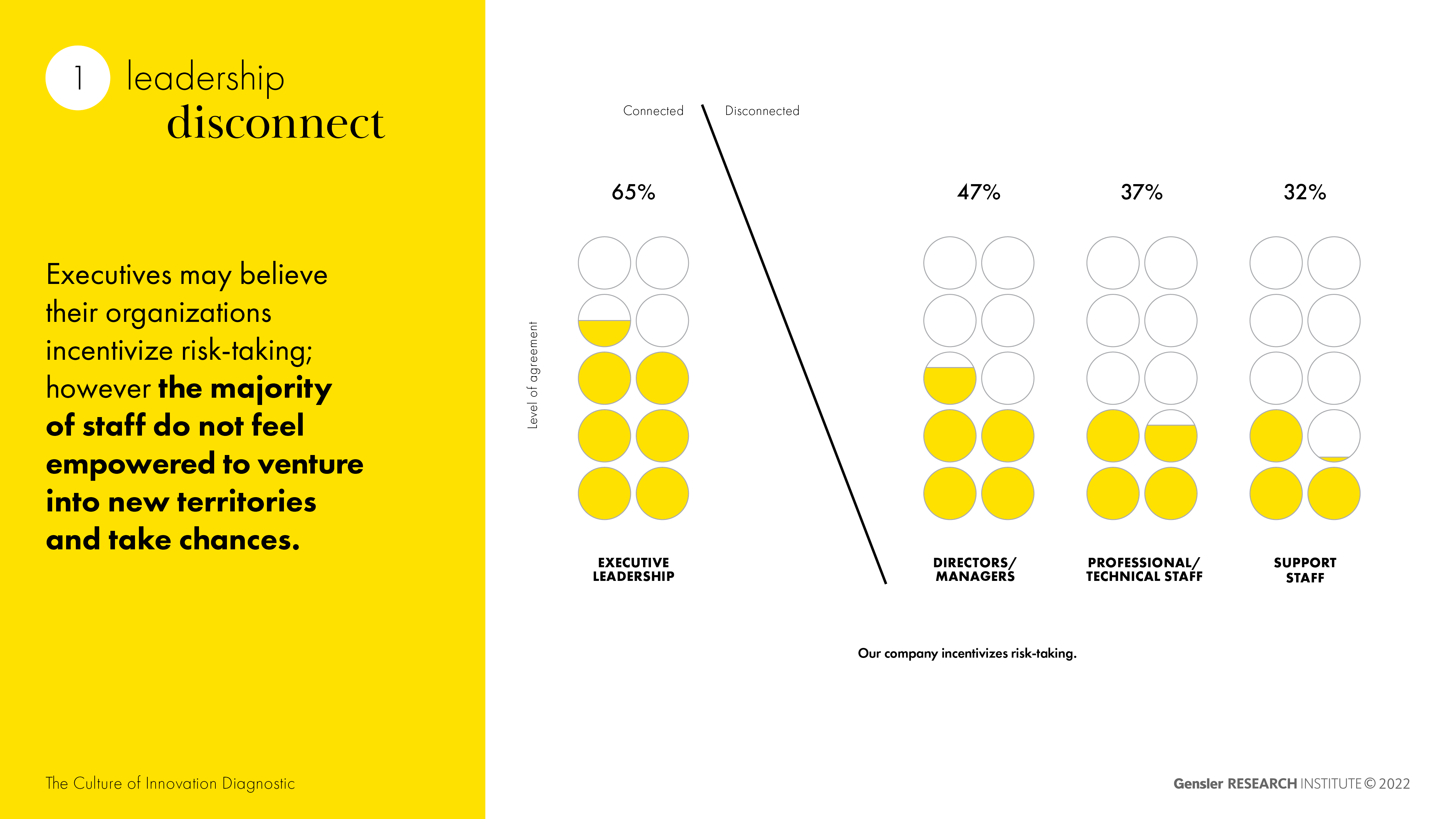 There are disconnects between senior leadership and staff about supporting innovation.
Our data uncovered a divide between what leaders believe their organization is committed to, in terms of innovation, and what managers and staff believe to be present. When a leadership style encourages employees' independent thinking, creativity, distributed decision-making, and risk-taking, it ranks higher as supporting innovation. However, when a leader's perception is different than that of their colleagues, a breakdown in culture is revealed. Our research shows that executive leaders are significantly more likely than the rest of staff to say their company incentivizes risk taking. This takeaway shows us how important it is to codify, communicate, and connect your organization's innovation processes so that all levels of the organization have the opportunity to engage in innovation.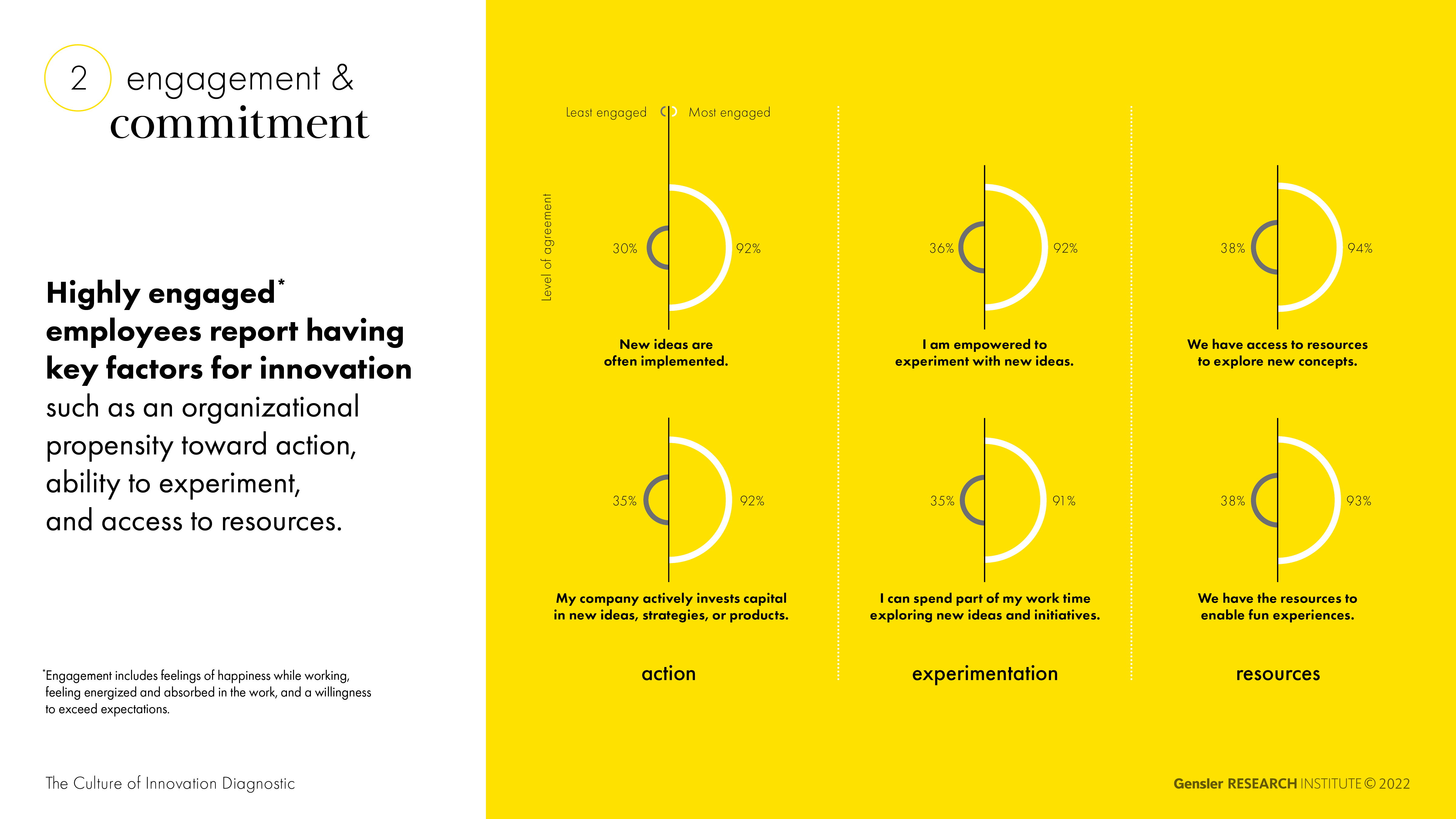 Cultures of innovation are associated with high engagement and commitment.
There is a clear relationship between having conditions for innovation and highly engaged employees. Engagement includes a feeling of happiness while working and being energized and absorbed in the work. When employees are engaged, they are more likely to exceed expectations. Our data directly connects employee engagement to an organizational propensity toward action, the ability to experiment, and access to resources — all of which are key conditions for innovation.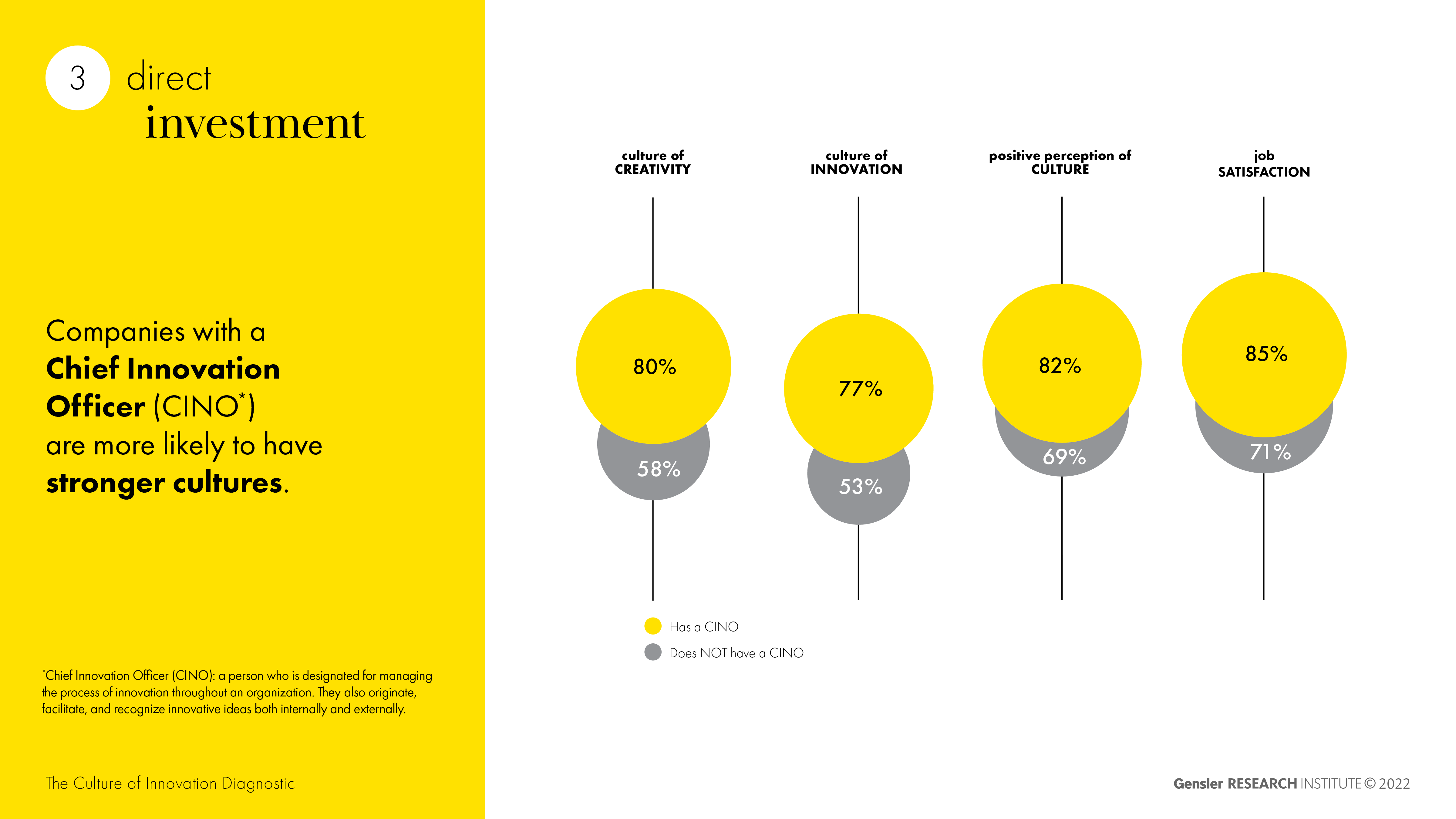 Direct investment in innovation drives desired results.
The Culture of Innovation survey data also revealed that organizations that invest in resources and the development of new ideas and workflows are considered more innovative. For example, having a Chief Innovation Officer (CINO) is one change to the C-suite that signals innovation matters. We defined a CINO as a person who is designated for managing the process of innovation throughout an organization. They also originate, facilitate, and recognize innovative ideas both internally and externally.
Of the 58% of respondents that reported their organization had a CINO, they also cited high agreement with the belief that they have a strong innovative company culture. When organizations provide resources in the form of people, spaces, and tools, they tend to make it an integral part of their work to prototype and test innovative methods and ideas. This investment in innovation can dramatically contribute to the long-term success of a business.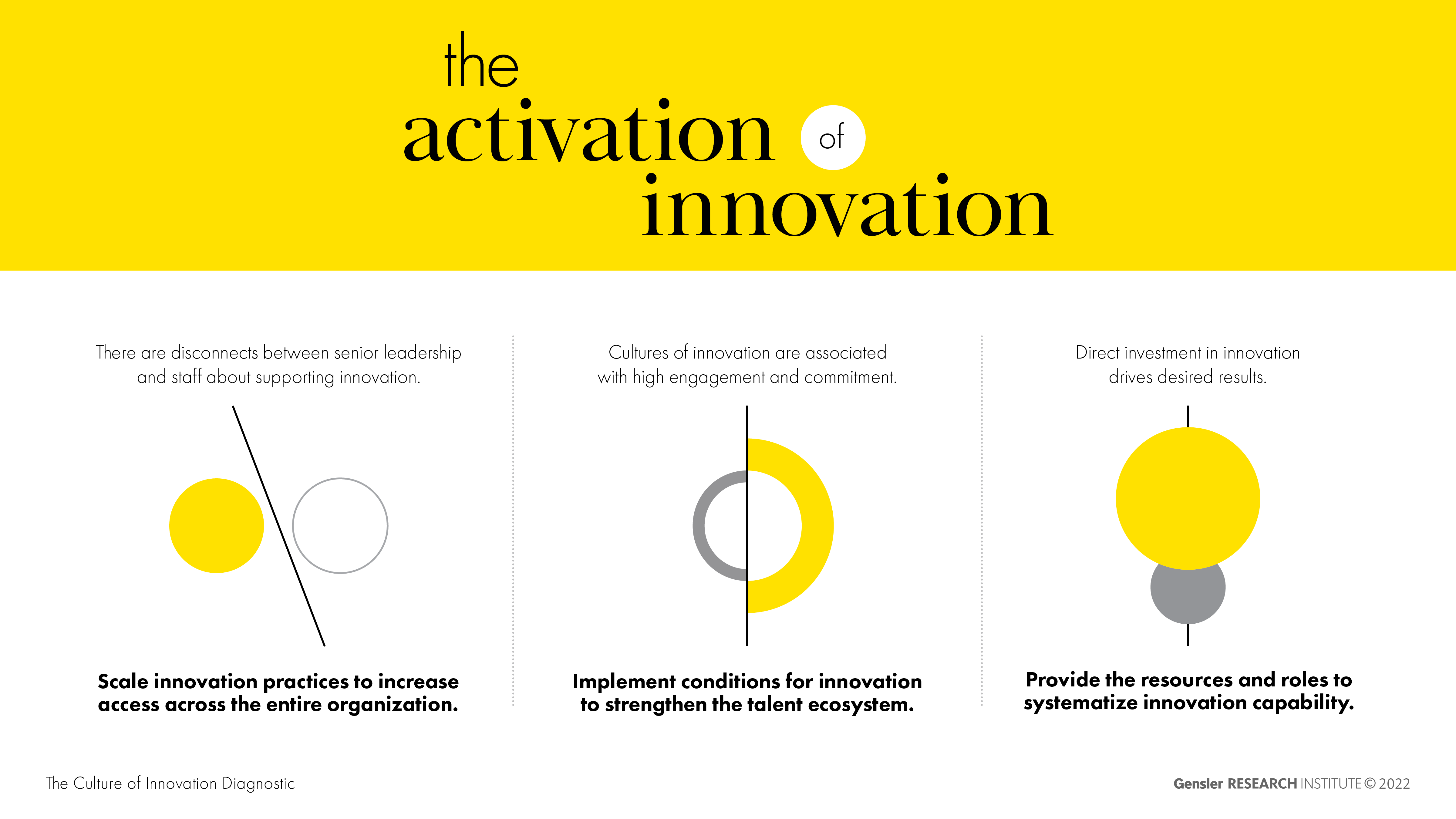 Bringing intention to your culture of innovation
Our research showcased three opportunity areas for building an intentional culture of innovation. Scaling innovation practices to increase access across the organization enables innovation to happen across hierarchies and from diverse perspectives. In addition, bolstering conditions for innovation is connected to high employee engagement and commitment. Lastly, making innovation an investment priority in visible and tangible ways systematizes innovation capability. In essence, the more proactive an organization is about innovation, the more activated its culture will be.
The Culture of Innovation Diagnostic Methodology
This study is based on data from 2,700 U.S. adults collected in two separate surveys in 2021. The survey was conducted online via anonymous, panel-based survey platforms. Respondents were distributed across different industries, tenures, and roles. To that, we added insights from our collaboration with four diverse global clients, along with subject matter expert interviews, and 150 secondary literature reviews.
Note, this is a continuation of a multi-year research effort studying the culture of innovation. View the first part of our research findings to learn more about the conditions for innovation.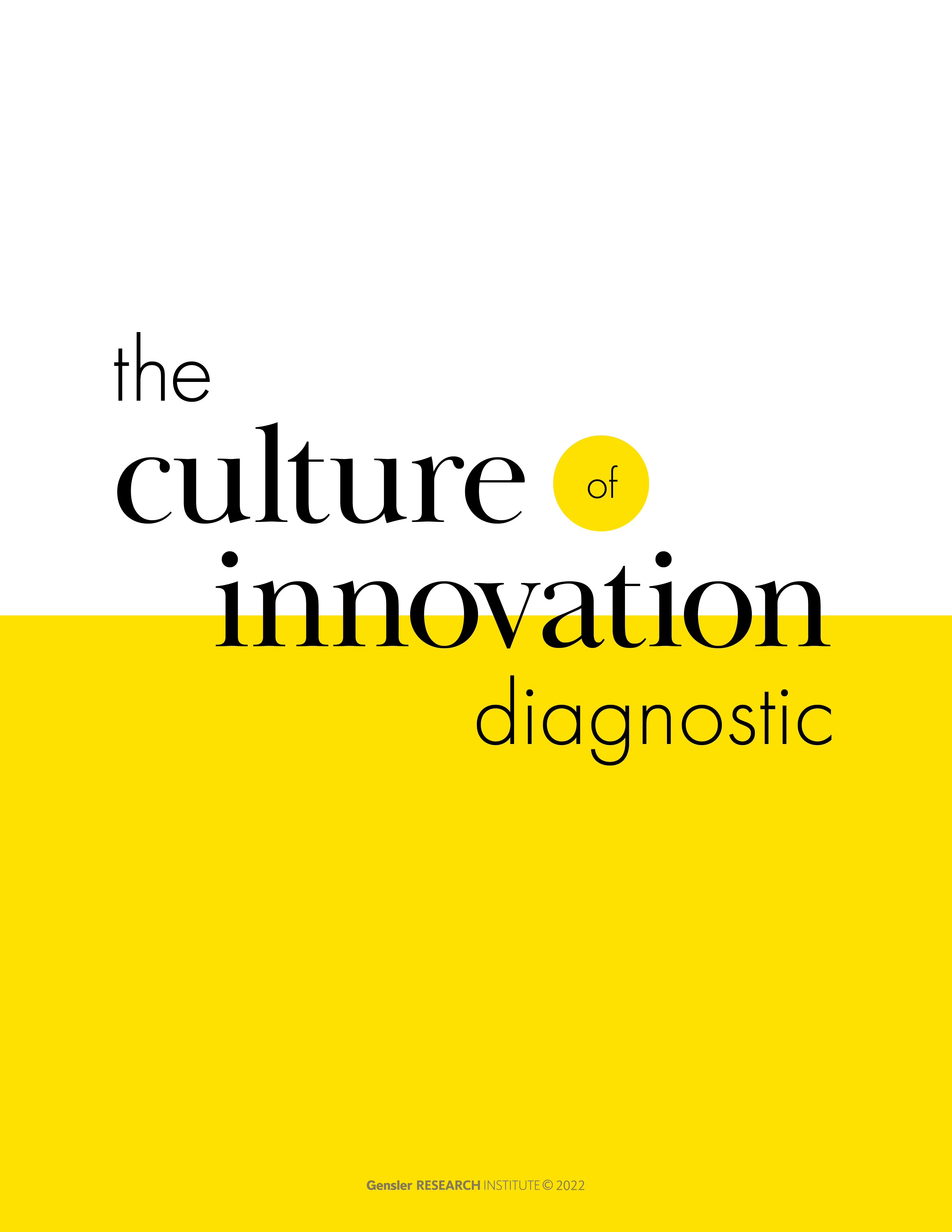 THE CULTURE OF INNOVATION DIAGNOSTIC
GENSLER RESEARCH INSTITUTE
Contact to learn more about this multi-year, mixed-methods research effort. Our framework can serve as a tool for diagnosing your organization's culture of innovation.