The Framework and Factors for an Intentional Culture of Innovation
In a multi-year, mixed-methods research effort, Gensler's Culture Strategy Team developed a diagnostic tool that measures an organization's culture of innovation to see whether they have an environment that encourages and supports creativity. The process included data collected via online surveys, a literature review, and subject matter interviews engaging individuals from a wide range of industries, position titles, and tenures. The results yielded an evaluative framework and key factors that can activate an intentional culture of innovation.
As organizations focus on the pressing need to build culture in a rapidly changing world, it's important to understand the foundations of what works and what doesn't, in terms of fostering a culture of innovation. This research shares an evaluative framework along with three key factors for creating an intentional culture of innovation. Our data shows why being proactive can make a difference — organizational culture should not be left to chance.
CLICK HERE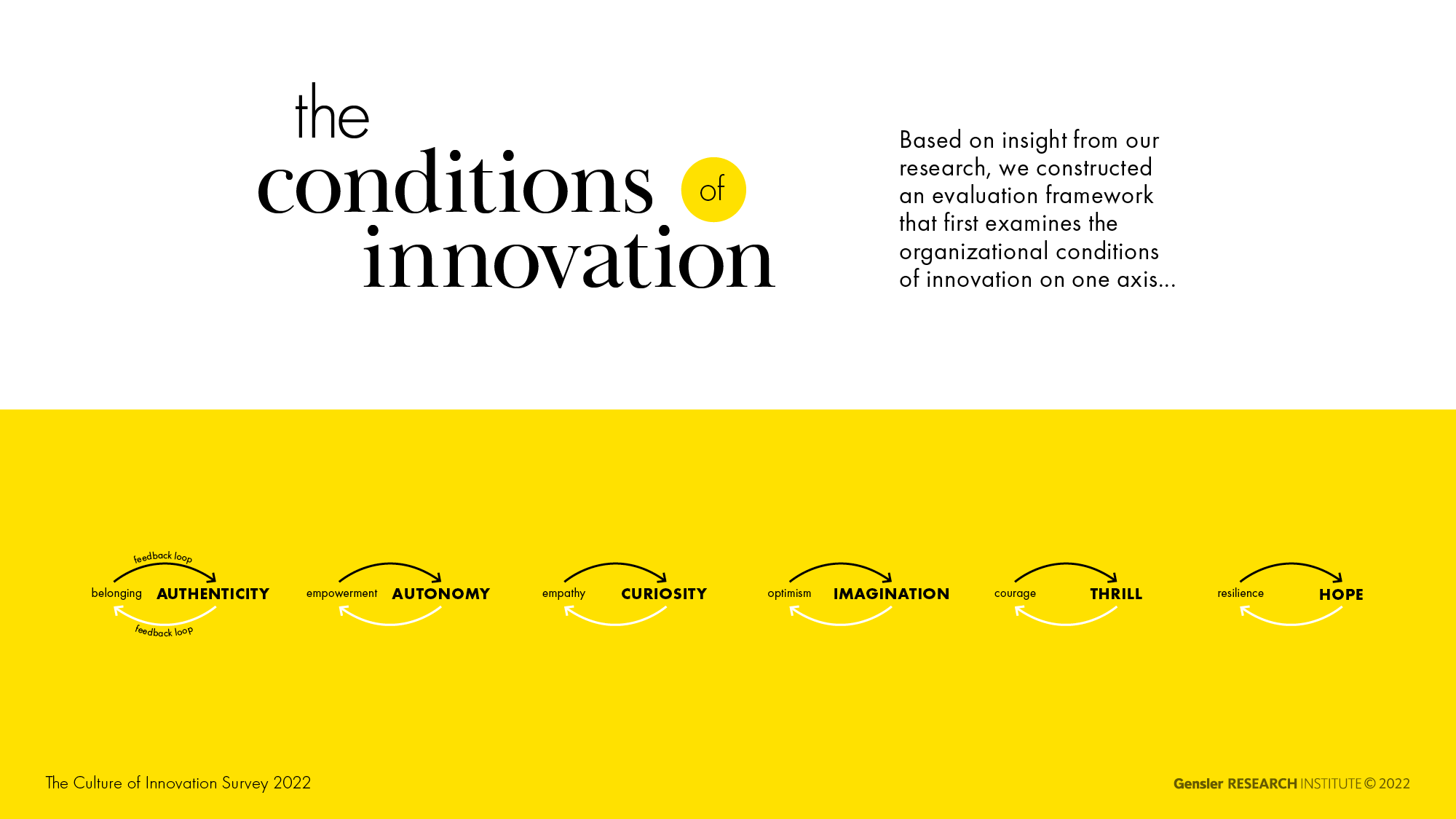 The framework identifies six key conditions that drive innovation including, authenticity, autonomy, curiosity, imagination, thrill, and hope. It then combines the conditions with six key components that formulate a culture including representations, structures, norms, regulators, resources, and workflows.
Through this framework, our work seeks to identify alignment, or potential misalignment, between "knowing" and "doing." The objective is to ensure what you say is the same as how you behave every day.
Analysis of our Culture of Innovation survey data showed the particular importance of providing a strong combination of resources and hope — setting the foundation for a culture of innovation for companies and organizations.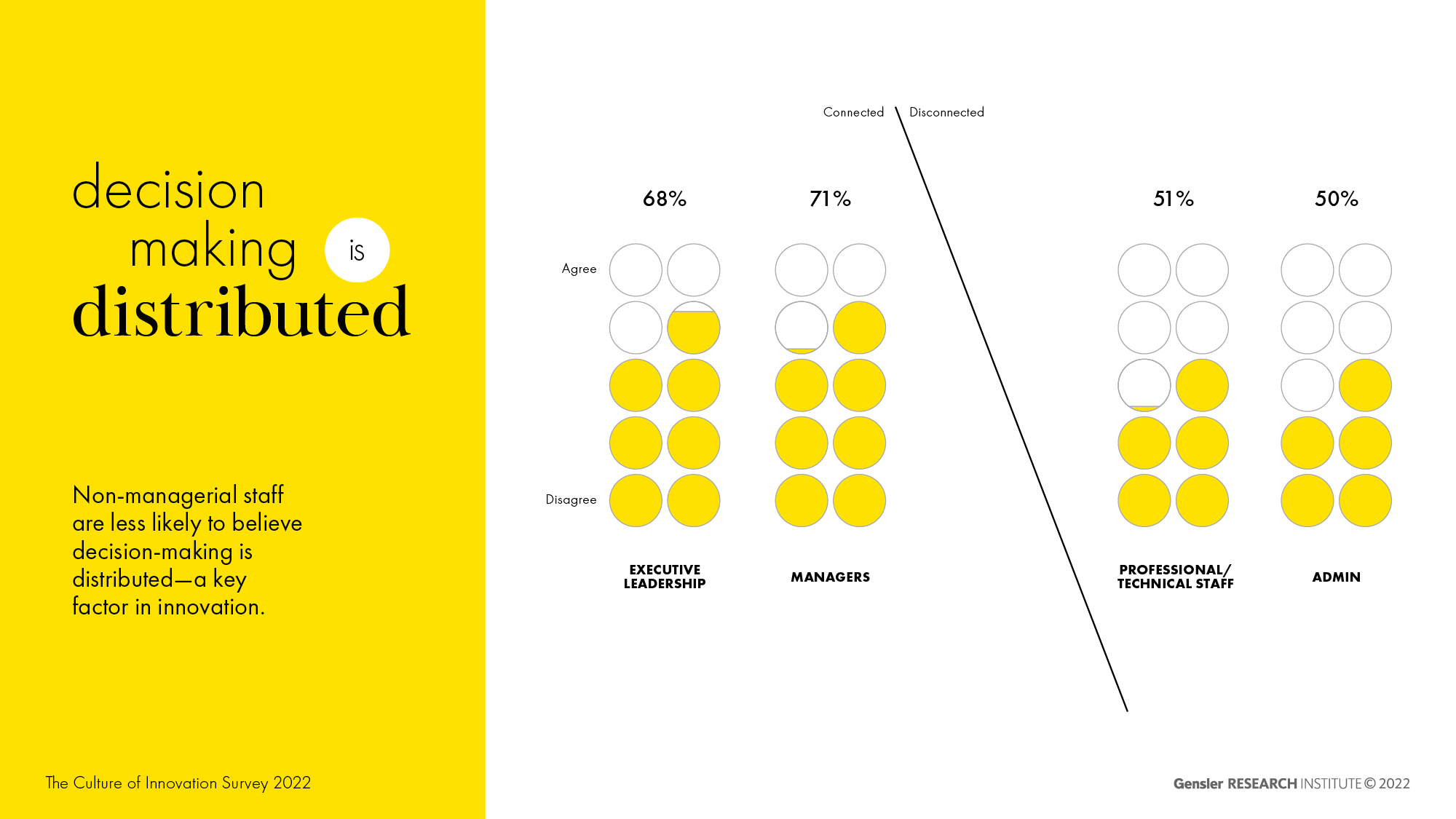 Disconnects exist between leadership, managers, and staff in perceived focus and application of innovation.
Our data uncovered a divide between what leaders believe their organization is committed to, in terms of innovation, and what managers and staff believe to be present. And when a leadership style encourages employees' independent thinking, creativity, and distributed decision-making, it ranks higher as supporting innovation. However, when a leader's perception is different than that of their colleagues, a breakdown in the culture is revealed. Our survey found that executive leaders were 1.4x more likely to say that decision-making is distributed. The takeaway shows us how important it is to codify, communicate, and connect your organization's innovation processes so that all levels of the organization understand its role and its strength in shaping the culture.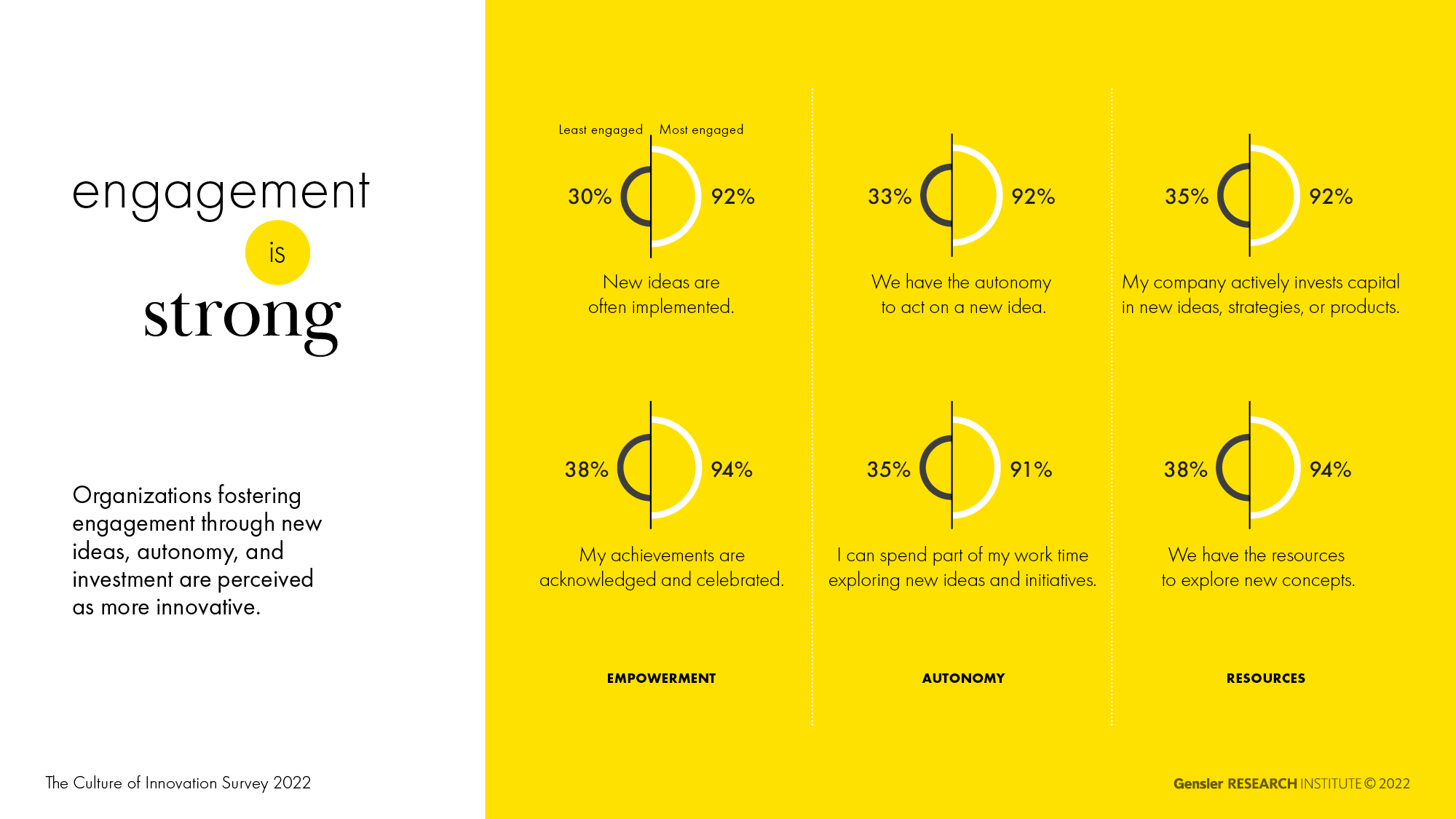 Engagement and commitment are two cornerstones of an innovative culture.
When talent is engaged and committed, an organization's innovative culture thrives. Engagement includes a feeling of happiness while working and being energized and absorbed in the work. When employees are engaged, they are more likely to go above and beyond the job description. Our data directly connects employee engagement to autonomy, empowerment, and access to resources — all of which are key conditions for innovation.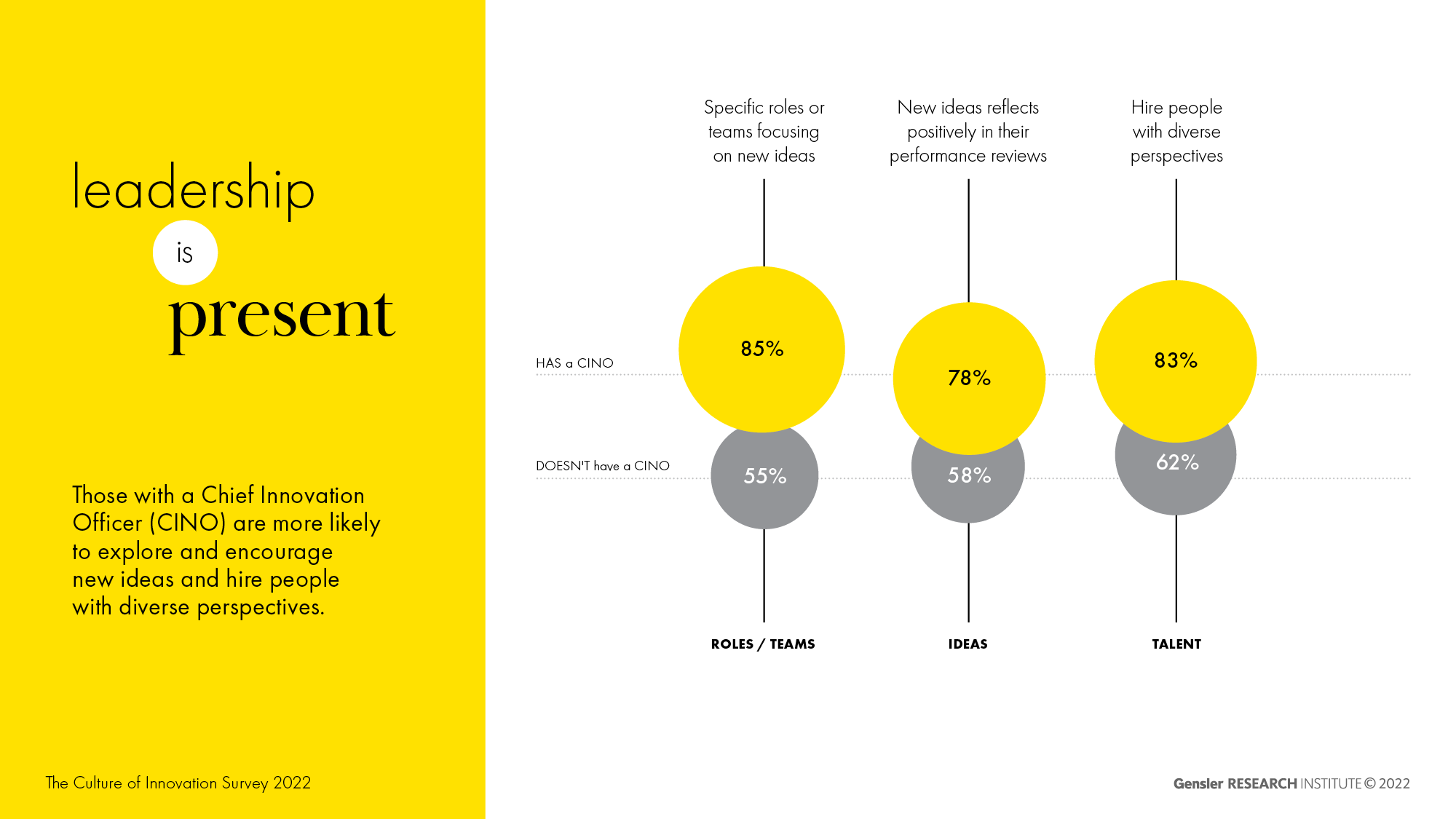 Direct investment in innovation drives results.
The Culture of Innovation survey data also revealed that organizations that invest in resources and the development of new ideas and workflows are considered more innovative. For example, having a Chief Innovation Officer (CINO) is one change to the C-suite that signals innovation matters. We defined a CINO as a person who is designated for managing the process of innovation throughout an organization. They also originate, facilitate, and recognize innovative ideas both internally and externally.
Of the 58% of respondents that reported their organization had a CINO, they also cited high agreement with the belief that they have a strong innovative company culture. When organizations provide resources in the form of people, spaces, and tools, they tend to make it an integral part of their work to test and prototype innovative methods and ideas. This investment in innovation can dramatically contribute to the long-term success of a business.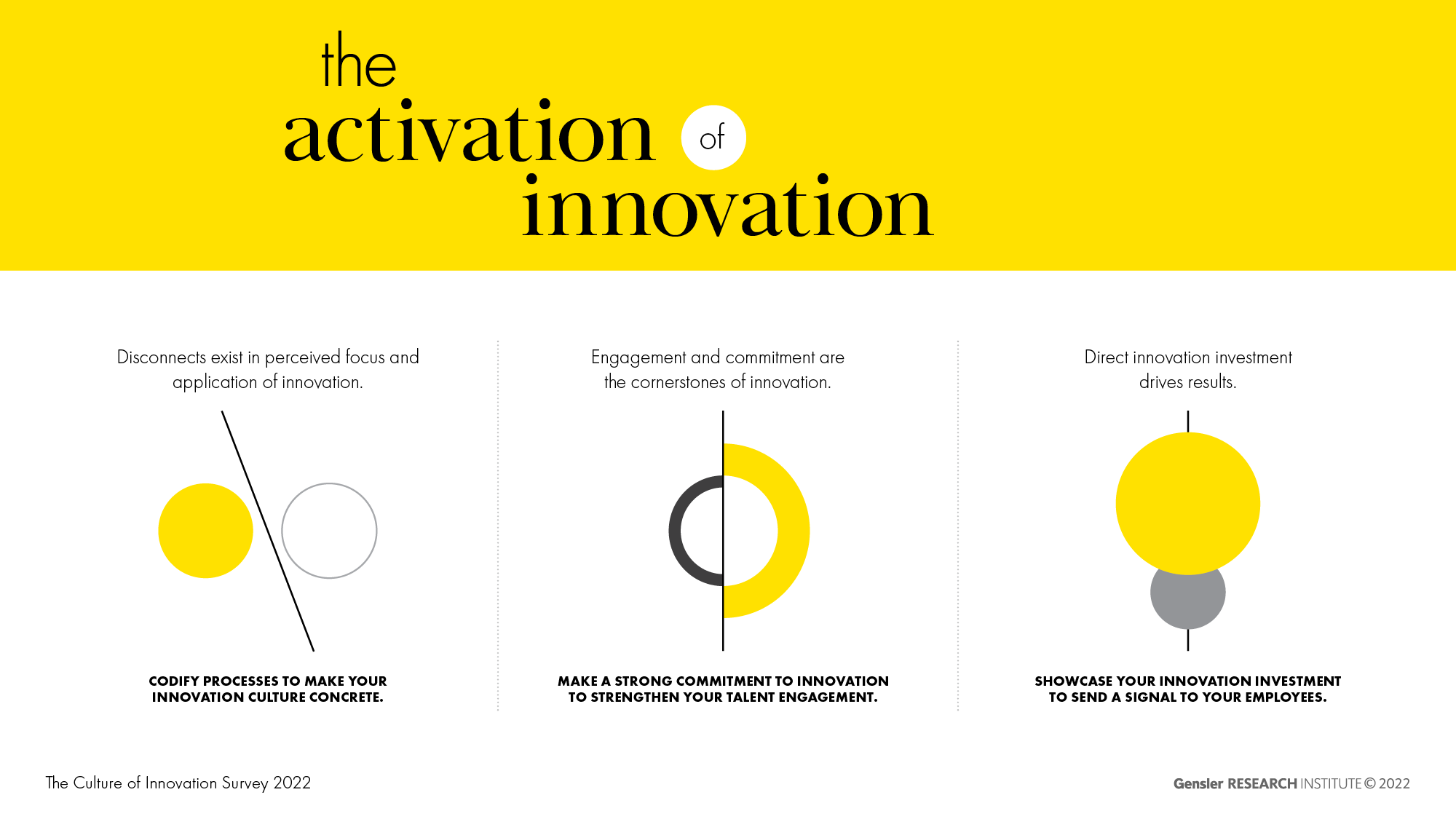 Bringing intention into your innovation culture
Our research showcased three key factors to building an intentional culture of innovation. The simple action of codifying the organization's processes goes far in aligning a tangible description of what innovation means with how to best engage. Having an engaged workforce is fundamental and builds commitment — both of which can strengthen the culture. And finally, making innovation an investment priority in visible and tangible ways sends a clear message about its importance. In essence, the more proactive an organization is about innovation, the more activated its culture will be.
The Culture of Innovation Survey 2022 Methodology
This study is based on data from 2,700 U.S. adults collected in two separate surveys in 2021. The survey was conducted online via anonymous, panel-based survey platforms. Respondents were distributed across different industries, tenures, and roles. To that, we added insights from our collaboration with four diverse global clients, along with subject matter expert interviews, and 150 secondary literature reviews.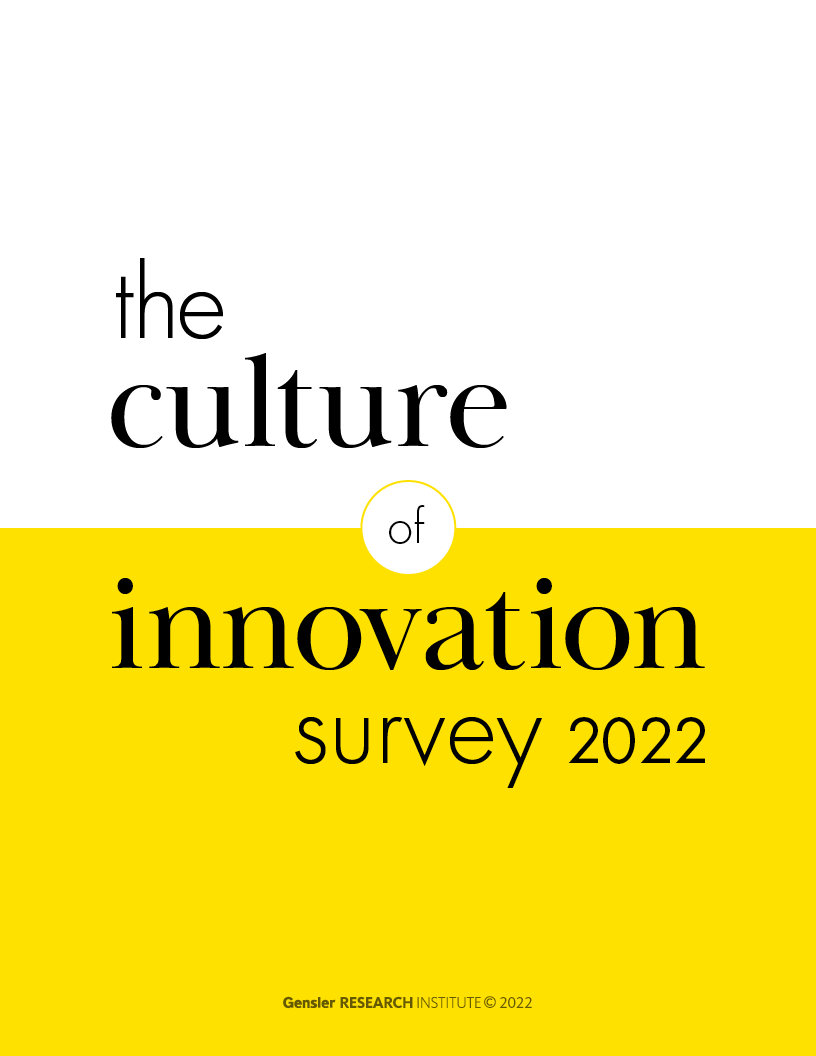 THE CULTURE OF INNOVATION SURVEY 2022
GENSLER RESEARCH INSTITUTE
Contact to learn more about this multi-year, mixed-methods research effort. Our framework can serve as a tool for diagnosing your organization's culture of innovation.