US HOSPITALITY PULSE SURVEY 2021
GENSLER RESEARCH INSTITUTE
What will post-vaccine travel look like?
As pandemic-related restrictions ease in the United States, the vast majority of Americans will use the summer and fall of 2021 to travel, according to findings from the latest Gensler Hospitality Survey. 70% of survey respondents intend to travel before the end of 2021 — and 37% plan to take more than one trip. Despite this surge of planned getaways, concerns about COVID-19 and affordability are still top of mind for most people (even those who aren't planning any trips). The hospitality industry needs to continue to implement safety precautions to meet traveler expectations.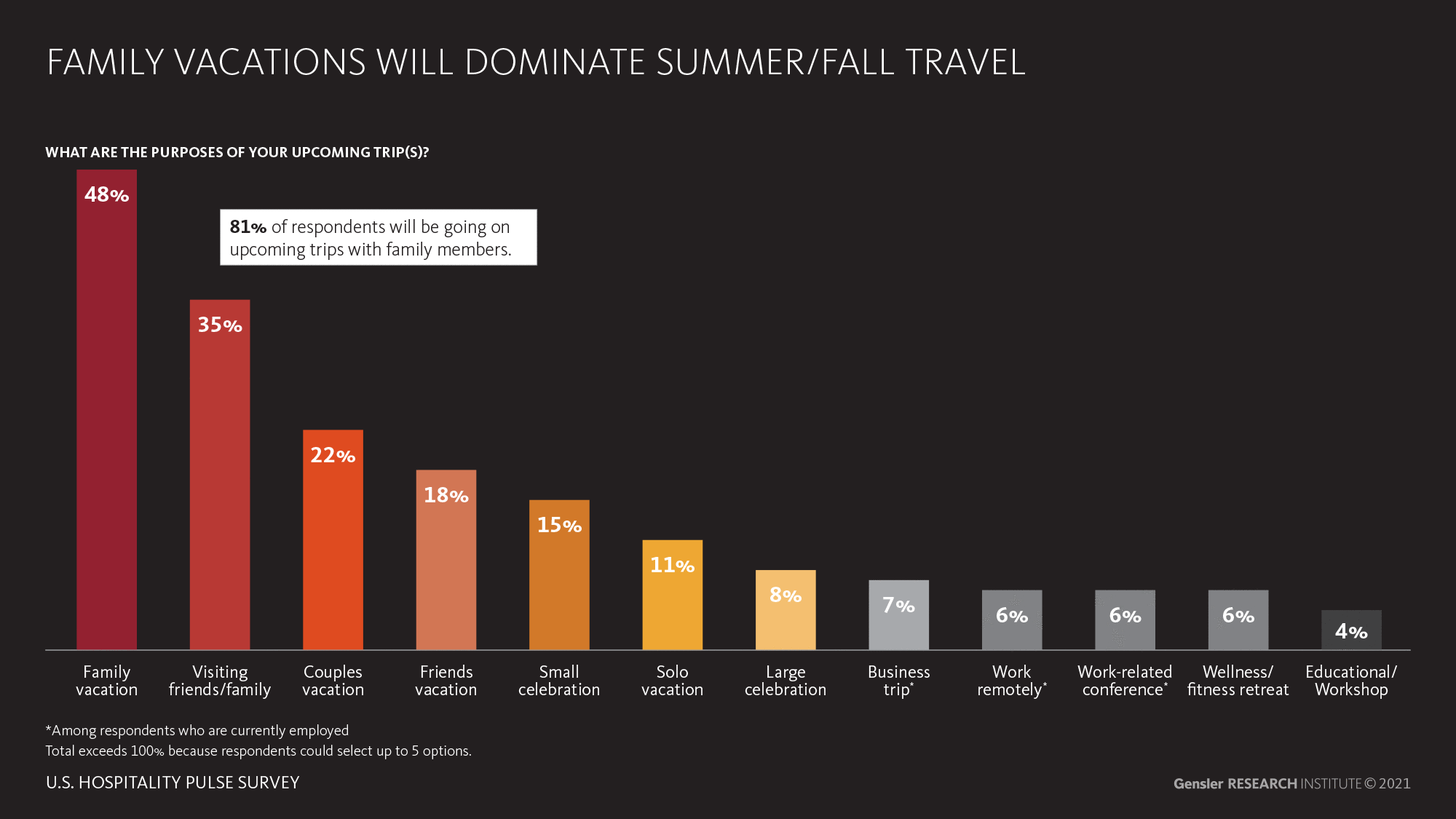 Travelers will prioritize leisure trips with family this summer and fall — most people will wait to resume business-related travel.
Our US Hospitality Pulse Survey found that four out of five respondents plan to take trips that include their families this year. More than one-third of respondents say they will visit their friends and families at their homes, perhaps making up for the separation required by pandemic-related lockdowns. Conversely, one in five respondents will take a vacation with friends while only 11% will take solo vacations in the coming months. These plans likely won't involve work. Among employed respondents, only 7% have upcoming plans to go on a business trip, 6% plan to purposefully travel to work somewhere else, and 6% plan to attend a work-related conference.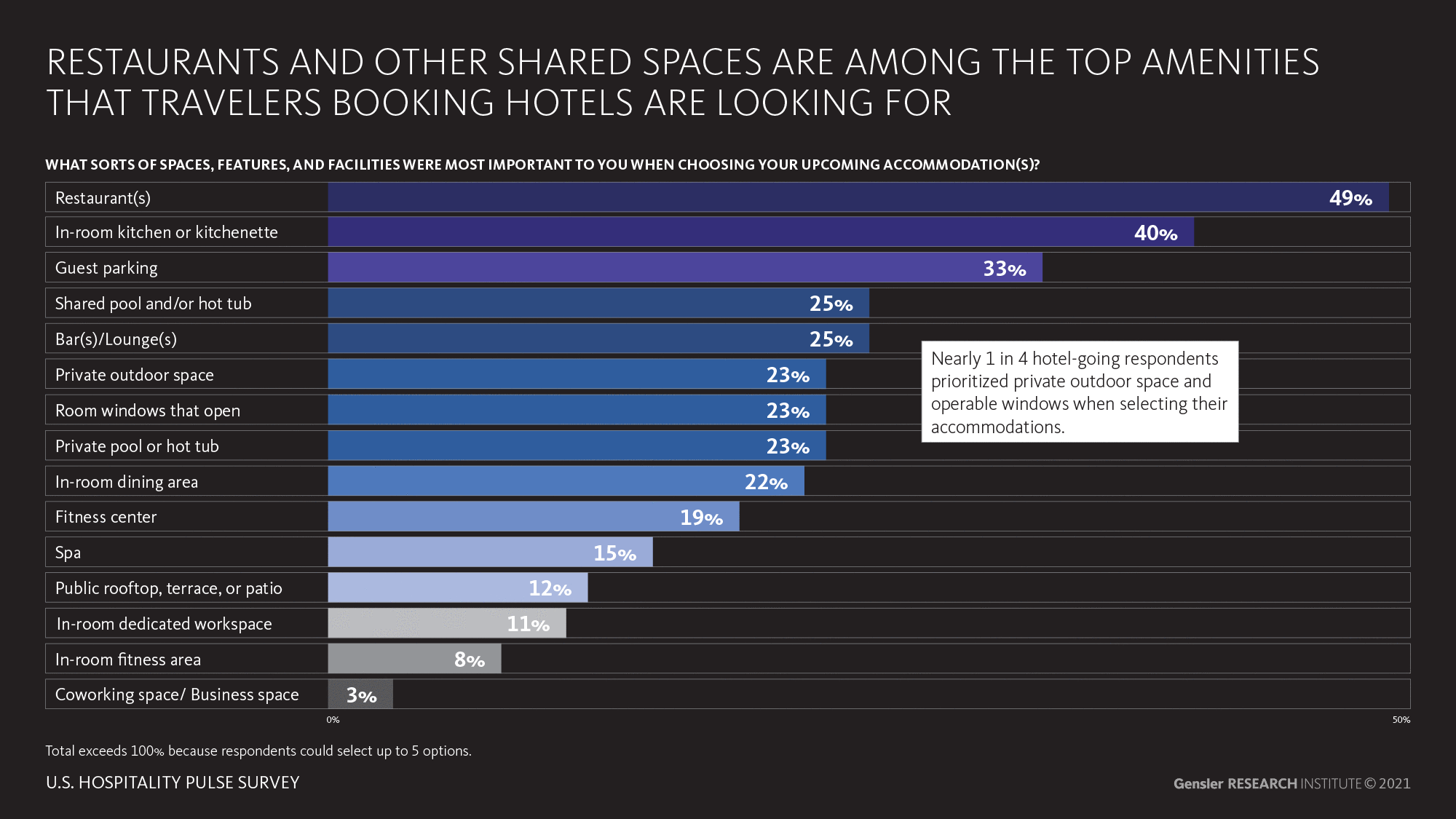 Many travelers are ready to return to shared spaces and common areas — but they still also want access to fresh air.
Hotels remain the most popular accommodation type for upcoming travel. Our 2020 hospitality survey revealed that people had major hesitations about using communal hotel areas, largely due to uncertainty about the behavior of other guests. This summer, American travelers are getting more comfortable with areas outside of their individual rooms. Among respondents planning to stay in hotels, restaurants were the most important amenity when choosing their accommodations, and other shared spaces also rose toward the top of the list. Nonetheless, private outdoor space and operable windows (features that have gained popularity during the pandemic) are still key.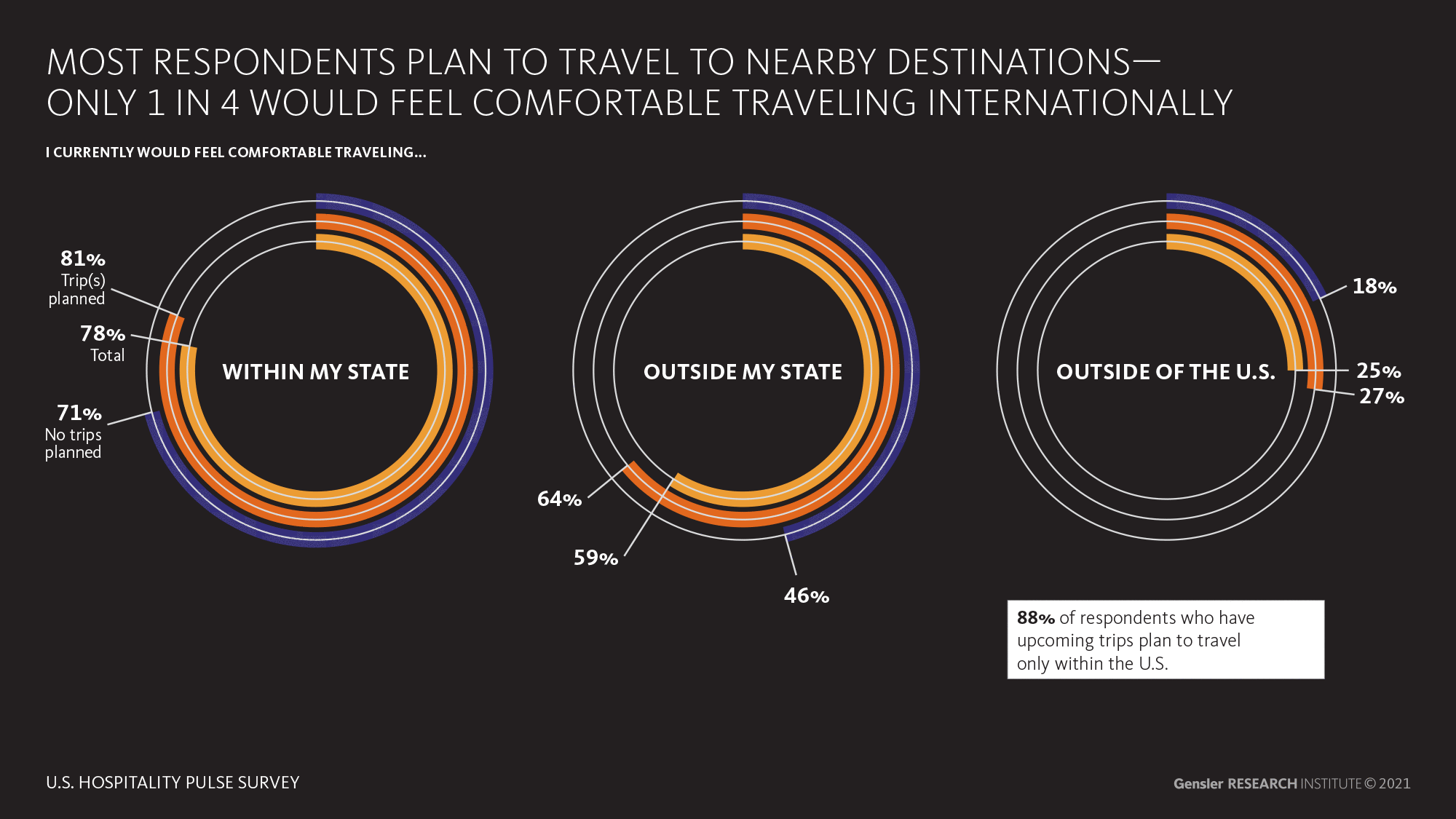 As restrictions around international travel continue, people are prioritizing local trips that will last one to four nights.
While Gensler's US Hospitality Pulse Survey 2021 has noted improvements in people's comfort with traveling since last summer's pulse survey, only 25% of respondents say they would currently feel comfortable taking an international trip. Local and domestic travel will continue to be the focus of most Americans' summer and fall plans. However, local travelers still want to venture away from home. Only 15% plan to go on day trips, and over half of travelers will book hotels for their vacations. The emphasis on local travel doesn't preclude the possibility of far-away destinations in the future: more than half of respondents who plan to travel by the end of the year would feel comfortable boarding a plane, and nearly one in three of people currently without travel plans would also feel safe taking a flight.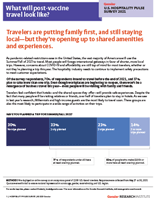 US Hospitality Pulse Survey 2021
GENSLER RESEARCH INSTITUTE
DOWNLOAD AS PDF
Download the full US Hospitality Pulse Survey 2021 Report to explore key trends of Summer/Fall 2021 travel. Gensler's data provides insights into the top priorities, concerns, and destinations of post-vaccine travelers.