Travel's Resurgence: Here's What Post-Vaccine Travel Will Look Like
June 29, 2021 | By Ana Ardon, Michelle DeCurtis, Stella Donovan
As pandemic-related restrictions ease in the United States, the vast majority of Americans will use the summer/ fall of 2021 to travel. According to the Gensler Research Institute's U.S. Hospitality Pulse Survey, 70% of people intend to travel before the end of 2021, and 37% plan to take more than one trip. Hotels can look forward to a busy summer and fall, but customers have different expectations in the post-COVID-19 world. So what will all this post-vaccine travel look like, and where will people go?
Family First: People are nearly 3x more likely to go on vacation with their families than with friends.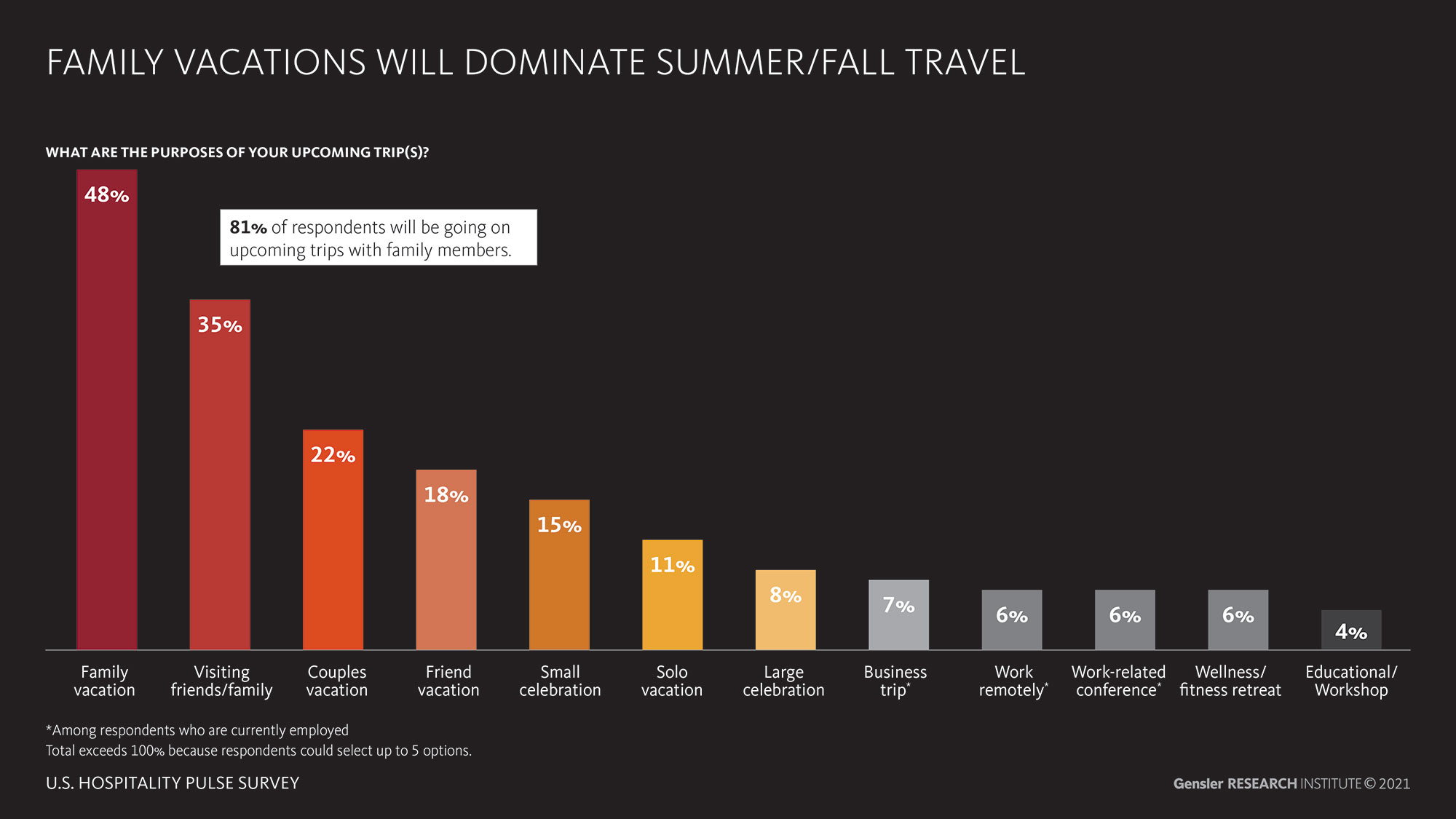 Most (81%) of respondents will be going on trips that include their families this year. Over 1/3 of respondents will visit their friends and families at their homes, perhaps making up for the separation required by pandemic-related lockdowns. Only 16% of respondents will take solo trips, and just 11% of respondents will take trips with both family and friends in the coming months. These getaways likely won't involve business. Among employed respondents, only 7% have upcoming plans to go on a business trip, 6% plan to go purposefully work somewhere else, and 6% plan to attend a work-related conference.
As restrictions around international travel continue, people are prioritizing local trips that will last 1-4 nights.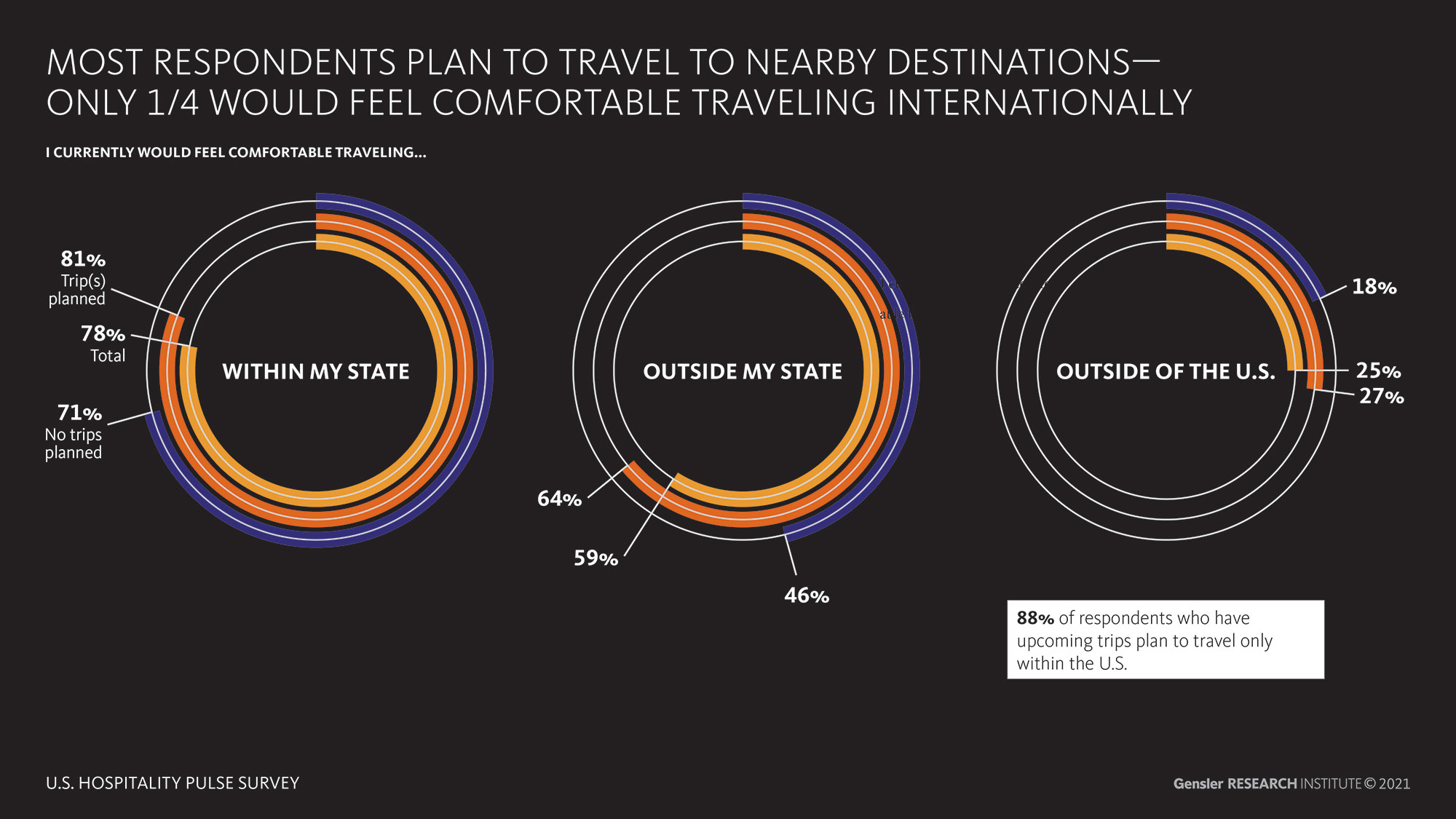 Local and domestic travel will continue to be the focus of most Americans' summer/fall plans. Nine in 10 respondents have plans that include overnight stays, with the most common trip length totaling 3-4 days (39%). While we have observed improvements in people's comfort levels traveling since last summer's pulse survey, only 1/4 of respondents would currently feel comfortable traveling internationally. However, local travelers still want to venture away from home. Among respondents who will only travel within their state, only 15% plan to go on daytrips, and over half will book hotels for their vacations.
The emphasis on local travel doesn't preclude the possibility of far-away destinations in the future: more than half of respondents who plan to travel by the end of the year would feel comfortable boarding a plane, and nearly 1/3 of people currently without travel plans would also feel safe taking a flight.
Customers have different expectations in the post-COVID-19 world. Here's how that might impact hotels:
Activities and comforts that grew in popularity during the pandemic are here to stay.
Access to the outdoors (i.e., private outdoor space, operable windows, outdoor dining)
Appreciation for outdoor recreation (proximity to hiking/biking opportunities, parks)
Attention to cleaning/health protocols
COVID-related preferences that consumers are changing:
People are ready for indoor dining
They're returning to in-person retail shopping
They're ready to go back to bars/clubs
For more information about summer/fall 2021 travel — including how people feel about COVID-19 safety protocols and returning to shared amenities — download the full U.S. Hospitality Pulse Survey.
For media inquiries, email .