Leisure travel is ramping up. To exceed guests' expectations, it is vital to understand their perspectives and priorities.
The hospitality industry has come a long way since the travel restrictions of the early pandemic, and it is slated to make a full recovery within the next few years. Much of the conversation has revolved around the growing blend of business and leisure travel, new definitions of luxury hospitality experiences, and all-around heightened traveler expectations as people make substantial returns to travel destinations. Gensler's Hospitality Experience Survey 2023 provides key insights into where people are in their journeys back to travel, how their recent experiences have been, and what hotel guests will seek out and most expect going forward.
We deployed an online survey to an anonymous panel of 4,046 respondents from November 4 to 23, 2022. Survey respondents were required to currently live in the U.S. or Canada and to have experience traveling.
Learn more about our methods.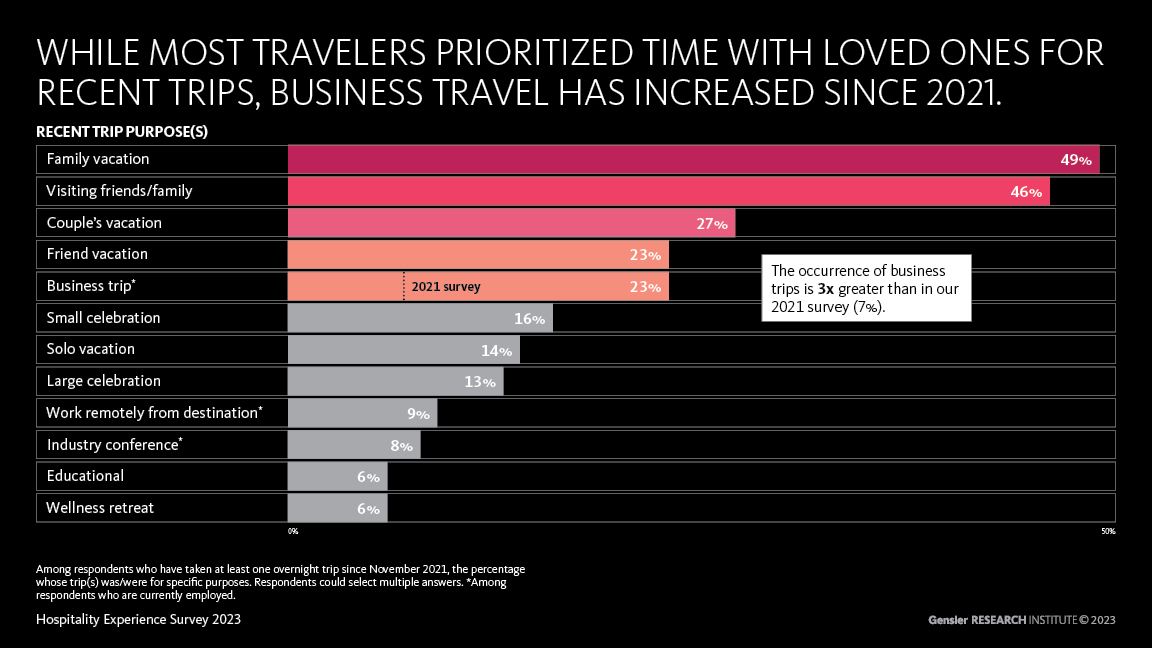 Leisure travel with family continues to dominate, but business travel is on the rise.
Most survey respondents traveled to spend time with family and friends within the past year, but business travel is on the rise. Of employed respondents, 23% took a business trip within the past year, compared to just 7% in our 2021 Hospitality Pulse Survey. However, while more people are traveling for work, not many are traveling to work. Only 9% of employed respondents took a trip specifically to work remotely from their destination. In the coming years, the industry will need to find ways to keep local and regional travelers engaged while also catering to a growing business clientele.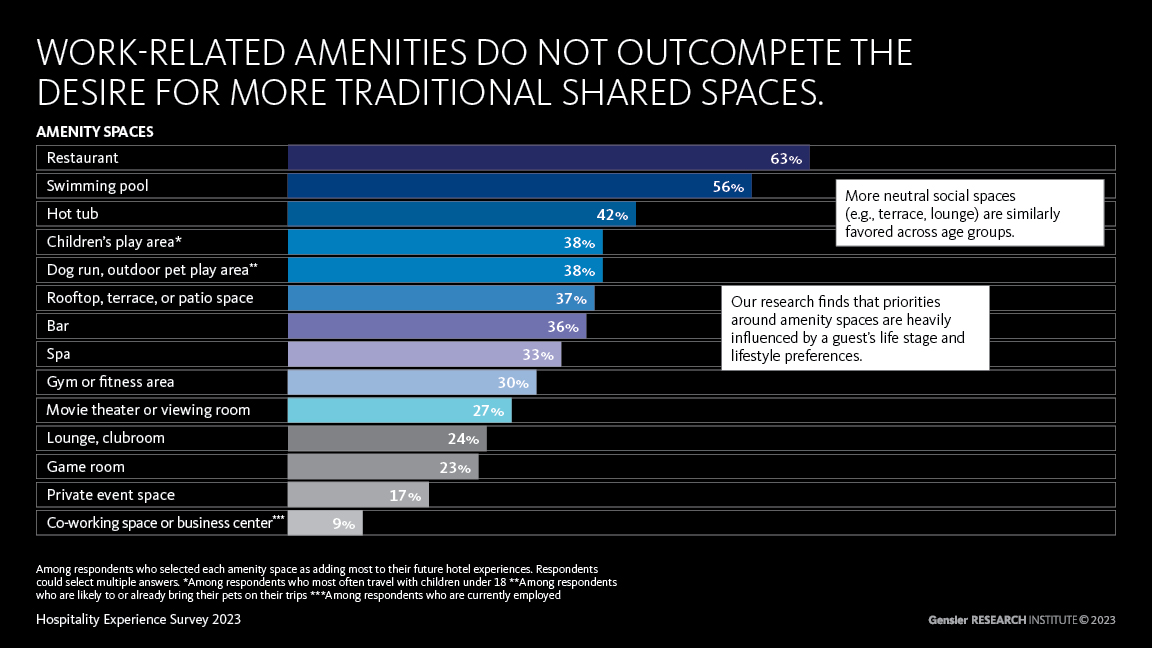 Private outdoor space, on-site restaurants, and swimming pools are widely preferred hotel features.
While half of respondents worked in some capacity on their recent leisure trips, most respondents do not feel a need to access co-working spaces and business centers within their hotel. Today's top desired hotel amenity spaces include restaurants, swimming pools/ hot tubs, and communal outdoor spaces such as a terrace or patio. Older respondents are more likely to prioritize access to an on-site restaurant, while a swimming pool takes the top spot among Gen Z and Millennial respondents. More entertainment- or lifestyle-centric amenities like a game room, gym, spa, and movie theater attract greater interest among younger guests. Social spaces that are more neutral, like a terrace or lounge, are equally favored across generational cohorts.
Our survey results also underscore the importance of considering life stage and lifestyle in guest preferences. For example, 38% of those who often travel with young children would place high value on an on-site children's play area. Dog-friendly outdoor spaces would also make a positive impact for 38% of owners who intend to bring their dogs on future trips.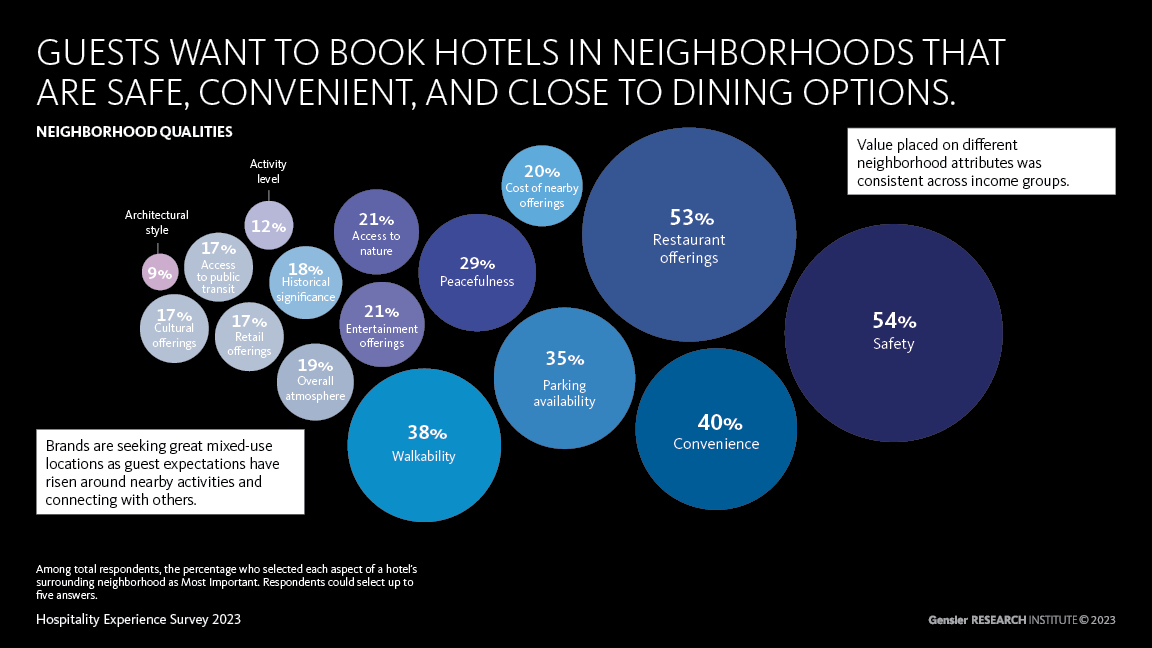 Guests place high importance on the surrounding neighborhood and see it as an extension of the hotel experience.
Before the pandemic, hotel brands were seeking mixed-use locations. This interest has increased as guests' expectations have risen around activities and available spaces to make connections with others. People want to book hotels in neighborhoods that are safe, convenient, and close to dining options. Surveyed travelers were twice as likely to prioritize the restaurants in their hotel's neighborhood than its cultural or retail offerings. In terms of mobility, respondents currently place high importance on neighborhood walkability and parking availability. Value placed on different neighborhood attributes was consistent across income groups.
Hospitality Experience Survey 2023 Methodology
We deployed an online survey to an anonymous panel of 4,046 respondents from November 4 to 23, 2022. Survey respondents were required to currently live in the U.S. or Canada and to have experience traveling. Respondents were recruited by Qualtrics (a third-party research platform and provider), with whom we worked to ensure balanced distributions across personal characteristics, such as age (18+), gender identity, race/ethnicity, household income, and home region/province. The survey could be taken in English, French (Canada), or Spanish (Latin America). We embedded multiple checks in the survey, including bot detection, speeder logic, and attention filters, to manage response validity.