Checking In on the Guest Experience
May 16, 2023 | By Ana Ardon, Michelle DeCurtis, Stella Donovan
The hospitality industry has come a long way since the travel restrictions of the early pandemic, and it is slated to make a full recovery within the next few years. According to Gensler's Hospitality Experience Survey, more than 90% of our U.S.- and Canada-based survey respondents intend to travel in the foreseeable future. Many respondents will use these trips as an opportunity to spend time with family or friends, but people are equally looking to leisure travel for relaxation, stress relief, and fun. The latest survey findings reveal where people are in their journeys back to travel, how their recent experiences have been, and what features and amenities they will seek out going forward.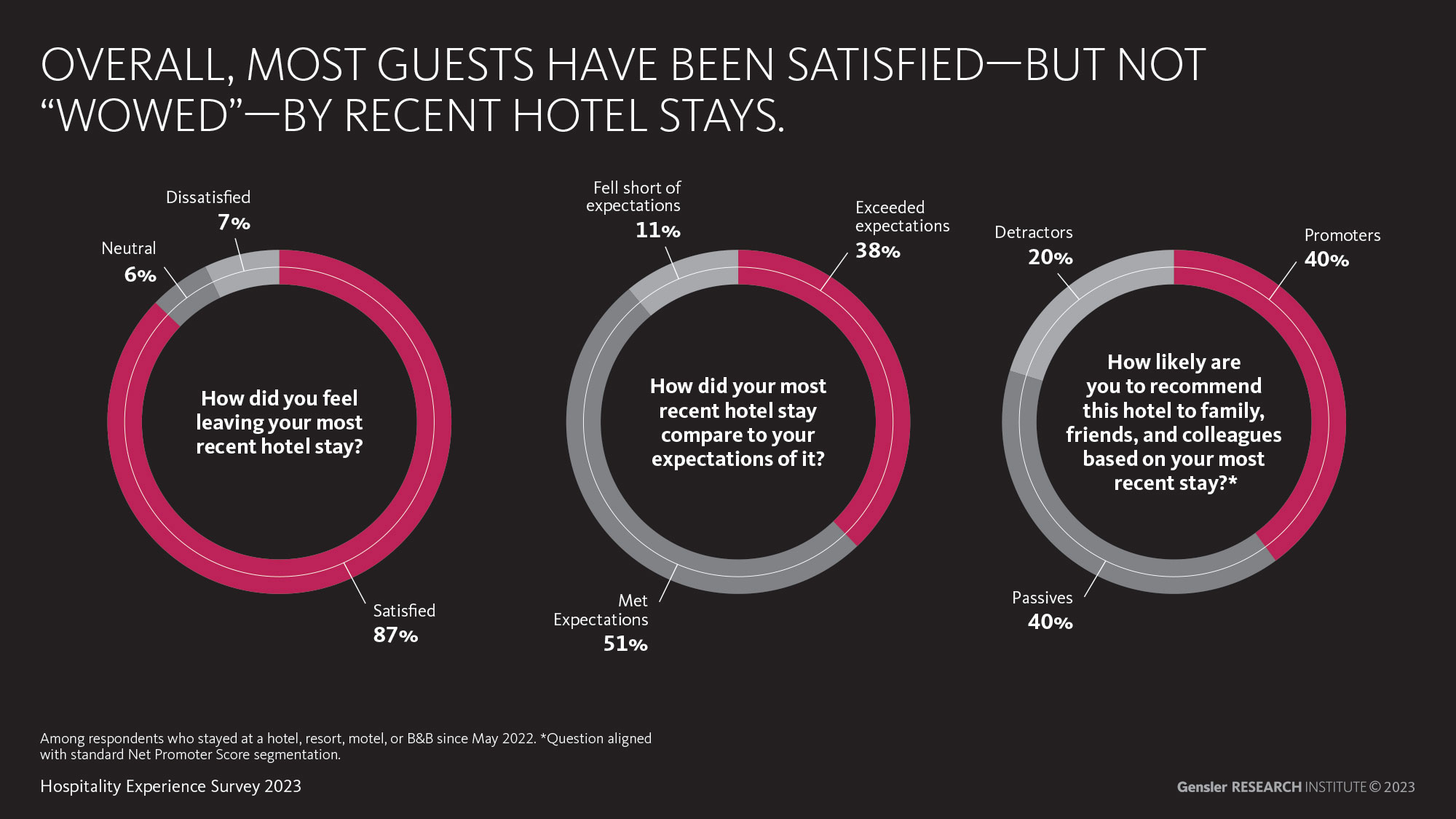 Hotels are meeting — but not exceeding — guests expectations.
Of the travelers who have stayed in a hotel or resort within the last year, 87% felt satisfied with their most recent experience. However, just 38% say that their stay exceeded their expectations and only 40% would promote the hotel or resort to people they know. This data indicates that while hotels are delivering the essential qualities and features that travelers have come to expect, they're failing to provide the memorable, high-value experiences for their guests that generate word-of-mouth referrals and future bookings. This is consistent with findings from JD Power's most recent Hotel Guest Satisfaction Survey, which found that while average daily rates at branded properties have risen, many continue to hold on upgrades and improvements, negatively impacting guest satisfaction. Bridging the gap between met and exceeded expectations is critical to the industry's recovery.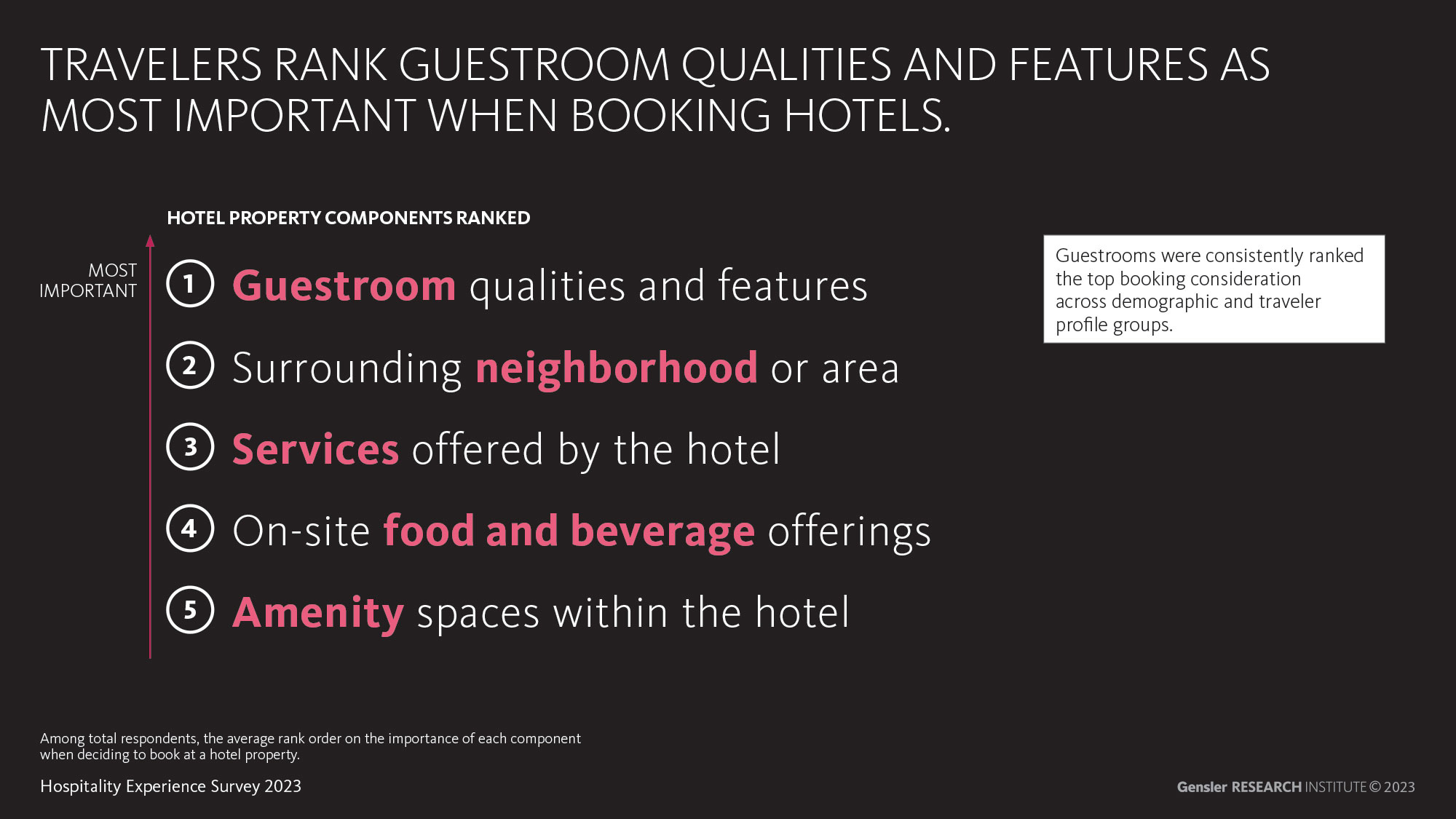 The quality of a hotel's guestrooms and surrounding neighborhood can make or break final booking decisions.
When asked about their hotel selection process, travelers across all demographic groups identified guestrooms as the top booking consideration. Our data indicates that kitchenettes and access to outdoor space are the most desired in-room features, but there are also some generational differences in guestroom preferences. Younger guests are more likely to favor unique in-room features like a fitness area, cocktail station, or walk-in closet. And while all age groups value private outdoor space, it was the most desired feature among Gen Z and Millennial respondents. Additionally, Baby Boomer and Gen X respondents were significantly more likely to prioritize in-room kitchenettes than Millennial and Gen Z respondents.
Respondents also placed high importance on the hotel's surrounding neighborhood or area when making booking decisions. Our data shows that travelers want to book hotels in neighborhoods that are safe, convenient, and close to dining options. In fact, respondents were twice as likely to prioritize the restaurants in their hotel's neighborhood than its cultural or retail offerings. And when asked about hotel programming, people expressed the most interest in events and activities that connect them back to the surrounding community. Tours of some kind — including those that provide insight into local food, history, and culture — occupied three of the top four preferences.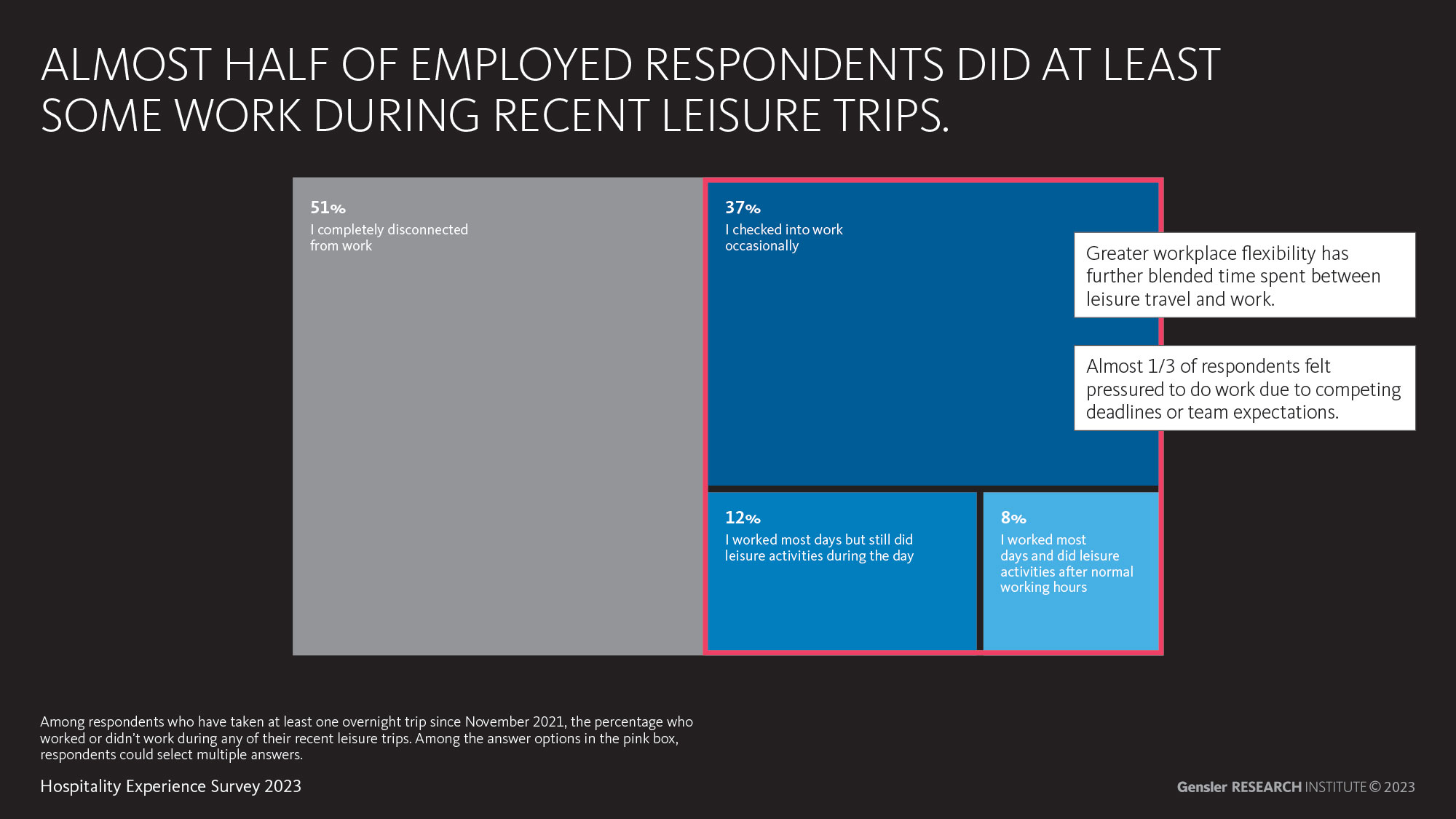 Many travelers do not fully unplug from work on leisure trips.
Most respondents traveled to spend time with family and friends within the past year, but business travel is on the rise. Of employed respondents, 23% stated that they took a business trip within the past year, compared to just 7% in our 2021 survey. However, the line between business and leisure travel is increasingly blurred. Half of respondents worked in some capacity on their recent leisure trips, primarily by occasionally answering emails or joining calls. While most of those who worked did so to avoid returning a backlog after their trip, nearly 1/3 of respondents felt obligated to work due to deadlines or expectations of their manager or team. Although many people are working during their leisure trips, coworking spaces and business centers do not outcompete the desire for more customary on-site amenities — restaurants, swimming pools/hot tubs, and communal outdoor spaces are still the most valued space types for hotel guests.
How we live, work, and play has changed. We must bring new thinking to the guest experience.
Travelers are reemerging in droves, all looking for unique, memorable hospitality experiences. Hotel brands, developers, and designers can all play a key role in redefining the guest experience beyond just physical space to better meet the evolving, diverse needs of their audiences. Accommodations that are integrated into the community fabric — while delivering the convenience, value, and amenities that travelers want—are uniquely positioned to not only fulfill but surpass guest expectations.
For more findings from our research and ways that the hospitality industry can deliver top-of-line guest experiences, download the Hospitality Experience Survey 2023 Report.
Methodology: We deployed an online survey to an anonymous panel of 4,046 respondents from November 4 to 23, 2022. Survey respondents were required to currently live in the U.S. or Canada and to have experience traveling. Respondents were recruited by Qualtrics, with whom we worked to ensure balanced distributions across personal characteristics, such as age (18+), gender identity, race/ethnicity, household income, and home region/province. The survey could be taken in English, French (Canada), or Spanish (Latin America).
For media inquiries, email .