Old to Bold: How Hotel Adaptive Reuse Transforms Communities
May 08, 2023 | By Jack Paruta
Editor's note: This article originally appeared in HOTELS magazine.
Much of the aging building stock that populates our cities' skylines resides in or near obsolescence — particularly older, and sometimes historic, office and bank buildings. Many aren't considered Class A and aren't conducive to attracting new tenants and retaining the ones they have. According to a study from JLL, office vacancy rates sit at 19.1% across the board. That number is appreciably higher in outdated older buildings. Today's employees expect a worthwhile experience from their workplace, which can be an economically challenging standard for building owners to meet. Time and time again, we see owners struggle and eventually, their buildings lack care and fall into disrepair.
In today's real estate climate, adaptive reuse has become a key strategy for revitalizing economically obsolete structures into thriving centers of community that meet the needs of today's users. In 2022, the AIA found that renovations, rehabilitations, additions, and historic preservation comprised 50% of design billings for the first time, demonstrating its ascending adoption. Often, we find vintage buildings 50, 75, or 100 years or older can be well-suited for adaptation to hotel or residential uses.
Preserving Historic Assets
The craft of historic buildings of the late 19th and early 20th centuries represent authenticity and reflect the identity of the eras they were built — think Greek Revivalist and Beaux-Arts style buildings. Their unique characteristics register with today's generation of travelers and urban residential dwellers. Today's travelers seek accommodations that are contextual and part of the fabric of a destination's history versus copy-and-paste structures that look and feel as though they could be anywhere. Many "must see" cities have earned these accolades thanks to the historic assets that give their neighborhoods an identity. Adaptive reuse not only saves these buildings but preserves the character and repurposes them for years to come.
One such building is The Lafayette Building, centrally located within one of the most historic blocks in America. Across the street from Independence Hall and the Liberty Bell in Philadelphia, it sat vacant for more than 15 years, virtually unsellable. Following due diligence to determine the reuse capability, the building was acquired and converted it from its original office function to the Hotel Monaco, a 270-room, LEED Gold certified boutique hotel. It was rehabbed completely inside and out with careful preservation of its Greek Revivalist style and thoughtful interventions for the new use. Tax incentives were also a crucial contributor to the success of the hotel, enabling the owner to utilize several million dollars in state and federal historic tax credits. These tax programs provide attractive incentives to owners and developers considering historic building renovations and can make the difference in bringing a project to fruition, physically and financially.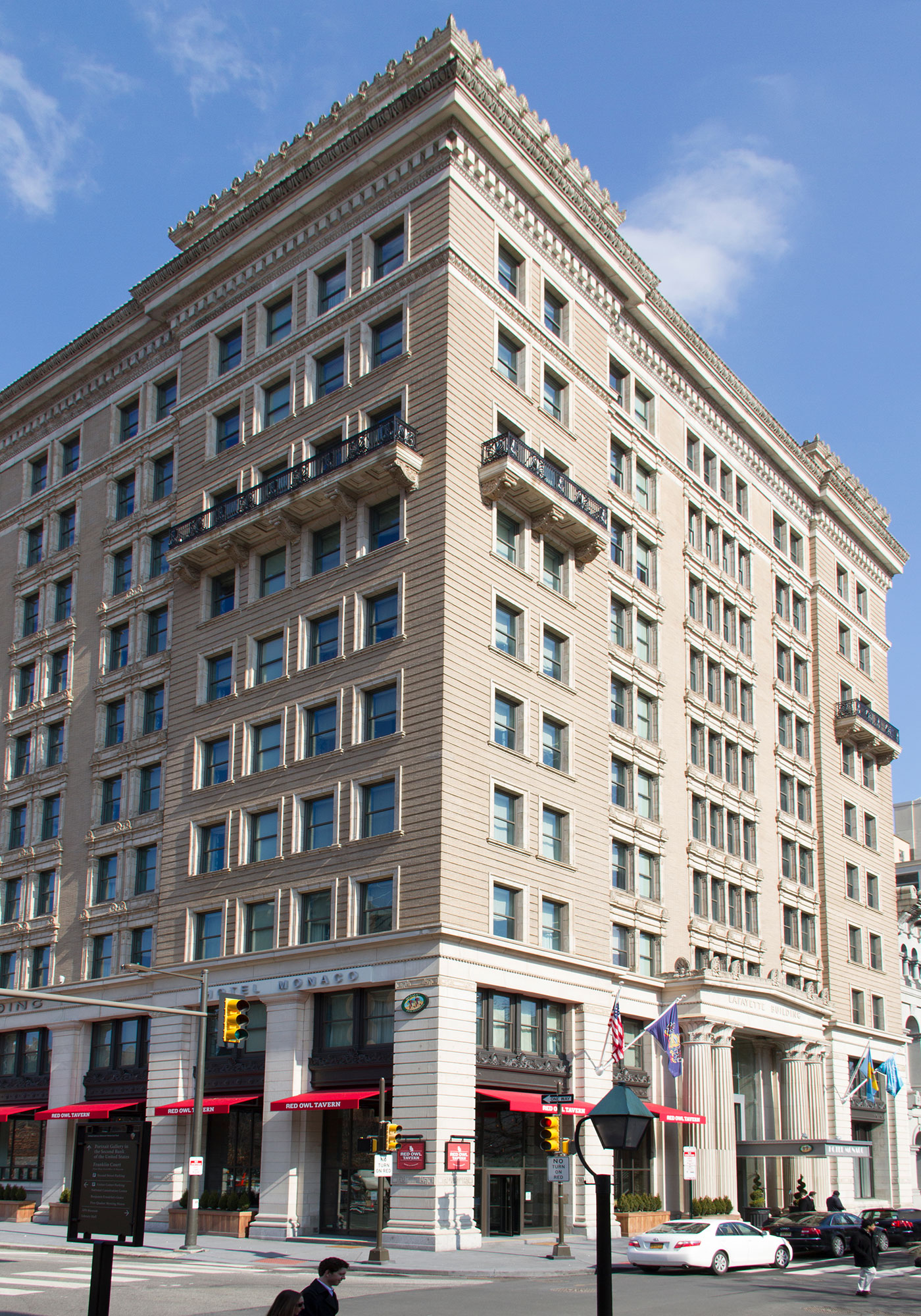 Revitalizing Neighborhoods
Not only does adaptive reuse make financial sense, but it's also an effective strategy for revitalizing neighborhoods and spurs redevelopment. The Palladian Building in the Belltown section on Seattle's northern downtown edge is another example of a neglected building in a significant context. In the early 90s, the grunge music movement began at the Moore Theater across the street in a low-rent, semi-industrial arts district. The struggling neighborhood was on the early cusp of an investment and population boom. Converting the building to an 82-room hotel and restaurant boosted the momentum and brought a prominent corner back to life. It was a key contributor to the influx of trendy restaurants, boutiques, galleries, and residential towers. Projects like The Palladian redevelopment reverses decades-old thinking that demolition, versus preservation, saves neighborhoods.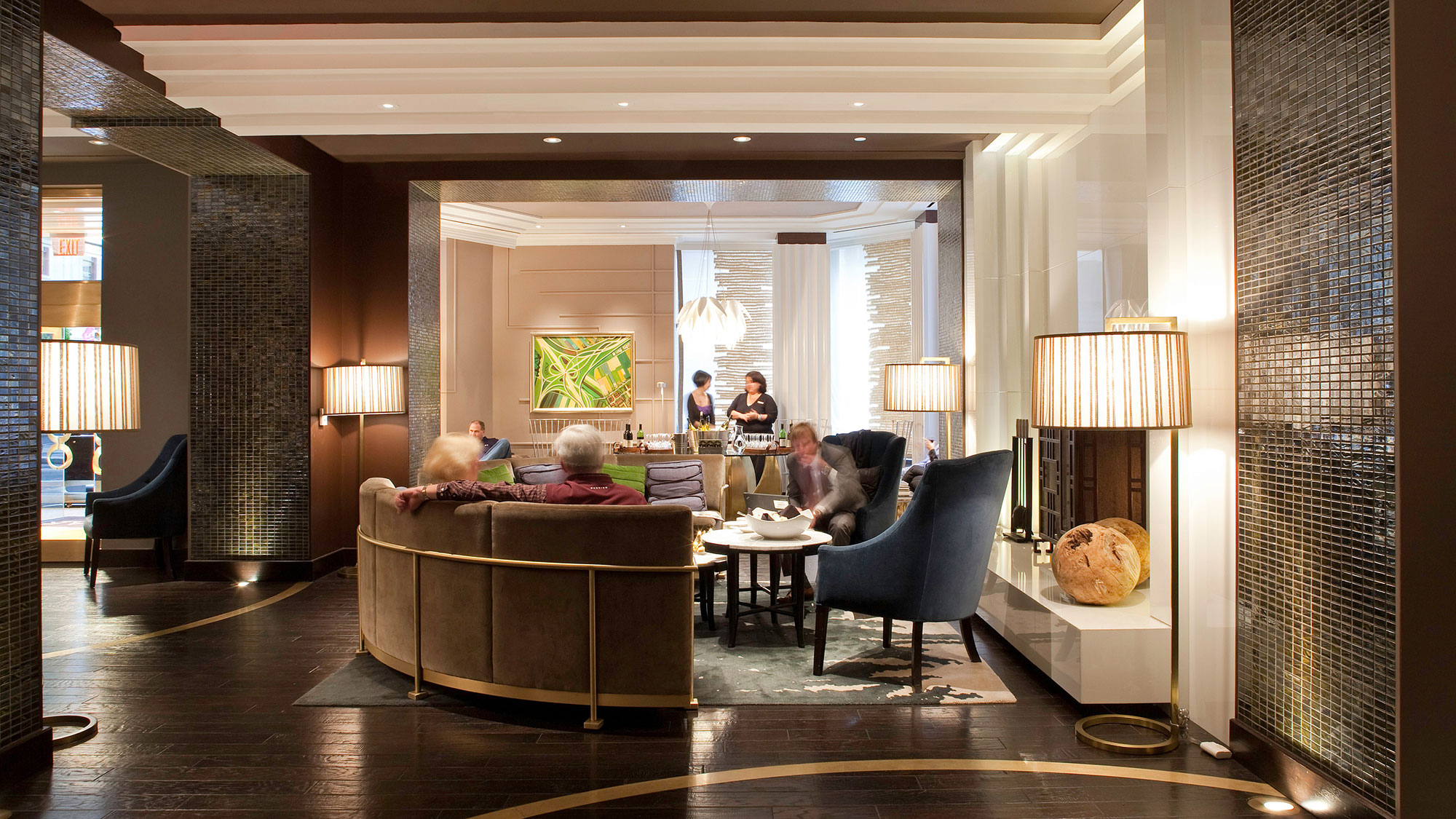 Environmental Benefits
Now more than ever, sustainability needs to be at the forefront of development. Architecture 2030 shows that the building industry generates nearly 50% of annual global CO2 emissions. Together, we have a collective responsibility to minimize the impact of the built environment on climate change. With adaptive reuse, we're minimizing the carbon associated with making buildings, including material extraction, manufacturing, transportation, and construction — and instead utilizing the embodied carbon of existing buildings. Adaptive reuse stands as a strategy to significantly reduce demolition, carbon emissions, waste, and preserve what already exists. The greenest building is one that's already built.
Philadelphia's Architects Building in the Rittenhouse Square neighborhood is one example of an architectural adaptive reuse project come full circle. Built in 1920 as an Art Deco high rise serving the design and building trades, including the local chapter of the American Institute of Architects, it struggled for decades with largely vacant and floundering street level retail. The property was purchased and converted to the 230 room Hotel Palomar, one of the first LEED certified hotels in the city, employing numerous resilience strategies: energy efficiency, higher performing fenestration, HVAC systems, water conservation, and more.
As designers and architects, we have the privilege and responsibility to make the most of our existing building stock. After all, 80% of the buildings that will exist in 2050 stand today. By transforming outdated buildings into viable new uses, we can convert properties that were once detractors into thriving contributors that align with the desired user experiences of today's age. Adaptive reuse is an important strategy to preserve the past and bring back to life important pieces of the fabric of our cities and anchors of their neighborhoods.
For media inquiries, email .